Here it comes – the hottest shopping season of the year. For business owners and entrepreneurs bringing both excitement (oh, the revenues!) and dread (uh-oh, all the last-minute work…)
Let's take a look at how to survive it on social media and combat the dread, focusing on the excitement instead.
Why is Black Friday such a big deal anyway? (pun intended)
The end of November is traditionally a time when most of the holiday shopping gets done. And Black Friday has been a leader when it comes to the volume of shopping – first in the US, then all over the world.
And even though it's typically focused on traditional in-store shopping, with the following Cyber Monday dedicated to online deals, more and more of the Black Friday shopping has moved online.
This is especially true since the onset of the COVID-19 pandemic and the resulting restrictions physically preventing people from going on traditional Black Friday shopping sprees.
So we're no longer talking about crowds storming doors and literally fighting over discounted products (though it's probably not entirely a thing of the past just yet).
Today, it's increasingly about accommodating high traffic volumes on your website and managing an influx of social media messages and comments with customers who want to snatch your Black Friday deals.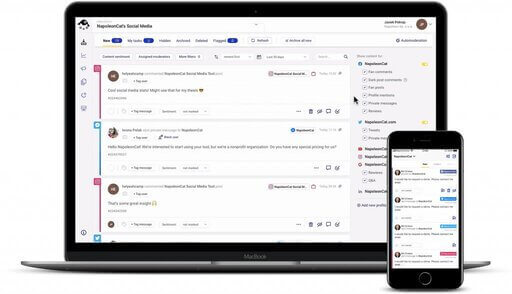 All comments and messages from multiple social profiles and ads – in ONE place
Manage all of your customer inquiries from multiple social media channels and ad campaigns – all from one customizable view in NapoleonCat. Try it for free:
Try NapoleonCat free for 14 days. No credit card required.
According to BlackFriday.com, last year's Thanksgiving weekend (Turkey Day through Cyber Monday) drew 186.4 million U.S. shoppers who spent an average of $311.75 on holiday purchases. Though that's down from 2019, the amount spent on Thanksgiving and Black Friday increased by 19% from 2019, totaling $14.13 billion in online sales.
Not surprisingly, 2020 was also a record-breaking year for online shopping, with 100 million consumers doing their Black Friday shopping online (up 8% YoY) and a 37% drop in in-person shopping.
That's it for the numbers. And what do they mean for e-commerce marketers and business owners?
Well, for one, getting accustomed to digital sales and online customer service is a must as more people shop online. But it also creates more opportunities to connect with your customers online. Especially on social media. And that's exactly what we're going to talk about today. You in?
Black Friday on your social media channels: a survival guide for e-commerce store owners
Your social media channels are probably an essential part of your Black Friday sales strategy (you have one, right? ;)) In fact, you could probably run your entire business primarily using social for sales, marketing, customer service, etc. (and some companies do that).
But in any case, it's where a lot will be happening, starting Black weekend all the way to the holidays and New Year.
Let's focus on a few aspects and how to use tools to support you and your team in the process – a.k.a. your business checklist for surviving Black Friday.
Providing top-notch customer service on social
If your business is active on social media, you'll naturally have people contacting you via your social media channels. And as sales go up during late November and throughout December, you'll usually notice increased social media activity.
You'll naturally get more DMs from customers asking about products or their orders.
People will comment on your social media posts – sometimes responding to your content, more often (probably) doing what others do in the DMs: asking about orders, maybe complaining about delayed shipments, and so on.
If you're selling globally, people will do the above at different times of the day, sometimes in different languages. Most likely expecting 24/7 customer service.
If you have a Google Maps location, you'll likely see an increased number of reviews. And with the Black Friday/holiday rush in full swing, making slip-ups and delays more likely, more of them might need a quick response from you.
So, what do you do about it?
Here's how tools like NapoleonCat's Social Inbox can help.
Get all of those DMs, posts and messages in ONE dashboard
As you and your team are scrambling to manage the Black Friday craziness, having a tool aggregating all of your customer interactions in one place is insanely helpful.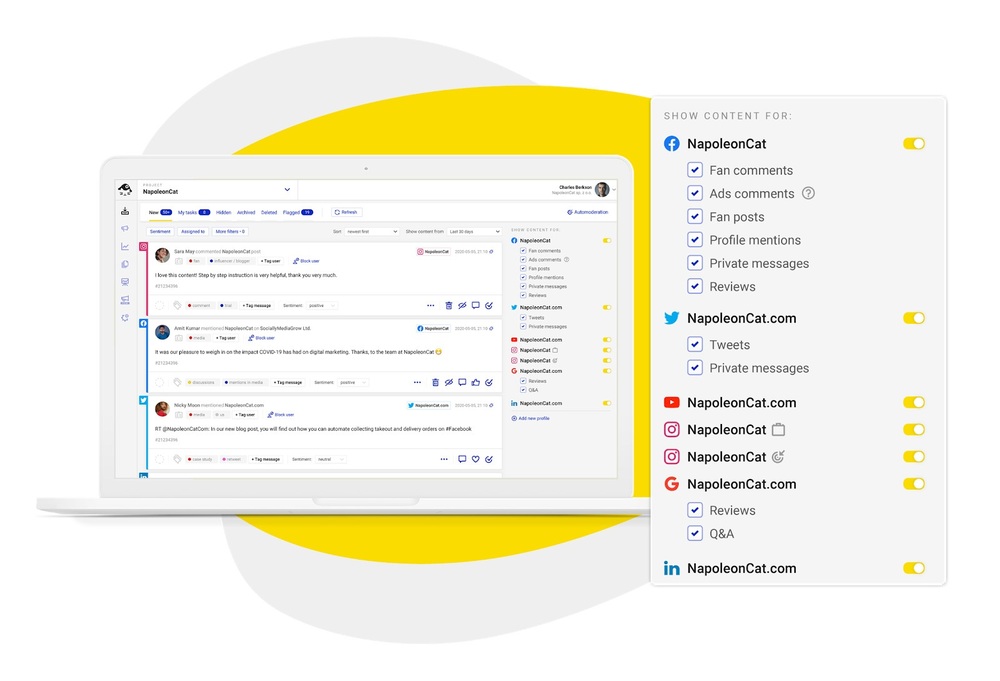 All your private messages, comments, ad comments, and Google reviews in one place will help avoid the usual chaos that we've come to treat as a natural part of all kinds of sales holidays. With the Social Inbox, you can track them, respond to them, and delegate them to other team members. It's basically a hub for your customer service and sales communication with customers.
Automate what you can with NapoleonCat
And obviously, you can't automate everything. But there are some things in social media that either don't need your immediate personal attention or can't get it because it's physically impossible. Social media automation can be used for things like:
Replying to repetitive questions, e.g. about shipping options, sizing, product availability, and so on. If you get them a lot, taking your team's attention away from more complicated or urgent matters, automate your replies. Define the most frequently used keywords (that can't be used ambiguously or in different contexts) and reduce the load on people moderating your social media profile – you'll be glad you did.
Replying outside of your operating hours. Yep, we all know Black Friday (and, in fact, the entire dreaded end of the year) means more work and longer hours. But does it have to mean the latter? After all, you and your team deserve some time off, too.
What you can do – and, actually, I think you should – is set up automated replies while you're out. You'll be able to let your customers know when you'll be back and available to talk, so you can turn your notifications off for a while and enjoy a break without ignoring your customers.
Automatically translate your responses. This is helpful when you have international customers enquiring about your products and discounts. The Social Inbox includes an automated translation tool using Google's translation engine. This way, you can translate the messages or comments and your replies – handy when time is of the essence, and you need to move to the next customer conversation ASAP.
Automatically go from your wall to private messages. This way, you can ask for sensitive data like order numbers to track your customer's orders without sharing confidential information.
Automatically moderate ad comments. This is super important as the volume of your social media ads increases for Black Friday (and possibly the entire holiday season). As the number of audience segments, ad campaigns and individual ads starts getting overwhelming, while you (or your PPC person) keep an eye on CPCs, CPMs, and overall performance, you'll probably lose sight of the actual comments that people leave under your ads.
And that's a big mistake. The very thing that is supposed to sell your products can turn against you if people are complaining under the ads or your competition's leaving their links (or spammers spam). And you're fueling the exposure of the whole thing (along with the comments) with your ad money.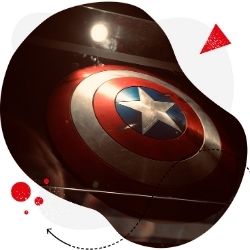 Protect your socials from SPAM
Automatically hide or delete inappropriate comments under your organic posts or ad campaigns. Keep the online image of your brand clean as a whistle. Try NapoleonCat for free:
Try NapoleonCat free for 14 days. No credit card required.
What do you do? Use the Social Inbox to track all the comments and automate some actions: reply to repetitive questions, hide comments with links, and remove spam. Now you're good.
And speaking of ads:
Boosting the performance of your Black Friday ad campaigns
Pay-per-click campaigns will probably be one of your main tools to drive traffic to your product pages. And, most likely, you're going to have many of them. Not just for your different product or product categories, but also for different audience segments, including:
Retargeting campaigns for people who visited specific product pages
Lookalike campaigns to target customers similar to those who have bought from you before
People who have abandoned their shopping carts
And so on.
You might want to test different versions of your ads, too, to see what design or copy works best.
(By the way, here are a few ideas)
The more segments, campaigns, and ad variants you have running, the more chaotic things will get when people start commenting on your ads. Not-so-tiny detail businesses often forget about how that can potentially affect your conversion rates and sales numbers.
What do you do?
I've already answered this question partly in the previous section, but let me reiterate.
Using tools like NapoleonCat's Social Inbox will let you:
Get on top of your ad comments for all your sponsored content on Facebook and Instagram and stop them from ruining your ad performance.
Reply straight from the dashboard, delegating threads to other team members like you would with any other Facebook or Instagram comment.
Automatically hide links and remove spam from your ads.
All this means you're reinforcing your sales funnel and saving ad money (I'm pretty sure you don't want to be paying for impressions of your competitor's links or bad reviews).
Posting content to keep your customers engaged
Okay, so you're responding to your customers like a pro, and your social ads are taken care of. But do you still have time to post actual new content to your wall to keep your community engaged?
Didn't think so. And we both know this is not ideal.
But there's still time to prepare. Like create posts and schedule them to run on their own. Which you can do in NapoleonCat, too (how convenient, right?)
Things you can talk about:
Your Black Friday deals and special offers (obviously).
Your products on sale and complementary products for some cross-selling opportunities. For those, think about more than the price – maybe there's a story you can engage your customers in to share their experiences or reviews?
Gift guides including items on sale. Many people will be doing their holiday shopping, so it's perfect timing.
Customer stories and reviews that might be helpful for people in making their purchase decision.
Keeping an eye on what works – both for you and your competitors
Tracking your ad campaign performance is kind of obvious. But to plan more effective campaigns for next year, seeing what works, in general, will help you get people more engaged next time.
Leave analyzing your cost-per-click and conversion rates to your business analysts. But what you can do yourself as a marketer is looking at how your Black Friday comms have been performing in general. And that's where you can use your NapoleonCat account, too.
Go to the Analytics tab to review what's been going on over Black Week – how people responded, what resonated with them, what type of content you can work on more next year. And, conversely, what you should get rid of entirely or improve.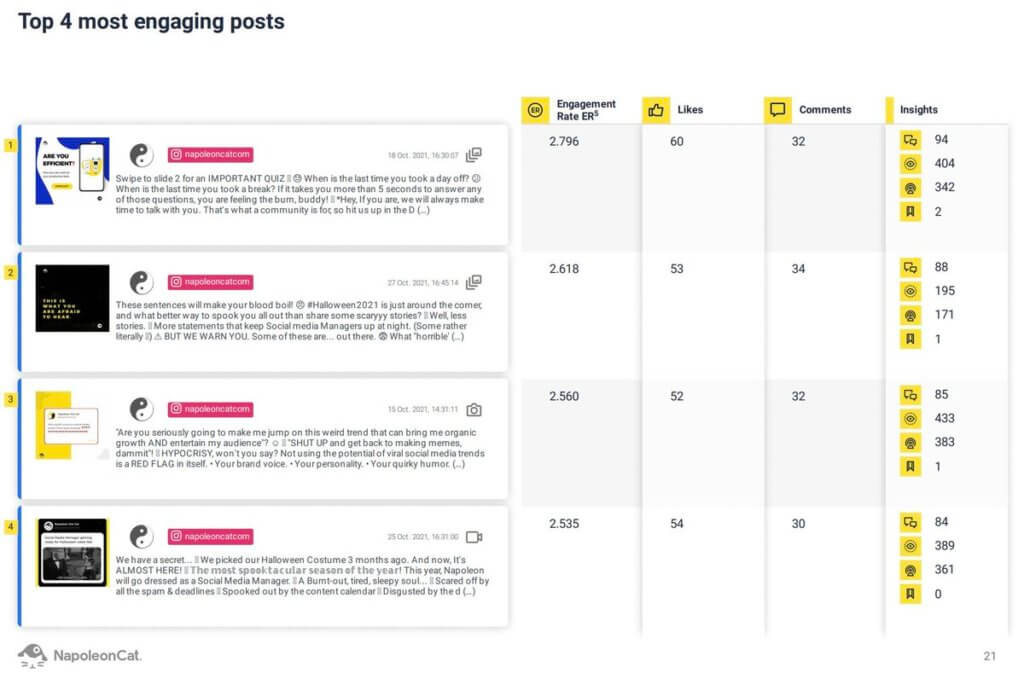 And if you need more inspiration, spy on… I mean… follow your competition's profiles and see how they're doing it. You can even compare results for different profiles to find areas you might want to work on.

Then you can create an automated report so your boss or your client can see how this year's Black Friday campaigns performed.
(Btw, do you see it already? You post content, respond to customers, and analyze everything, all with one tool. Which, on days like Black Friday, can be a life-saver – and you know I'm not entirely metaphorical here).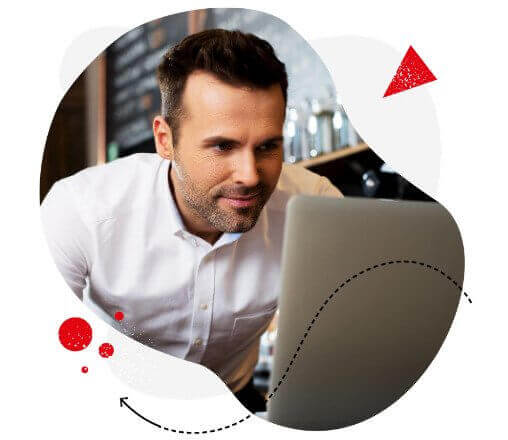 Save time managing your social media during Black Friday
Manage all comments and messages from multiple profiles in one place, automate replies to common questions, shield your posts from spammy comments, analyze your results, generate automatic reports, and more. Try NapoleonCat for free:
Try NapoleonCat free for 14 days. No credit card required.
Not into the Black Friday madness?
I get it. The shopping frenzy won't resonate with every brand – and honestly, in today's world, it's understandable. But not discounting your products for Black Friday can also be a part of your communication strategy on social – from content discussing the topic to building brand awareness in general.
This means that for this time, you can plan completely different types of content that will stand out in the sea of "Buy now"s and attract the right kind of audience that shares your values.
That's the beauty of social – you can reach your people more easily and build a community of loyal customers around your brand using different tactics that fit your brand and your marketing strategy.
And here's one of my favorite Black Friday messages in this vein from one of my favorite shoe brands, Vagabond: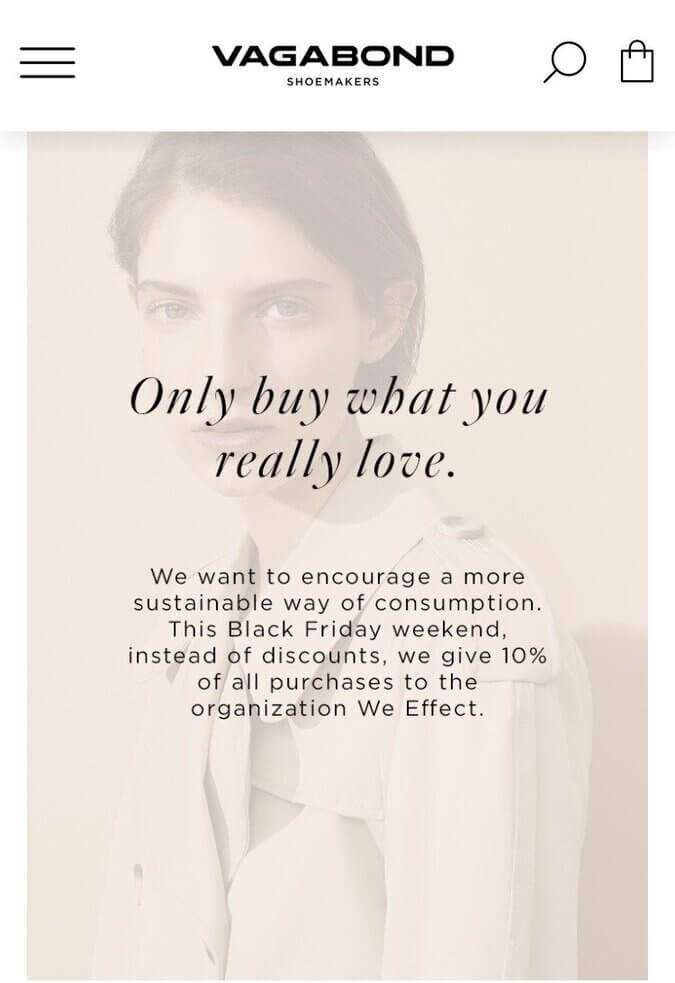 That's not all, folks
I couldn't possibly exhaust the Black Friday sales topic in ca. 2000 words, though I hope these tips will help you survive this year's hottest shopping season. You can expect more Black Friday content coming up, plus take a look at this post on creating Black Friday Instagram stories or this one on Instagram strategies for Black Friday.
And I hope you don't just survive Black Friday this year – but also thrive, your social media comms taken care of and driving sales for your brand.