Google My Business offers a convenient way to showcase your business and attract more customers. However, there is one condition – you must have at least several positive reviews. Undoubtedly, a Google My Business profile with little to no reviews doesn't look convincing.

It gets your potential customers thinking, "what's wrong with this company?". Obviously, you don't want that kind of doubt.
That's why you should also focus on this area of your business. And that's exactly what we are going to talk about in this blog post.
If you run a brick-and-mortar business, you have to take care of your online presence on Google. The reason is rather obvious – customers search for businesses on Google all the time.
That's particularly true when you think about all sorts of local businesses, such as shops, restaurants, and service points. And this is where Google My Business ups your game. With a GMB profile, you can locate your company on Google Maps and provide the necessary information, for example, concerning your exact location, prices, and opening hours.
But there's more! Google enables you to collect customer reviews on your GMB profile, and believe us, they are the most important part of your profile.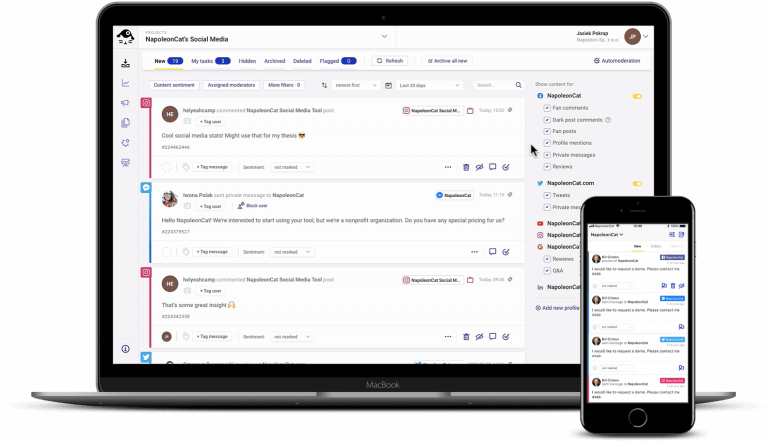 Manage all your Google reviews in one place
Monitor and reply to all your reviews from Google with one simple tool, even if your business has hundreds of locations.
The importance of Google reviews in 2023
According to the Local Consumer Review Survey conducted in 2020 by BrightLocal1, 87% of consumers read online reviews for local businesses. 60% did so "always" or "regularly":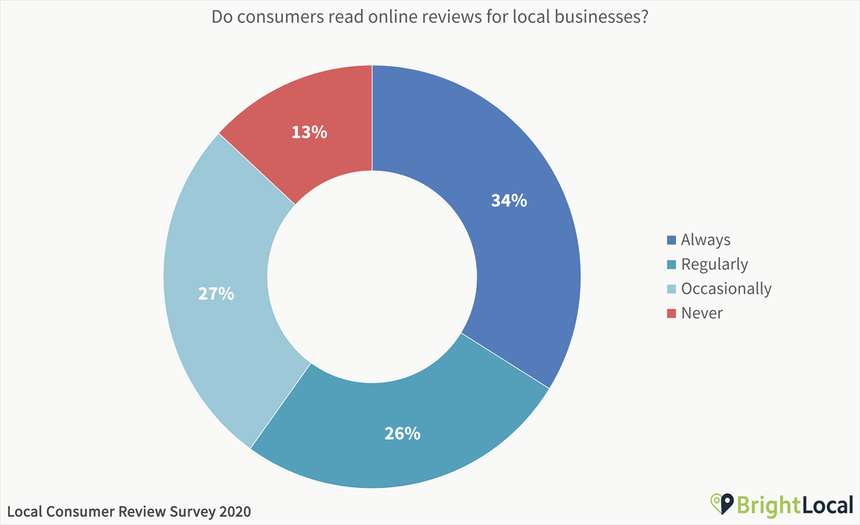 Customers read reviews and draw conclusions:
The same report stated that only 48% of consumers would consider using a business with fewer than 4 stars (and bear in mind that a star rating is a paramount review factor).
Therefore, if your company doesn't have online reviews or if negative reviews outweigh positive ones – you're in dire straits, and likely, you lose customers every week.
The conclusion coming from this report is clear – you have to make sure your Google profile has as many reviews as possible (at least 10, to be exact) and that they are positive. This way, you will be able to gain trust among potential customers, and they will be more eager to contact or visit your company.
Getting more Google reviews is a never-ending story
Customers want to read recent reviews, and they're usually not interested in how your company performed last year, let alone several years ago. 73% of surveyed customers said that a review should be placed within the past month if it's to impact their decision. 50% said it ought to be placed within the past two weeks!
This means that getting more Google reviews is not a one-time goal. You should make it a long-term priority and implement solutions that will allow you to get more reviews on Google in the coming weeks and months. Thankfully, we have a strategy that might just do the trick!
But the role of online reviews on Google doesn't end here. They can also vitally support your SEO efforts and drive more mobile traffic.
Online reviews in local businesses – SEO and mobile traffic
As the giant from Mountain View recommends, your business information on Google My Business ought to be accurate, complete, and engaging2. If you keep your profile updated and relevant, Google will have a reason to enhance your visibility in Google search, thus increasing the possibility of attracting more customers.
And reviews, obviously, are one of the prerequisites of an engaging GMB profile. They show both Google and potential customers that the given company is real and operates actively.
Moreover, GMB is a perfect way to reach mobile users. People frequently look for local businesses using Google Maps and Google search on their phones, especially when they are in a new place. The information they find often triggers them to contact your company directly3:

As a result, the Google My Business account can truly be a vital source of hot leads.
With that introduction done, let's move to the specifics on how to get more Google reviews nowadays.
How to get more Google reviews
How to get more Google reviews for your business? Well, getting more Google reviews is not necessarily easy. Naturally, you shouldn't only wait around and expect your customers to leave them on their own.
Some of your customers may not know how to do that, and others simply don't feel the need. You have to ask them.
The good news is, in over 70% of cases, a simple request is sufficient.
There are several ways to ask your customers to place a comment on your Google profile, and they are all presented in the following formats:
In an email: 45% of answers
In person: 34%
On a receipt: 30%
Via social media: 26%
Over the phone: 24%
In an SMS message: 20%
On a device inside the business location: 16%
By a chatbot: 15%
As you can see, there is no one specific way to get more Google reviews. In fact, you can use the very same channel you use to communicate with the given customer.
Of course, the communication channel is one thing – making that happen is another.
Here are multiple ways to get more Google reviews:
How to get more Google reviews – simply ask for one
Try to craft a message that will be encouraging and appealing. You could say something like this:
Don't forget to share your opinion! We value what you think about working with us. Please leave a review on our Google profile: [link]
Do you like working with us? How about leaving a short Google review? This way, you help more customers find us! [link]
Google reviews help us grow and improve our services. We appreciate your input as well! It will take less than a minute: [link]
When working on such a message, emphasize three essential elements:
Google reviews are important to your company: They help you improve your products/services.
Leaving a review is quick and simple (we will get to that in a second).
Reviews help you and other customers alike: Thanks to them, they can find a reliable company.
You can use similar communication to ask for reviews in different ways.
For example, if you run an online store, you can attach a printed card with such a request and a shortened link (or even better, a QR code) to every package you ship.
You could also come up with an email or a social media campaign encouraging your current and past customers to visit your Google profile and leave a review.
Show your customers how they can share their opinion
Although people usually know how to use Google, they don't necessarily know how to place an online review. It would be immensely helpful if you had a simple how-to file that you could share via email or social media.
Make sure you put it on your website as well, right next to the Google review button.
And speaking of the button:
Google review button
Place a simple shortcut on your website (usually, the footer section works well) that directs customers to your Google My Business profile, where they can put their reviews.
Use an icon or a button to make it more eye-catching. Take a look at some of the ideas that we've collected from various websites:

Similar buttons can be used in your email signature or social media profiles. If you don't know how to generate a hyperlink that could be attached to such a button, take a look at this short animation provided by Google:
Just log in to Google My Business, select the location you want to manage (if you have just one location, skip this point), go to the Home section and find the "Get more reviews" subsection. Click it, and you'll get a direct Google review link you can share with customers.
Once you have the link, you can easily generate a QR code to go with it. There are plenty of free QR code generators on the Internet.
You can also go even further and integrate Google reviews with your website. This way, customers visiting your site will not just see the Google review button but also your other reviews, which will significantly contribute to your online image. You will find lots of solutions and plug-ins for all major CMS platforms that will allow you to do so.
By the way, we've released a free ebook about managing Google reviews, you can download it below 🙂

Additional ways to get more Google reviews
There are several other elements that will help you attract more customers and get reviews on Google, too.
First off, make sure you respond to every comment. For Google, it's a vital sign that you value customer feedback. Focus on both positive and negative reviews.
Try to avoid copy-pasting answers. Be more specific and personal. Thereby, you will show future customers that you are truly engaged in providing the best customer service. And that's always a good sign, isn't it?
Running a brick-and-mortar company means that you serve at least some of your customers in person. It's usually a good moment to ask for an online review, especially when a given person is exceptionally satisfied with your service or product.
And finally, remember this simple truth: The best way to get more Google reviews from customers is by providing excellent customer service!
Easier Google management with NapoleonCat
At NapoleonCat, we help companies manage their online activity, primarily concerning social media, but also Google My Business. How can our tool help you with managing a GMB profile?
For starters, we provide the Social Inbox – one comprehensive dashboard that combines all of your Google My Business profiles and locations in one place.
This way, you can quickly check new reviews and reply to them. And no worries! Even if your company operates internationally and receives comments in various languages, there is a translation feature to help you answer in your customer's language.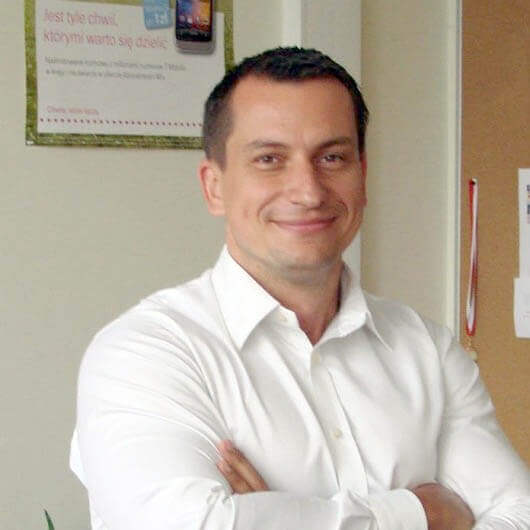 Sign up for a
14-day free trial