70% of YouTube viewers will buy a product as a result of seeing it in a YouTube ad. If that's any indication, you'd be smart to invest in YouTube ads to get your brand in front of your audience.

But many companies, including your competitors, probably know this already. Do you want your YouTube ads to stand out from the competition? Then you must run your advertising campaign the right way.
You need to choose the right types of YouTube ads to support your business, for starters. Unfortunately, many advertisers get this part wrong.
And this is where we come in.
In this article, we're giving you a rundown of the different types of YouTube ads, how each one can support your business, and some tips that will fuel your YouTube advertising efforts.
We cover the following: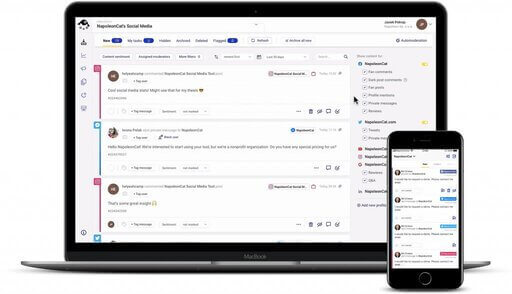 Manage YouTube comments from multiple channels in one place
Monitor and manage your YouTube comments from multiple channels – all in one customizable view. Try NapoleonCat for free:
Try NapoleonCat free for 14 days. No credit card required.
About YouTube Video Ad Formats
Currently, YouTube offers the following video ad formats:
Skippable in-stream ads
Non-skippable in-stream ads
Video discovery ads
Bumper ads
Non-video ads
Keep in mind that each ad format can be tailored based on your goal. The goal you set out for your YouTube campaign will decide the best ad formats and bid strategy you should use.
In other words, if you want to run an effective Youtube advertising campaign with your
YouTube brand account, it's critical to understand each ad type.
1. Skippable In-Stream Video Ads
Skippable in-stream ads (also known as Trueview ads) are the most common video ads you'll see on YouTube.
These are video ads that are shown before (pre-roll ads) or during (mid-roll ads) a video.
As the name suggests, viewers have the option to skip these ads (at least past the five-second mark).
Skippable in-stream ads are between 12 seconds and 6 minutes in length, though it's always recommended to keep it under 3 minutes.
You only get charged for these ads when:
a viewer watches the ad for at least 30 seconds or until the video ends.
a viewer takes an action with your ad by clicking on something.
When to use skippable in-stream ads
These ads are most well suited for YouTube advertising campaigns where increasing reach or generating leads is the goal.
If your brand appeals to a diverse audience, using skippable ads is a great way to generate brand or product awareness. The 5-minute window, after all, hits the sweet spot for maximizing impressions and reaching a wider audience instantly.
To get viewers to keep watching past the five-second mark and engage with your ad, have an exciting hook or create a knowledge gap right out of the gate.
Monday.com is one brand that does a great job of catching an audience's attention from the get-go.
The above video is effective because it grabs attention by addressing a pain point ("We can't manage work like this!") in the first few seconds. Better yet, the ad was able to mention the business name in the first 5 seconds, which can have an impact on brand recall.
2. Non-Skippable In-Stream Ads
If you're like most people (or me), you're more likely to skip a YouTube ad. This is an ingrained habit among YouTube viewers. If the idea of capturing the attention of your audience within a five-second window scares you or doesn't align with your goals, don't worry.
Enter non-skippable ads.
Non-skippable ads are in-stream video ads that play before, during, or after a video. As the name suggests, these ads cannot be skipped by viewers. In other words, a viewer has no choice but to watch your ad until the end. That said, non-skippable ads are shorter than skippable ads and run for 15-20 seconds. So if you have something longer in mind, you might be better off using a skippable ad.
You'll see the following words in the bottom right corner of your screen as soon as a non-skippable ad plays:
With non-skippable ads, you are charged for every impression (also called cost per mile or CPM). Since viewers aren't allowed to skip these ads, the cost per view is relatively higher than skippable ads.
When to use non-skippable ads
If you're looking to increase brand awareness and brand reach, non-skippable ads will typically generate better results. Since these ads can't be skipped and appear pre-, mid-, or post-roll, they are more likely to demand attention.
To offset the intrusive nature of the ad format, YouTube is also more likely to show ads to viewers who will be interested in watching the corresponding content. While non-skippable ads are not very long, they are long enough to tell a story that will generate interest in your brand.
Since viewers have no choice but to watch your ad until the end, don't miss the opportunity to include a compelling call-to-action (CTA) to take advantage of the attention.
For better results, use storytelling to your advantage. Use people, interesting dialogue, and other storytelling elements to take advantage of the full 20 seconds.
As far as storytelling elements go, this ad from discovercard.com ticks all the right boxes.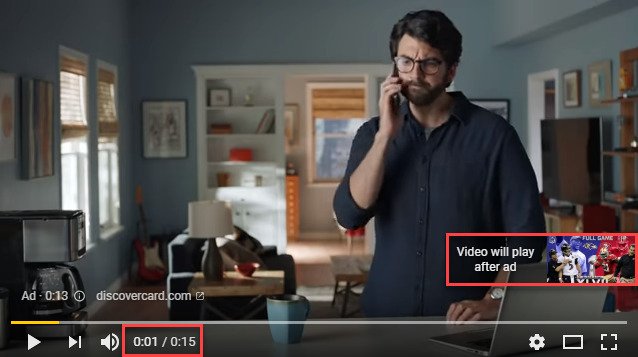 3. Video Discovery Ads
Also known as "In-feed video ads," video discovery ads are ads designed to help your audience discover your brand.
These ads appear in places where viewers discover content on YouTube, including the YouTube home page, search query results pages, and within a list of suggested videos on the video watch page.
When running video discovery ads, expect to get charged for each time your ad is clicked on, no matter how long viewers have been watching your ad.
When to use video discovery ads
Using discovery ads is a great way to help your audience discover your brand and products. Since it runs on the Google Discover feed, you're targeting users who are already interested and, thus, are more likely to buy.
If you want your video ads to get served to the right audience, it helps to optimize images, headlines, and descriptions. You're also more likely to generate better results if you use a thumbnail with people in them.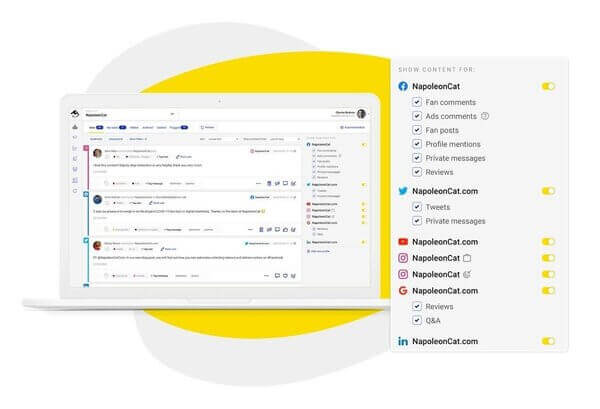 Manage all your YouTube comments from one place
Monitor and manage all your comments from YouTube, Facebook, Instagram, Twitter, LinkedIn, and even Google reviews. Try NapoleonCat for free:
Try NapoleonCat free for 14 days. No credit card required.
4. Bumper Ads
Bumper ads are the shortest ad format on YouTube, lasting only up to 6 seconds. These ads play before a viewer's chosen video and are non-skippable.
When to use bumper ads
Bumper ads are a great way to increase brand awareness if you know how to make the most out of those six seconds. In fact, a Google study of over 600 campaigns reports that 90% of bumper ads resulted in a significant lift in ad recall.
The great thing about bumper ads is that you can use them in combination with other ad types. You can use them to either hype up larger campaigns or reinforce your brand message.
It helps to engage your audience's five senses as you serve bumper ads. By creating a multisensory experience that communicates your brand's unique value, your bumper ads are more likely to make an impact on your audience.
Krispy Kreme pulled this off by launching a bumper ad you can taste and smell.
Just like with skippable ads, make sure to introduce your logo or your brand within the 6-second window to make your company top of mind and influence future purchases.
4. Non-Video Ads
Let's face it. While video ads are effective at driving brand awareness and customer engagement, the costs do add up.
Thankfully, YouTube advertising offers a cost-effective option. By using YouTube's non-video ads, you can take advantage of the platform's wide reach and audience targeting capabilities without breaking the bank.
The two types of YouTube non-video ads include:
Display ads. These non-video ads appear on the right-hand sidebar of a viewer's video, right above the video suggestions list. Display ads come with an image, text, and a CTA.
In-video overlay ads. These ads are compact advertisements that appear as a semi-transparent pop-up on top of video content from monetized YouTube channels. Overlay ads only show up on laptop and desktop screens.
The great thing about non-video ads is that they don't disrupt the viewing experience of your audience, which improves brand sentiment in the long run.
With that said, non-video ads provide a great complement to video ads. That way, you're still getting your brand in front of your viewers even after they have skipped or watched your video ad.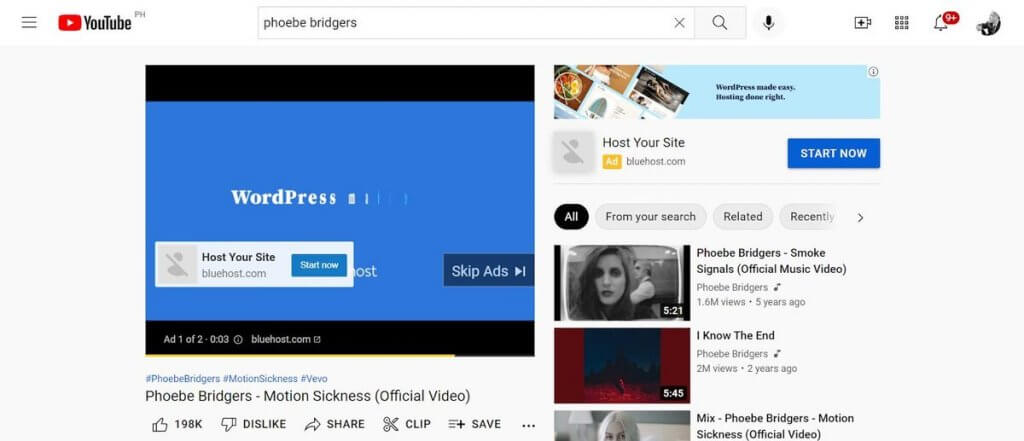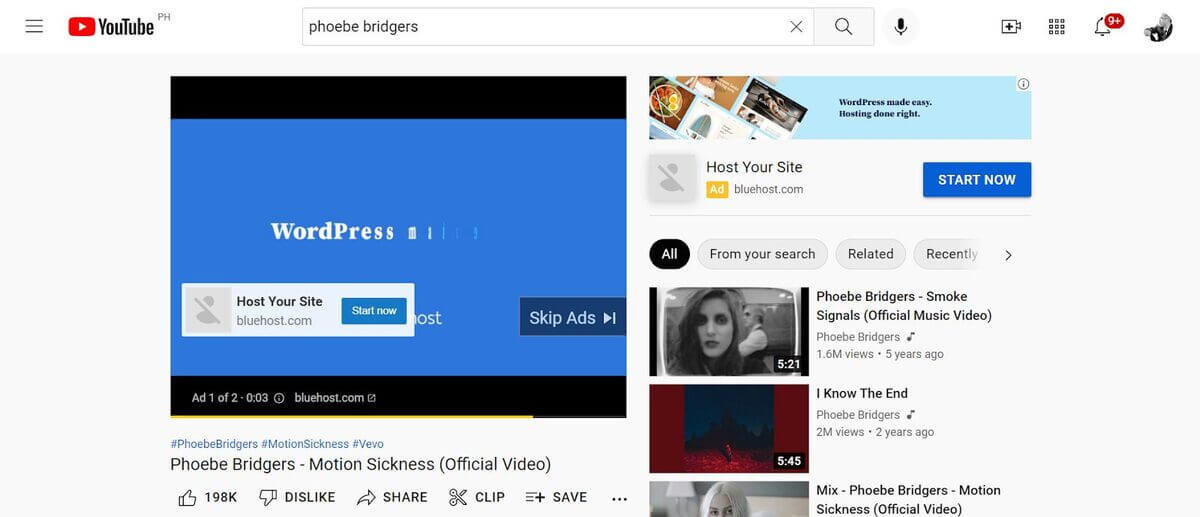 Best Practices to Fuel Your YouTube Video Advertising Efforts
There are many indirect but powerful ways to take your YouTube advertising to the next level. By adopting the following best practices, you can develop a well-rounded strategy that will help put your YouTube ads in a better position to drive more engagement and conversions.
1. Manage your YouTube comments
If you want your YouTube ads to get more views from a specific audience, engage your users in the comment section.
Remember, YouTube is a social network. By interacting with your target audience and keeping the conversation going, you're also sending a positive signal to the YouTube algorithm. Which can have a significant impact on your YouTube video ads:
"Our systems will also scan for viewer engagement. This means we look at things like comments, likes, and whether the entire video is watched. We also look at other kinds of content your audience watches. Our systems may make another monetization assessment that could change your video's monetization status."
Keeping up with YouTube comments can get difficult and time-consuming. Thankfully, NapoleonCat's YouTube management tools for business via Social Inbox make that part easy by allowing you to manage YouTube comments from multiple channels via one convenient, customizable dashboard.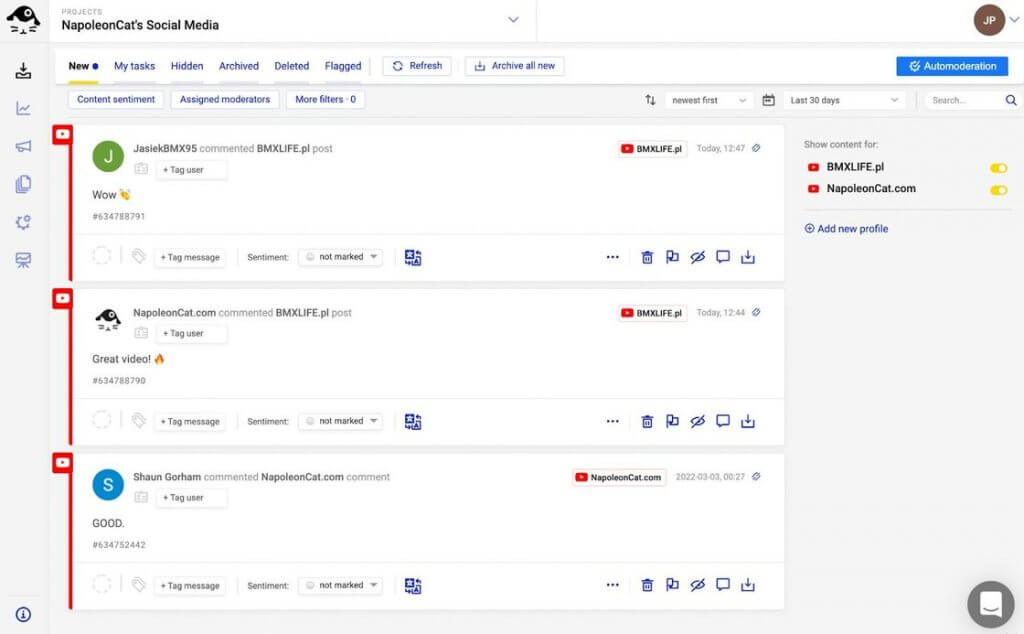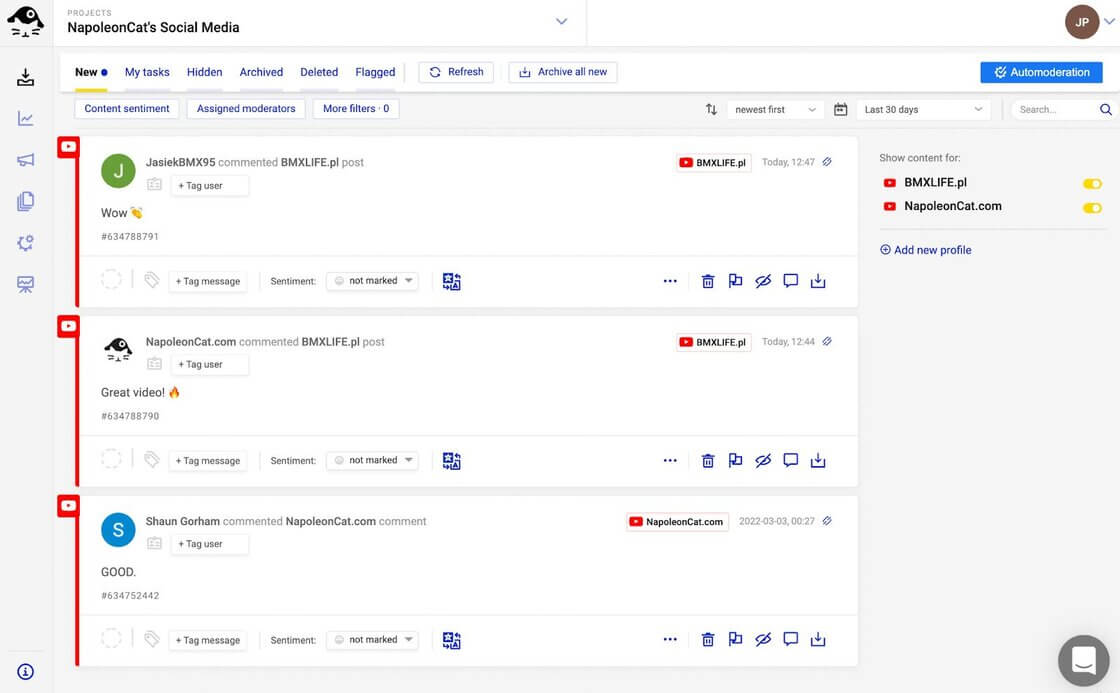 Manage your YouTube comments as a team
The YouTube comments section can get pretty busy… and spammy. So much so that sometimes you need an entire team to keep those comments under control.
A solid team, however, needs a solid tool that fuels collaboration. Case in point: NapoleonCat's Social Inbox.
Here are ways the Inbox can improve team collaboration when managing YouTube comments.
Turn YouTube comments into customer service tickets.
Hide, delete, or reply to comments straight from the Inbox.
Find specific conversations faster by filtering interactions based on account, time frame, user tag, and more.
Automatically translate comments and replies when engaging with an international audience.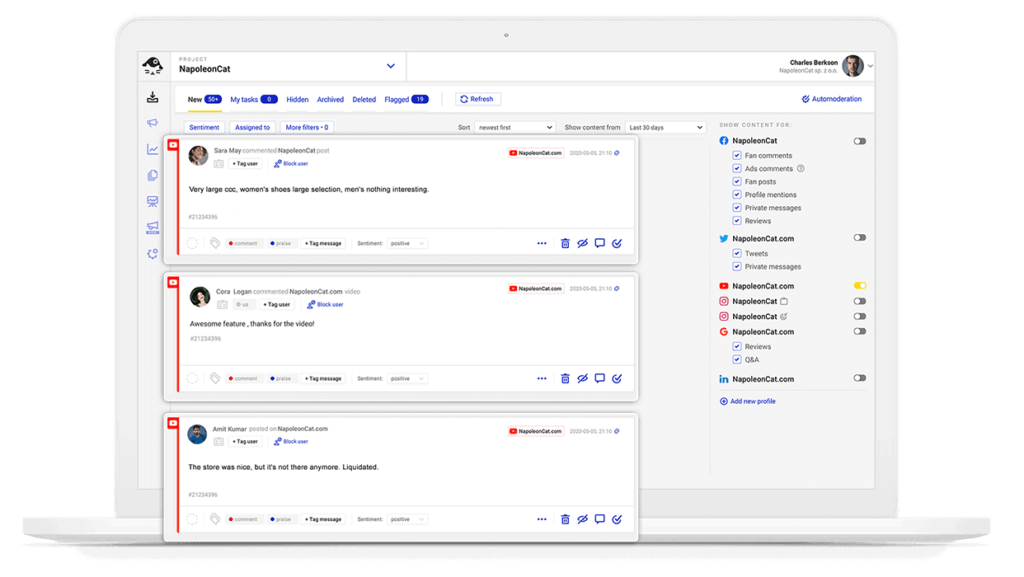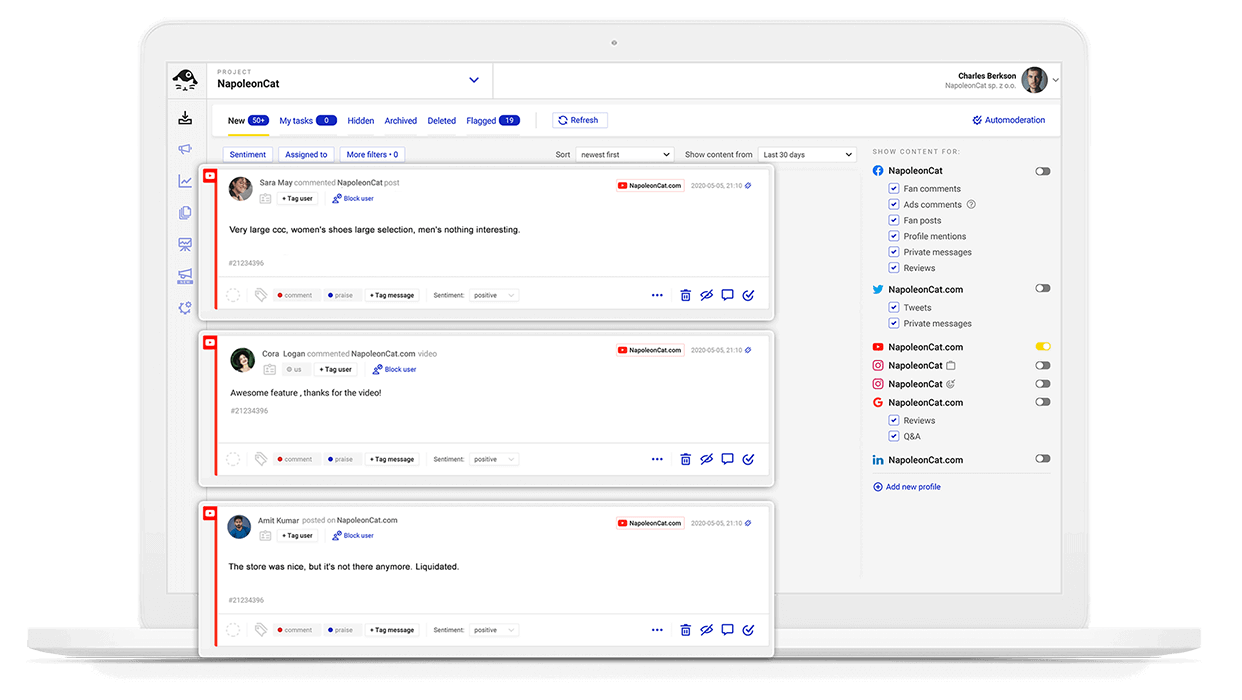 2. Leverage video analytics
If you want your YouTube ads to generate results, you need to make sure you're reaching the right audience. You can learn a ton about your ideal viewers through video analytics tools, including YouTube/Google analytics.
By checking your Google Ads Account, you can track views, engagement data, and costs and learn more about your viewers. You can, for example, identify which videos are viewed most or which ones are viewed the longest. As an advertiser, you can use such viewer data to drive more engagement and deeper viewership among a target audience.
Unfortunately, video analytics is not always a straightforward process. But it helps to be able to track your YouTube results at a glance. With NapoleonCat, analyzing video results, tracking important KPIs, and finding ways to improve your ad targeting efforts can become an effortless exercise.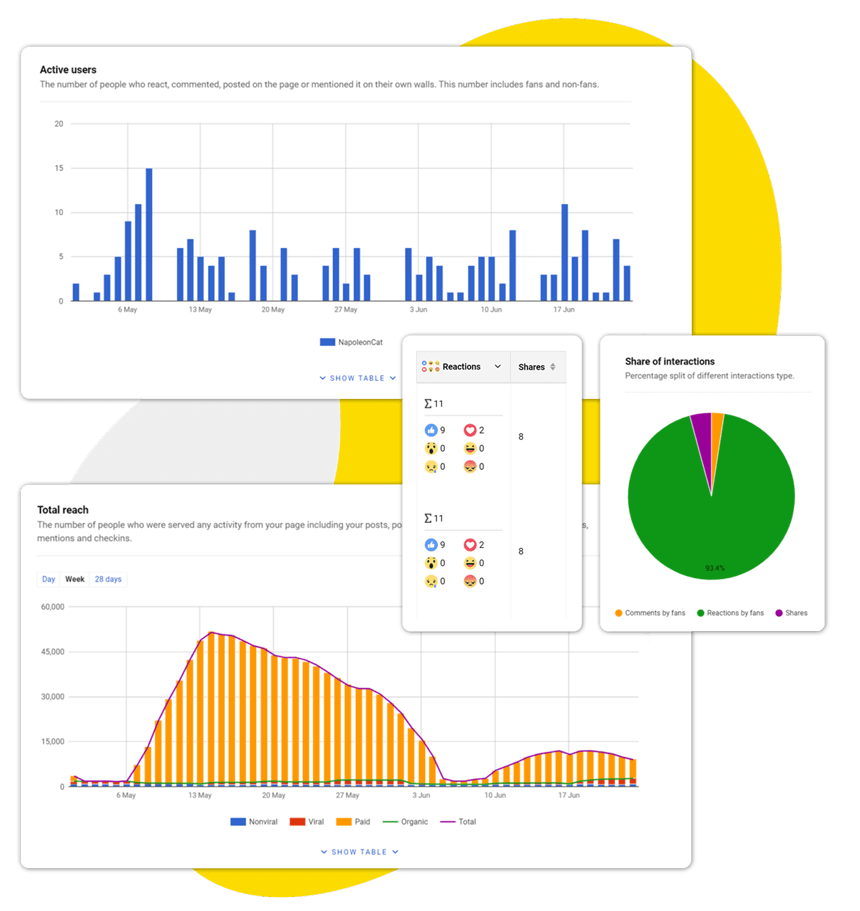 Wrap up
The types of YouTube ads you run can spell the difference between a successful video ad campaign and one that is not. Start by identifying the right goal and knowing your ideal audience the best way you can.
And by using the examples provided here as an inspiration and following the best practices we've shared, you should be in a great position to create YouTube ads that will not only resonate with your audience but also turn them into loyal customers.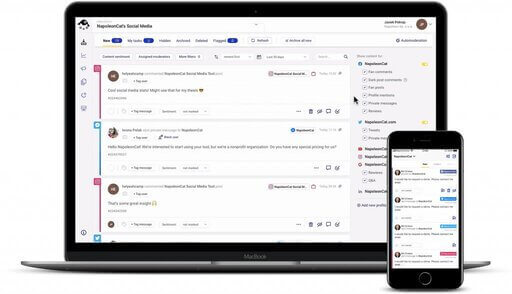 Manage YouTube comments from multiple channels in one place
Monitor and manage your YouTube comments from multiple channels – all in one customizable view. Try NapoleonCat for free:
Try NapoleonCat free for 14 days. No credit card required.