Is TikTok in your social media strategy for the coming months? (It probably should be.) I'm asking because you can now schedule your TikToks in advance and engage with your TikTok community from the same dashboard you're using for your other social media channels. And here's why it's such a big deal.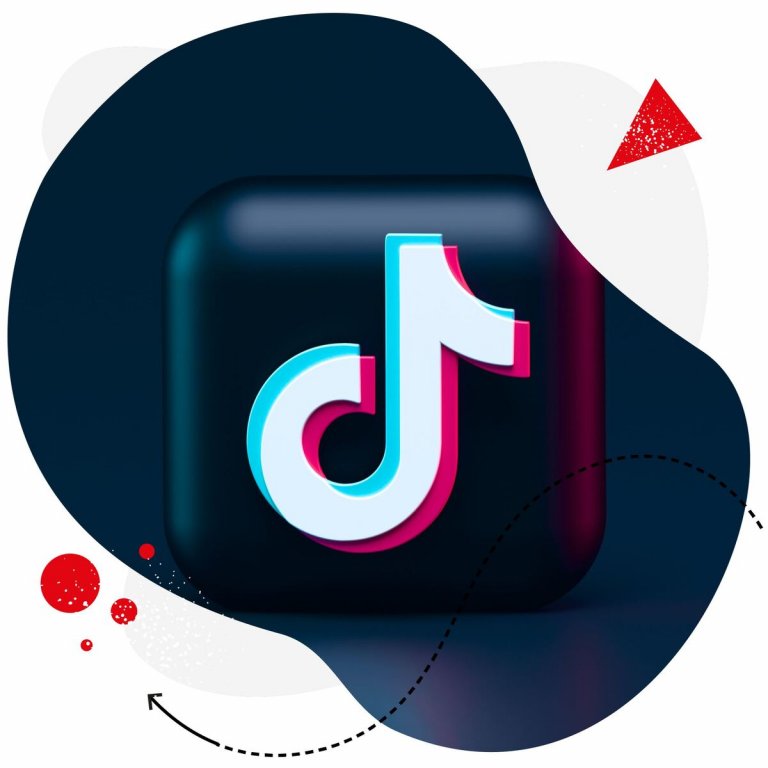 TikTok management tool for teams
Schedule your TikToks and manage TikTok comments from one place – with a simple tool designed for teams. Try NapoleonCat for free:
Try NapoleonCat free for 14 days. No credit card required.
Yes, TikTok is the new social sales influence machine
In case you didn't know, when it comes to influencing people to buy, TikTok is definitely winning hands down. It's enough to look at any recent research to find pretty impressive numbers across the board.
No, it's not just silly videos, bad lipsync, and people dancing/singing or pranking others (if you still think that, time to download the app and see for yourself. Disclaimer: give the algorithm some time to start showing you the really interesting stuff.)
The following is true, though (and you can read more TikTok stats in this article):
Nearly three in five users discover new brands and products on TikTok. TikTok users are also 1.3 times more likely to know about new brands and products first.
57% look for details about where to buy products they've seen on the platform, which is a whopping 84% more than on other social media platforms.
TikTok users are twice as likely to recommend a product or service they discovered on TikTok to others – compared to the users of other social media platforms. And, at 58% of TikTok users, they're 1.5 times more likely to successfully convince others to try that product or service.
(I experienced this first hand many times. One notable example was when I bought an air fryer, which is one of the many things #TikTokmademebuy.)
37% of TikTok users are in the top third of spenders, which is 61% more than on other platforms.
And they spend 14% more if TikTok is a part of their buyer's journey.
I could go on and on – and I'm not surprised at all about the sales potential on TikTok, having been influenced to buy things myself (and I'm not even Gen Z, if you're asking. ;))
The infinite sales loop is the new sales funnel
TikTok's sales phenomenon is largely based on the concept of the infinite loop, rather than a traditional sales funnel. Here's what it looks like according to TikTok.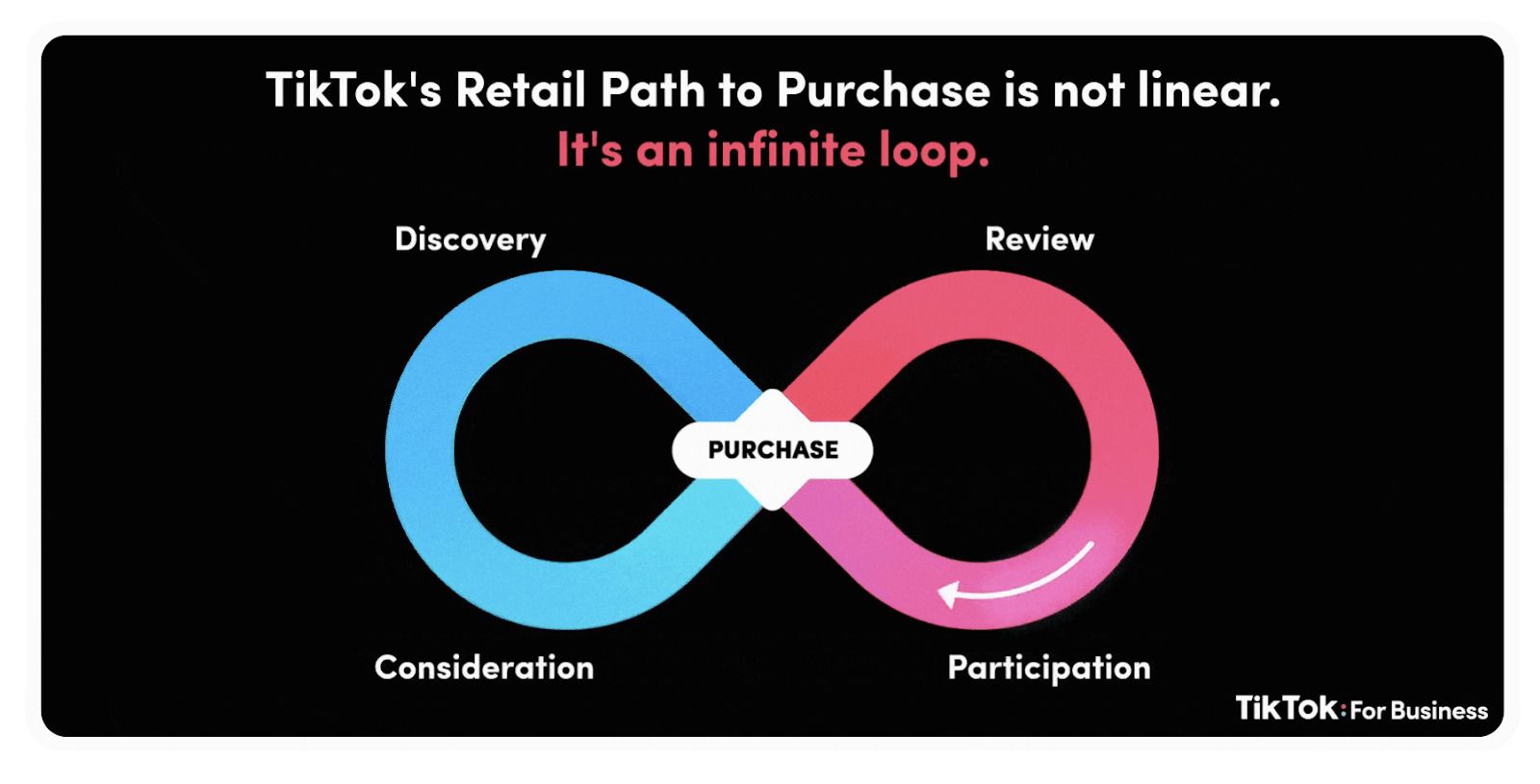 So, you don't really exit the purchase path after you buy, like you do with a sales funnel. Instead, after the participation phase, you infinitely go back to the discovery phase, where the loop starts over and over again.
Add a super engaged community on the platform, and here's your recipe for success. Which, truly, can work regardless of your industry. (I recently found a local furniture cleaning service on TikTok. Not to mention countless beauty products, foods and supplements, home appliances, clothes, fitness and mental health services. You name it, they're selling it on TikTok.)
If you have an idea of how to use TikTok for your business and find your people on the app, all that's stopping you now is time and resources to make and post TikToks, and get engaged in discussions with your community, which are bound to start happening.
Speaking of which.
Schedule TikToks and talk to your TikTok audience using NapoleonCat
So I guess it was just a matter of time before NapoleonCat introduced scheduling TikToks in advance and managing TikTok comments in the Social Inbox, along with all your other social media profiles.
(And, coming soon, TikTok analytics is also in the works, so you'll be able to monitor your performance in the same place, too.)
Let me quickly show you how it works:
Scheduling and automatically publishing your TikToks
You can now use NapoleonCat's Publisher to schedule and post your TikToks using the visual content calendar and all it has to offer, including:
Previewing your TikToks
Discussing them internally to get feedback and final approval
Planning your TikToks alongside your other content like Instagram Reels (which also makes reusing and repurposing content much easier).
Labeling your content with colors and titles to clearly see what's in the pipeline – and so that everyone on your team is on the same page.
Assign tasks to team members to work on individual TikToks that you have planned.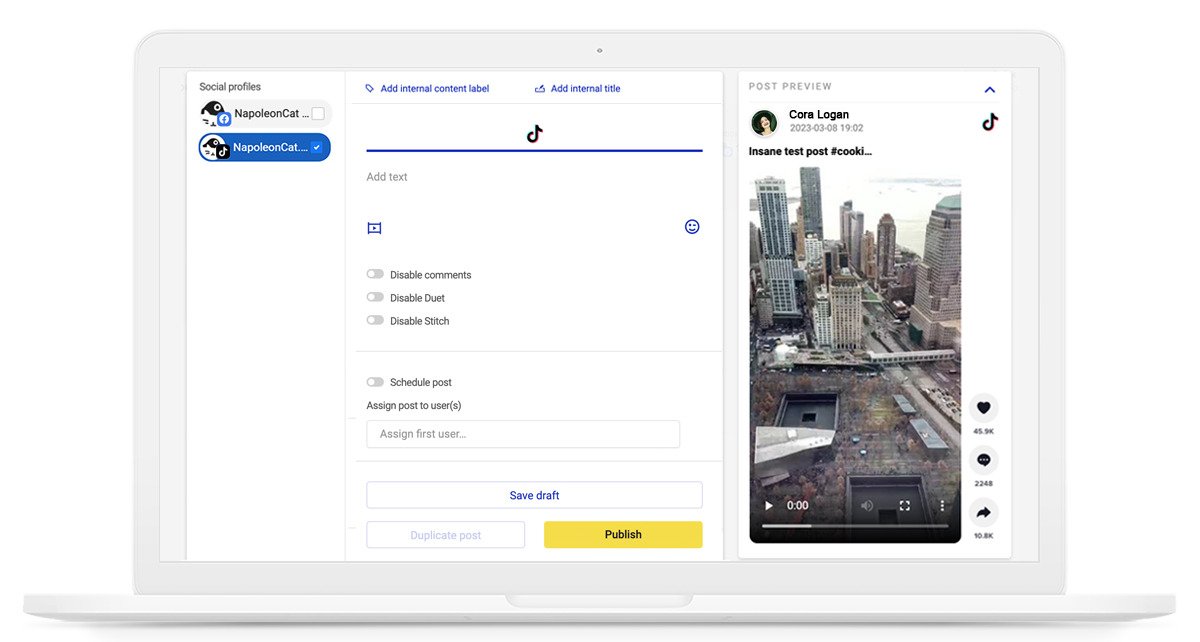 You can now schedule, for example, a week or month's worth of TikToks at once, and then focus on communicating with your followers in the comments (which you can now also do in NapoleonCat), or anything else you never have time for.
And if you've already been wanting to be able to schedule TikToks in advance, I don't really have to convince you about all the benefits, do I?
Moderating comments on TikTok using the Social Inbox
TikTok is known for its engaged audience – and if you're serious about running your TikTok channel, you do need to be prepared to engage with your followers. And from now on, you can do that using the Social Inbox, with your TikTok comments all in one place alongside your Instagram, Facebook, or Twitter audience interactions.
This way, you can:
Keep track of all your comments and sub-comments in one place.
Like, hide, or reply to TikTok comments directly from NapoleonCat, without having to unlock your phone (again) or switch between accounts and social media platforms.
Collaborate with everyone in your marketing and customer service teams, assigning comment threads to different team members to handle. (So you can now seamlessly plug TikTok into your customer service workflows.)
Leave notes for other team members, send tickets for consultation, etc. – essentially all the features you get with your other social media profiles you manage via NapoleonCat.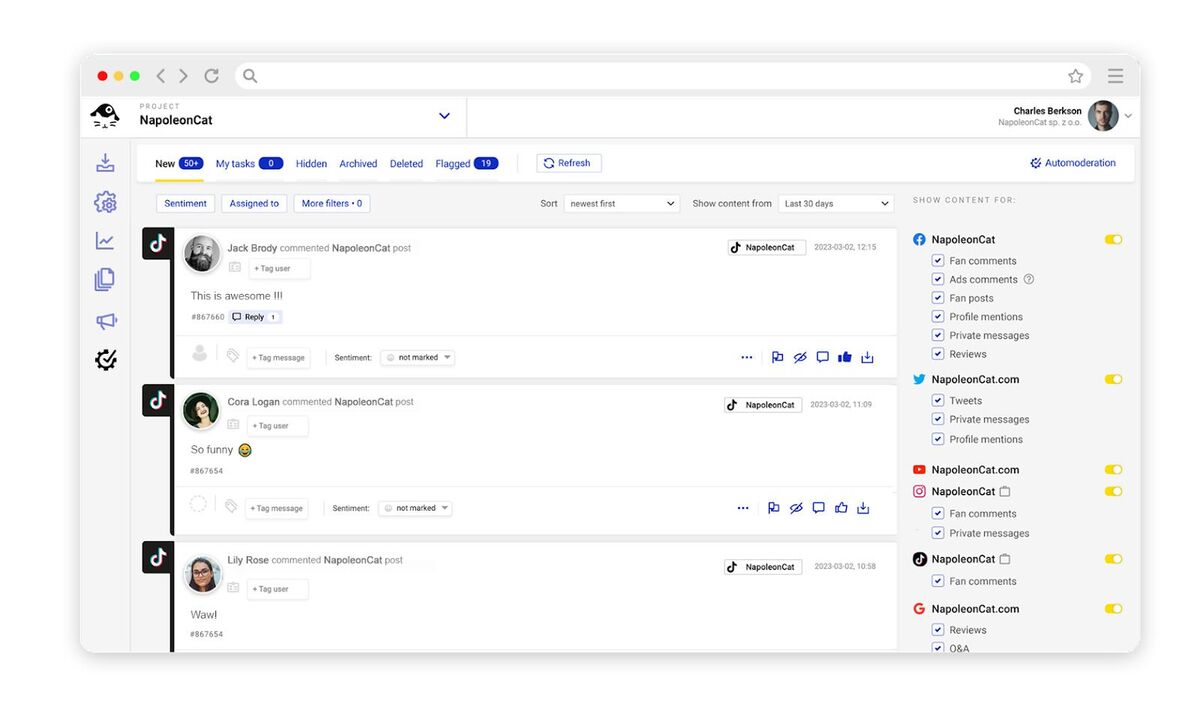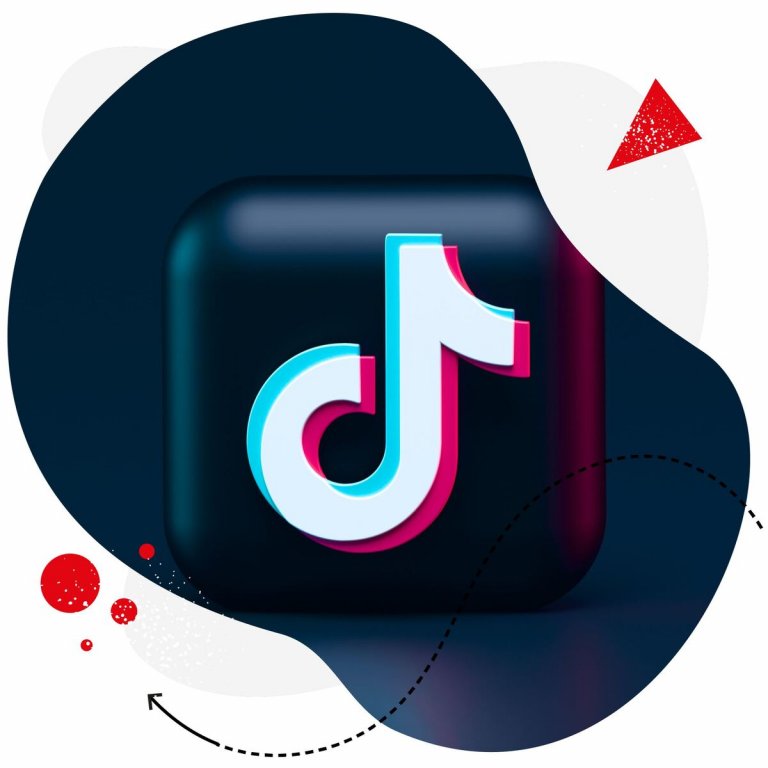 TikTok management tool for teams
Schedule your TikToks and manage TikTok comments from one place – with a simple tool designed for teams. Try NapoleonCat for free:
Try NapoleonCat free for 14 days. No credit card required.
So, whatcha think?
Despite all the rumors, TikTok's not going anywhere (at least for now). On the contrary, its continuous growth is nothing short of impressive, definitely contributing to the growth of the creator economy and influencer marketing. And some brands are also doing great on their own profiles and in their TikTok campaigns.
So, time to join them, right? (Or maybe you already are one of them, in which case, congrats!)