To support access to accurate information about the war in Ukraine, NapoleonCat is, from now, available for free to NGOs providing help in Ukraine and all news outlets helping fight trolls and disinformation online through automation.
We all are following news about our friends from Ukraine who are risking their lives in defense of their land and democracy. However, when browsing the Internet, we must remember that the Internet is another warzone filled with disinformation and state-backed propaganda.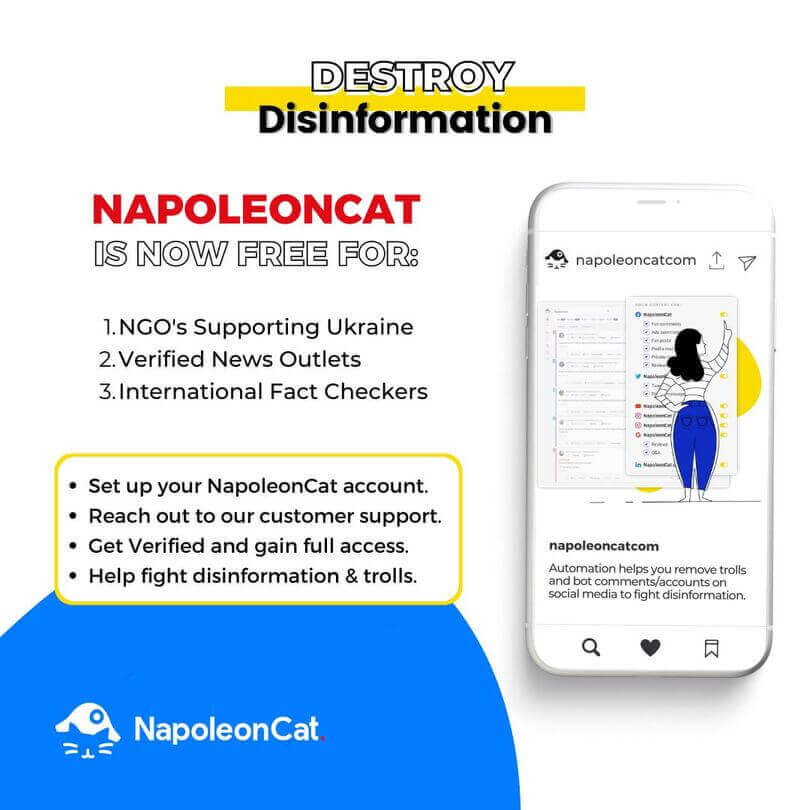 Since the beginning of Russia's war against Ukraine, Internet trolls and Russian propaganda accounts have been spreading fake news to impose panic, confusion, and false narrative about current events. Moreover, these disgusting practices are impeding friends of Ukraine from organizing help for the victims of the war.
How can NapoleonCat help your organization?
If you are currently involved in organizing aid for Ukraine, you are probably observing increased traffic on your social media channels. Unfortunately, there is a risk that internet trolls are trying to use comments under your posts to spread false information among users or publish offensive content. Their goal is to disrupt your work and deter people who want to help you and those in need in Ukraine.
To counteract these effects, you can use the NapoleonCat Auto-moderation feature, which will allow you to delete or hide spam and inappropriate comments the instant they are posted.
Here's how to delete comments
NapoleonCat is a tool that allows you to manage multiple accounts from different platforms within one dashboard. If you use NapoleonCat to manage your social media accounts, head over to the Social Inbox and find the comment you wish to delete. Once you click the bin icon, the comment will be immediately deleted from the relevant social media platform. You will still be able to see it within the "Deleted" tab in your Social Inbox. 

Delete harmful content automatically
It's impossible to manually protect your followers from harmful content around the clock. Luckily, with the Auto-moderation feature, you can use simple "if-then" rules to help you automatically deal with issues such as answering predictable, frequently asked questions or deleting harmful comments. All the rules work in the same way: defined triggers activate defined actions. In this case, a trigger would be, for example, a comment containing inappropriate language. 
Here's how to set up your rule:
Head over to NapoleonCat's Inbox and click the Automoderation button in the upper right-hand side corner.

You'll see a pop-up window where you can create a rule simply by clicking the Add new rule button.

Name your rule and choose the profile that you want your rule to apply to.

Define the type of message you want the rule to apply to: posts, messages, comments, etc.
Choose a condition to narrow down the trigger, i.e. if you want your rule to work on organic comments – do you mean all comments, text only comments, only comments with links, or only comments with pictures or videos?

It's time to define the keywords (in this case, the inappropriate language). Put the words in the "Keywords" field and add an asterisk (*) before or/and after the keyword to make the rule work for words with prefixes and/or suffixes.
Define the action you want your rule to take on messages that meet your criteria: you can choose from none, hide, archive, delete, and flag. In this case, choose "Delete".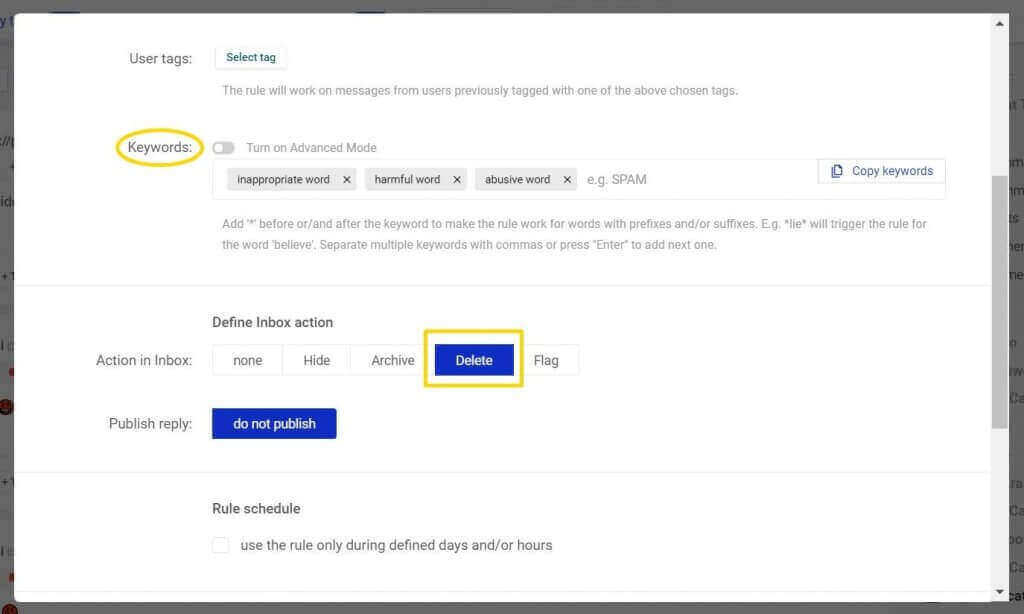 Finally, you can set up a schedule for your rule – if you want it to work only outside your working hours, check the "Rule schedule" box and highlight the time slots of your choice in grey.
Your rule is ready! Even though Auto-moderation can be set in a matter of minutes, it will save you hours of work. Since the rules protect your profile 24/7, you can focus on providing other means of support to the people in need in Ukraine.