Community management has become one of the most important parts of every marketing strategy, no doubt about it. A person who oversees this process is a so-called community manager. And such community managers usually have a lot on their plates, every single day.
Mastering community management doesn't come easily: it requires patience, self-development, and a deep understanding of your target audience. However, with a few good practices and the right daily workflow, managing even big communities can be made easier.
Today, we're going to talk about a community manager's workflow: what skills to develop, what practices to follow, and what tasks to accomplish on a daily basis.
Who is a community manager
A community manager is often a part of a social media team or simply a member of the marketing department. Community managers are mainly in charge of driving interaction with both current and potential brand followers. The KPIs for community managers are rather clear – to maintain and improve engagement rates leading towards a better user experience and increased brand awareness.
Community management is sometimes considered to be just one more additional task for social media managers. However, managing a community requires such a huge amount of time nowadays that it should be considered as a separate job role.
A community manager's skillset
So, what are the skills, apart from communication skills, that each community manager should actually have? In our opinion, community managers should have this self-styled set of PALACE rules:
P for Patient. Community managers are exposed to a lot of stress and they often need to deal with unpleasant situations. They can't lose their temper or answer requests spitefully.
A for Authentic. A community manager represents the brand and they need to maintain a specific tone of voice at all times. Acting naturally and according to the brand's voice and values brings success a step closer.
L for Listener. A community manager shouldn't just hear feedback, they also need to listen to it, process it further, and incorporate it into the communication. Neglecting even a single comment can bring about some negative results for the brand.
A for Analytical. Community managers should befriend statistics to identify areas for improvement. Although the community manager's job is about more than just KPIs, it's still worth having a benchmark and trying to better it each month. This can also involve spying on some competitors.
C for Creative. A community manager should never stop discovering new ways of reaching and engaging the target audience. Even if some methods of interaction already work perfectly, community managers should always be open to testing out brand new ideas for driving engagement.
E for Efficient. Each and every community manager should manage interactions in a timely manner, otherwise they may get lost in a sea of messages, comments, templates, and complaints, including the internal ones.
Community management workflow: a day in review
The following workflow was created based on both our research, and our own experience. You may not be able to follow all of the steps, but we hope that some of them will provide great inspiration for your daily task breakdown. For better organization and increased productivity, you can use the Asana time tracking tool or any similar platform.
Early morning
Spend this time listening to some relaxing music. A shot of espresso may help you kick start the day! If time allows, you can also read up on some short marketing insights.
Morning
Check what happened overnight, especially if your followers are active in various time zones. Answer any outstanding social media interactions and verify brand mentions, including those that were published outside of social networks.

During a daily stand-up, share what you're currently up to and whether there are any challenges or problems to resolve, plus involve other departments. Treat it like a short report. For example, you may have to deal with a demanding client who has issues with their order. Community managers don't usually have such detailed information, so they need help from other team members to resolve the issue.
Midday
Keep an eye on all interactions coming your way from different social media platforms. Drive further engagement, for example through engagement loops. Although the method may be time-consuming, it pays off with loyal and engaged customers.

Talk to social media managers about the posting strategy, so you know what will be published and when. Let's say that you're responsible for social profiles of an online shop that is going to make the biggest sale in their history. It's likely that many followers will turn to social media channels and ask about that sale, so community managers need to be prepared for more intensive work at that time.

Identify some cross-promotion possibilities, for example user generated content or Instagram Stories that your brand could share and that would suit your content strategy. Present and argue these ideas to your social media team.
While there may be too many mentions to make a separate post about each of them, sharing the mentions in such a dynamic and short format as Stories may be a win-win for both sides. The person who originally posted the content will feel happy and appreciated, while the brand gains a valuable mention and builds a bond with their fans.

Explore new ways of interacting with your audience. Maybe there's a new Facebook or LinkedIn group that's worth checking out, or perhaps your competitors came up with an interesting concept? Once you identify what brings a great engagement rate to your competition, it may be easier for you to improve your communication a little bit too.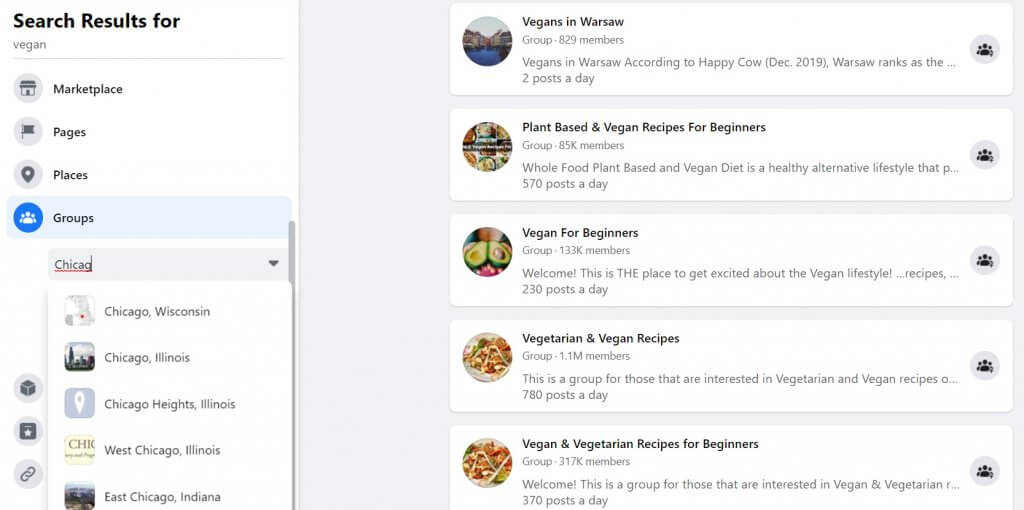 Check social listening tools (if you use any). They may help you identify some interactions outside of social media (for example, on online formus) that are still worth replying to.
Afternoon
Have some quality time for yourself. Even 15 mins (and a cup of tea) can help you settle down. Get some rest from the noisy world of digital community management, you deserve it!

As always, check what happened in the last few hours and interact with users. Don't leave any comment or message unanswered or ignored, as they could potentially be the spark that ignites a social media crisis and causes some stress out of working hours. Finish your working day with your inbox as empty as possible.

Evening
We don't encourage you to stay online all night – but sometimes you simply cannot avoid working overhours, for example when a crisis escalates. However, there are several NapoleonCat's features that will help you maintain the communication on your social media profiles even if you're offline.
Make community management workflow easier with NapoleonCat
Social Inbox
The headquarters of your online community management.

NapoleonCat's Social Inbox gathers all interactions scattered across various social media platforms. Community managers (and whoever else is involved in the project) have access to communication from all over the place, in one place – a common dashboard.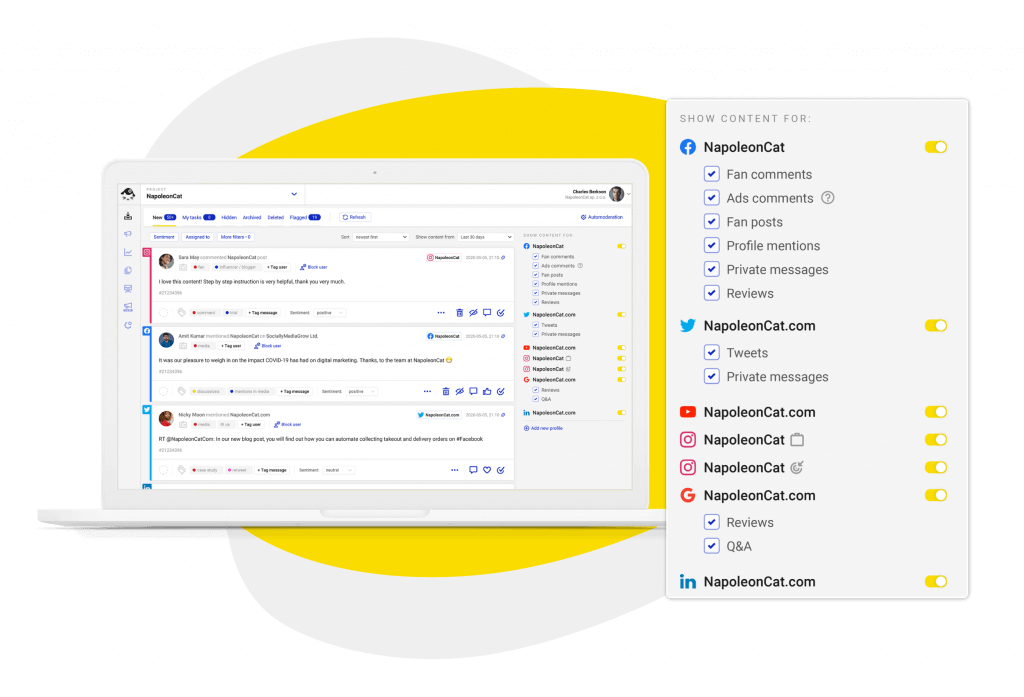 Using the Social Inbox, community managers can not only view the incoming comments and messages, but also reply to them or assign them further to other team members. Assigning is really helpful in many unpredictable situations – for example, when a technical issue occurs and community managers need to reach out to another department for help.
A community manager can create labels to tag users and comments or other messages. Then, such labels can be used to configure special Auto-moderation rules – but we'll discuss Auto-moderation in detail in a moment.
Labels will also help you personalize the relations that you have with a particular group: for example, your loyal clients or potential hot leads. And yes, you can create a "Troll" user label if you want to!
No more mess, switching accounts and devices, or a community manager's bitter tears.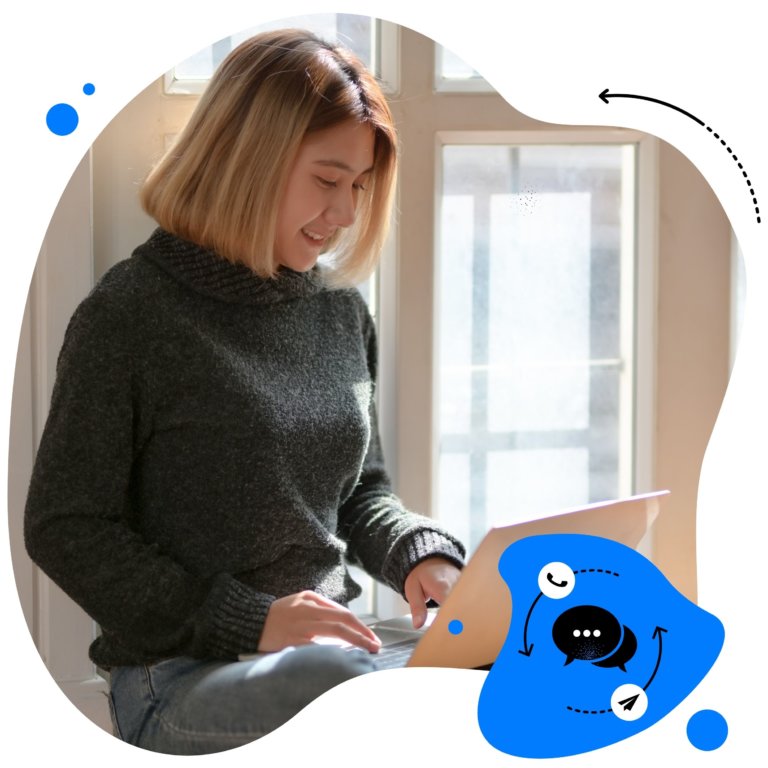 Manage your social community using a single dashboard
Reply to all incoming comments and messages from different social media channels in one place. Drive interactions and build an engaged audience.
Try NapoleonCat free for 14 days. No credit card required.
Auto-moderation rules
One of the main tasks of a community manager is, simply put, to take care of the community. Doing so may be challenging at times, especially out of working hours.
This is where Auto-moderation rules step up to help every community manager. You can use these customized rules to reply to the most recurrent questions, and also to protect your community from harmful content. Auto-moderation rules can support removing or hiding potentially inappropriate messages, such as:

dangerous links (e.g. those including malware – they can be unhidden with a community manager's verification)
interactions containing abusive language
comments mentioning your market rivals
Although Auto-moderation rules won't do the whole job for community managers, they can truly help in building a solid community management pillar. This way, community managers can spend more time on building meaningful and personalized relations or resolving specific problems, while many repetitive questions are answered automatically.
Inbox Activity Reports
This is where you can generate some reports about the performance of community managers. You can check various data here: the overall number of new tickets, the number of replies to private messages, or even the number of new ads' comments – just to name a few.
In a word: you can dig deep into all of the community management data. Reports can be customized, for example you can generate them for a community manager's working hours only. Would you like to narrow it down even further? Here you go: check the results generated by a particular community manager, including their response time, reactions, and tickets resolved.
Such Moderator activity reports support community management optimization, help with identification of bottlenecks in the process, and measure the efficiency of customer support.
Over to you
Anyone who says that the work of a community manager is easy, and consists of nothing more than "scrolling Facebook", has almost certainly never worked in the field of community management. Being a community manager can be tough and sometimes stressful, but once the workflow is organized it can be rewarding and satisfying too. If our short guide is able to help even one community manager out there, we'd be over the moon.