For most customers, the holiday season is the best period for shopping. In fact, 88% of US customers plan to make the most out of Black Friday and Cyber Monday deals. With the outbreak of COVID-19, when many companies suffer from budget cuts, not only customers but also businesses are waiting for great Black Friday deals to grow their tech stacks on a budget.
In 2020, when the coronavirus pandemic has affected economic growth worldwide, practically every business is trying to cut costs and shrink their budgets as much as possible.
However, you can't cut corners on your marketing tech stack as marketing tools are crucial for businesses of all sizes and shapes as you need a good tech stack to help you plan and track your marketing strategies, raise brand awareness, and convert and retain customers throughout the year.
The good news? Black Friday and Cyber Monday are around the corner, awesome opportunities for businesses to pick up the most effective digital marketing tools at the best prices.
In this article, you can find a list of eight of the best deals of 2020 for your easy reference.
1. NapoleonCat
With 3.6 billion social media users worldwide, social media marketing is a must for big and small businesses. If you want to choose and execute the best social media marketing strategy for your business without spending much time or effort, it's important to rely on trustworthy automation tools like NapoleonCat.
Our platform is just right for social media management and analysis as it has all-in-one solutions for digital marketers who want to streamline processes, improve social customer service, and save time.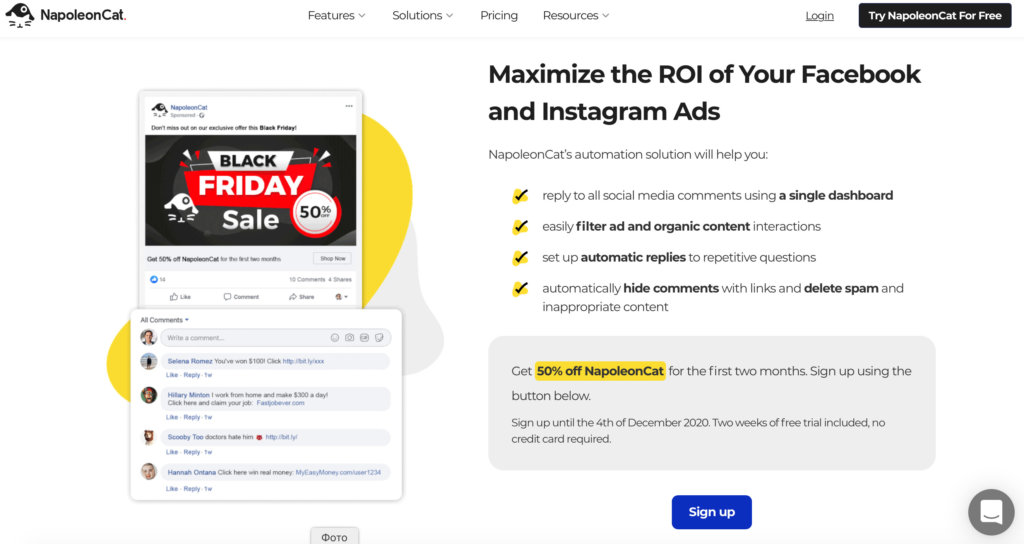 This Black Friday, you get an opportunity to save 50% off for the first two months. No coupon code is required — just don't miss your opportunity to sign up for a deal as it's available from 27 of November till 4 of December.
2. vcita
For small business owners, it's important to find a solution that can help to manage all your leads, customer communications, and payments in a single location. Luckily, vcita has its comprehensive suite of tools, so it can be a handy solution for small businesses as you can plan and manage email and SMS marketing campaigns, from the beginning of the funnel all the way to booking an appointment and sending followup messages.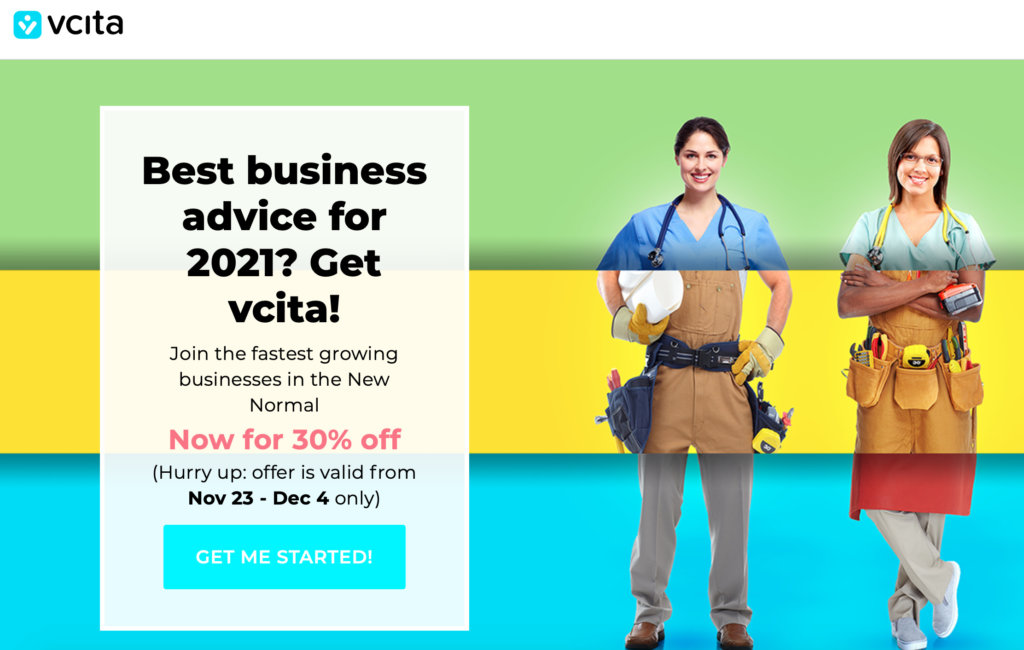 Moreover, it has a built-in CRM, analytics, and integrated business management tools like payment processing, automated appointment reminders, self-service appointment scheduling for your website, customer portals and invoicing.
If you want to give it a try, vcita has a great offer for its new users, so you can get 30% off any annual plan. However, hurry up as the deal is only around through December 4.
3. Invideo
Video content is growing in popularity quickly. Since customers crave more brand videos, it has become the most popular and effective marketing content format. However, it can be daunting to create high-quality videos that meet all their marketing needs unless you have a great video tool like InVideo.
Whether you need to create Instagram or Facebook video ads, explainer videos, or simply edit videos, this tool is right for your marketing needs. With hundreds of premium video templates, it's quick and easy to make professional-looking social media videos for every occasion.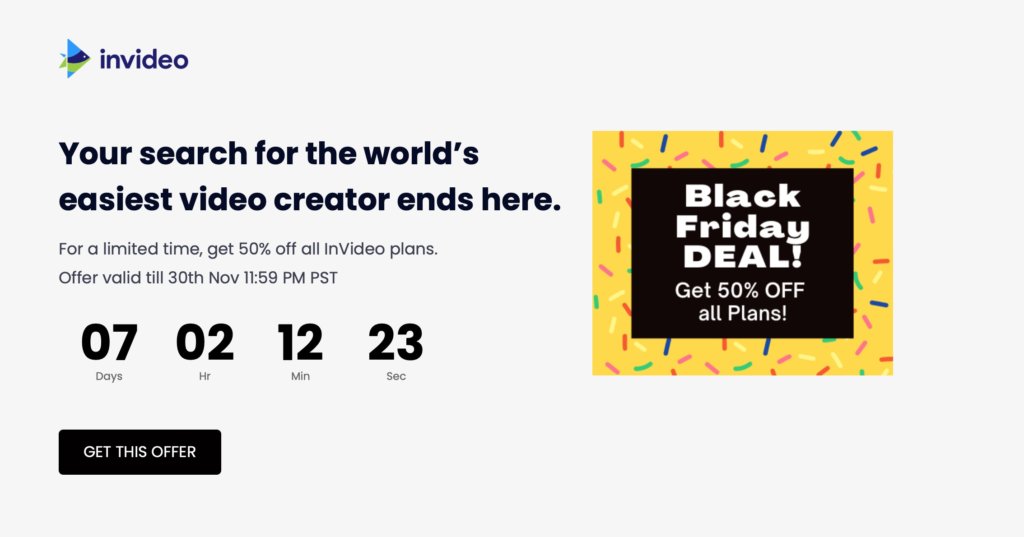 On Black Friday, you can score 50% off any of InVideo's plans. The deal is valid till November 30.
4. accessiBe
Living in the era of equality, it's no longer acceptable to field a website or marketing materials that can't be consumed by people with disabilities. Plus, you don't want to cut off valuable customers by creating promotions that can't be easily read or pop ups that can't be navigated by keyboard alone. Luckily, accessiBe is here to help you!
It is a fully-automated, AI-powered accessibility solution that helps to ensure that all your marketing materials are optimized for every lead. It takes just 48 hours for accessiBe to make sure that your entire site is accessible, including landing pages, popups and lead magnets, and it rechecks and corrects all your website material every 24 hours.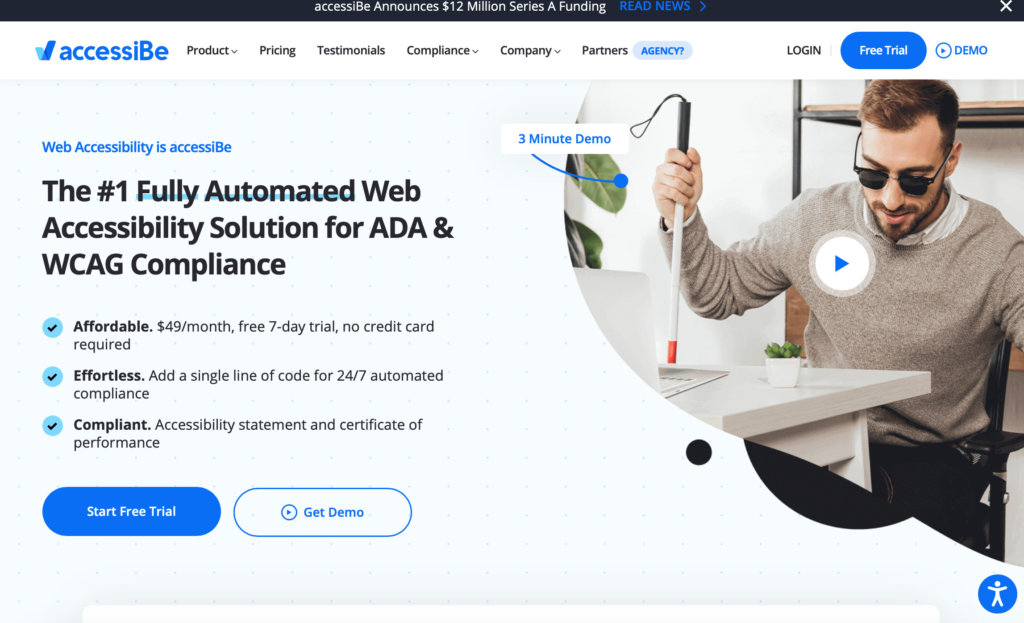 From November 23rd till November 30th, accessiBe's Black Friday deal offers an attractive 30% off every plan, giving you no excuse for a non-accessible marketing presence.
5. HelpCrunch
Marketing is all about a two-way customer conversation. When you answer customers' questions during every stage of the customer journey, you have higher chances to meet their needs and wants. Thus, it's no wonder that most marketing teams think about creating a live chat or knowledge base on their websites.
HelpCrunch is an all-in-one customer communication tool that offers a comprehensive set of features for marketing as it helps to set up proactive chat messages, send manual chat campaigns, and engage with customers and visitors at every step of their journey.
To bring your business to the next level, you can choose the 'Live chat + Emails' subscription plan and use HelpCrunch for email marketing automation. It's a proven way for your team to follow up on important leads and warm up your user base with ease. The popup builder is included in all subscription plans so it's easier than ever to get in touch with more website visitors proactively.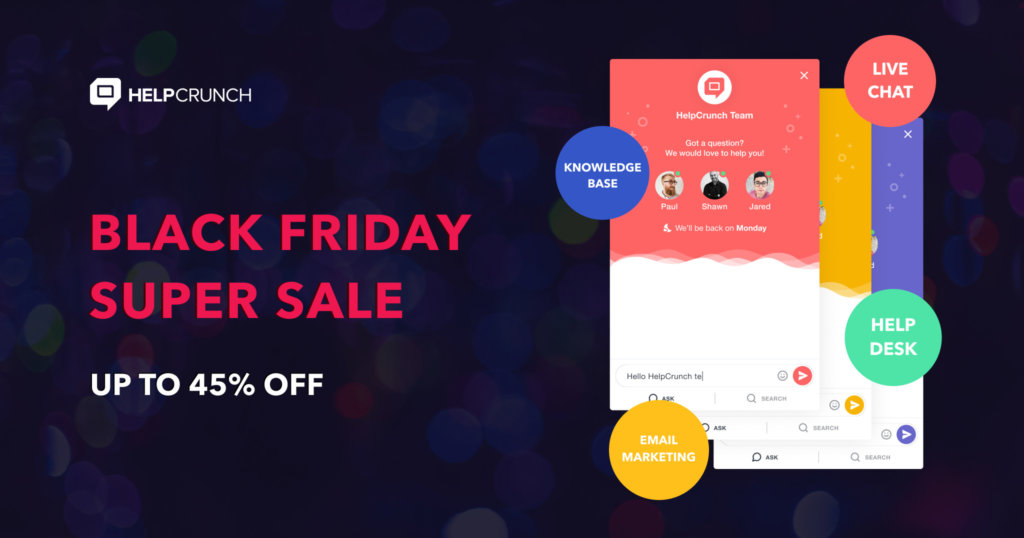 HelpCrunch has a great Black Friday deal that helps you get 25% off your first month or 45% off the first year with the promo code BFCM2020. If you sign up for 12 months right off, the Black Friday promo code adds up to the usual 20% annual discount. This way, you'll be getting up to 45% off the entire year.
6. SEMrush
With the variety of options on the market, SEO is crucial for businesses of every size. You need it to rank higher on search engine results pages, attract organic visitors, and convert new customers. This places SEO use cases very high on the list of vital marketing tools, and SEMrush is one of the best solutions available on the market.
It goes beyond keyword research to include regular site audits, on-page SEO analysis, regular rank tracking, backlink management, and more. It's an all-in-one way to optimize every aspect of SEO.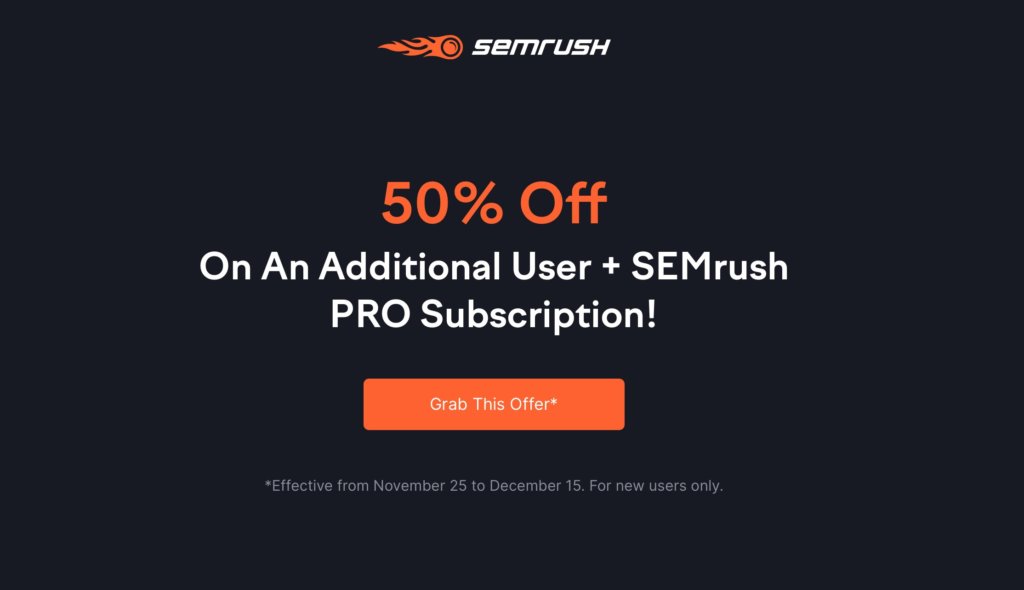 This Black Friday, new users can get 50% off on an additional user and a SEMrush PRO subscription. The offer is valid from November 25 till December 15.
7. OptinMonster
OptinMonster is one of the most popular lead generation tools out there. As the name suggests, you can use OptinMonster to create effective popups that are non-intrusive and work to convert visitors into leads.
OptinMonster provides you with a huge range of popup templates, including exit intent popups, navigation-based popups, full screen popups and more. You'll also find a suite of built-in analytics tools, A/B testing capabilities, plus advanced targeting options so you can serve up customized popups that convert at a higher rate.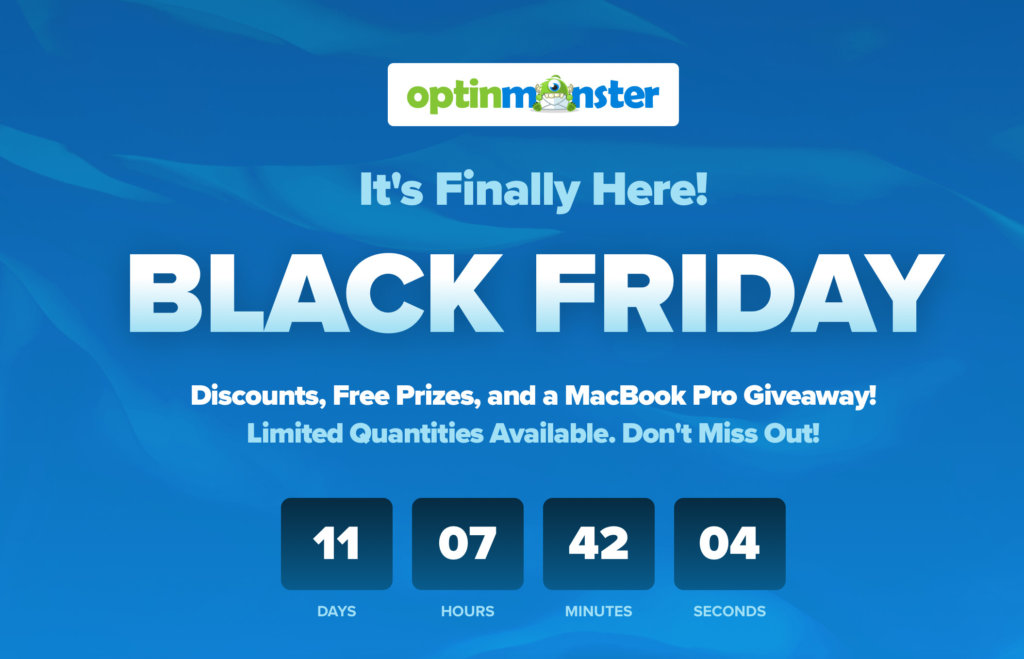 OptinMonster's 2020 Black Friday deal offers up to 60% off all plans, which translates into saving over $500 if you choose the Growth plan. The offer is valid from November 23 till November 30.
8. Calendar
Executing marketing campaigns, not only do you spend a considerable amount of time, but you also work together with team members on tasks. Thus, having a handy time management tool is a great idea. Calendar is a time management tool that helps professionals keep track of all tasks, collaborate with other team members, and improve productivity.
Take a look at your calendar dashboard, view and connect other calendars, create and edit events, and share your schedule with your co-workers. It allows users to sync their Google or Outlook calendars and therefore manage all of your meetings in one place. To manage your tasks on the go, you can download the mobile app, available for iOS and Android.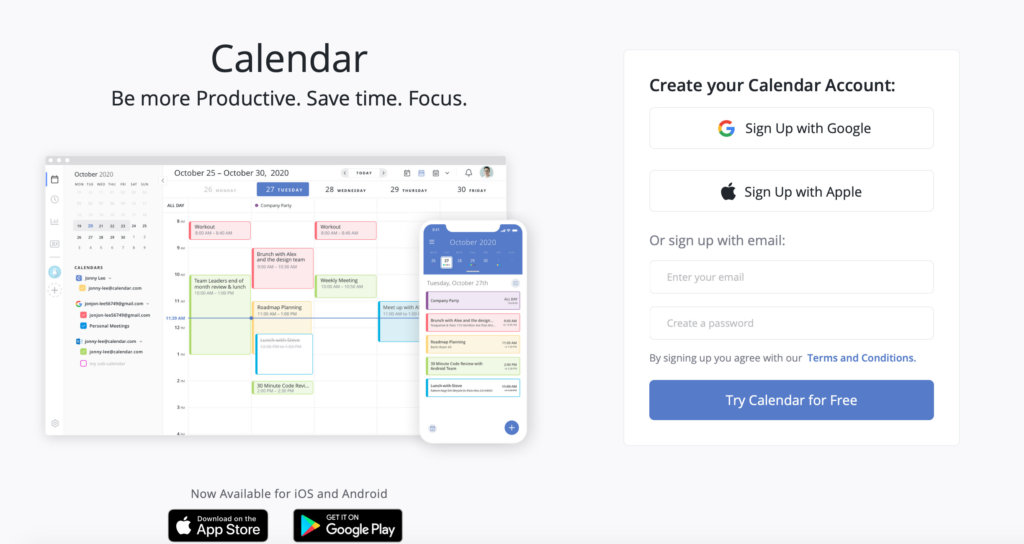 If you sign up for a paid plan during November 23-November 30, 50% off applies automatically.
9. SE Ranking
SE Ranking is a cloud-based platform for SEO and online marketing professionals that provides a complete set of tools for a comprehensive site audit, competitor analysis, website ranking, keyword suggestion, grouping, backlink monitoring, and automated professional reporting.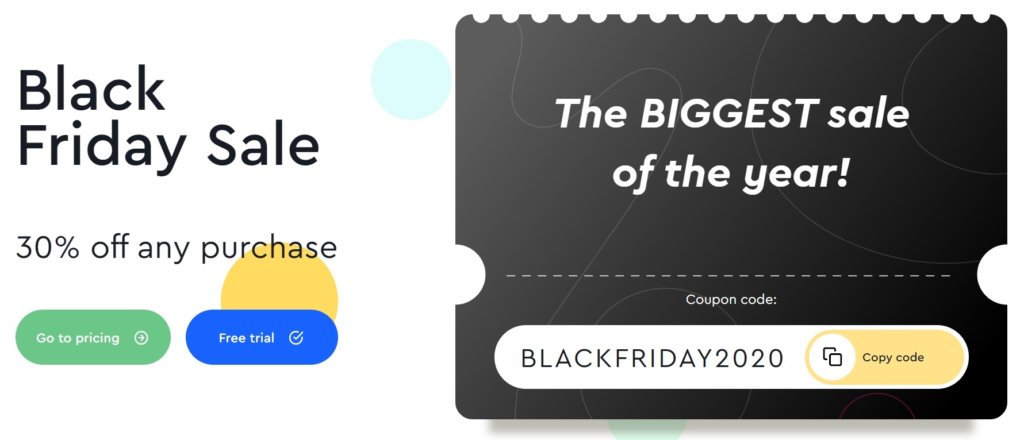 SE Ranking is offering a 30% off any purchase. Just enter the promo code BLACKFRIDAY2020 at checkout once you've signed up for the free trial. Hurry up, the offer is valid until December 2.
10. Finteza
Finteza provides comprehensive analytics of your website and app audience. The tool helps you in solving marketing challenges such as conversion monitoring and independent monetization. You can easily measure traffic quality, detect low-quality traffic from each channel, and get detailed reports about the beginning and the end of click fraud sessions.

This Black Friday, Finteza offers a 30-day free trial plan that will help you save up to 82% on your advertising budget. The offer is valid until the end of the year.
11. Apploye
Apploye is an intelligent time tracking app that helps in-house, remote, and mobile teams to optimize workflows and save time. The app facilitates task planning, scheduling, and shifting. With Apploye, you can easily track project progress and encourage employees to enhance their productivity level.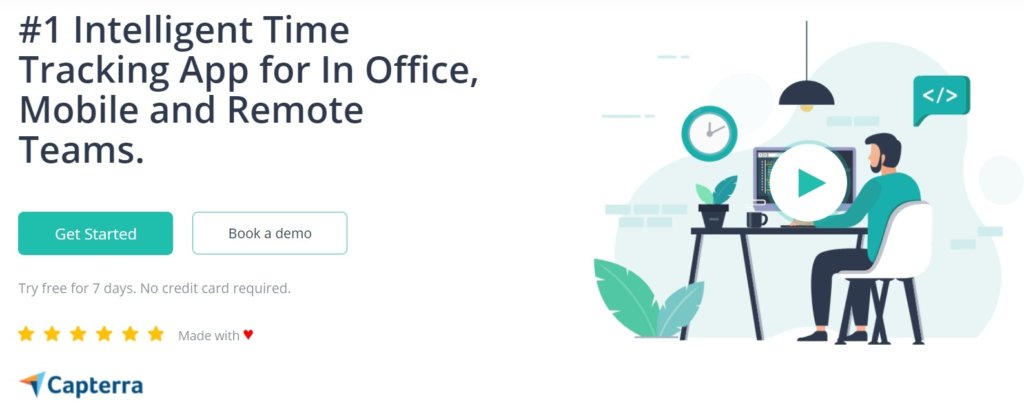 This Black Friday, Apploye offers 25% off for lifetime! The deal's valid until December 25. Use the code "festivefriday2020" to claim the offer.
The Bottom Line
Black Friday and Cyber Monday deals offer an unequaled opportunity to invest in the tools your marketing department needs to plan, run and optimize campaigns, capture and keep in touch with leads, and ensure that your entire business is accessible to every audience member.
With these seasonal deals on marketing tools, you can build your marketing muscle, drive revenue, and grow your business, so don't miss your chance!