Nowadays, consumers don't just use a single platform. They may learn about your brand through a blog post, look for sales promotions in their inboxes, or go to your physical store to purchase your product – all according to their personal preferences.
For your business to succeed, you have to be where those consumers are. Whether that's on their desktop, their mobile phones, or in your stores, you have to be there to interact with consumers if you want to generate sales or leads.
In other words, you need a multichannel marketing strategy.
What is multichannel marketing?
Simply put, multichannel marketing is the process of targeting different audiences across different platforms. Those platforms can be both offline and online. Offline platforms include print, television, radio, and physical stores. Online platforms are blogs, social media, and emails. The ultimate goal of multichannel marketing is to generate conversions.
A multichannel marketing strategy is advisable for marketers who promote products that resonate with diversified audiences, like for example food products (in the end, we all need a jar of mustard but while Boomers will be watching TV rather than browsing Instagram, Gen Z will do the opposite).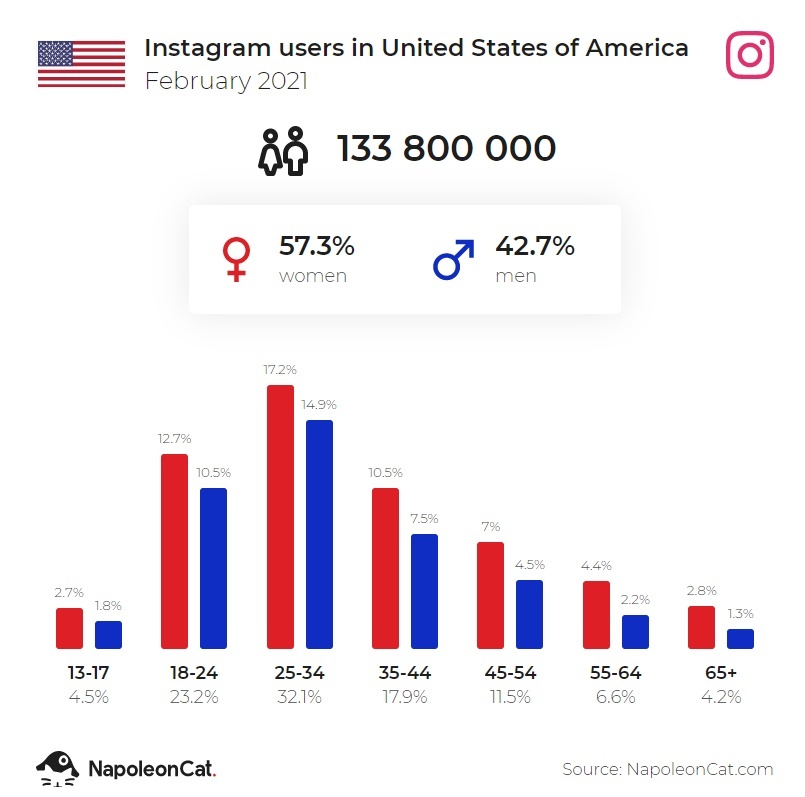 Smart multichannel marketers understand that potential clients may be active in different places and on different platforms. Read on to learn how to create an effective and sustainable multichannel marketing strategy.
What are the essential components of a multichannel marketing strategy?
Going where your ideal customers are is a critical first step in multichannel marketing success. However, it's not enough by itself. The critical components of any multichannel marketing strategy include:
Brand reach: You have to pick the channels where your target audiences are.
Message: Your message should be clear and resonate with the audiences gathered on each platform. Experiment with a variety of content options and don't forget to provide powerful social proof like customer testimonial videos.
Customer experience: Make sure your target audience's interactions with you seem like a seamless experience. That requires an understanding of the strengths and weaknesses of each channel.
For your multichannel marketing strategy to be effective, you need to get all these critical components right.
How to create a multichannel marketing strategy
Have I convinced you that multichannel marketing is the way to go?
The next step is to create your strategy. Here are six steps you should follow to ensure your multichannel marketing strategy will yield the best possible results.
Identify buyer persona
First thing's first: identify your target buyers and the platforms of their daily use.
A buyer persona is a fictional representation of your ideal customer. Think of the person you'd like to buy from you. Ask in-depth questions about your ideal customer, including their aspirations and goals. A buyer persona should look something like this: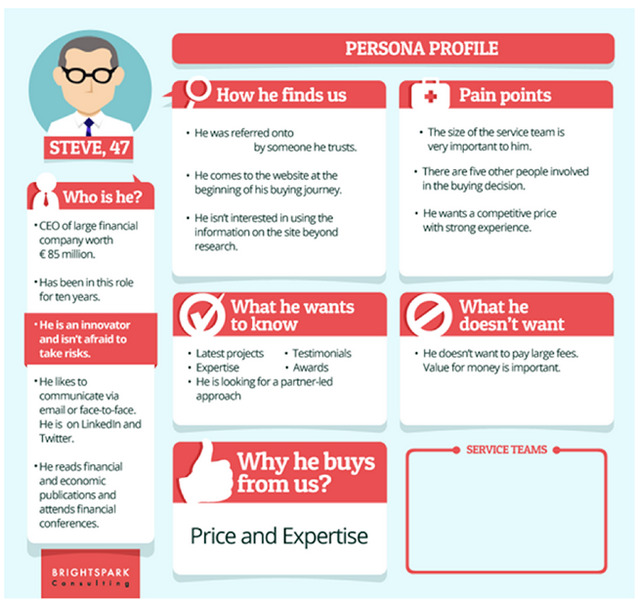 You should create separate buyer personas for separate audiences gathered across different channels of communication: one for Instagram, one for your audience gathered in front of the TV, etc.
The more details in your buyer persona, the better. Remember, the more you know your target buyers, the better you can tailor your multichannel marketing strategy to their preferences.
Define the channels you want to target
Multichannel marketing doesn't mean you need to be on every channel you can possibly think of. That would get time-consuming and expensive!
The more prudent thing to do is to choose the most appropriate channels based on your identified target buyers.
Naturally, the channels you pick should be the platforms your target buyers use. If your target buyers are active on social media or frequently check their emails, you will want to ensure your multichannel marketing strategy covers these platforms.
Of course, you can always expand to other channels in the future. As your business grows, you can always add another platform to your multichannel marketing efforts. Experiment when you can and when you have the resources. Who knows? These additional platforms may just be your best-performing marketing channels yet!
Create a seamless content experience
Now it's time to create your content.
For your content to be effective, it needs to be tailored to the preferences of your target buyers.
Each group of prospective customers will have a preferred tone and will have different priorities. In other words, when creating your content, you need to be guided by your buyer personas.
If different teams are creating the content for each channel, make sure they understand the buyer persona and the messaging you're using to target these buyers. You can also create a brand book for them to make sure that your brand's presence is consistent across different channels.
A brand book should contain:
Your logo and all its derivatives
Typefaces
Web styles such as forms and buttons
Color palette
Imagery
All members of your team should consult the brand book when creating content.
Retailer Forever21 knows how to provide a cohesive experience, as it demonstrated in its recent Black History Month campaign: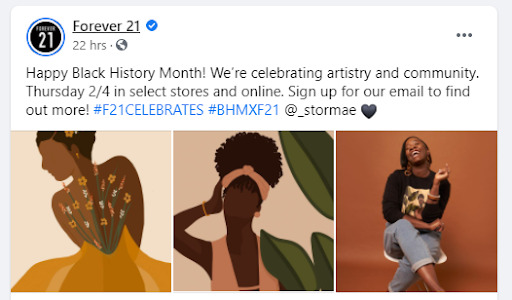 Though the images and wording used on Facebook and the website were different, Forever21's primary design elements are present across the two channels and the messaging is strong and consistent.
Optimize for each channel
Your messaging should be consistent, but that doesn't mean your content should come in exactly the same format across platforms. There's a specific content format that works for each channel. And for your multichannel marketing to be effective, you need to know what works best for each platform you're using.
According to Animoto, videos are the number one content format consumers like to see from brands on social media. So if you're on Facebook, you might learn all about videos for small businesses. Images are crucial on Instagram and also perform well on Twitter, while an in-depth article would be effective on LinkedIn.
Always keep in mind what your target buyers want. If you have research that tells you your target buyers prefer images on LinkedIn, then be guided by that. Your specific target audience's preferences trump what more general studies have found.
Bring all data to a single platform
To ensure your multichannel marketing strategy is effective, you need to track your campaigns. That means you need to deal with analytics.
Most online channels now have their own inbuilt analytics functionality. But manually switching from one channel to another to analyze data is tedious. You also won't be able to see how each data set relates to the others, meaning you'll struggle to make an accurate assessment of your campaign.
The solution? Bring all data into a single platform.
If you're active across multiple social media channels NapoleonCat will be just right. You'll be able to track data from Facebook, Instagram, Twitter, YouTube, and LinkedIn in one place. Plus, in NapoleonCat you can manage all interactions incoming from these and some other platforms (Google My Business included).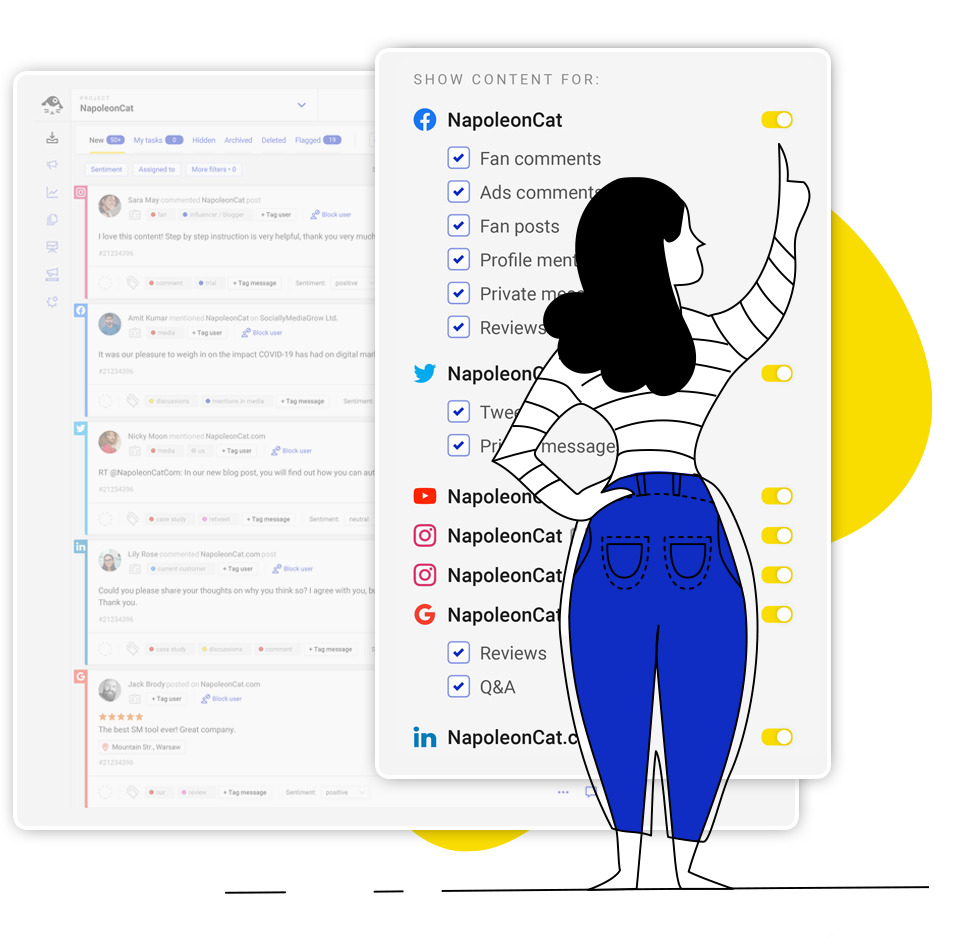 That's right, all in one place without switching between tabs and devices.
The bottom line
Gone are the days consumers had to go to a physical store or speak to a representative on the telephone to ask for more information about a product or make a purchase. Nowadays, consumers have access to multiple platforms and channels. It would be a waste for you not to take advantage of that through multichannel marketing.
It's not enough, however, for you to be where consumers are. The success of multichannel marketing depends on whether or not you succeed in delivering diverse messages to diverse audiences gathered across different places.
You can do that with a carefully-crafted multichannel marketing strategy. I showed you how to create one in this article. Now over to you. Follow the steps, put in the work, be patient, and be creative. If you do, you'll be well on your way to achieving your marketing goals.