Consumers are faced with many product options in the market. For those buying the products, that's a good thing. For those selling them, fiercer competition means they need to exert more effort to get people's attention.
The good news is, there are also currently more ways to get people to see your product. Influencer marketing, for instance, is becoming increasingly popular. According to Influencer Marketing Hub, 67% of marketing and communications professionals engage with influencers for content promotion.
In this article, let's look at how you can develop and implement that perfect influencer marketing strategy. But let's first get our definitions in order.
Influencer marketing defined
An influencer is someone in your industry who can sway over your target audience. Influencers can do this primarily because they've built a following. They are people who have built their personal brand. When they talk, their followers listen.
Influencer marketing is the act of tapping influencers, so that they endorse and promote the products or services you offer. The goal of influencer marketing is simple: to drive up sales and increase brand awareness.
Any type of business can run an influencer marketing campaign, and it can occur through any channel. There are some niches where influencer marketing is more prevalent than others. Popular niches include fashion, travel, health and fitness, and beauty. The most popular channel for these niches by total dollars spent is almost certainly Instagram. Youtube comes in a close second.
Why influencer marketing?
Influencer marketing is one of those areas of business where there's a lot of hype, and just as much confusion. Clearly, influencer marketing does work. Nike's partnership with Michael Jordan in the '90s, before social media became a thing, is an excellent illustration of the power of an influencer marketing campaign.
Large corporations have been running influencer marketing campaigns for decades, yet these campaigns required a huge marketing budget. The blossoming of social media led to a boom in influencer marketing. Suddenly, getting your company in front of thousands, or even millions of people, at an affordable price became an achievable goal.
Here are a handful of facts that support this statement:
According to a study published on BigCommerce, 89% of marketers find the ROI from influencer marketing comparable to or better than the ROI from other marketing channels.
Based on research, influencer marketing actually does help companies earn: for every $1 spent, they make $5.20.
Almost all – or 92% – of the 800 respondents of a survey done by Influencer Marketing Hub, in partnership with Viral Nation and NeoReach, said influencer marketing is effective. Only 63 respondents said it wasn't.
Almost half, or 49% of consumers, depend on influencer recommendations to make purchase decisions, according to the Digital Marketing Institute.
Yet while influencer marketing is undoubtedly more accessible than ever before, it's also become more complicated. Social media influencers range from internationally recognized celebrities to nano influencers with less than a thousand followers.
While there are now more types of influencers than ever before, accommodating any budget, there are also more people faking it. You can buy thousands of fake followers for just a few dollars. And while these new influencers will happily take your money, your business is unlikely to see any ROI from such a campaign.
With that in mind, we aim to show you how to develop an effective influencer marketing strategy.
Building your influencer marketing strategy
Influencer marketing can only help you if it's done right. And doing it right means having a strategy in place. In this section, let's look at the steps you need to follow to ensure you get the most out of your influencer marketing campaign:
Set your goals & key performance indicators
It's important to determine what you want to achieve with your influencer marketing campaign. Apart from driving up sales, you may want to increase people's engagement with your brand. Or maybe you want to attract a new target market, too.
You must define your goals at the outset of the campaign. These goals should be SMART (Specific, Measurable, Achievable, Realistic, Time-Based). Here's an example:
Sell 1,000 units of perfume
That's a simple target. You can calculate if it was achieved.
Where things get complicated is defining how you will measure those sales. For example, are you measuring total sales on your site? If so, how will you account for a spike in sales that is not linked to the influencer marketing campaign?
You'll need to consider these questions as you develop the framework for your campaign. Solutions like discount codes, custom sales pages, or sales funnels for a specific campaign might be part of your solution.
Of course, you might not be measuring direct sales. You might choose to measure things like engagement. That's fine. When devising your influencer marketing strategy, try to set a revenue target as a primary goal. Then set a sub-goal. So, for example:
Main Goal: Sell 1,000 units of perfume
Sub Goal: Get 10,000 new Instagram followers
Creating a sub-goal that's linked to your primary goal is complicated. The assumption here is, for every 100 new Instagram followers, you will generate one sale of perfume.
You should be able to make that causal link. A marketing campaign's success should be linked to sales. If it's not, you'll never be able to assess the value of a campaign.
You can assess the success (or lack of success) of an influencer campaign in many ways, depending on your preference. The bottom line is, setting your goals and key metrics from the start will help you optimize your influencer marketing efforts and even determine whether a partnership is worth continuing.
Consider your target audience
Let's say you've set your goals and you've defined your KPIs. Now you need to consider your audience. For this, you should create a customer persona or your ideal target audience.
A customer persona is a depiction of your ideal customer. The persona could be based on a real customer, or it might be an amalgamation of data about the kind of customers you are targeting.
The customer persona should include information like age, professional status, interests, goals, pain points, etc. The graphic above provides a good example of a customer persona. Determining your target audience is essential because it will help you decide who to work with.
Set your budget
It's important to plan your budget for the entire campaign before you pick an influencer or influencers to work with. You wouldn't want to exceed your budget because of poor planning. And not paying your influencer is a no-no because, well, that's just not professional.
The cost of engaging the services of an influencer varies. Some might be interested in entering an affiliate partnership. Most, though, will require a one-time fee or a monthly fee. If the influencer requires a fee, that also varies per platform and niche.
Determine a payment structure that's a good fit for you. Make sure, though, that the payment structure also works for your influencer.
Shortlist candidates
Now, it's time to find ambassadors for your brand. I suggest shortlisting influencers so you can compare and contrast what they can offer, and determine who among them is the best for your campaign. Base your list on an influencer persona or your ideal influencer. For this, look out for the three components of influence:
Relevance: You have to make sure the influencer already shares content that is relevant to your industry. The content should also meet your standards. The influencer's followers should also meet your audience persona criteria.
Reach: How many people who fit your audience persona criteria are followers of the influencer? Watch out for follower counts inflated by fraud accounts.
Resonance: Remember that a bigger following isn't always better. You may want to work with micro-influencers, who only have 5000 to 25,000 followers, or with nano-influencers, who have as few as 1000 followers. Your message might resonate with them better since they are far more focused on a niche.
Apart from these things, make sure the people you choose also share your brand's values. If you're looking to sell food for vegetarians, for example, don't pick an influencer who isn't one. If you're selling sports shoes, choose an influencer who is a known sports buff.
Don't pick an influencer who promotes your competitor's brand. Also, choose an influencer that has plenty of organic, non-paid content. You don't want too many sponsored posts on the influencer's account either.
Most importantly, when assessing your influencers, check their authenticity. You need to determine if they have bought followers. Always request audience demographics from the influencers you want to work with. Influencers can share their up-to-date social media stats with brands via NapoleonCat's Reports. The Dashboards include metrics such as followers demographics by age and gender but also average number of comments, reactions, or story views.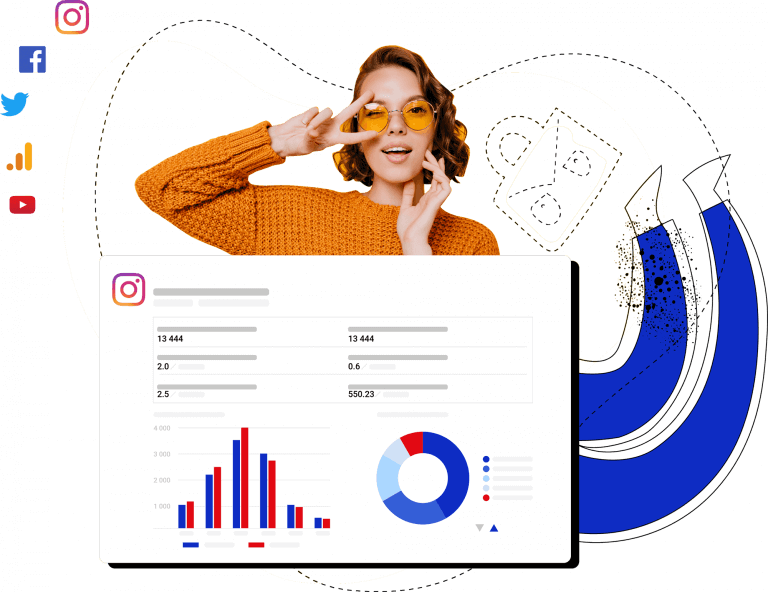 Reporting for influencers
Easily generate comprehensive social media reports. Build a professional personal brand and take collaborations with brands to a whole new level. Try it for free:
Try NapoleonCat free for 14 days. No credit card required.
Reach out to influencers
Now is the time to reach out to those influencers on your list.
Although the easiest thing to do is send a message directly on the platform they're on, there's always a chance your message won't be read. Remember, these are influencers, and it's safe to assume they receive too many messages from their followers every day.
I suggest finding their email addresses instead. You can do this by using an email finder.
Also, don't send a generic message to all of them. You want to show you're serious about a possible partnership, so personalizing your messages is a must. Explain what your brand is, what your goals are, and how they are going to be measured. Briefly explain your rules and the government's too, just in case (more on this later). Ask how much their services would cost.
Use an email tracking tool, so you know if your emails are opened. If they weren't opened after several weeks, you can try searching for another email address, or strike the influencer off your shortlist.
Gather the proposals of all those shortlisted influencers who replied to you, and then choose the best.
Monitor your campaign
Let's say you and your chosen influencer have reached a deal. It's time to monitor your campaign.
You have to make sure your influencer follows the rules when posting about your brand. The Federal Trade Commission, for instance, requires influencers to identify sponsored posts.
You might say, so what if the influencer breaks the rules? Well, if the person breaks the rules when posting about your brand, the negative response of some people to the rule-breaking rubs off on your brand. You obviously wouldn't want that.
Also, don't be too nitty-gritty about how the content about your brand should look (unless the influencer agreed to follow your creative guidelines from the start).
Remember, influencers are content creators. If the influencer's post exhibits your brand's values, then that's more than enough. Just leave them to their creativity, and they'll get the job done.
Assess the campaign
At this stage, you might want to go back to the goals and key metrics you laid down at the start. So if you're more interested in engagement, and your key metrics are likes and shares, you can ask your influencer to send you a detailed report on the likes and shares of their posts on your brand.
Remember to assess the success of your campaign based only on the goals and key metrics you outlined and discussed with your influencer prior to the start of your campaign. If you said X number of likes and shares by the end of the campaign means the campaign was successful, don't change your mind and say you were looking for Y number of likes and shares instead.
Equally, regardless of your sub-goals, track your sales. This could be done directly by reviewing the influencer's discount code, for example. Or, you might do it indirectly by reviewing gross sales against the same time last year and compared to the previous month or months.
Influencer marketing done the right way
Influencer marketing is a great way to get your product noticed. But it has to be done the right way. Remember, engaging the services of an influencer costs money. So if the campaign fails, well, you will only have shelled out money without getting anything in return.So plan beforehand. Know what your goals are and clearly define those key metrics. Determine who your target audience is, too, and plan your budget. With the proper influencer marketing strategy in place, I guarantee you'll be able to effectively measure the success of your campaign.