Have you ever wondered why some things just catch on and go viral? Is there a magic ingredient that makes products or services popular? Well, there's one universal solution that doesn't even change with time – trustworthy recommendations. What changes are the means of communication.
In the beginning was the word, the word of mouth. Then media appeared, changing the way recommendations were communicated. But no medium was ever able to spread word of mouth the way social media does. And, within the realm of social media, influencers are particularly effective in getting through to large, engaged communities.
Influencer marketing is a way for brands and agencies to cooperate with those who already have a significant number of followers on social media platforms in order to advertise their products or services through their voices. The results can be tremendous.
Even though naysayers claim that the era of influencer marketing is over, data seems to prove the opposite. According to Influencer Marketing Hub's recent report, the average earned media value per $1 spent on influencer campaigns is now $5.78. As a result, the whole industry is predicted to grow to approximately $9.7B in 2020.
Ready to learn how your business can benefit too?
Successful influencer marketing
Sometimes, building relationships with influencers can be a tough nut to crack. In the end, you're working with people, and it takes a lot of time and effort to make any collaboration truly effective. Hoping to provide insights not only for brands and agencies but also for influencers themselves, we talked to 10 experts about their best experiences and recommendations for working with influencers.
Here we go!
Don't try to be the creative – leave it to the influencers
One of the best things about working in marketing is creativity – many find great pleasure in content creation or planning campaigns, but influencer marketing is a different story. It requires marketers to pass the exciting, creative elements of their work over to influencers and focus on formalities.
We talked with Saby Salvatierra from Green Park Content about the role of trust in influencer marketing: "Influencers are content creators, they know what works well for their audience. Don't try to be the creative one – they are. That's why you've hired them". Anh Trinh from GeekWithLaptop takes the same approach: "Let influencers have creative freedom on how they will promote you."
Tough, but isn't trust the key to all kinds of relationships? Take the effort to develop trust towards the influencers you're working with: evaluate their trustworthiness based not on your hunch, wishful thinking, or stories you've heard during industry events. Instead, look for measurable indicators of dependability, e.g. tangible results generated by their previous collaborations.
And remember, trust should be reciprocal. Be transparent about your expectations and the terms of the collaboration from the very beginning.
Build long-term relationships
The majority of our experts highlighted the importance of developing strong, long-term relationships with influencers. Saby Salvatierra from Green Park Content advises to make it friendly and informal: "Chat, go for a coffee. You want influencers to fully understand your brand/product/service – it can lead to long-term contracts."
Nikola Baldikov from Brosix shared a story that happened 7 years ago while he was running his own business selling t-shirts: "I engaged a couple of people to help with marketing and promotion, not knowing at the time that they were 'influencers'. In the end, I had great results working with them." Nowadays Baldikov focuses on B2B influencer marketing, and he recommends building relationships not only offline but also in the influencers' natural habitat – on social media. "Many of our partners share and comment on our content, and vice versa. They even share content through their official company profiles at times, which gives us even more credibility."
Having built mutual trust and sympathy, you may be surprised by the long-term results of successful influencer collaborations. Sam Williamson from Fish Tank Bank said: "One of the best things about working with influencers vs paid advertising is that the benefits of working with influencers can last much longer than just until your budget runs out. Google or Facebook will not continue recommending your business once you run out of advertising budget, but influencers often will. We had an instance where an influencer that we'd worked with almost a decade ago recommended us for a job, despite the fact that we hadn't worked with them in years. It was a really special moment for us as it showed us that the influencer genuinely thought we had a great business and could do a good job for their friend."
A similar situation happened to Mike Sheety from That Shirt: "One of our positive experiences was when an influencer went beyond our deal and put us in the spotlight for their followers even when the agreed upon and paid for time had run out. This meant additional exposure when the influencer had no more obligation to mention our brand. This is really one of the rare examples where being polite and nurturing good business communication pays off… Influencers can do wonders for businesses, and I recommend making an effort when doing business with them. On the other end of the spectrum, one client took our content down at the exact same hour the deal ended."
These are all great examples of how building strong relationships with influencers can amplify campaign results. But what happens when you fail to build a relationship?
Anh Trinh from GeekWithLaptop acknowledges that he had both positive and negative experiences running influencer campaigns: "I had an experience with a tech influencer who promoted my website for its awesome coverage of gadgets. However, I made the mistake of starting a debate about the best gadget brands, and it got heated to the point that the influencer sent an army of followers to attack my website. The damage was so bad that I had to create a new website to recover! A simple post from an influencer can have you swimming in views or have a lot of people hating your site. So be careful."
Don't show all your cards at once
So you already know how building strong relationships with influencers can go either very well for your business. Let's see what else you can do to further enhance your influencer campaigns.
One great tip we heard from Lesley Vos from Bid4Papers is "Don't show ALL your cards at once". Be transparent when pitching to an influencer, but save some extra incentives for the future. Think of what you can offer on top of the agreed upon compensation: a free theatre ticket you have anyway from your business partner? A surprise gift for their birthday? Or an invitation to an event? The floor is yours, be creative and make your influencer happy.
Focus on engagement
Jeremiah Boehner from JetFuel turned our attention to engagement rates: "Don't focus on the number of followers but rather on the engagement they generate: are people commenting, sharing, and liking the influencers' content? A 50k follower influencer with 20% of engaged followers can be more valuable than someone with a significantly broader audience but lower engagement."
But looking up influencers' engagement rates on Instagram has become somewhat tricky since the platform decided to hide public like counts. Luckily, there are still ways to see how many people are interacting with the content influencers post to their profiles. Using third-party social media management tools like NapoleonCat, you can track the performance of any public Business Profile on Instagram. This includes engagement metrics such as the exact numbers of likes and comments.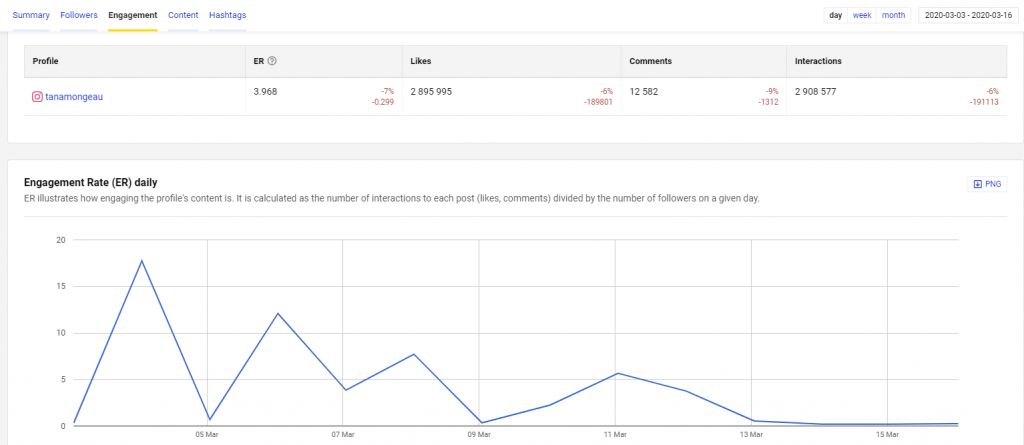 Check audience demographics
Rameez Ghayas Usmani from Pure VPN told us a story on how he managed to boost brand awareness by taking a close look at the influencer's audience demographics before going into a collaboration.
"I chose an influencer with a huge audience in the country I wanted to target for my region-specific marketing campaign and tied-up with that influencer to feature my products in TikTok videos along with sharing positive reviews about my brand in their content. In the same way, I requested the influencer to encourage the viewers to try the product and leave a reply in the comments once they buy it. One lucky winner (who provides proof of purchase) will have the chance to meet that influencer in person. This alone helped my brand searches from that specific country surge by almost 50% and I got over 2,000 orders for my product."
While discussing potential collaborations with influencers, ask them to provide key details regarding their audience demographics: age, gender, and location. Compare the results with the demography of your target audience to find out if they're your potential customers.
Don't be shy to ask influencers to showcase their up-to-date social stats. There are many tools available, including NapoleonCat's Reports, that help influencers build and share custom data sets illustrating the performance and statistics of their social media channels, blogs, and websites. When you receive a report like this, you know you're working with a professional influencer. 
Create a thorough brief
Ania Zielinska, the CEO of Stor9 agency, believes that in influencer campaigns, every brief should be based on authenticity. "We keep in mind that on the other side, there's a living person with a past and a real, exciting story. We write our briefs based on these stories and our intuition, and we back them up with global trends and forecasts."
Creating a good brief "will prevent you from multiple feedback back-and-forths," says Saby Salvatierra. Be rational and transparent with your instructions and expectations. Your brief should include:
An overview of the campaign's requirements and goals
The communication channels on which the campaign will run
The number of posts/videos/stories with brand placement to be published
Key information to be included in the post/video/story (eg. information about a contest)
Once the campaign is over, you can use the brief for campaign evaluation and… for the sake of improving your communication skills. Failure to give clear instructions can severely affect the results of your influencer marketing campaign. Examine any possible misunderstandings and use your experience for future briefs.
Reporting for influencers
Easily generate in-depth social media reports. Build a professional personal brand and take collaborations with brands to a whole new level.
Try NapoleonCat free for 14 days. No credit card required.
Make sure the value you provide matches the value you're asking for
Michael Alexis from Museum Hack runs unconventional museum tours. Early in his business, Michael struggled with launching new city tours. He tried different promotional tactics, but what turned out to be truly beneficial was influencer marketing: "We invited people with blogs and Instagram followings to join a complimentary tour. In total, we had about 30 of these guests join us, and it was enough to jump-start new city tours with good ticket sales, positive reviews, and upward momentum for our SEO."
Michael highlights the importance of choosing influencers who are a good fit for your budget: "Make sure the value you provide matches the value you are asking for. In our case, a $50 ticket to a premium experience is a nice gift, but wouldn't be a match for influencers with tens of thousands of followers. We prioritized working with influencers that were on our level."
Wrap up
"I owe my success to having listened respectfully to the very best advice, and then going away and doing the exact opposite." said Gilbert K. Chesterton, an English writer and philosopher also known as "the prince of paradox". 
Having known all these great success and failure stories and with experts' advice in mind, it's now time for you to make your own mistakes and draw conclusions. Influencer marketing is all about developing relations and trust while accounting for changing human factors and circumstances. Every collaboration with an influencer is absolutely unique. It obviously takes two to tango, but it's definitely easier to improve yourself than try to fix others.