In today's digital marketplace, businesses are leveraging video content to execute successful marketing campaigns. In addition to optimizing lead conversion and widening your breadth of visibility, there are scores of reasons why your brand should utilize videos on your company's Facebook page.
Did you know that 92 percent of mobile video viewers share videos with others? With these kinds of statistics, it's hard to ignore the value of implementing an effective video marketing strategy on Facebook. While the thought of putting together video content may seem overwhelming and cumbersome, you can start small and build from there.
The process is really quite exciting, especially when you factor in how putting together authentic and engaging Facebook video content will grow your audience and help build your business. Plus, the undertaking is much easier than you think. Here's a look at how to develop video content that will engage your target audience and drive business growth.
Craft powerful content
In a world drowning in content, media, hashtags, and #InformationOverload, you need to keep in mind that you're dealing with short attention spans. It's like the equivalent of being a contestant on one of those primetime talent shows; you've got approximately ten seconds to convey your message and change lives.
You've got to go hard on this, so keep your content short, sweet, and captivating – explainer videos check all these boxes.
You want to emphasize the visual message of your video, as a majority of the time, your content will be viewed with the sound off. Great cinematography, using wide shots, quick cuts, quality transitions, and graphics are an essential part of creating an engaging and successful message.
Optimize for audience engagement
You may have a great video, but without active audience engagement, it's merely falling into the black hole of the internet. It's crucial to conduct research and have a good understanding of your audience and Facebook's platform before creating your content.
To set yourself up for success, you must first gain a good grasp on the best practices for using videos on Facebook. For example, your video should be brief, grab the audiences' attention early, have an optimized title and description, and advertise your brand up front.
One thing to always keep in mind when crafting your message is to keep it real and genuine. Viewers love the opportunity to watch you being yourself and they'll quickly detect when you're trying too hard or acting phony. Let's be honest: haters are gonna hate; so don't be afraid to be vulnerable.
Get creative and try new things. If they fail? That's part of the process, and you'll learn what works and doesn't as you go along. The ultimate goal is to build a strong connection between your brand and your audience. So, with that in mind, incorporate best practices into your strategy while you work to find and refine your brand's message and voice.
Serve your audience with pride by separating your video content from all the junk and noise out there that undermines their intelligence. Because 85% of Facebook videos are viewed without sound, bake in captions to narrate what's happening on screen to ensure your content is optimized for users watching on mute. This is why it's imperative to keep the visuals kinetic and high-quality.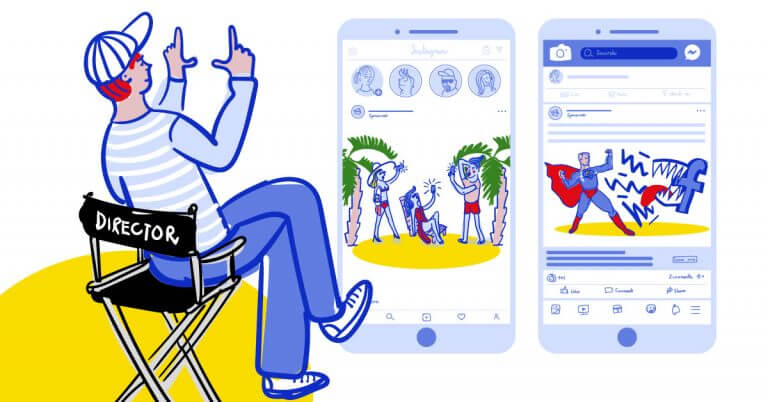 Social media management
Manage unlimited Facebook, Instagram, Twitter and LinkedIn pages in a single inbox. Track competitors and improve performance using simple dashboards.
Try NapoleonCat free for 14 days. No credit card required.
Your videos should also concentrate on relevant content. Keep your audience's needs and interests in mind to build content that delivers value, showcases your brand, and is suitable for your target market.
Don't forget about crafting gripping and persuasive copy. The aim is to draw the viewer in, get them engaged with your brand, and ultimately prompt them to take action. Have some fun with it, but never forget the importance of context and relevance.
By default, Facebook has set its videos to auto-play. However, many users elect to turn this auto-play feature off. So, how do you convince your audience to hit play rather than scroll mindlessly past your video?
The answer lies in uploading a custom thumbnail that's attention-grabbing and relevant. When selecting your own thumbnail, don't overload it with too much text. According to Facebook's Ad Guide, if your thumbnail contains over 20% of text by area, viewers may experience reduced quality or speed of delivery – which, as you know, will deter them from watching your content.
Another key to securing viewers is to optimize the title and description of your ad. Not only do you want to construct an eye-catching title that lets your audience know what's in store, but you want to leverage Facebook's targeting algorithms to get in front of the right people. By including keywords and phrases relevant to the topic of your video, you'll be able to accurately target the market you're trying to get in front of.
Embrace Facebook Analytics
Metrics and your brand need to forge a harmonious bond with one another. Don't be intimidated by numbers, embrace them. By leveraging analytics, you'll be able to build and serve your target audience more effectively.
The data speaks for itself – it'll tell you which strategies work and which are getting booed off the stage. After all, you want to measure the success of your video campaign, right? Keep a close eye on Facebook Analytics to monitor the performance of your ads and any A/B testing of your content, so you can make data-driven decisions moving forward.
Additionally, familiarize yourself with all the specs surrounding how to format your Facebook videos properly. Facebook may be a social media platform, but showing that you're tech-savvy and can deliver a professional presentation will build credibility and trust for your brand.
Focus on authenticity
Do your thang and never regret it. Content may be king, but authenticity will always reign supreme. In our ever-evolving digital world, the name of the game is constantly changing. Even if you have a dedicated team or agency guiding you through the process, it can be cumbersome. So, what can you do? Just keep it simple.
At the end of the day, your brand's philosophy, mission, voice, and style is what matters the most when creating video content. Stay consistent and always keep these areas at the forefront of your mind when putting together your strategy. Invest the time in accumulating as much knowledge on the subject as possible and exercise good habits in your execution. While you want to adhere to best practices, never forget to do you and stay golden – your audience will thank you for it.
---
Think Branded Media is a video storytelling agency producing branded video content with context. For over 10 years they have worked with businesses, marketers, and non-profits to connect their audiences with engaging content, intelligent visuals and authentic messaging.