The first rule of marketing is to go where the people are and, in 2020, they're in messaging apps. Think WhatsApp, WeChat, and Facebook Messenger.
Messaging apps are apps or platforms that allow people to send instant messages to other users. They're free, quick, and convenient to use and that makes them pretty damn popular.
According to the latest figures, the top three messaging apps have a combined 4.3 billion users. With 1.3 billion of those, Facebook has the second-highest number of users and is second only to the simpler (but still Facebook-owned) WhatsApp.
Unlike WhatsApp, Messenger offers businesses clearly defined ways to engage and interact with their users. Which presents one hell of an opportunity for social media managers, customer service departments, and advertisers.
But, only if you know what's possible and what works. Which is exactly what we're going to cover in this guide.
What is Facebook Messenger marketing?
In Facebook Messenger Marketing, businesses connect and engage with potential customers inside the messaging app.
There's no hard and fast way to do it. Some businesses opt for automated question and response systems and others a more elaborate or live-managed service (more on that later). Similarly, some communicate in text, whereas others use multi-media content (bring on the emojis).
The unifying feature of all business Messenger activity is that the exchange takes place inside Facebook Messenger.
Facebook Messenger statistics you need to know
Not sold yet? No worries. We have Facebook's More Than A Message report up our sleeves.
It highlights all of the statistics you need to know to get inspired about Messenger marketing. Let's take a look at the numbers now:
People of all ages prefer messaging apps over other forms of communication, which means a captive audience is waiting, no matter what generation your business targets.

Over half of Messenger users think they'll increase the amount they use the app over the next few years and 67% expect they'll also engage more with businesses in the platform. By joining in now, you're setting the stage for a growing marketing asset.
People associate words like 'convenient', 'efficient' and 'fun' with messaging apps, and that's true whether they're talking to a person or a business.
People chat with businesses on Messenger a lot. Like, 1-billion-messages-per-month worldwide kind of a lot.
53 percent of people say they're more likely to shop with a business they can engage with through a messaging app.
People consistently rank messaging apps in the top three ways to connect with a business.
And they're not just there for idle chit chat. People join the conversation equally in the consideration, conversion, or connection stages of the Facebook sales funnel.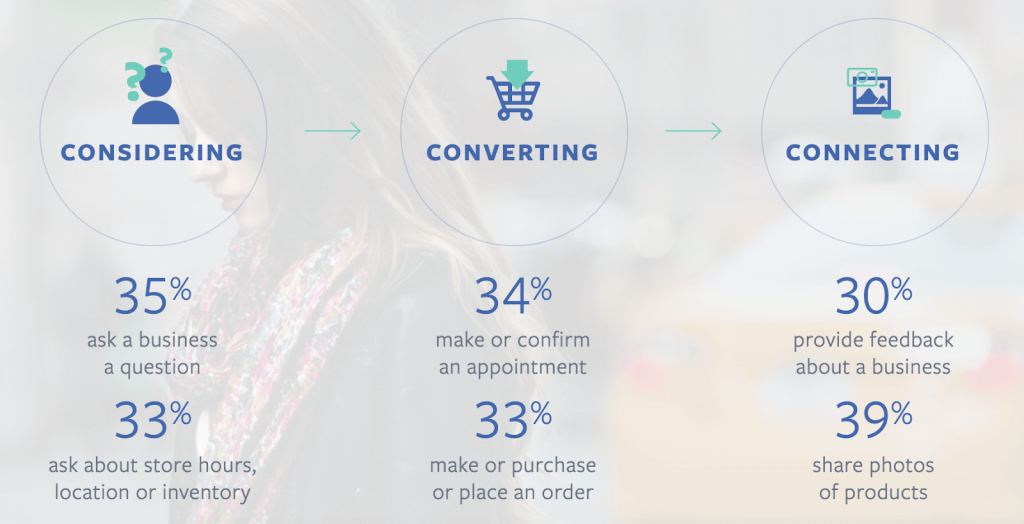 Now, my spidey senses are telling me you can see the benefits of Facebook Messenger marketing. So let's move on to how you can use Messenger to connect and engage with your current and potential customers online.
6 ways to use Facebook Messenger for marketing
Facebook Messenger marketing still has its training wheels on. So businesses are always experimenting with ways to tap into this vast resource.
In general, businesses use Messenger marketing for three reasons: lead generation, customer support, and sales.
To keep things nice and simple, we'll give two examples of each below.
1. Direct users to your best content assets
Some enterprising companies have taken a leaf out of the website live chat widget playbook and applied it to Facebook Messenger.
One of the most popular marketing tactics to use website chatbots is to guide users to dedicated landing pages with valuable content assets. For example, you show them your highest-performing lead magnet when they land on your Home page.
You can do the same thing on Facebook by configuring Messenger to pop up when a user lands on your Facebook Business Page. You can set an automated opening question like…

"Hey, fancy seeing you here. Have you seen our latest guide?"
… or lead in with a "Hi. Thanks for stopping by. Can I help you find anything?". In both of these examples, you can respond to a person's message with your latest and greatest content piece.
Here's an example from The Food Network.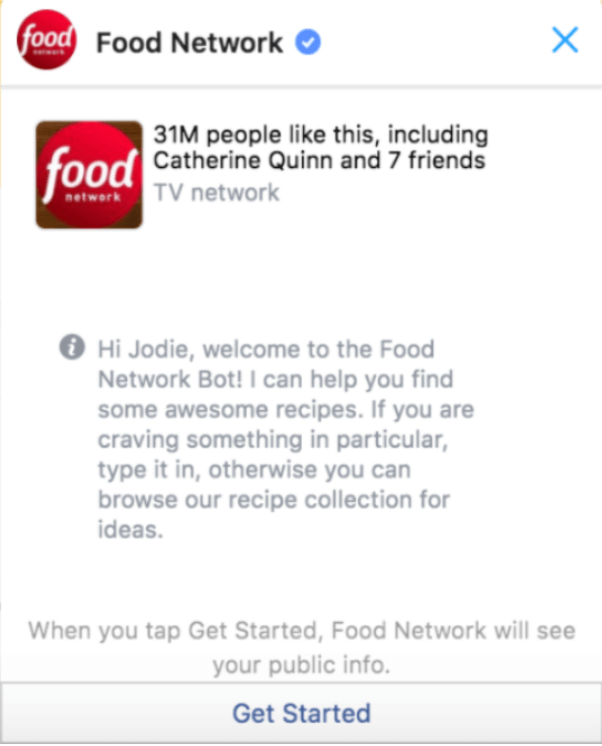 Just make sure the content you use is:
Relevant
Popular
Useful
Up to date
To set up an automated response like this, create a lead generation campaign for Messenger in Ads Manager (more on that here). 
2. Collect details and qualify leads
Facebook Messenger is a great source of leads. But, as with any lead gen tool, you need to qualify them before passing them to your sales team or funneling them through your marketing system.
You can easily qualify leads in Messenger by setting up an automated question series that stores users' answers as details.
Say, for example, you run an estate agency in London. Before you jump on a call or have one of your customer service agents contact a lead with a list of properties, you need to know what the person wants. Where in London do they want to live? When do they want to move? What's their budget?
You could divert them to email, but then you'd have an inbox full of non-standard responses with missing information, leading your agents to filter through and fill in the gaps.
With Facebook Messenger, you can automate a series of screening questions before passing a lead to sales, like this example from Mov8…
3. Quickly filter queries to the right agent
People prefer to message a business than email or call because it's so direct. They know they'll get through to the right person for their query because (generally) the chatbot asks them what they need.
Let's go back to the example above and say you're contacting an estate agency because you want to sell your house. You used Google to find top-ranking estate agents in your area and you've had tried to find pricing information on their websites. But, none of them list their fees.
Do you A) call each agent and get caught in a long cycle of 'Press 3 for' whatever service? Or, B) drop them all a note on Messenger?
The odds are you'll take the latter option. It's less costly (depending on your phone plan), less effort, and less time-consuming.
Which is why agents like Mov8 programme their Messenger bots to ask questions like this…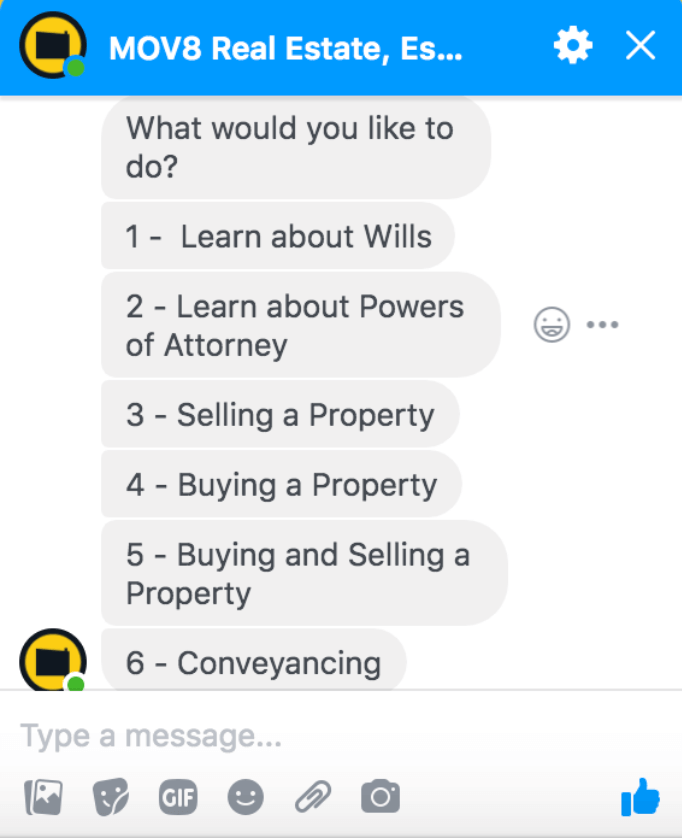 These questions instantly funnel users to the right department for a followup call or signpost them to the right page on the website.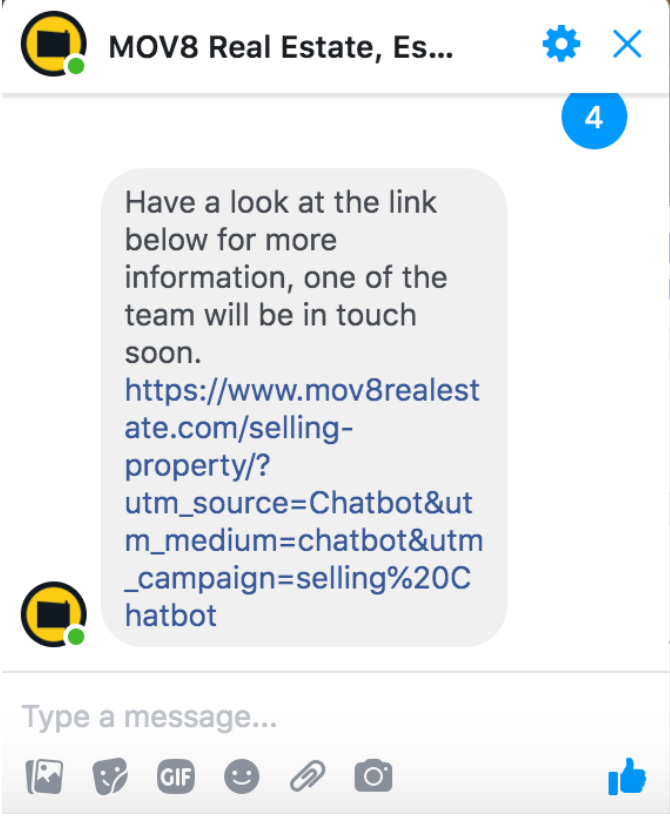 If you have a larger team who handle many accounts, you can use NapoleonCat's Automoderation feature instead of a Messenger chatbot. With Automoderation, you can manage multiple messages and comments from Facebook, Instagram, LinkedIn, Twitter, and YouTube in one place.
You can also set Automoderation to send your agents an email when a potential customer sends a message containing particular trigger words. Which brings us to…
4. Create and manage customer service tickets
Consumers reach out to businesses through Messenger because they know they'll get an instant response. But, unlike with a phone call or in-person chat, people can share your Messenger customer service guffs all over the internet.
So, if you provide customer service through Messenger, you need to do a good job.
You can manage customer service queries on Messenger using a combination of automated and live-agent response systems using automated moderation.
This is one of the core features of NapoleonCat's Social Inbox feature. You can set up Automoderation rules that are triggered by certain words like 'order', 'speak', or whatever you choose.
When a user leaves a Comment or Message containing one of these triggers, we'll send them your set reply, which can be either a response to their comment or a private message.
Automate customer service on Messenger
Automatically forward social media inquiries to designated agents. Improve your response rates – and your customers' experience.
Try NapoleonCat free for 14 days. No credit card required.
There are many benefits to managing customer service using Automoderation. For example, you can:
Respond promptly to all inquiries, even if you don't have an active live agent at that time
Be sure that everyone who needs a response, gets one. No matter what time they reach out to you… 24/7
Show that you take customer service seriously by maintaining a visible presence on your Post and Ad Comment Feeds
Automatically move sales-ready or unhappy commenters into a private message
View all of your social interactions in one place so you never leave a potential customer hanging again
Support multiple agents to manage multiple accounts from one dashboard
To set up automated moderation rules, connect your Facebook Page to your NapoleonCat account, access the Social Inbox module, and click Automoderation in the top left-hand corner.

Then use this guide to perfect your automated moderation system.
5. Remarket to website visitors
With Facebook's suite of remarketing tools, you can retarget people who have recently visited your website and nudge them to reengage.
To do it, you need to set up a Messenger Ad using Ads Manager and choose a Custom Audience based on your recent website visitors. You'll need to have set up and installed the Facebook Pixel but, if you already have this infrastructure in place, these ads are a great way to keep leads moving down the sales funnel.
Messenger Ads appear in a person's Messenger app feed and you can tailor the message they see when they click through, like this example from Jasper's Market…
6. Set up in-app purchasing
You can take your Messenger sales system a step further by setting up in-app purchasing.
You need to have an existing catalogue of products in Facebook Shop or a Facebook eCommerce integration that allows purchases in Messenger. But, for the many eCommerce businesses that use Facebook to market their goods, it is an invaluable resource for generating sales.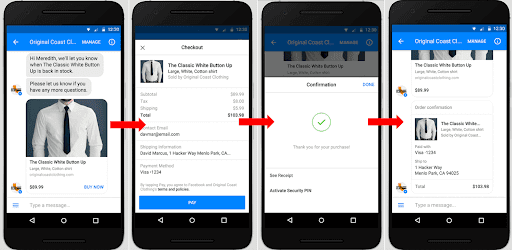 The Facebook Buy button has streamlined the Facebook eCommerce process by removing the need to click through to a business's website to complete purchases.
Let's wrap things up
Facebook Messenger is the digital marketing equivalent of 'the new black'. Your potential customers use messaging apps every day and interact with businesses there more and more. Make sure you're one of them by setting up a killer lead gen, sales, or customer service system in Messenger and choosing the right marketing tool for the job.