As a digital marketer, you probably know that email marketing offers great ROI. For every dollar you spend on email marketing, you get an astounding $44 in return.
With that being said, other popular digital marketing channels, like social media, also yield big results. Brands in just about every industry leverage social media campaigns to reach new audiences, spread brand awareness, attract new customers, and generate quality leads.
And when you consider email marketing's unbeatable ROI and social media's power to reach target audiences in real-time, combining the two mediums becomes a no-brainer. By integrating the two powerhouses, you'll reap benefits that neither channel could successfully provide on their own.
In this post, we'll cover five different ways to effectively combine email marketing and social media.
Grow your email list via social media
Data indicates that there are currently 2.56 billion social media users across the globe, with 68% of those users representing adults on the Facebook platform. This means there is an enormous list of potential email subscribers you haven't reached yet.
Use your social media pages as opportunities to grow your email list. One thing you can do is add a signup form on your Facebook page. Some email marketing services give users the ability to easily add a subscription form to their Facebook pages.
Check out this example from SXSW, Inc., the company responsible for the South by Southwest festival held every year in Austin, Texas.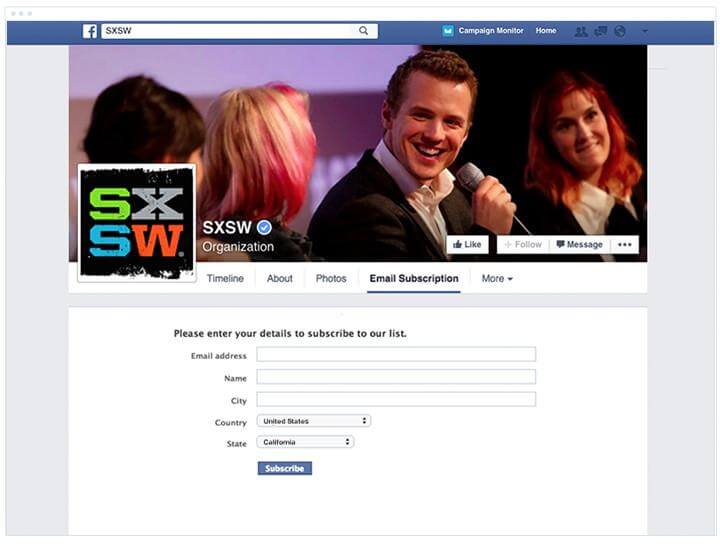 From the example, you can see that the signup form appears as a separate tab on the page. Placing the tab at the top keeps it extremely visible, which then makes it easy for your followers on Facebook to click, enter their details, and subscribe to your mailing list.
You can also encourage Twitter followers to subscribe by tweeting out the link to your subscription form.
Allow the sharing of your emails
One significant advantage of email marketing is that a majority of people check their emails throughout the day. In fact, users check their emails an average of 74 times each day. This is the perfect chance for you to use email marketing as a way of expanding your reach on social media and possibly gaining new followers.
Encourage your subscribers to share valuable and meaningful email content on their social media. Place social media sharing buttons in a prominent section of your email. This way, readers can quickly share your emails to their followers on Facebook, Twitter, Instagram, or LinkedIn.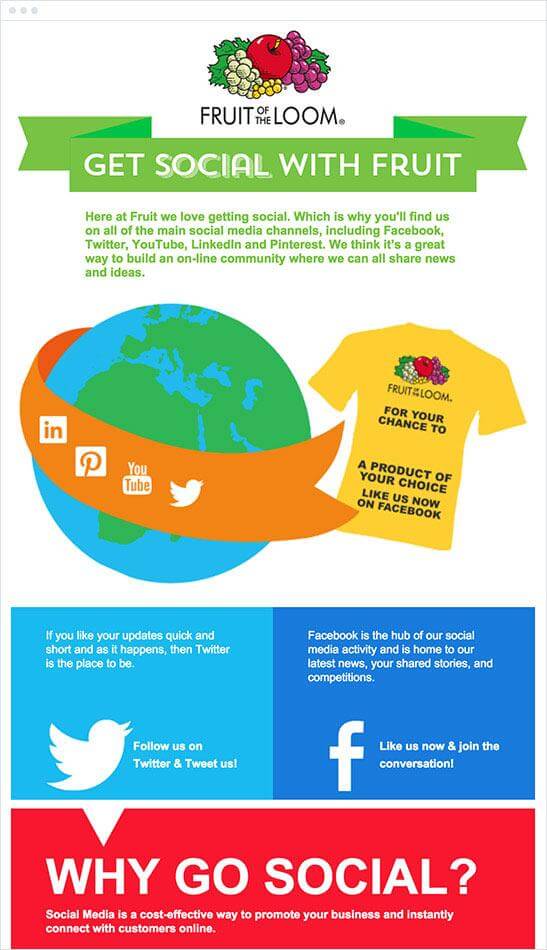 Another idea is to create content around a social media interaction you had with one of your followers. Maybe they asked a high-quality question in the comments section of one of your posts that lead to a meaningful discussion that you think warrants sharing.
This is a great way to show your users how much their feedback means to you and that you don't think of them merely as numbers. This kind of human approach to marketing can go a long way in attracting more followers.
For even better results, use a unique hashtag for any social campaigns that you talk about in your emails. This enables your campaigns to grab the attention of your social media followers and also allows them to get in on the conversation. You can offer incentives to gain followers. For example, many companies use Facebook competitions to bond with existing followers and also gain new ones. You can then promote these competitions via email.
Use social media to promote newsletters
Email newsletters are an integral part of any brand's email marketing strategy. And since you spend a considerable amount of time and effort creating your great emails, why not promote them on your social media?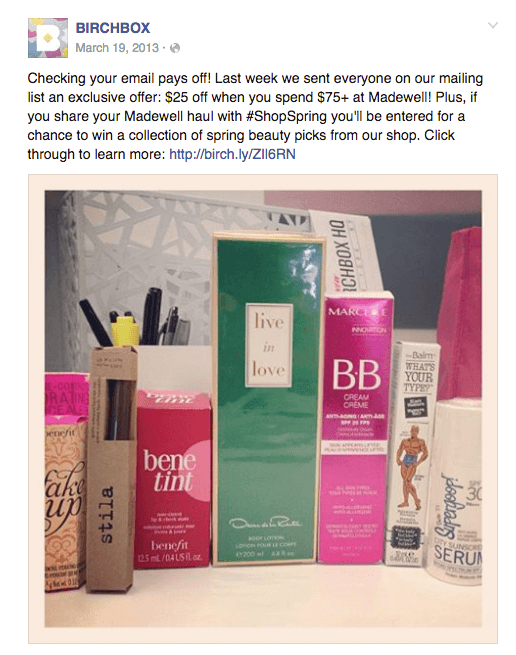 Give followers who may not be subscribers an idea of what they can look forward to if they sign up. Post a sneak peek of your newsletters on your social media and include the link for your signup form. Remember to include a call to action as well!
Use retargeting to gain subscribers
Retargeting ads is an extremely effective method of growing your email list. While such ads are similar to traditional PPC ads, they're exclusively shown to people who've visited your website, and thus might be interested in what your brand has to offer.
One of the places you can show these ads is on social media platforms. If a user visits your website but doesn't end up converting or signing up, they'll see ads for your list on their social media.
Chances are high that they are interested in your products or services. These retargeting ads just give them another opportunity to take you up on your offer.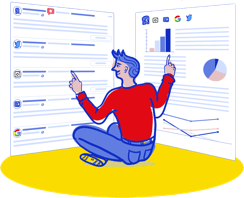 Social media management
Manage unlimited Facebook, Instagram, Twitter and LinkedIn pages in a single inbox. Track competitors and improve performance using simple dashboards.
Try NapoleonCat free for 14 days. No credit card required.
Sync your social media and email marketing calendars
This last step is crucial if you want to combine your email marketing strategies and your social media strategies. It's what's going to guarantee that you get the best possible results.
Social media and email are two channels that should never work alone. Some companies map out an entire year's worth of email marketing campaigns only to later realize that they never considered tweeting reminders about their newsletters.
Meanwhile, other companies include follow links on their email signatures but don't encourage their users to share emails on social media.
To be successful in combining social media and email marketing, focus on one goal and then figure out how both channels can support it. This most likely means cross-promotions between the two channels.
For example, let's say your goal is to drive sales and revenue by getting more conversions. This may require more people to sign up for your newsletter so that you can transform new subscribers into paying customers.
You'd want to come up with a lot of great content that would make your newsletter worth reading (don't forget that strong subject lines improve open rates). To promote these newsletters, you'd have to create different posts on social media for each new newsletter. The newsletters should also lead subscribers to your social media channels, in case they still haven't followed you on those platforms.
Building a huge following on social media will increase your social proof and, in turn, contribute to gaining even more followers. It's a cycle that will definitely benefit your brand.
Wrap up
Viewing email marketing and social as isolated mediums is easy. That being said, doing so prevents you from maximizing the potential of both channels. You are much better off using them to complement each other.
Don't worry, though. It's not as complicated as it seems. Just follow the advice detailed in this blog and you'll soon see an increase in your social media following, substantial growth in your email lists, and of course a significant boost in your revenue.