According to recent data, YouTube currently has over 1.9 billion users worldwide, and 79 percent of all internet users have a YouTube account. Now, that's a lot!
See how you can join the gang. This guide will help you set up a YouTube account and use it to build a well-optimized and effective presence on the platform.
Let's get started!
Creating a YouTube account and setting up a channel
While anyone can watch YouTube videos without an account, the experience is much better with one, even for casual viewers. As a signed-in user, you can subscribe to channels, manage notifications, and leave comments on videos. The platform's intricate algorithms also track the activity on your account to suggest curated, relevant content on your homepage and in search results.
Most importantly, though, you need a YouTube account to create a new channel and publish videos. For brands looking to build a presence on YouTube, creating a channel is an integral step. It's a pretty straightforward process – here's how to go about it.
1. Create a Google account
YouTube used to be an independent platform, but Google now owns the platform – and generates billions of dollars in advertising revenue from it every year.
Because of this, setting up a YouTube account requires that you create a Google account first. Your Google account is something that allows you to identify yourself across a range of online Google services, providing you with access to YouTube and other products owned by the company.
If you already have a Google account, you can use it to sign in to YouTube. Just use your regular Gmail username and password to sign in to watch videos, play with account settings, upload videos, or manage your channel.
If you don't have a Google or Gmail account, you'll need to create one. You can do so directly on YouTube. Go to YouTube.com from your regular web browser or open the app on your mobile device.
If you're using a desktop computer, click sign-in in the top right corner of your screen and then go to "create account" at the bottom of the form.

If you're on a mobile device, tap the profile picture icon in the top right corner of the screen and tap "sign in." Then tap on the plus sign that pops up to add an account. You'll see a sign-in page. Tap "create account" to move to the next section.
2. Fill in your information
Next, YouTube will prompt you to fill in your information, including your first name, last name, email, and the new password, on both desktop and mobile. It might seem like Google is asking for a lot of information, but don't worry: it won't be shared.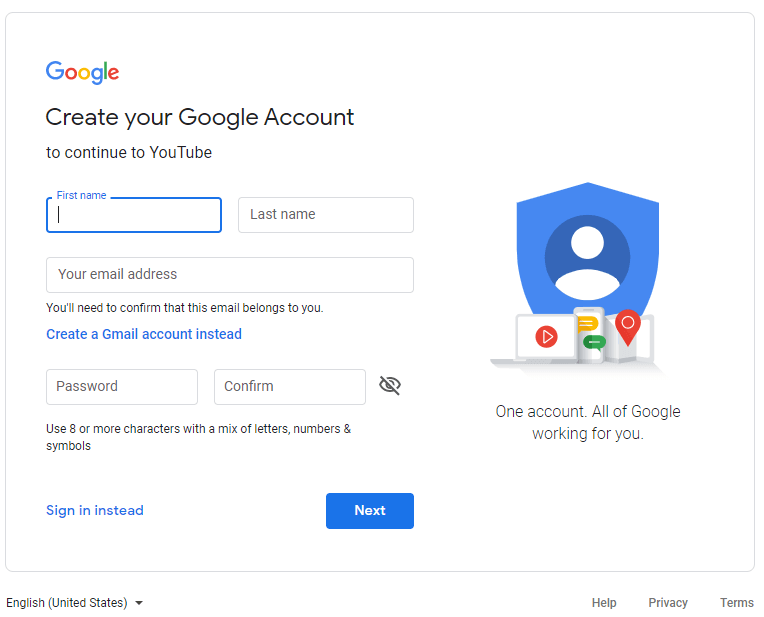 3. Create a YouTube channel
Once you're signed in, there's a lot of things that you can do. You can save videos to watch later, like and dislike videos, chat with other people on the platform, and, importantly, create a YouTube channel of your own.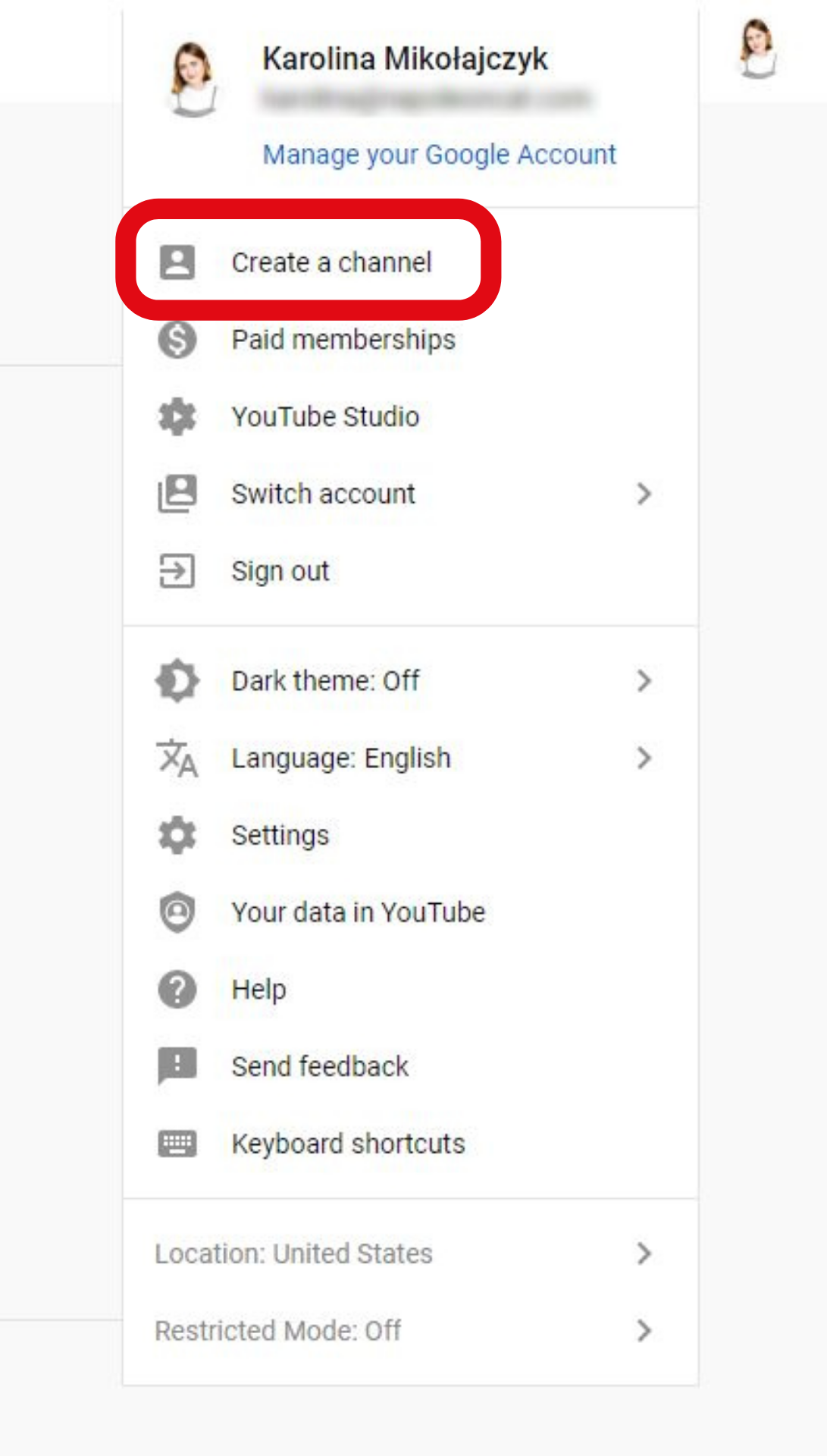 To create a YouTube channel, do the following:
Sign in to your YouTube account;
Access the dropdown settings menu by clicking on your profile picture and select "Create a channel;"
Follow the prompts in popups to confirm the channel name. This step is important: in order to set up a channel for your business (i.e. one that can be managed by multiple team members), select "Use a custom name" in the "Choose how to create your channel" popup. If you don't already have a Google Brand Account, this will automatically create one for you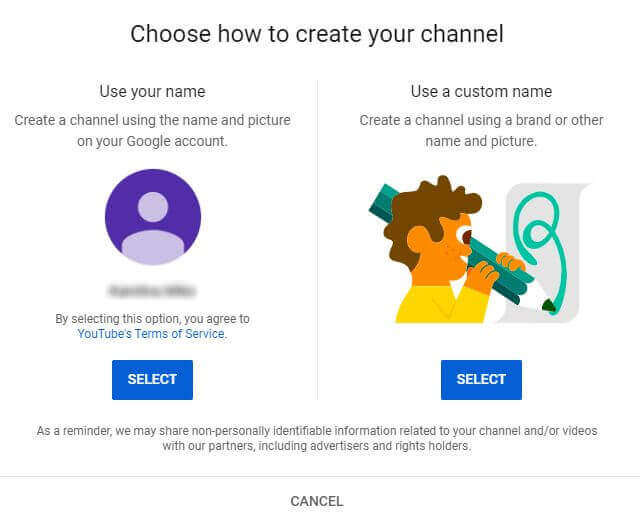 Upload a profile picture
Write a channel description and add links to your sites and profiles on other social networks
That's it! Once you're done with the basic setup, you will be taken to your brand new channel.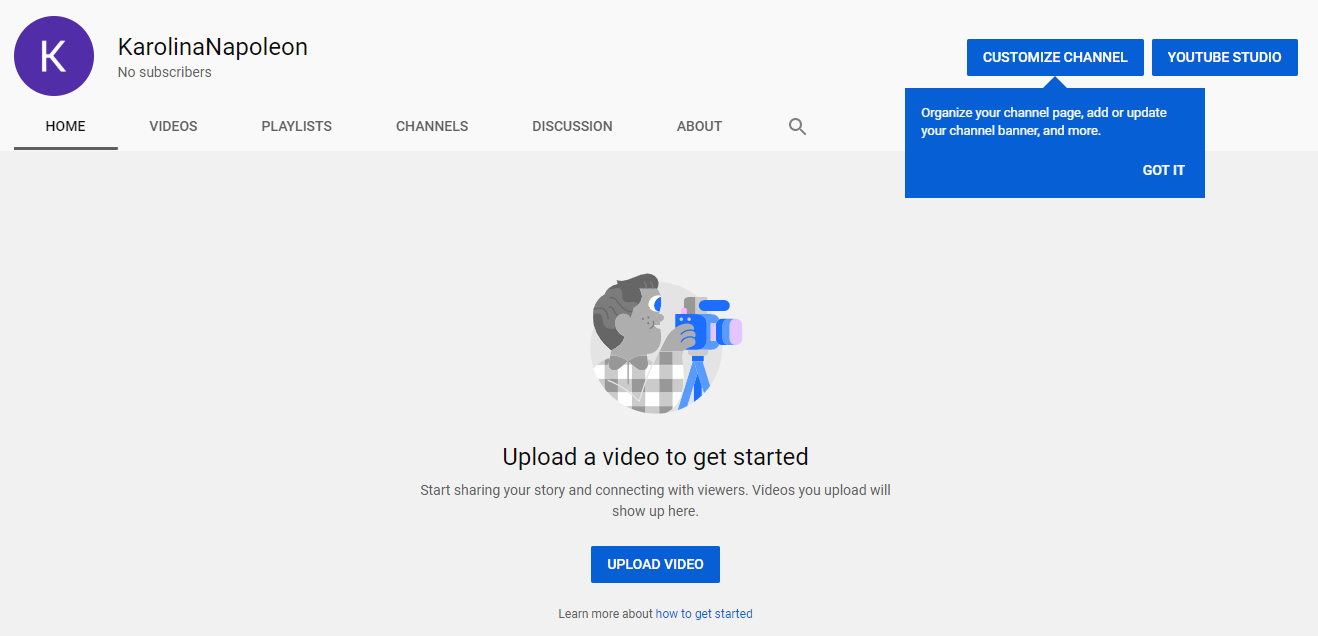 If you've decided to go the brand route, you will be able to access your new Brand Account and add users to your channel in the Account settings. Access them through the menu tab on the left side of the screen.

Once you're done, you can continue customizing your channel or start adding videos. Now that you have a channel, you can also use YouTube Studio – a dashboard for managing your videos and analyzing the performance of your content.
Let's take a closer look at how you can use YouTube's suite of tools to optimize your presence on the platform.
Using YouTube Studio
While posting videos is a great way to start your YouTube channel, you often have to do more than that to get them noticed.
The YouTube Creator Studio is a set of tools that Google provides that enables you to interact with your audience, grow your channel, and manage your presence on the site. Here are some of its particularly useful features.
Channel management
Once you sign in, the creator studio will present you with a wealth of options, allowing you to better understand the performance of your channel.
The dashboard gives you a high-level overview of your activity, providing important performance information, and showing you what's new on the platform. The video option shows you the videos you've uploaded, and the comments section lets you review and moderate reactions to your content.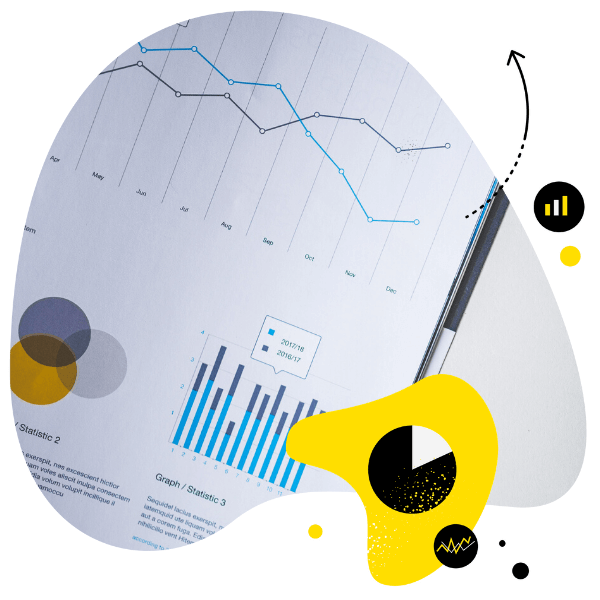 Social media analytics
Measure your social media marketing results. Track competitors and improve performance using simple dashboards.
Try NapoleonCat free for 14 days. No credit card required.
Optimizing videos
Once you've got to grips with the platform navigation, the next step is to optimize your channel.
Here you'll want to pay close attention to the following:
Details – this section of the YouTube Studio allows you to set the video title, the description, and the settings. Choosing the right title and video description is vital if you want your videos to be easily discoverable in YouTube's search engine.
Analytics – YouTube provides creators with a host of analytics that allows them to see how their videos are performing. You can use the metrics provided by the platform to track your performance and see which kind of content your audience engages with the most.
Editor – the in-built video editor allows you to cut and trim your videos to make them smoother and more enjoyable for your audience. Unless you're doing complex editing, you can avoid most third-party software on YouTube.
Subtitles – adding subtitles to your videos is another good way to optimize them for YouTube. Uploading your own subtitles is usually better than relying on the auto-generated version.
Channel art – channel art gives you the ability to set the overall theme and tone of your channel. Here, you can choose the thumbnails that your channel uses and background images for your home page.
Metadata – finally, setting up metadata (video tags and descriptions) lets you communicate directly with YouTube's search algorithm, helping you target people looking for content similar to yours.
If you'd like to learn more about channel optimization best practices, check out our guide to YouTube Marketing!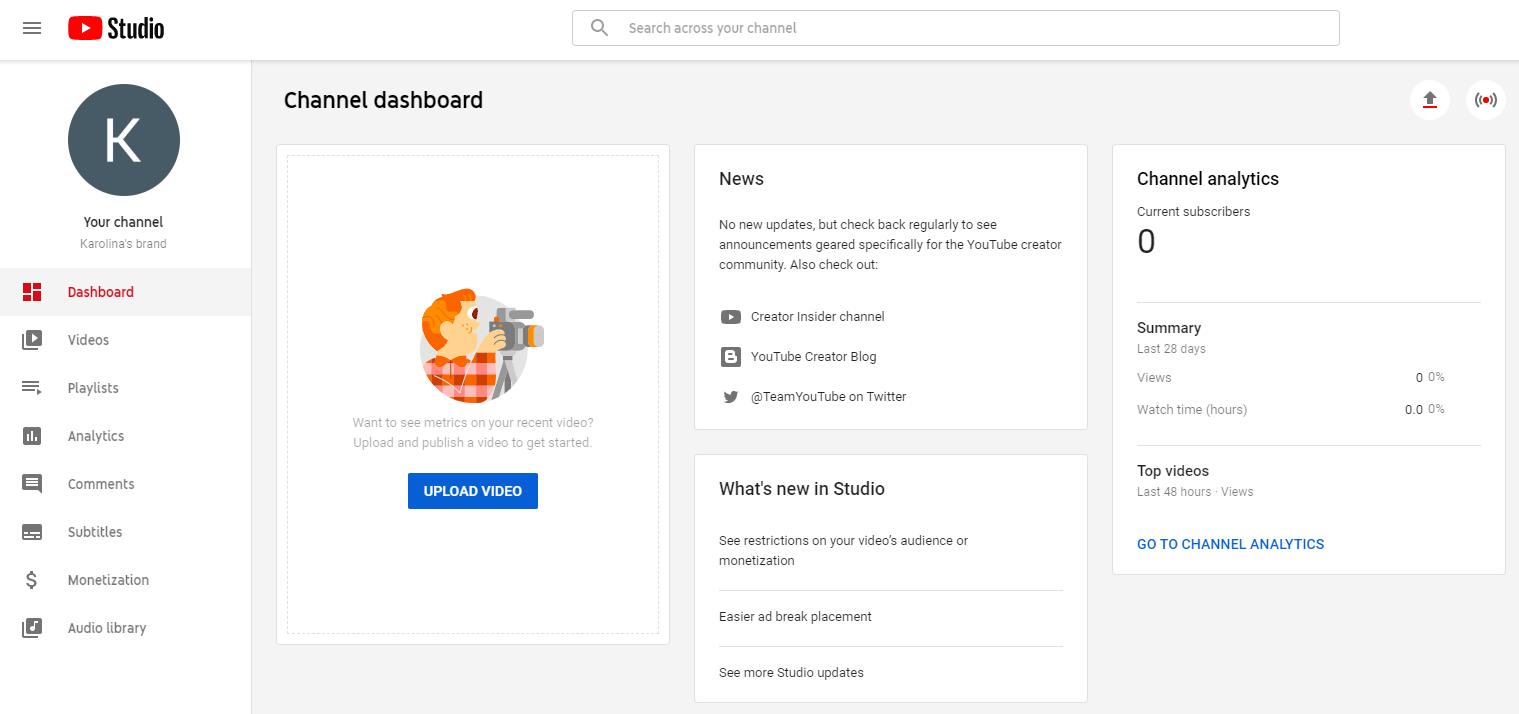 YouTube Partner Program
The YouTube partner program is an additional toolset you can apply for once your channel hits some milestones. The program allows YouTube content creators to monetize their videos (i.e. enable advertising on a channel and collect ad revenue) and more. But only select accounts can join the YPP – check the requirements below to see if you're eligible.
Requirements
The requirements for becoming a YouTube partner are as follows:
1,000 unique subscribers on your channel
4,000 valid public watch hours in the last twelve months
Have a linked AdSense account (if your business already monetizes a blog or website, chances are you have one already – otherwise, you can set one up here)
Follow all of the YouTube monetization policies
How to apply for YPP
Once you've checked all the boxes on the requirement list, you can go ahead and apply to join the program. Here's how:
Go to YouTube's homepage
Click on your avatar in the top right corner of the screen
Go to Settings
In the Your YouTube channel section, click "Channel status and features"
Click "Enable" in the Monetization section
Agree to the program's terms
Select your monetizing options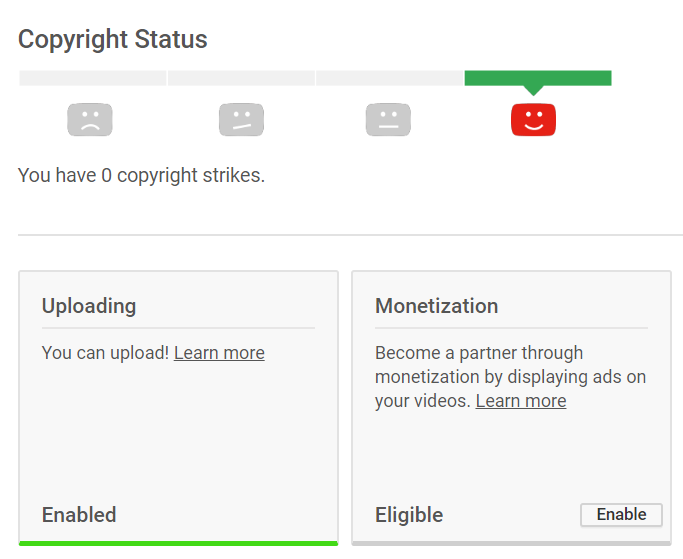 And that's all it takes! The final step is waiting for youTube to verify your account's eligibility for the YouTube Partner Program.
Benefits
While gaining access to the YouTube partner program requires a little upfront effort, the benefits for those who do get on it are extraordinary.
Here's how becoming a member could help you:
Monetization
The main reason for signing up for the YouTube Partner Program is monetization. YouTube will automatically insert ads into your videos where you tell it to in your editor. It will then pay you a share of its advertising revenues.
Improved visibility on the platform
YouTube Partners have higher visibility in search results over non-partners. All things held equal, partners will rank higher in response to search queries.
YouTube Partners also get additional exposure through third-party syndicated sites. These sites allow you to reach audiences outside of YouTube and generate additional advertising revenue from sponsors.
Copyright protection
Finally, becoming a YouTube Partner entitles you to copyright all original video content. If you don't become a partner, YouTube reserves the right to use your uploaded content as it sees fit.
Wrap up
YouTube is one of the most influential social platforms in the world – and video is a highly engaging format that helps brands build meaningful relationships with audiences. Starting a channel can take your digital marketing efforts to a new level – give it a try!