Building social communities and engaging your online customers is a trend that is steadily becoming one of the most important aspects of social media management. And we're here to show you how to do it faster, easier, and more effectively.
When managing a business online, you need to promptly reply to comments and messages, wipe out spammy comments, and build relationships with your customers and fans – it all contributes to your brand's reputation.
NapoleonCat is a social media engagement tool that can help you save tons of time moderating your socials.
Apart from managing all your social interactions (across multiple platforms and accounts) from one view, you can also automate a big chunk of a human moderator's job with our automated moderation feature.
And we've just launched our Auto-moderation 1.5! The update includes improvements to make this magical feature more practical and more understandable.
But before we dive into the update, let's quickly recap the main benefits of our automated content moderation, which include:
Smart automatic replies on FB, IG, and Messenger based on custom keywords that you define,
Auto-moderation can protect your brand image from spam and inappropriate comments by automatically hiding/deleting them,
The feature works for both organic posts and ads on Facebook and Instagram.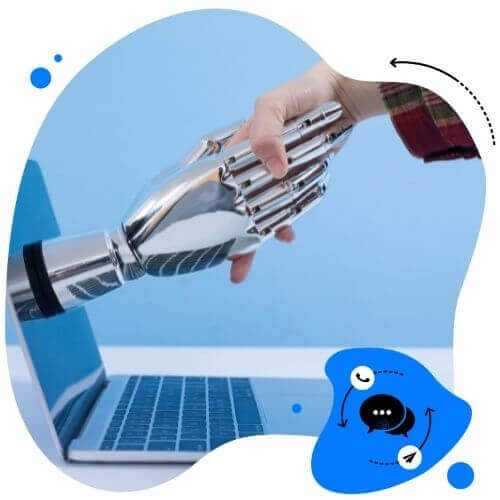 Smart auto-replies on social media
Use automated content moderation to manage social media in real time. Our customers reduce their response time by 66%. Try it for free:
Try NapoleonCat free for 14 days. No credit card required.
Automated content moderation – what's new?
The main idea behind our current update is to make Auto-moderation more accessible, practical, and understandable.
So if you're a new trial user, you'll now see Auto-moderation on the home screen, and you'll be able to access it from that level quickly: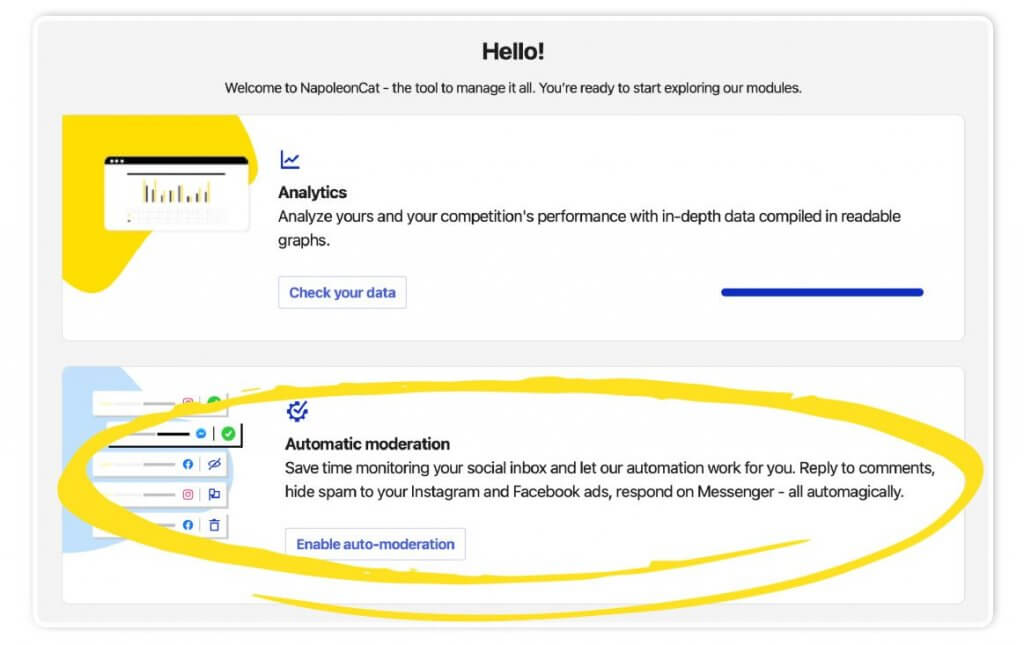 But the significant change comes when you access the Auto-moderation.
We've added three ready-to-use automatic rules based on actual use cases from our customers. So, you can quickly apply those to your social media profiles or edit them according to your needs.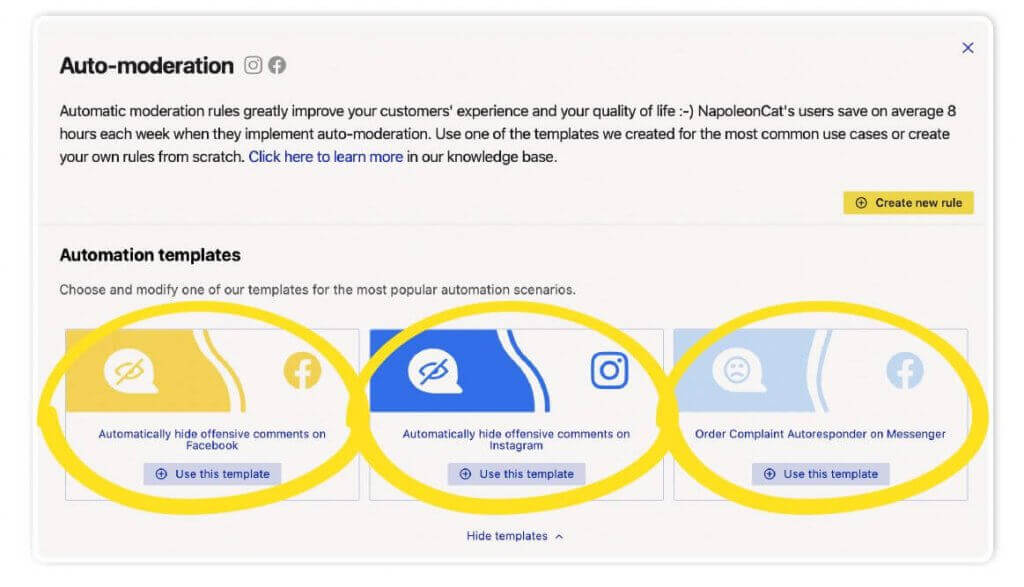 The 3 rule templates are able to:
Automatically hide offensive comments on Instagram,
Automatically hide offensive comments on Facebook,
Automatically respond to order complaints on Messenger.
Let's quickly break down these rules.
Automatically hide offensive comments on Facebook/Instagram
This one is pretty self-explanatory. This rule instantly hides offensive comments, and it is triggered by keywords that we've gathered based on how our customers use Auto-moderation.
The keywords list taken from real-life use cases is rich and possibly quite entertaining. For the purpose of this article, naturally, we blurred out the curse words 😉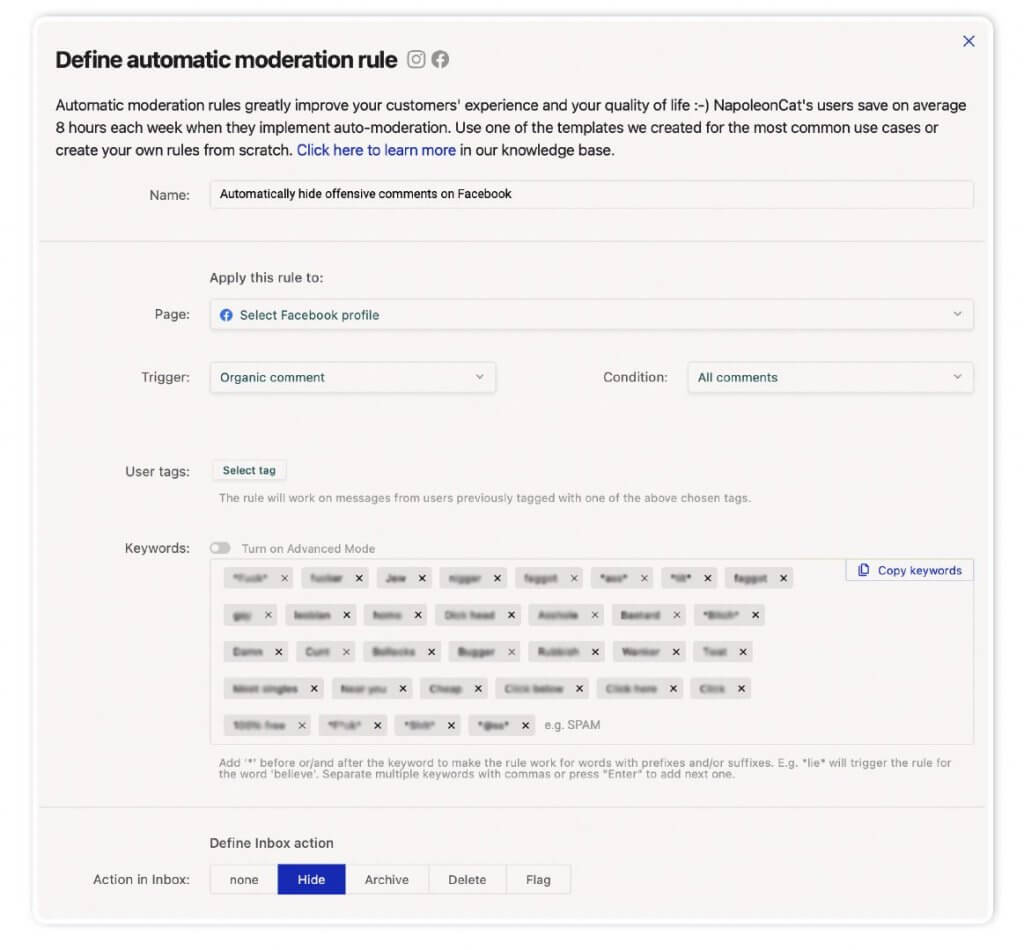 Anyhow, having this ready rule, you don't have to come up with your own keywords.
And if you feel like something is missing or you need to, e.g., change the automatic action from hide to delete, you can simply edit the template. This will not affect the fixed 3 templates and will just create a new rule.
How to apply this automatic reaction to your social media
Creating an automatic rule from scratch is already simple. Creating a rule from a template is super simple, it might as well be a 10-second job.
When you enter the template, you can change the rule's name – for better organization of your rules (given that you will create multiple ones).

Then, you simply choose the social profile for which you'd like the rule to work on. If you can't see the profile, you can now click on Add new profile and quickly connect your account(s). Just a little shortcut that we've made 😉

Plus, here's a quick video tutorial on how to connect profiles in NapoleonCat.
And if you're satisfied with our rich list of fun keywords and the automatic reaction, that's it, you're done. Scroll down and click on save rule, and let it protect your social media from evil.

You will get notified via email each time an automatic rule is triggered.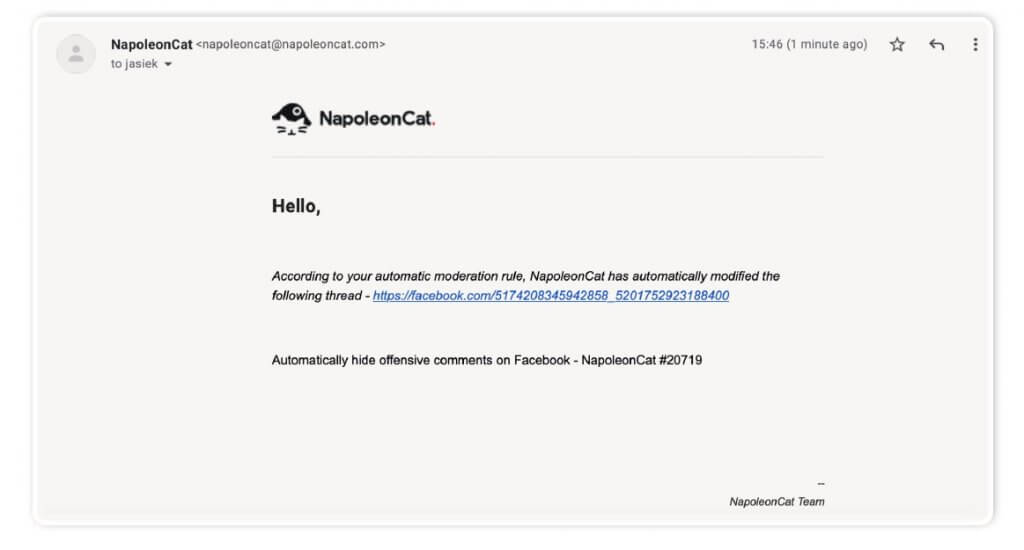 Automatically respond to order complaints on Messenger
We've also created a template that works as an automatic responder to issues regarding customer complaints.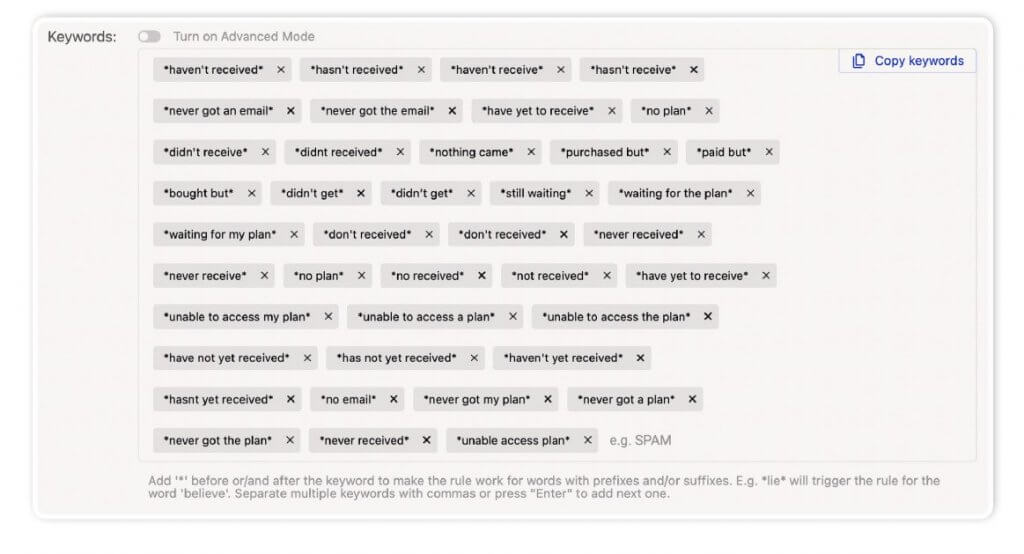 The auto-reply is personalized (i.e., mentions the author's name) and redirects the person to your customer support team.
All you need to do is edit your email address and choose the social profile for it to work on, and you're all set.

How to apply this automatic reaction to your socials
Again, all you need to do is change the rule's name, select the social profile you want it to work on, and include your email address in the automatic reply template.
If you're happy with the template, just click on save rule and your automatic reaction will be active.
You can always edit your rule, and in the case of automatic replies, you add up to 20 different replies that, once triggered, will be picked out and published randomly to appear more human with your responses 😉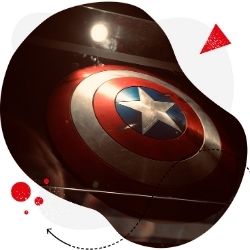 Protect your social media from spam & hate
Automatically hide or delete offensive comments, hate speech, and spam. Try NapoleonCat for free:
Try NapoleonCat free for 14 days. No credit card required.
Wrap up
That sums it up for now! Don't hesitate to keep playing with this automagical feature of ours – its possibilities are almost endless, and you can create as many rules as you'd like! More templates are coming soon 😉
PS. Any feedback is welcomed via our website chat or our social media channels 😉