22. Woodstock Festival has ended more than one week ago but it is still hot topic in social media. The organizers paid great attention to the social media activities and the whole communication strategy. It wasn't limited only to publishing updates, answering questions and reacting. It was an active dialogue with social media users.
Woodstock Festival has its own website and official social media profiles on Facebook, Twitter, Instagram, YouTube, Google+ and Pinterest. #Woodstock2016 – it was the official hashtag, mainly used for social media activities.
Woodstock2016 on Instagram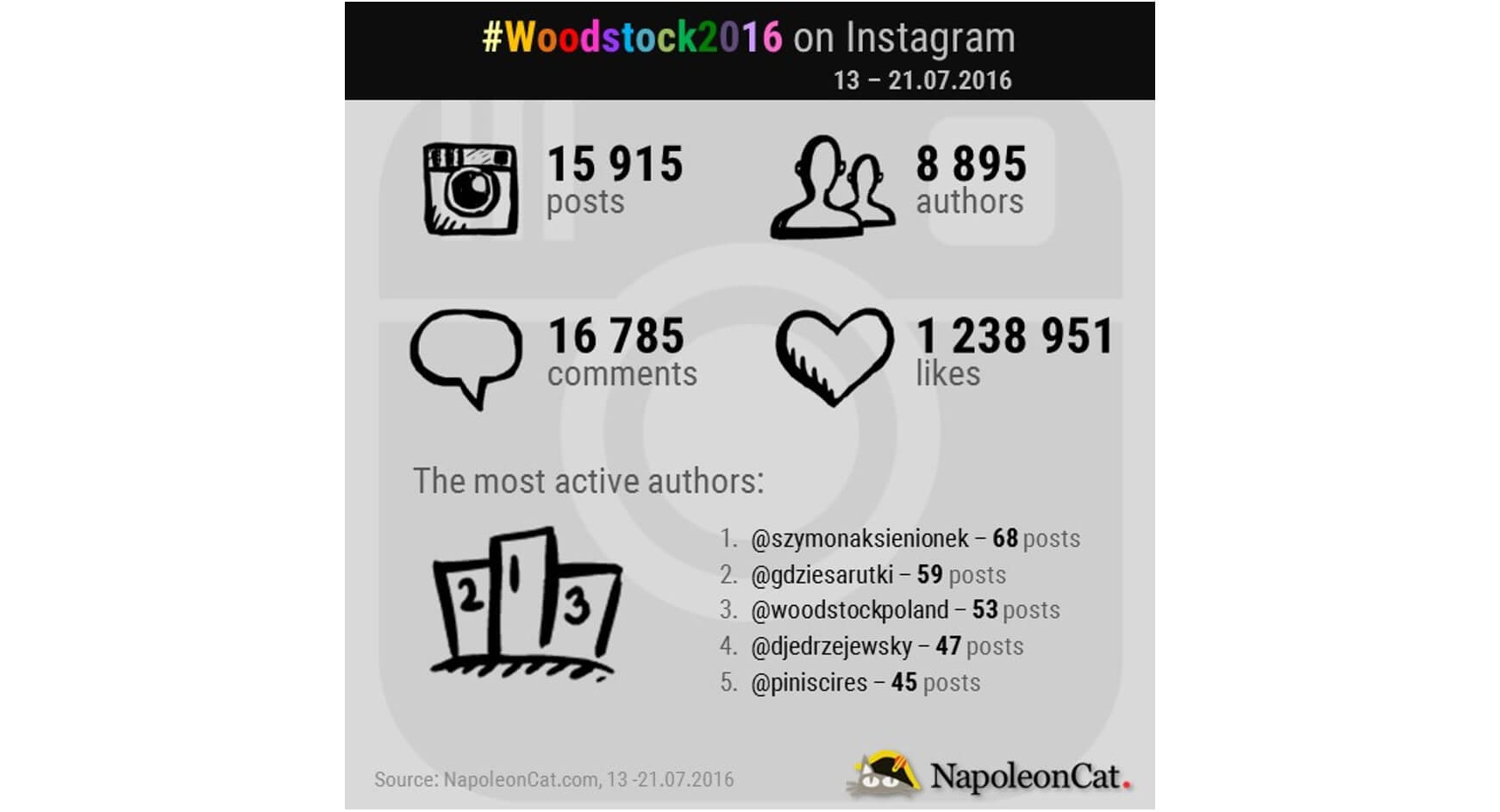 # Woodstock2016
#Woodstock2016 hashtag, during 3 festival days (14-16. July), was used on Instagram more than 6.5 thousand times, causing more than 660 thousand users' interactions (more than 7 thousand comments and the rest were followers' likes). The most active were polish Instagram users. Authors of posts containing tag: #Woodstock2016 also used different hashtags. The most popular accompanying ones were: #woodstock, #love, #festival, #lovewoodstock, #music, #przystanekwoodstock, #kostrzyn, #poland oraz #kostrzynnadodra.
@woodstockpoland
Between 1-19.July @woodstockpoland profile gained almost 6 thousand new followers and 86 thousand interactions (likes and comments). Official Instagram account for Woodstock Festival used different hashtags than those used by instagrammers. Top10 hashtags used by @woodstockpoland: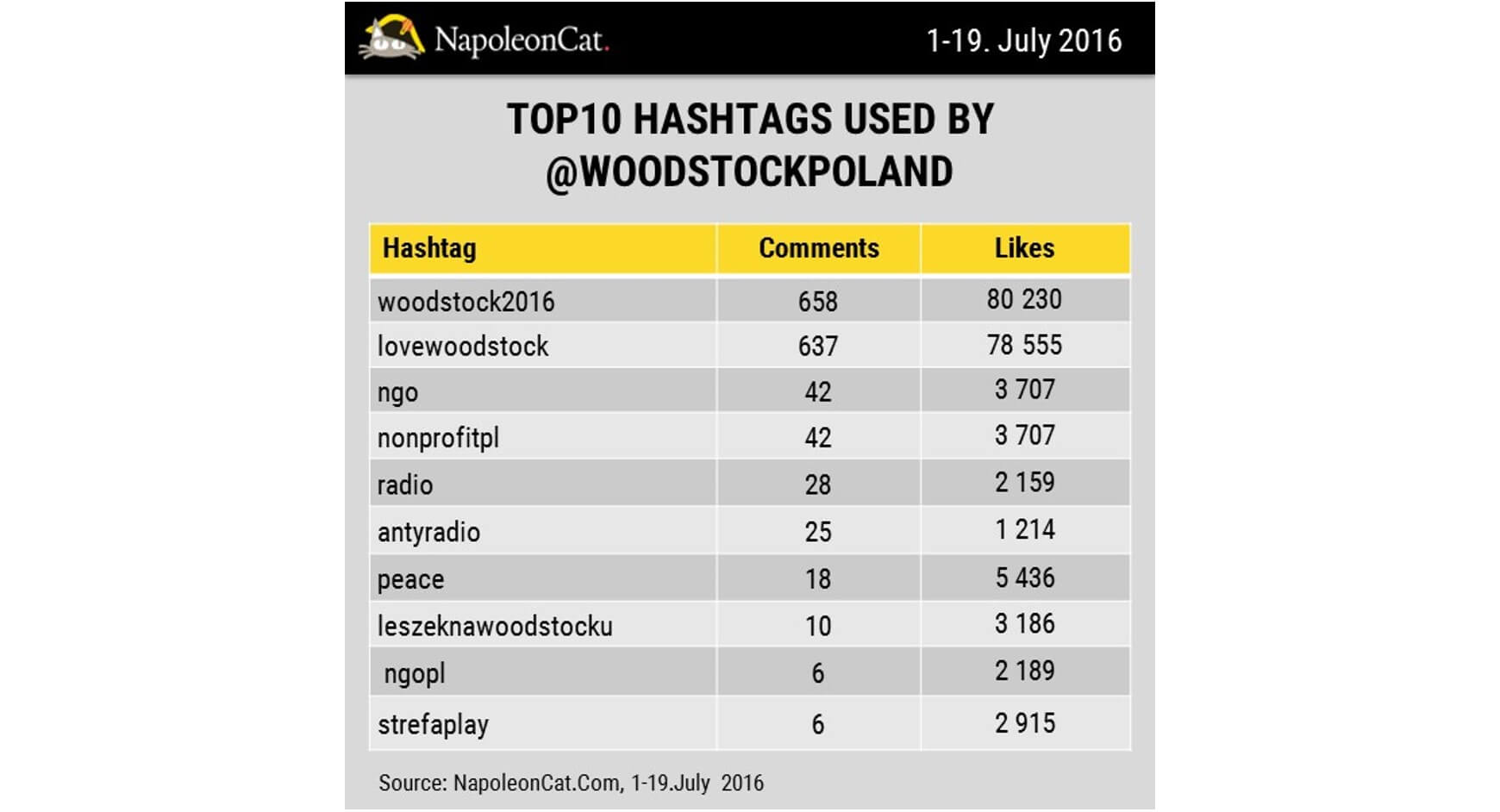 Woodstock Festival on Facebook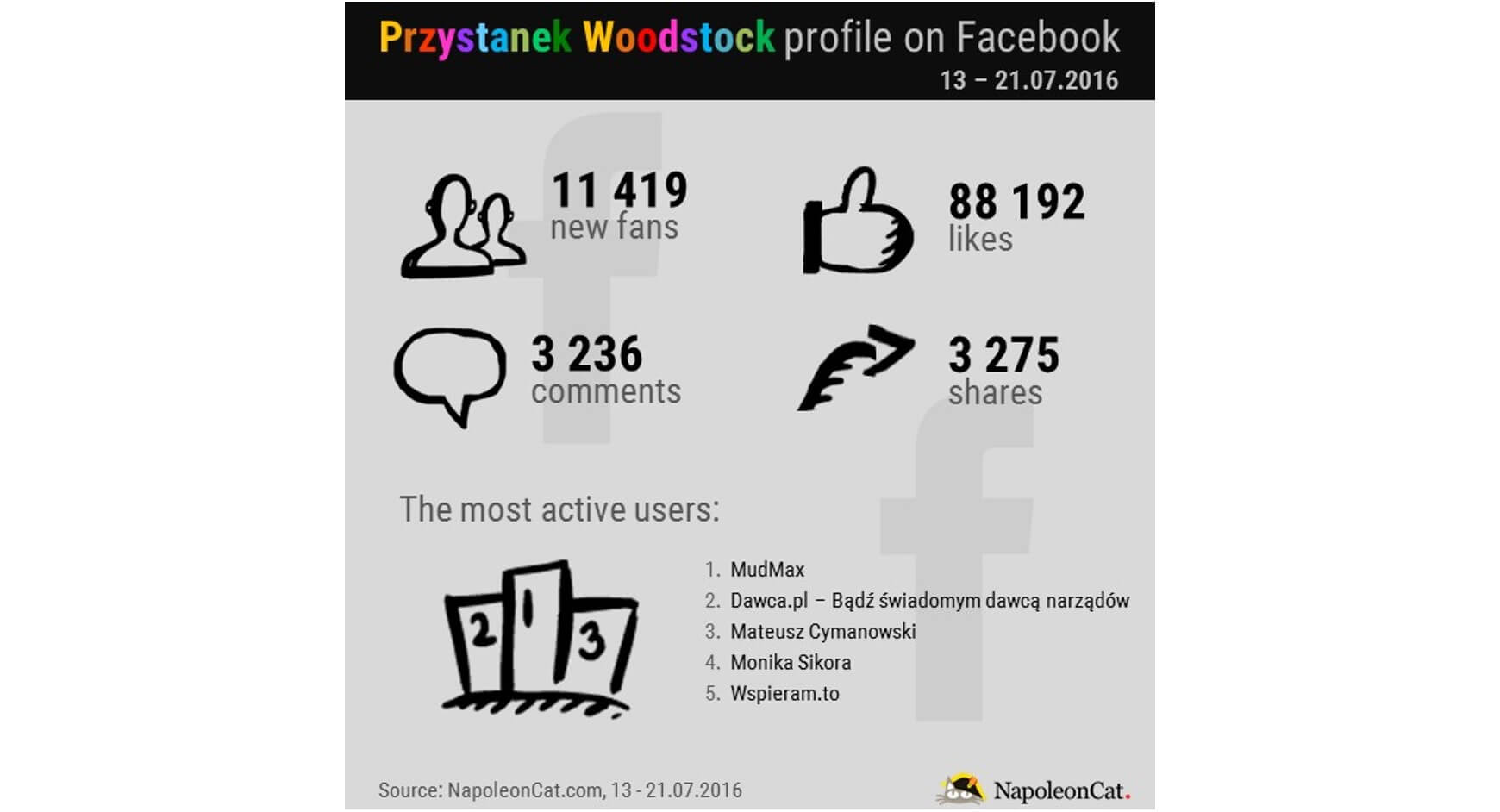 Woodstock Festival was a very popular topic on Facebook. Phrase woodstock 2016 has been searched over 93 thousand times, while #woodstock2016 hashtag – over 91 thousand times.
Official Facebook account Przystanek Woodstock – Woodstock Festival has been gaining new fans for a long time before the main event had started… and the new fans are still coming. Between 1-19. July there were over 16 thousand new fans. Almost 3,5 thousand of them came only in 3 festival days (14-16. July).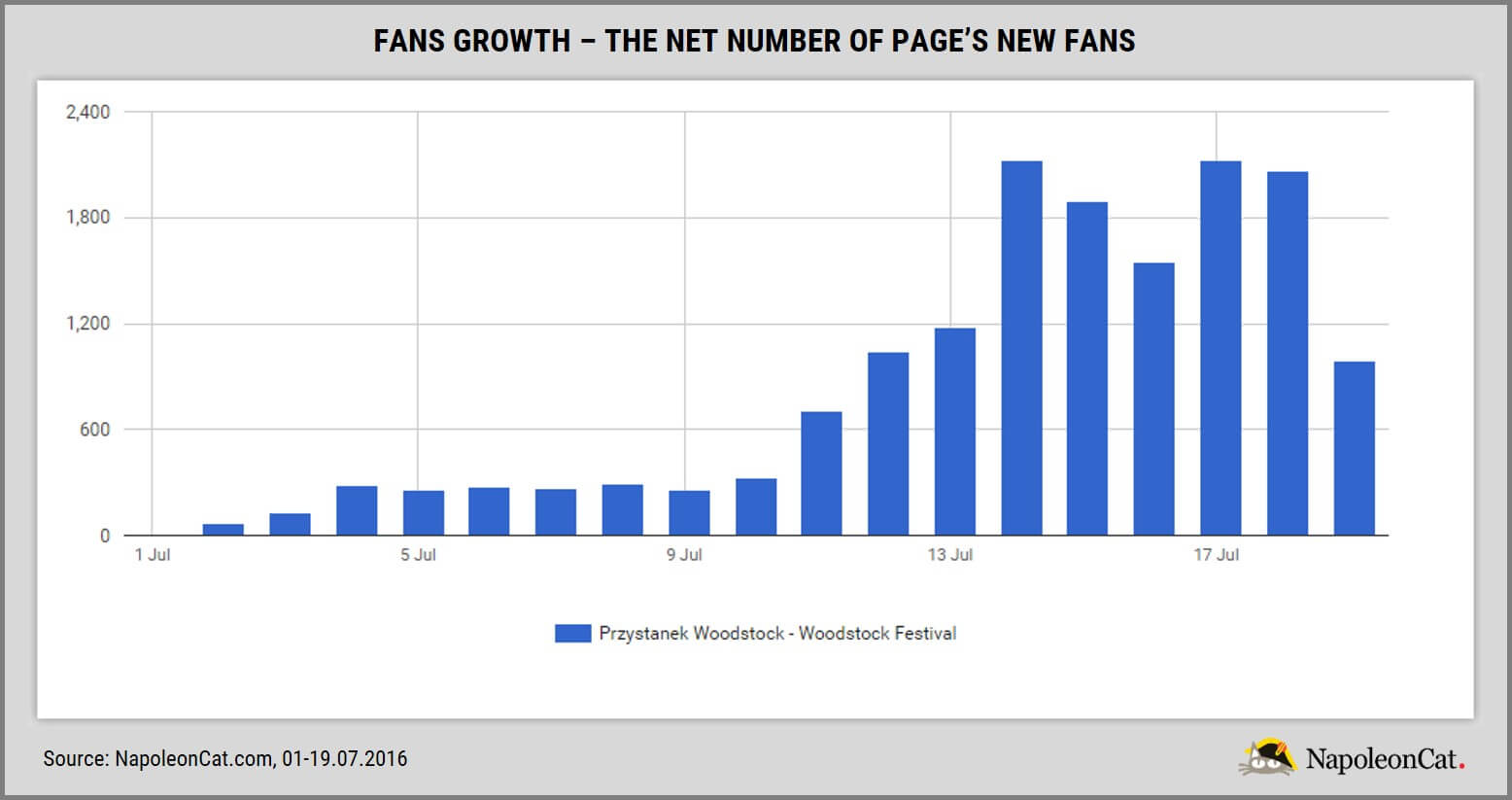 Although the festival ended few days ago, its' official Facebook page is still very popular. There is also more and more people talking about this (the number of people sharing stories about the page These stories include liking the page, posting to the page's wall, liking, commenting on or sharing one of the page posts, answering a question the page posted, RSVPing to one of the page events, mentioning the page, phototagging it or checking in). After the festival there are more and more foreign fans, especially from the UK, Germany, the Netherlands and the United States.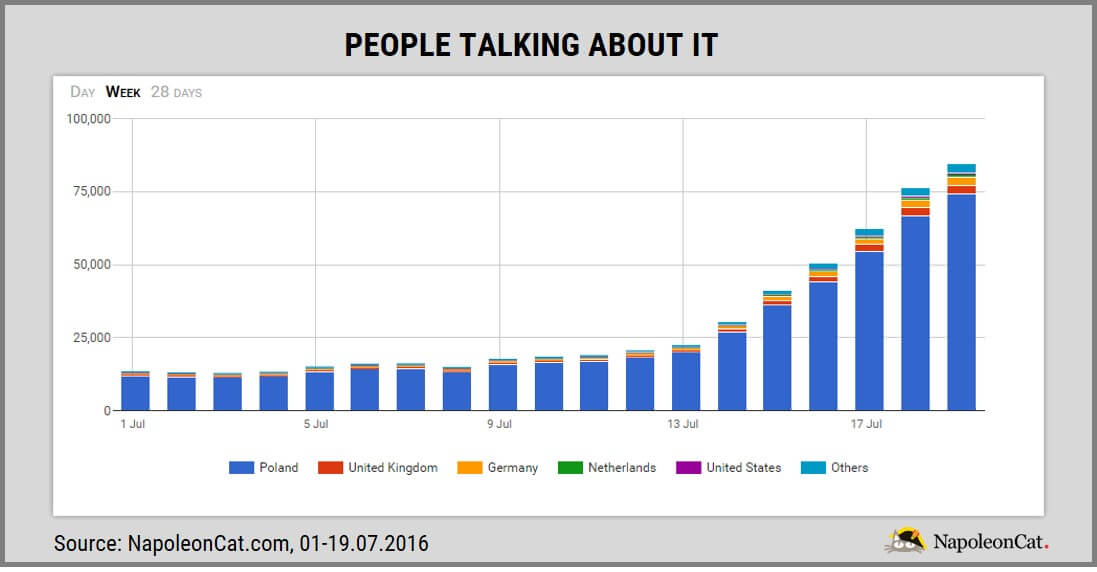 @WoodstockPoland on Twitter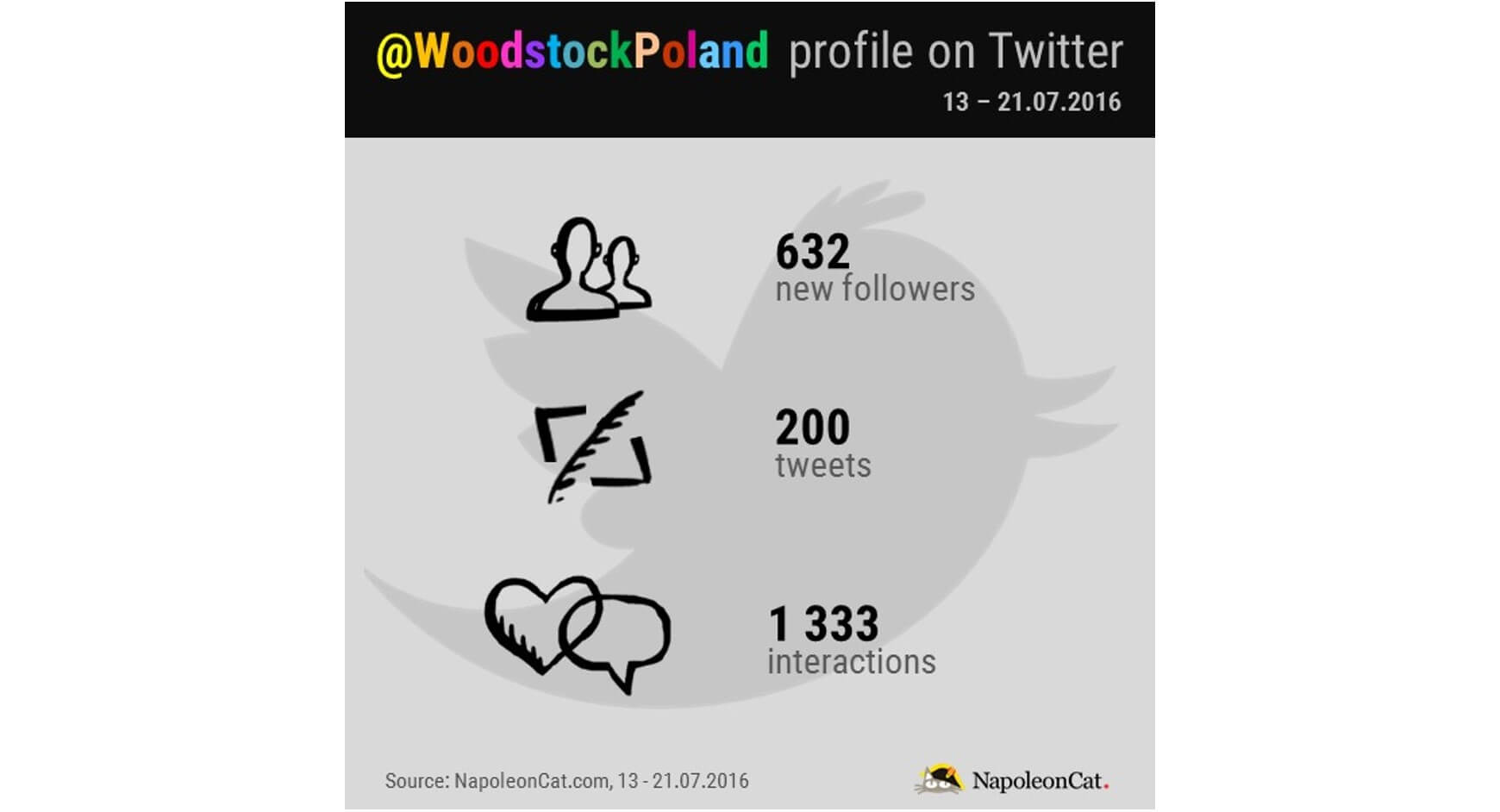 Twitter was also one of the social media platforms used to communicate with the festiwal fans. During 10 days (11-20. July 2016) the official @WoodstockPoland Twitter profile tweeted 200 times and gained over 700 new followers. The most followers came on the 17th of July.
#woodstock2016 Tweets