Still promoting your real estate offers in the Yellow Pages? Social media might be your next move – if you want to reach more people and get better results. Here are some social media marketing ideas for realtors, including real estate social media posts that could help you get more people interested.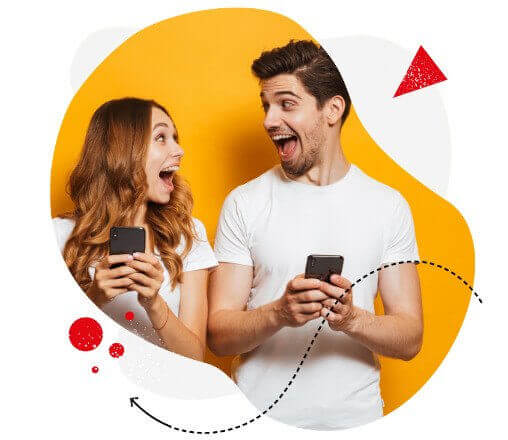 Social media marketing made easier (especially for teams)
Automation, analytics, reporting, scheduling, and more. Try NapoleonCat and save 90% of your time spent on your marketing tasks. Try it for free:
Try NapoleonCat free for 14 days. No credit card required.
Why use social media as a realtor?
Gone (mostly) are the days people looked for a new home in a newspaper (if you can still remember, you're old. Don't worry, I can perfectly remember. ;))
But on a more serious note, since people have taken to social media, a lot of commerce and many service providers have moved there too. Because that's where they have easier access to potential customers. And, because of the viral nature of social media, they can easily reach new audiences with much less effort.
In fact, industry research shows that 47% of agents get the highest quality leads from social media. More than 77% have used social media to promote their services. (And that's research from a few years ago, so the numbers have probable gone up even higher.)
On the other end of that process, home buyers typically use their mobile phones to search for properties online these days, often way before they contact a real estate agent in person.
So, instead of paying for that Better-Call-Saul style billboard or a TV ad (if you know, you know), use social media to help people find what they're looking for and promote your offers to the people who actually are interested.
Keeping your social media profiles active with up-to-date offers and engaging content is bound to bring you more profit than this:
But which social media platform is best for realtors?
The general answer is, depending on where your potential buyers are (and let's not forget the sellers.) It will depend on factors such as your location and demographics. But you can probably start with the most obvious (and most popular) ones like Facebook and Instagram.
With Instagram, because of its inherently visual nature, it's a possibly better bet if you only have time to focus on one.
That's because:
It's easily searchable, so people can come across your posts even when they don't follow you.
You can post attractive property photos and even short home tour videos to get people interested and show them something convincing before they decide to get in touch.
You can run ads to promote selected offers to a broader audience in a specified area (that way, you're sure you're just reaching people who can actually buy or rent – or want to sell/rent out a place in a specific location.)
You can talk to people in the comments, reply to the messages, and let them get in touch with you about specific offers much easier. And you can answer their questions before both of you take time out of your day to do an actual in-person home tour.
And of course, with the way social media algorithms work these days, the more people engage with your posts, the more people will likely see them.
Now, if you're wondering how and what to post to engage people and help them find your content, let's take a look at how others do it (a.k.a. a quick lesson in marketing for realtors), shall we?
10 real estate social media post ideas
1. Home tour videos
If a picture speaks a thousand words, videos probably speak a million. They're a great way to show all the benefits of a property, letting people know what they can expect. Static photos sometimes won't be able to show all a place has to offer.
Plus, people might be more hesitant about photos, as we all know things like lighting or lenses can actually distort reality a little bit and trick people into thinking they're looking at something else. (We're not doing that, right?)
Videos will also let you do a little talking, highlighting the benefits of a place and maybe even telling a little story that might speak to people's imagination.
And really, you don't need professional equipment and a film crew (though, by all means, go for it, if you can.) A decent smartphone can go a long way.
You can even use a Reels template on Instagram to edit the video, so really, no advanced skills are required.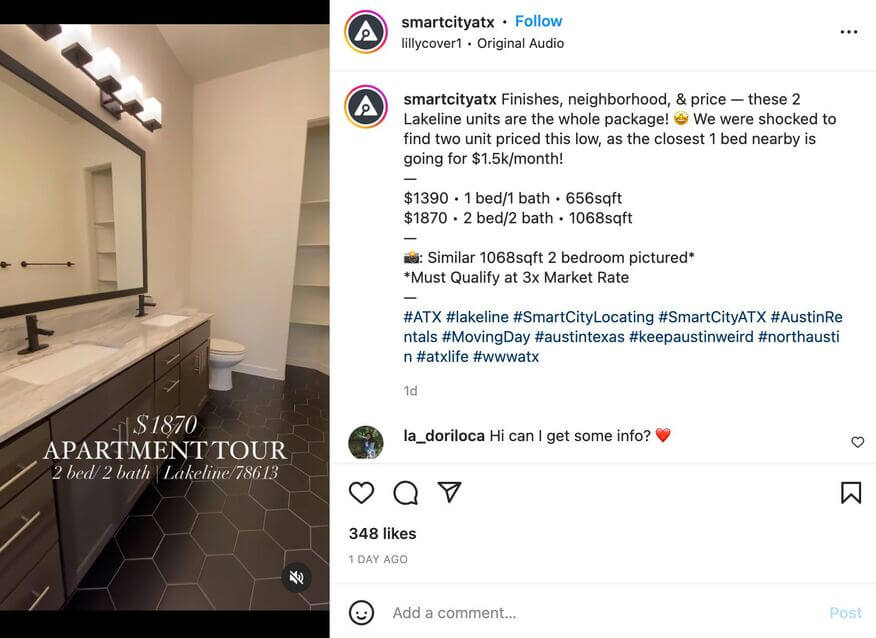 2. New listings as photo carousels
You can mix videos with slideshow-style photos to show the different rooms, different angles, etc., in an Instagram carousel that people can click through. You can add both videos and photos within one carousel. Or just stick to the pictures if video is not your jam.
It's a good idea to get a professional photographer to take some good shots (bearing in mind what I said earlier about not tricking people – there's a difference between good presentation and trying to make something look bigger ;))
You can also mix professional photos with ones shot with your phone – just remember about the lighting and focus.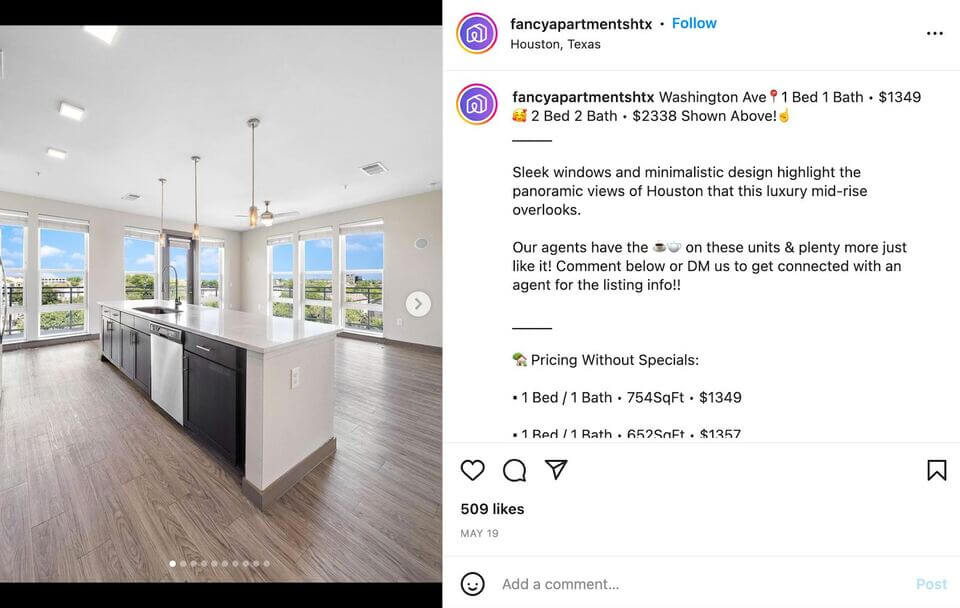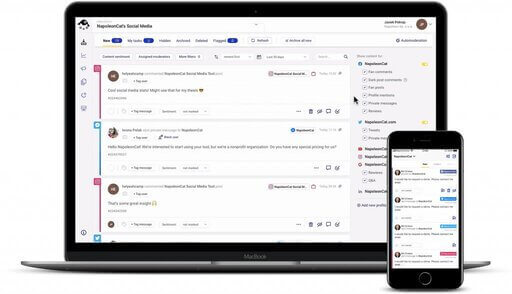 Manage all comments and messages from one view
Use NapoleonCat to manage all of your comments, messages, reviews, etc. – all from one simple dashboard. Try it for free:
Try NapoleonCat free for 14 days. No credit card required.
3. "Just sold" posts
Real estate social media posts don't have to just be your current listings. Show people the properties you sold, too. This can act as social proof, and people looove social proof (well, they at least most likely trust your other clients more than they'll trust you. Nothing personal, it's just how the world – and psychology and marketing – works. ;))
This can also be a great way to congratulate the old and new owners on the sale, and maybe even include a lil' story with it?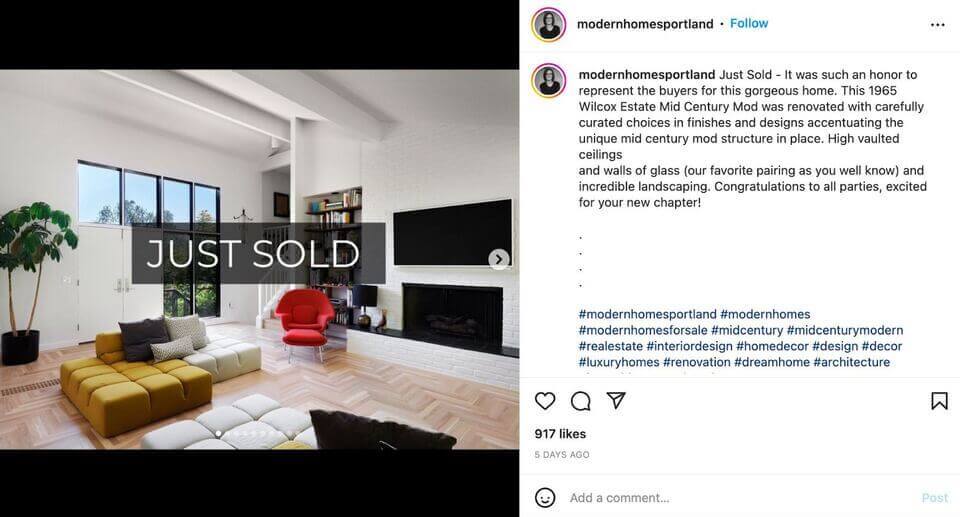 4. Client stories
Speaking of social proof and stories, a good idea to engage your audience might be to show your actual clients after a successful home purchase or sale. I'm sure there are dozens of stories you and your clients could tell. So, if you have their permission, think of how you could present it to your audience.
Client stories are also a colossal trust booster to your brand, so don't overlook them. And you can think of including both home buyers and sellers – like in the example below.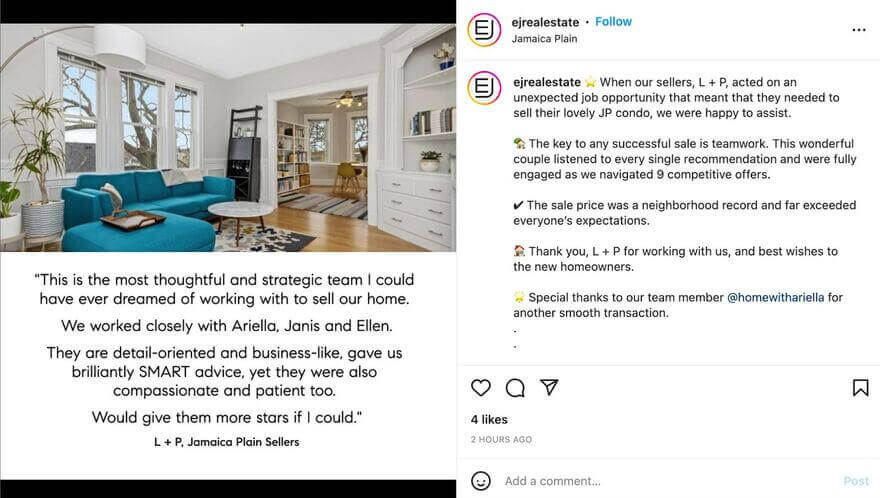 5. Tips & tricks posts
Looking for a home is generally not an easy task – especially in today's economy. And you probably have tons of experience to share to help people find their perfect home. So think of a series of posts in which you share some of them.
Where to even start? What to watch out for? How to find the right realtor? (while also ticking all the boxes yourself ;)) If you work in a certain area, the specifics of the real estate market will also be helpful to potential buyers.
Apps like Canva, for example, can help you include a nice design in a ready-made template, so it looks more professional and attractive.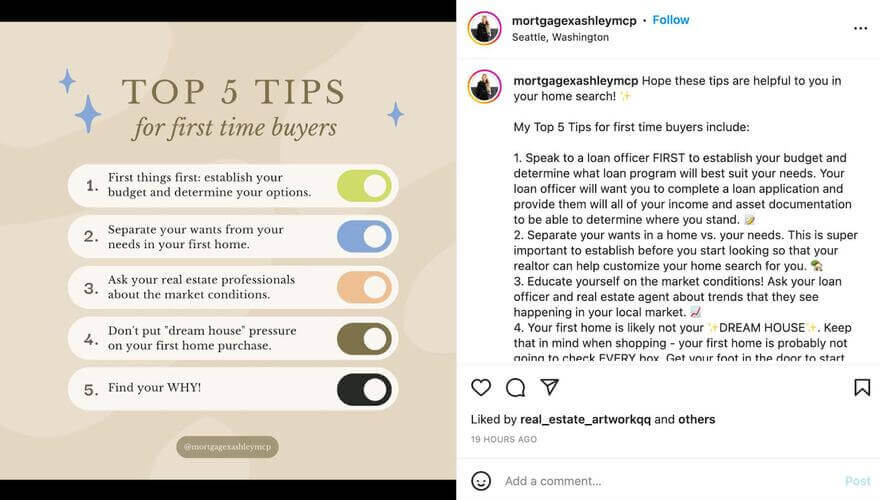 6. Live Q&A
If you get a lot of questions on a daily basis, consider doing a live Q&A on Facebook or Instagram. That way, you can answer many of them live and maybe get some more. This will also give you a good insight into what people are currently looking for and respond to their needs with relevant offers much better.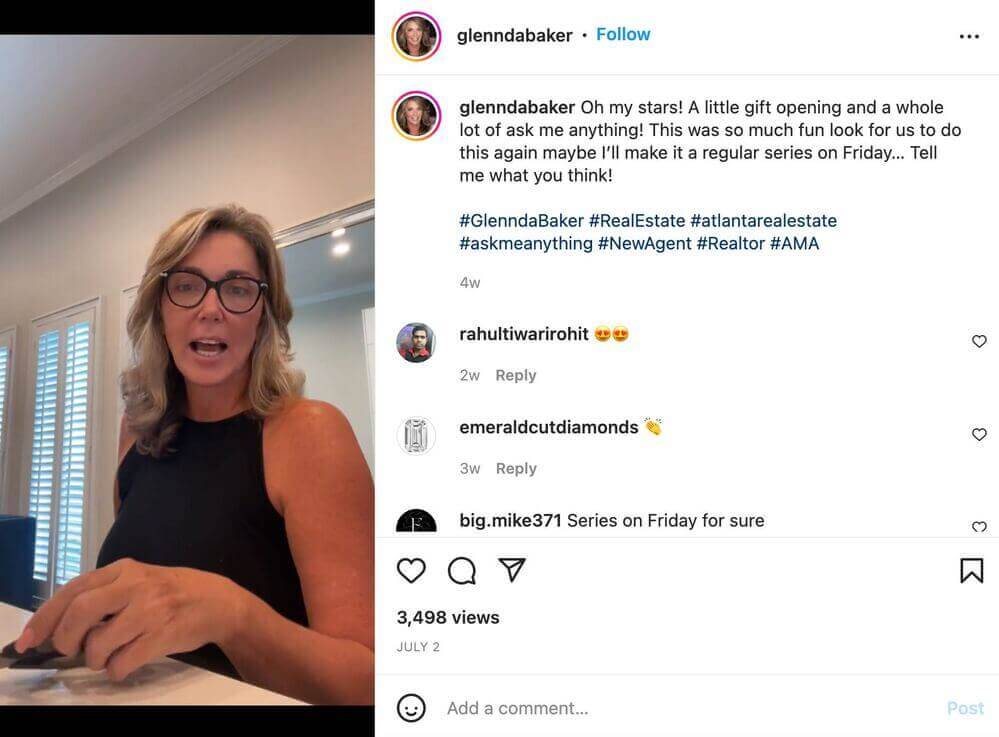 You can also collect questions from your audience in a post on Instagram/Facebook or via stickers on Instagram Stories. (You can also find ready-made templates in apps like Canva.)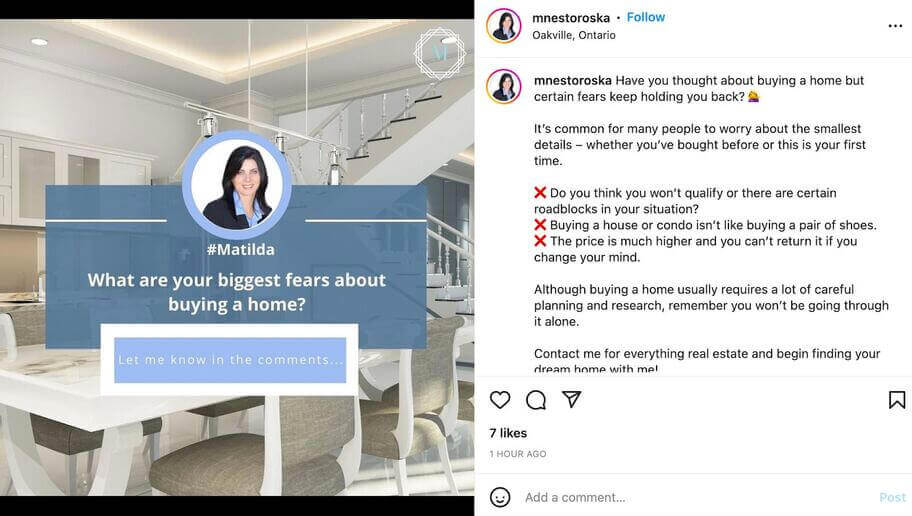 7. Behind-the-scenes posts and stories
Part of building a brand – and especially a personal brand – is showing people the more human side of the industry. Which is what "personal" really means, right? It's a great way to build trust – and relationships with your audience.
You can talk about your day-to-day tasks, share some interesting facts about a realtor's job, and maybe even some bloopers (and definitely your successes.)
Also, doing daily Instagram Stories might help you achieve the goal of showing your personality more and engaging your audience. Facebook Stories might work here, too, as well as Instagram Reels, like in this example: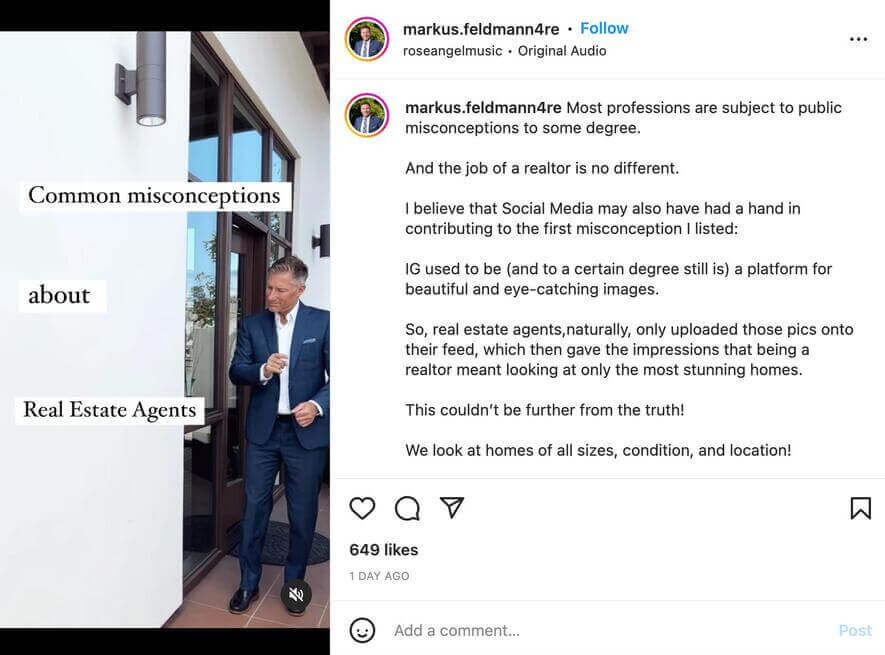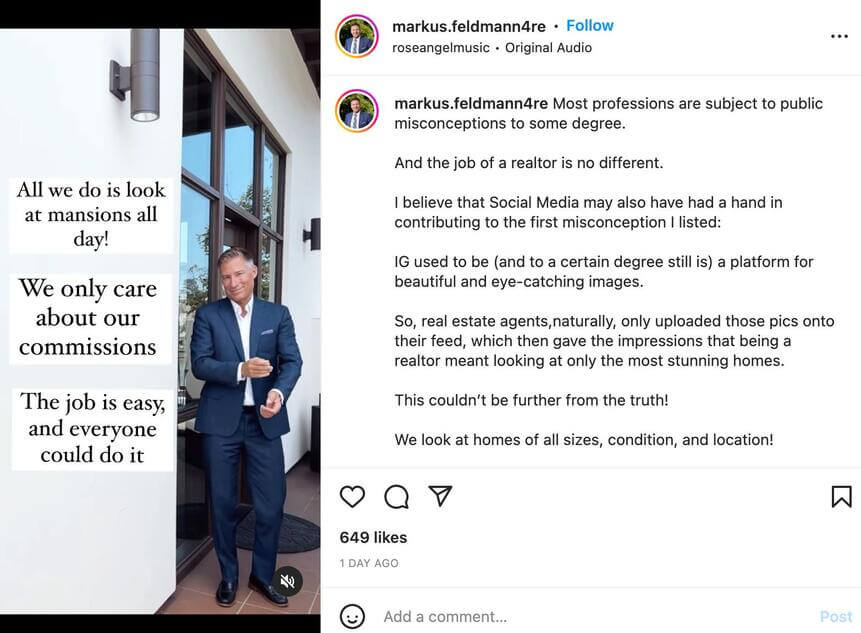 8. Expert collabs
Know an interior designer or a renovation expert? Collaborate on some content – like an Instagram live – where you share how to go about renovating or decorating the house or apartment. Or you can work with investment advisors if your niche is selling investment properties.
This can nicely complement what you do, while also helping you reach new audiences and exchange leads with other experts who are not direct competitors.
9. Fun real estate posts for social media
If it goes with your personality (and your audience), you can also try sharing some lighter content like industry memes or even your pet photos 😉 Anything that you think would get your audience excited and encourage them to like, comment, or share your content with others.
Of course, with this kind of posts (and really, with any other), check their performance and see how they're doing every now and again to see if this is indeed what your audience wants to see.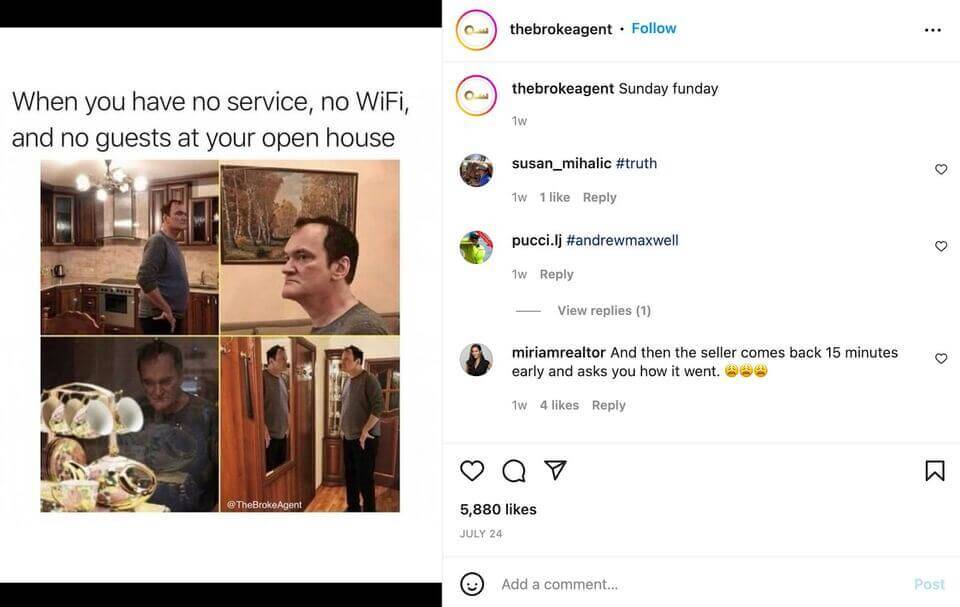 10. Seasonal posts
Don't forget about wishing your audience happy holidays and referring to any other occasions that might be important for your specific community. Also, if there are community events in your area, talk about them too, if they're likely to get your audience interested.
This, again, will help you build rapport with your clients. You might also become a source of local news for your community, which might be a good thing when it comes to building your brand reputation.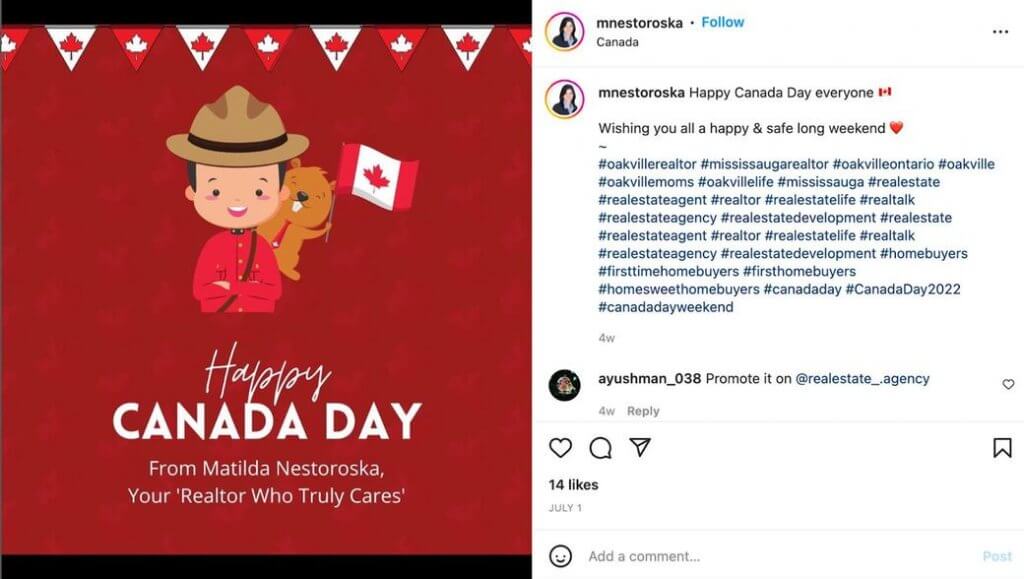 Isn't social media too much work, though?
It's definitely going to take some of your time, especially if you're a one-person show, selling properties and meeting clients, but then also shooting the videos, taking the pictures, posting the posts, and answering the comments.
Which is why, as you build engagement and your content gets traction, you might want to think of getting yourself some tools to help.
Specifically, a social media management platform like NapoleonCat, that can help you (and your team, if you have it) save tons of time and get more efficient with your real estate social media posts:
A social media engagement tool to help you get all comments and questions from your different social media profiles in one easy-to-use dashboard. This saves you time checking all the different native social media inboxes as well as potentially missing some messages or comments (especially as the volume of audience interaction increases and you keep staying just one person.)
A social media automation tool so you can automate responses to repetitive questions about the listings with pre-written messages including all the details. This might also come in handy when you're not available to respond right away and will give you a chance to let a potential client know you're here.
With auto-moderation, you can also automatically delete spam comments or bots (which will inevitably show up under your posts as you get more engagement). And this means you don't have to spend hours doing it yourself (nor are you leaving the spam under your posts and ads that way, which could actually affect your reputation and the way people see you and your content.) Not to mention automatically hiding comments from your competitors, who might be trying to push links to their offers to your audience under your posts and ads.
A social media publishing tool to organize your content and plan it ahead in a handy calendar, and automatically publish it on selected days. Do I even have to mention the time savings of not having to go to each social media profile each time you want to post something and then doing it all manually? Didn't think so. 🙂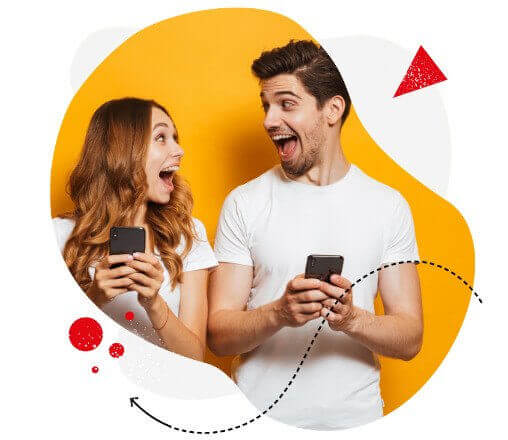 Social media marketing made easier (especially for teams)
Automation, analytics, reporting, scheduling, and more. Try NapoleonCat and save 90% of your time spent on your marketing tasks. Try it for free:
Try NapoleonCat free for 14 days. No credit card required.
Getting more clients from social media doesn't have to be hard
Yes, it's extra work you or your team need to do. But it will also eventually mean more quality clients, and maybe even some less time spent with those who are "just looking" and are not yet ready to buy.
They can take virtual home tours, while you can meet with people who have already seen your content and are much further in their buyer's journey – giving you much more chances for closing the sale.
Good luck!