New Year is approaching rapidly as always. If you're a marketer, you know that this time of the year is yet another great opportunity to boost your business results a little more.

One of the best ways to take advantage of this festive period is launching a New Year-themed marketing campaign.
In this article, we're sharing some neat examples of such campaigns to help you get inspired to create one of your own!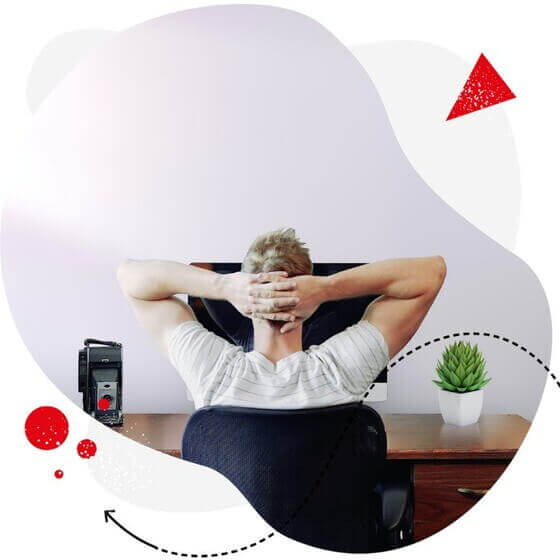 Manage all your social accounts from one place
Manage all your DMs and comments from multiple accounts in one place. Bulk-schedule posts and get detailed analytics and reports. Try it for free:
Try NapoleonCat free for 14 days. No credit card required.
Many digital marketing professionals perceive the New Year holiday season as the perfect time to beef up their Q4 results and also have a strong Q1 launch. That is a reasonable approach and we too agree that New Year campaigns can yield very satisfying results.
Social media channels play a major role in modern marketing and they can't be overlooked on this occasion either. The potential of reaching a broader audience with your message can be especially beneficial during the year-end holiday season when buyers are more likely to make purchases.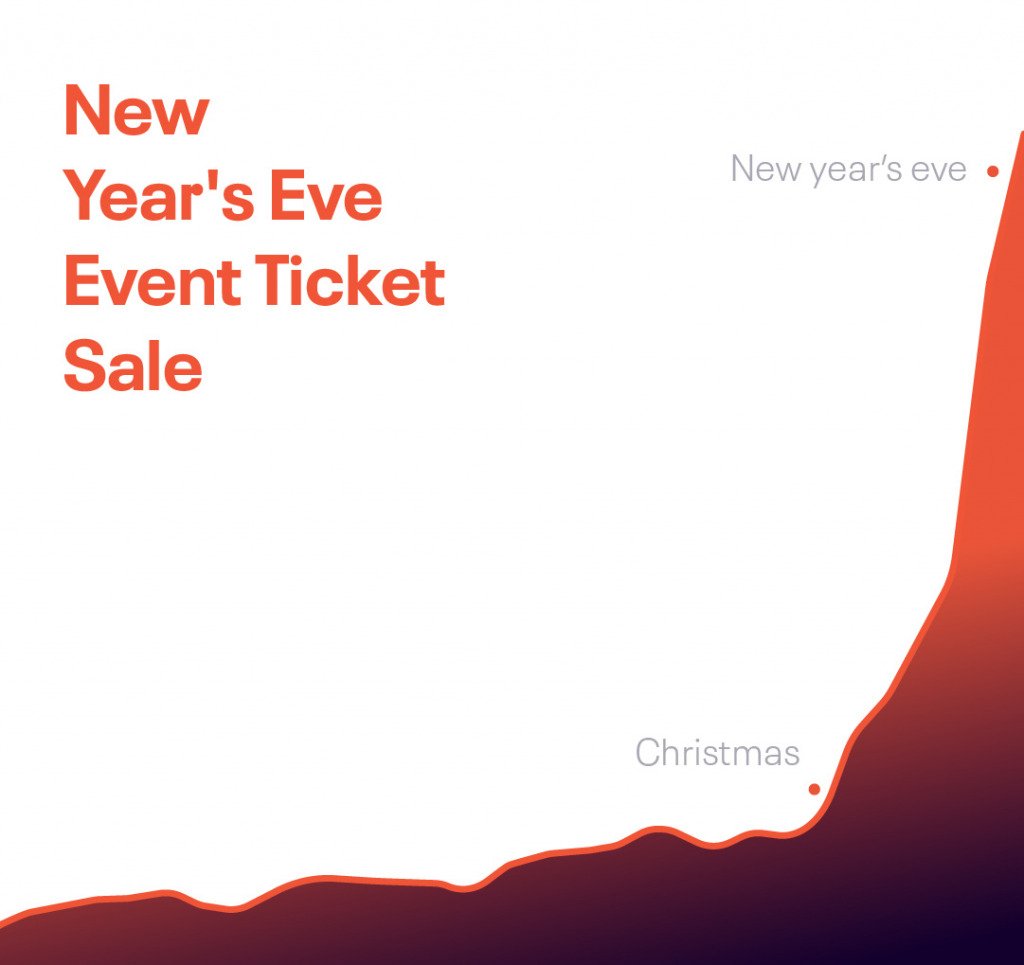 Looking into our social media feeds, we see almost every brand blending this topic into their communication calendars, trying to piggyback on the trend. Although, we also see that oftentimes the eagerness to do 'something' overshadows the reasonable approach and solid preparations.

As a result, many brands publish social media posts that actually don't have much effect. We know that this is something that you'd like to avoid. That's why we've gathered some of the best New Year campaign ideas for you to enjoy and learn from.

For your convenience, we have divided this article into three main parts:
Now, let's start with the first part and take a brief look into some general guidelines that you should consider before planning a New Year's social media campaign for your business.
How to Plan New Year Social Media Marketing
As stated above, trying to publish something just for the sake of connecting your brand to New Year is most likely not worth the effort. Instead, we recommend that while preparing a New Year social media campaign, or even a single post, you follow these simple steps.
Go back to your strategy
Each one of your social media campaigns should tie in with your marketing strategy and this occasion is no different. This is a good time to have another look into it.
Review your target audience characteristics, check your buyer's journey and brand identity info. Once you have this refreshed it's time for step (or rule) number 2.
Stay Natural
By now you should already have at least a vague idea about how to dress your business in New Year themed robes. The campaign concept should be:
Connected with your business model and brand identity
Focused on a concrete goal
This means that not only should this campaign nicely blend in with your previous communication, but also that it should be able to bring concrete value to your table. And, ideally, to your fans' tables as well!
Don't force it
It's ok if after reviewing your strategy you suddenly realize that it'll be tough to come up with something really good. It's better to not do a New Year campaign at all than to do it forcefully and leave your audience with mixed feelings 😉
But if you do decide to launch one, you better be prepared. New Year's social media marketing campaigns can sometimes have unexpectedly high results, so it's good to make sure that your team can handle a potential spike of interest.
Now, let's review a couple of the best New Year social media marketing campaigns and see what we can learn from them!
Best New Year social media campaign ideas examples
In this part, we'll take a look at some of the best social media campaigns examples that use New Year as leverage.
Spotify's Year Wrapped Campaign
As a major music-on-demand platform, Spotify has launched dozens of successful social media campaigns but one of the most significant ones is definitely the 'Year Wrapped" campaign.
On this occasion, Spotify enables its users to easily create a recap of their usage of the app throughout the year. Users can check how much time they have spent listening to music, what songs or artists they listened to the most, or what type of music genre was their favorite.
But the real pinnacle of this campaign is that Spotify enables users to seamlessly share this information with others. Every user can share an automatically generated, neat-looking board on their social media profiles.
As a result, thousands of users upload their own Spotify year recaps to Instagram Stories and other social platforms, simultaneously creating an incredible reach for the brand.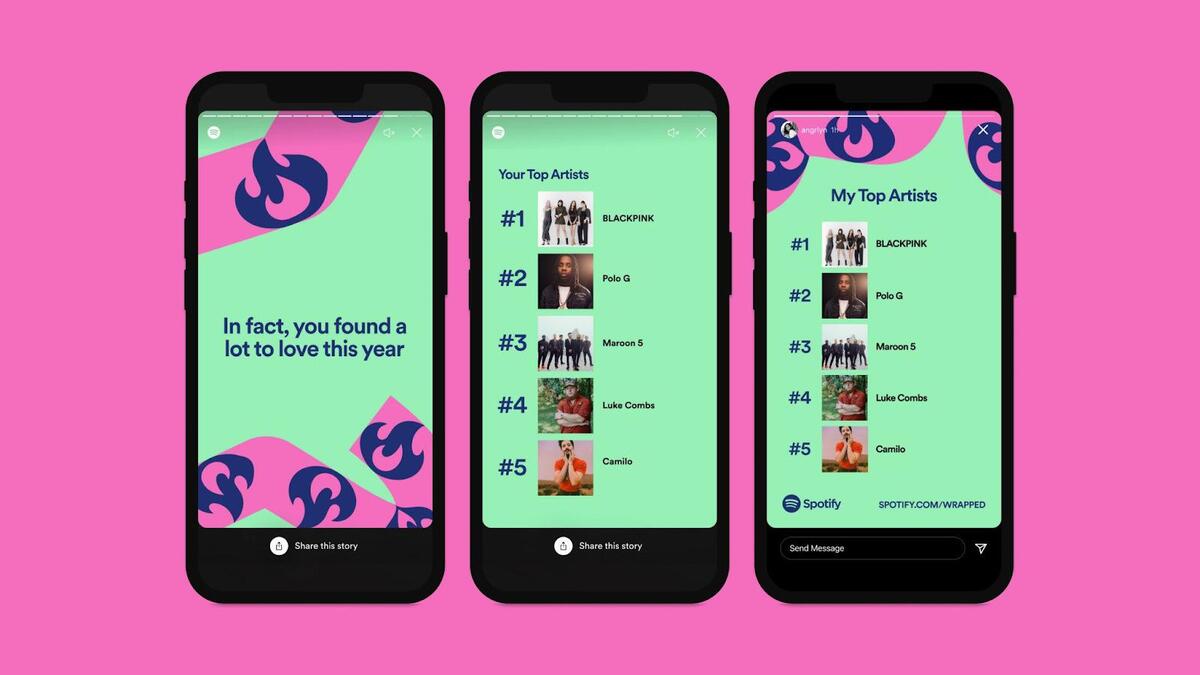 Lesson learned: New Year is not only a time of planning but also a time of reviewing what's already passed. Spotify has managed to use this insight to employ huge amounts of data and users' eagerness to share music with their peers to create a campaign that delivered astonishing amounts of UGC (User Generated Content) for the brand.
Even though Spotify has been using this idea for several years now, its effectiveness doesn't seem to decrease over time.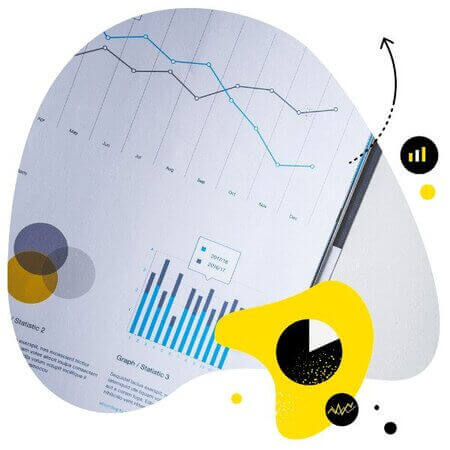 In-depth Social Media Analytics
Find out what to post and when to maximize your organic reach. Analyze your competitors on social media and improve your own strategy. Try NapoleonCat for free:
Try NapoleonCat free for 14 days. No credit card required.
Lifetime Commitment Day5K
Hundreds of brands try to capitalize on people making New Year resolutions, but not many of them come up with something original and really engaging. Lifetime is a health club company that managed to invite a couple of other brands on board and set an example of how to do it the right way.

Lifetime's Commitment Day5K is a New Year initiative designed to help people stick to their resolutions while creating a positively competitive environment and also giving them a chance to donate money to Lifetime's charity foundation. What started as an offline event, under the pandemic, turned to a digital one where the company runs an online platform that allows users to register, choose training plans and goals, and compete with one another.
Social media channels play a major role in driving traffic to the platform, but also serve as an environment for distributing campaign-related content such as training plans that users can take advantage of while striving to reach their goals.
What's more, Lifetime encourages users to share their progress using #CommitementDay5K and #OnePositiveAction2021 hashtags (the second one is connected to the company's CSR bigger project).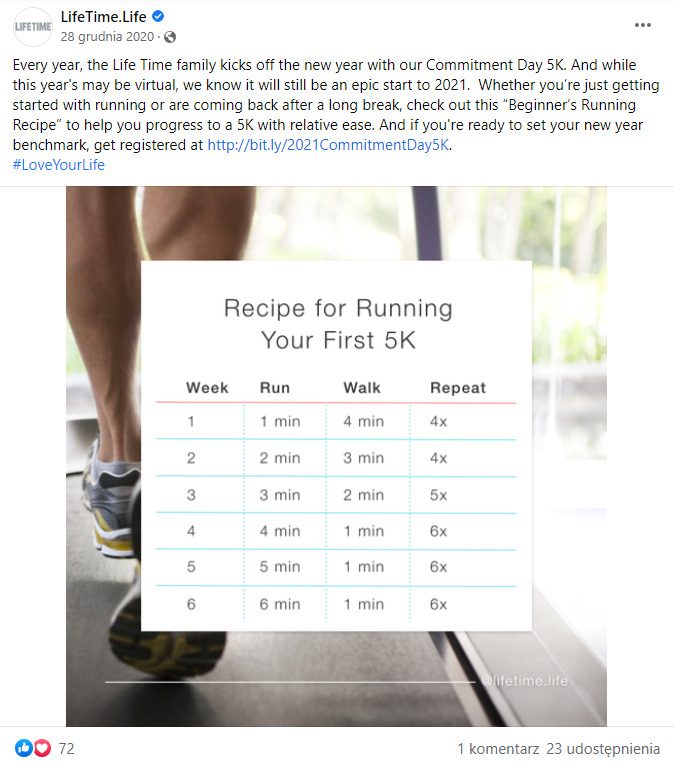 Lesson learned: Liftetime has managed not only to successfully transfer an offline event into the social media world but they have also executed perfectly on one of the rules that we described at the beginning of this article.

They managed to deliver value to the users by supporting them in taking up a more healthy lifestyle and raising money for a good cause but at the same time, they gained a lot of positive buzz around their brand and UGC to strengthen their brand awareness.
BMW New Year Celebration
This BMW campaign from 2020 is a great example of how you can employ the New Year occasion to promote your product's functionalities. The BMW team knew that many people happen to be on the road during important events. That's why they've created the Festive App, which makes your car celebrate with you.

New Year is one of those events, so BMW took advantage of it and created a short, fun video to promote this feature in connection to New Year's eve celebration.
Obviously, they used their social media channels to promote it and the activity, even if it might have seemed insignificant compared to huge product launches or other major campaigns, has gained a ton of positive response from the brand's fans.

BMW Festive App allows their cars' users to celebrate on the go with fun animations (source).
Lesson learned: You don't need to go particularly big for the New Year campaign. Sometimes simple but smart and thoughtful ideas might have a strong, positive impact on your brand's perception within the target audience if you manage to nicely tie your product or service features with an event such as New Year's eve. Even a small but emotional benefit can make a difference in your customers' purchase decisions.
How to optimize New Year Social Media Campaign Management
It never hurts to be prepared and when it comes to social media, there are tools that can save you and your team a lot of effort and stress. NapoleonCat is one of those tools 😉
Let's have a quick look into the main features and how they can help you manage your social media channels all year round!
How to automate your social media posts
Running a New Year marketing campaign will definitely require preparing social media posts to support it. If you own multiple social media profiles for your business or work in an agency and take care of multiple clients, this can be a difficult task to manage.
Creating the posts is one thing, but making sure that all of them are correctly published on all the profiles can also be resource-consuming.
Using social media scheduling and publishing tools like NapoleonCat's Publisher, you can manage a shared publication pipeline for all of your Instagram, Facebook, Twitter, LinkedIn, and Google My Business accounts from one dashboard. What does this mean, exactly? Using the tool, you can:
create and publish posts,
schedule content for publication ahead of time,
adjust your posts to each social network's features
assign posts to designated team members and exchange internal notes about upcoming publications,
…and more!
Having all your posts in one content calendar allows you to have a bird's eye view on all your social media channels. The fact that you can do it all using a desktop computer or a Mac makes it even more convenient!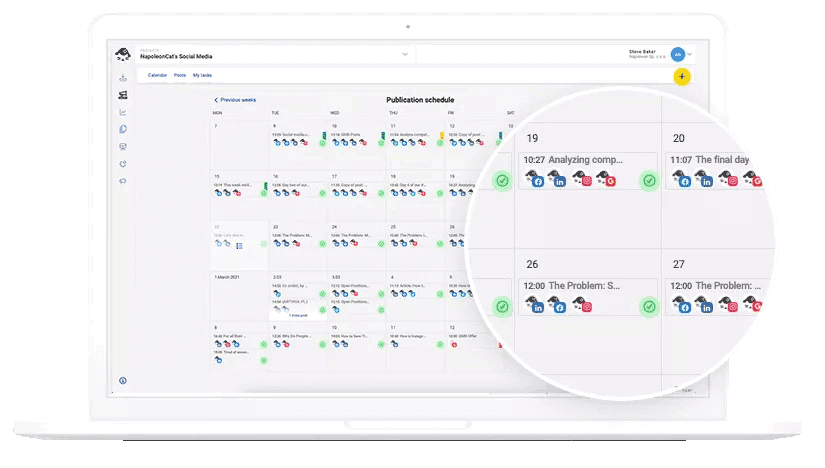 Community management and social customer care
If you decide to launch a New Year marketing campaign on social media, you'll not only need to create the posts but also make yourself prepared for handling additional traffic and interactions that the campaign might generate.
If you run a small business and suddenly start getting 2 or 3 times more comments under your posts than you usually do, it might be overwhelming.
With NapoleonCat, you can manage all social interactions (comments, messages, and more) from multiple accounts and platforms – all in one simple dashboard, the Social Inbox.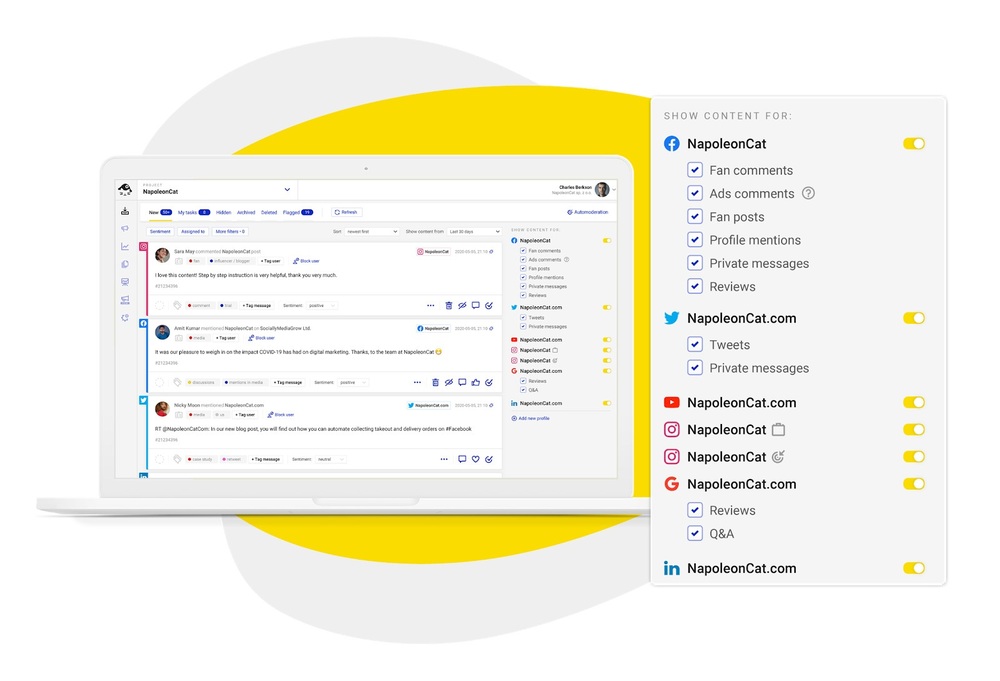 Moreover, to save you even more time handling comments and messages, a social media automation solution is definitely worth considering.
Using NapoleonCat's Auto-moderation, you can automate:
answering simple, repetitive questions,
deleting spam and hate,
hiding comments that contain sensitive information,
and redirecting issues to designated team members.
Our tool allows you to set up what we call automoderation rules. Each rule uses the same simple model: specific user actions trigger specific automatic reactions.
Here's an example: you can define the trigger "comment added to any post on my Instagram containing the keyword New Year" to set off the automatic reaction: "reply to comment with: [@user], thank you, you too have a great 2023!".
Setting it all up only takes a few minutes and the time saved on this can (in a longer perspective) be measured in dozens of working hours. This simple and effective solution will leave your team with more time to handle more complex inquiries. And improving your response rates. That's what we call a win-win situation!
Check out this quick tutorial to see how easy it is to filter out spammy comments using
NapoleonCat:
Using NapoleonCat for social media moderation will also allow you to translate and reply to comments and messages in foreign languages, all done inside our tool.
Bring your social media reporting to another level
Another thing that inevitably comes in pair with launching a New Year marketing campaign is reporting and analytics.
You need to keep track of your campaign's performance to optimize and check the end results to be able to define the space for future improvement and/or your ROI.
If the campaign is multichannel, then having the data and reports stored on separate social media platforms can make your reporting a real mess if you're not careful enough while extracting and processing it.
And you need to remember that your future decisions can only be as good as your data analysis. In this case, wouldn't it be a big relief to have it all simplified to minimize the number of potential errors?

Furthermore, accurate reporting and analytics can help you improve your ability to identify top-performing content and the best times to post on each one of your profiles.
In-depth analytics and automated reporting are both features you can find in NapoleonCat. You can set up the tool to regularly generate reports that include a custom set of metrics that you track! Those reports can then be automatically sent to you, your team, clients, stakeholders.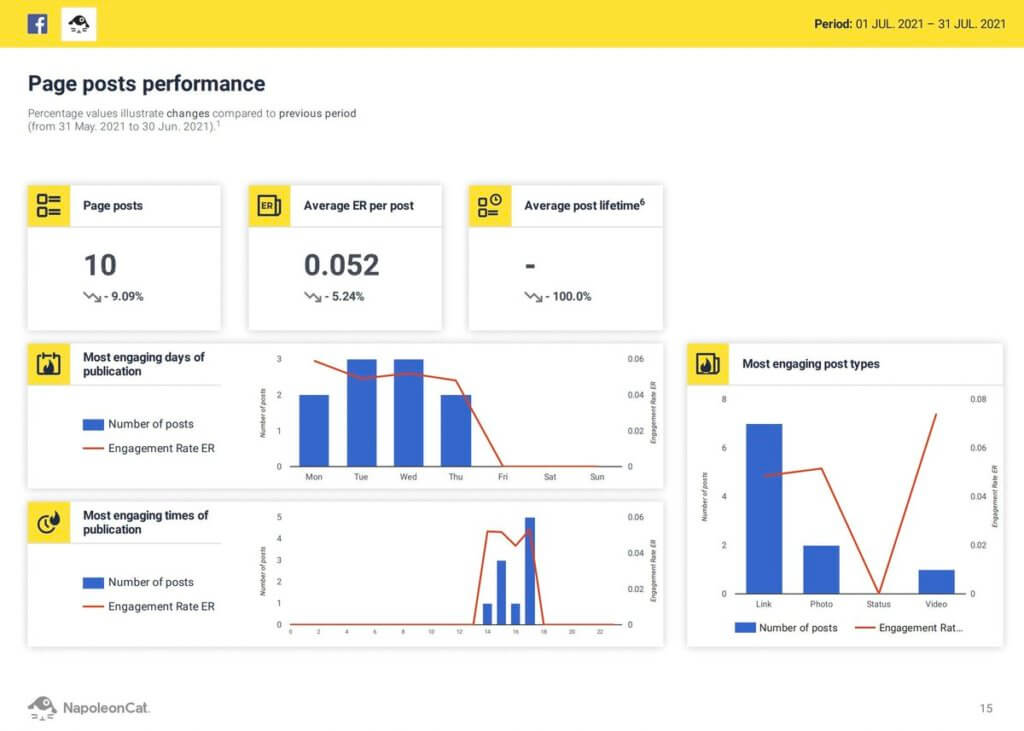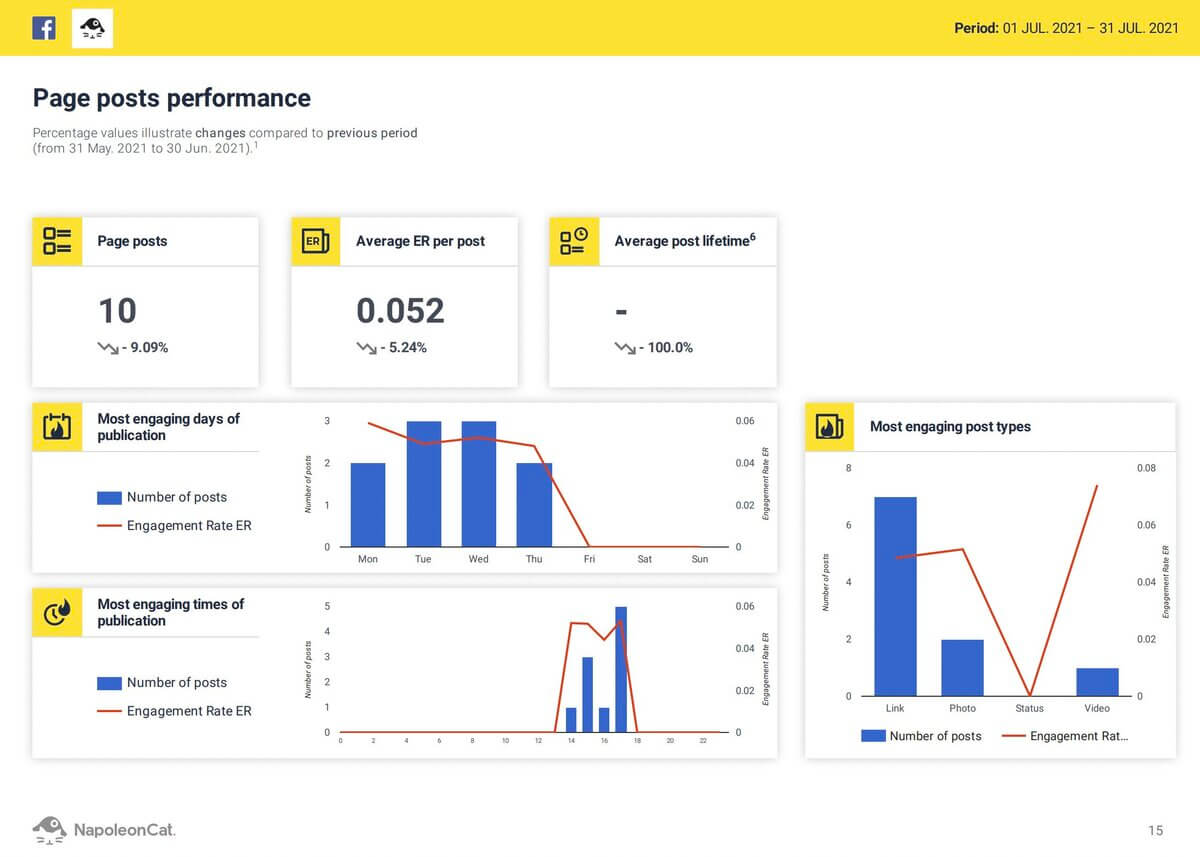 This way you can automate everyone's access to data from multiple social media channels and have a better overview of the situation. What's more, you can also track your competitors and generate automatic reports for their accounts on Facebook, Instagram, or Twitter.
Setting up automated reports in NapoleonCat only takes a few minutes, and as a result, you'll get well-organized and easy-to-follow reports that'll help you to further improve your marketing!
Wrap Up
New Year is a great time to boost your business results with a well-prepared marketing campaign and promote your products or services in a creative way. If you decide to do it, remember to follow the guidelines described in this article.
We also hope that the examples that we've showcased above will give you some additional inspiration.
Launching a New Year social media campaign might not be an easy task, but stay focused and try not to overthink it!
We hope you found this article enjoyable and that you were able to learn something new from it. We wish you a Happy New Year!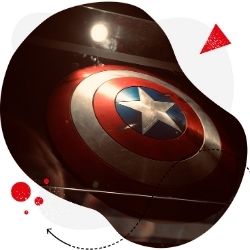 Protect your Facebook Ads from hate & spam
Automatically delete or hide comments, and protect your Facebook Ads from hate speech, inappropriate comments, and spam. Try it for free:
Try NapoleonCat free for 14 days. No credit card required.