Instagram is a visually compelling social media platform that connects creative individuals and brands all around the world. With the help of the messaging feature, people can easily contact their favorite companies in more ways than one.
According to Facebook, over the last year, total daily conversations between people and businesses on Messenger and Instagram grew by over 40 percent.
The messaging features opened up a huge opportunity for businesses to boost their sales and social customer service by having real-time conversations and other types of interactions on Instagram.
Recently, Facebook announced updates to the Messenger API to support Instagram messaging, giving businesses new tools to manage their customer communications on Instagram at scale.
In this article, you'll find out:
What is Messenger API for Instagram
What it means for developers and companies
How we use this API in NapoleonCat
What is Messenger API for Instagram
According to Wikipedia:
In computing, an application programming interface (API) is an interface that defines interactions between multiple software applications (…) It defines the kinds of calls or requests that can be made, how to make them, the data formats that should be used, the conventions to follow, etc.
In short, an API is a way to communicate between different applications. The interface of one application lets another communicate with itself using defined calls and requests.
Given that, the Messenger API lets third-party applications communicate with Facebook's Messenger service. In fact, third-party applications still use Messenger services but allow their users to use some different interfaces.
NapoleonCat is one of these third-party applications. We use Messenger API to let you communicate with your users from the Social Inbox where you see your interactions with users as separate tickets.
We use different APIs to make NapoleonCat an all-in-one social media management tool. It means, in your Social Inbox you can see various type of tickets such as:
Comments under your Instagram posts
Reviews left at your Google My Business profile
Likes under your Facebook posts
Direct messages from your users, sent by Messenger
Now, Facebook has just implemented Messenger API for Instagram. What it means is that Messenger API is now extended to give the ability to support Instagram messaging.
You can guess where it's going but let me make it clear for you:
What it means for developers and companies
Due to extending Messenger API by Facebook, third-party applications can support Instagram messaging at scale. Possibilities are endless and it all depends on what your application is used for.
We got early access to the Messenger API for Instagram, hence we were able to publish the new feature right after Facebook's official announcement.
"We are thrilled that NapoleonCat is launching this integration. The Messenger API for Instagram is now available for all developers who make it possible for brands to improve and enhance messaging experiences with customers,"

said Konstantinos Papamiltiadis, VP of Platform Partnerships at Messenger.
Here's how we implemented it:
How we used the API in NapoleonCat
Up until recently, NapoleonCat's Social Inbox was where you could manage all your Instagram comments from organic posts and ads across multiple accounts; all in one place.
Thanks to Messenger opening Messenger API for Instagram messaging, NapoleonCat is now able to support Instagram DMs.

As of August 16th, 2021, this feature is available for all IG business accounts, regardless of the follower count – yay!
This new feature of NapoleonCat will allow you to use our Social Inbox to bring customer service to the next level of convenience and customer satisfaction.
More specifically, the features include:
Managing direct conversations on Instagram
Handling Story replies in DMs
Being able to like (❤️) a message or to see likes given to your message by a user
Displaying your brand mentions from other users' Stories
Alerting you when other Instagram users mention you in their Stories and being able to respond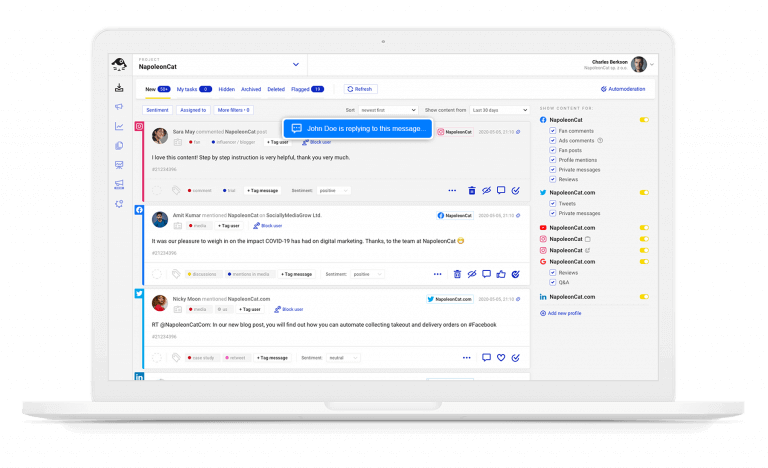 Tired of managing Instagram messages?
Try NapoleonCat to manage conversations across different social media platforms and profiles. Instagram direct messages included!
Try NapoleonCat free for 14 days. No credit card required.
Wrapping up
As Konstantinos Papamiltiadis, VP of Platform Partnerships at Messenger says:
"By integrating the Messenger API for Instagram, businesses and developers can effectively scale messaging workflows to better own the customer experience and build more authentic relationships."
If you're a business interested in leveling up your Instagram messaging at scale, feel free to check out our app.
On the other hand, if you're a developer, consider integrating with Messenger API for Instagram, to offer your users new opportunities.