As your (maybe initially small, or even one-person) social media business grows, working with your now many clients and managing their many social media profiles will take more and more of your time. Here's how Katie Barber Marketing uses NapoleonCat to save some of that time while delivering top-notch social media marketing services for their growing client roster.
About Katie Barber Marketing
Katie Barber Marketing is a small and growing digital marketing agency in the UK. They do social media management, strategy, analysis, and influencer marketing for their clients, which usually means they have a lot on their plates. But they're also really good a it, usually exceeding their clients' expectations in whatever they're doing – like taking a client's TikTok account from 0 to 6.5k followers in just 4 months.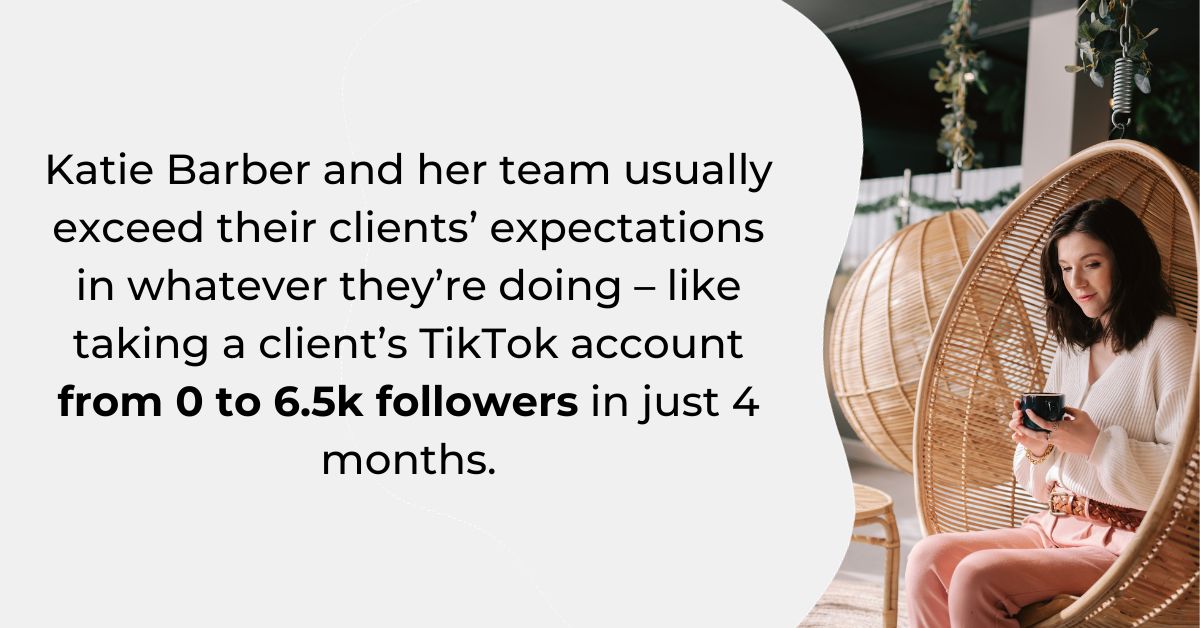 Part of their success is being really organized and methodical about their daily tasks. Including using digital tools – like NapoleonCat – that help in the process.
The challenge: Managing content and community for multiple clients
Katie Barber Marketing handles social media for several brands, which includes creating and posting content and community management. All of that takes time and effort. They create and schedule around 60 posts a month plus moderate comments around them. And since some of their clients are in the hospitality industry, they also handle complaints and praise from the customers that come up on their clients' social media channels.
And any agency big or small will know working for multiple clients across their many social media channels is always challenging, especially as you deliver results for them, growing their followings and engagement. Which is also what Katie Barber Marketing sets out to do for the clients – and delivers on so well.
And though their in-house team is small, they also work with many external content creators, photographers, etc., which also adds the collaboration management aspect into the mix of their daily responsibilities.
The solution: All content and comments in one place
The agency uses NapoleonCat for both content scheduling and community management, as well as reporting results for their clients. The platform helps streamline internal processes and save valuable time for the team:
They schedule their social media content in NapoleonCat and especially value being able to schedule Instagram Reels and TikToks (which was actually the reason they moved to NapoleonCat from another tool.)
They really appreciate the Social Inbox, where all the engagement including comments and DMs are collected in one clear dashboard. With different workspaces for different clients, they can effectively manage the day-to-day communication with their clients' followers without having to constantly switch between different social media platforms.
Since some of their clients are international, and comments come from locations all over the world (and in different time zones), a single tool with all of them in one place is even more effective in tracking engagement and never missing a single comment.
They also really care about replying to all the comments – whether positive or negative – as quickly as possible. This is much easier with the Social Inbox which displays all the comments, messages, and other conversations in real-time and without delay.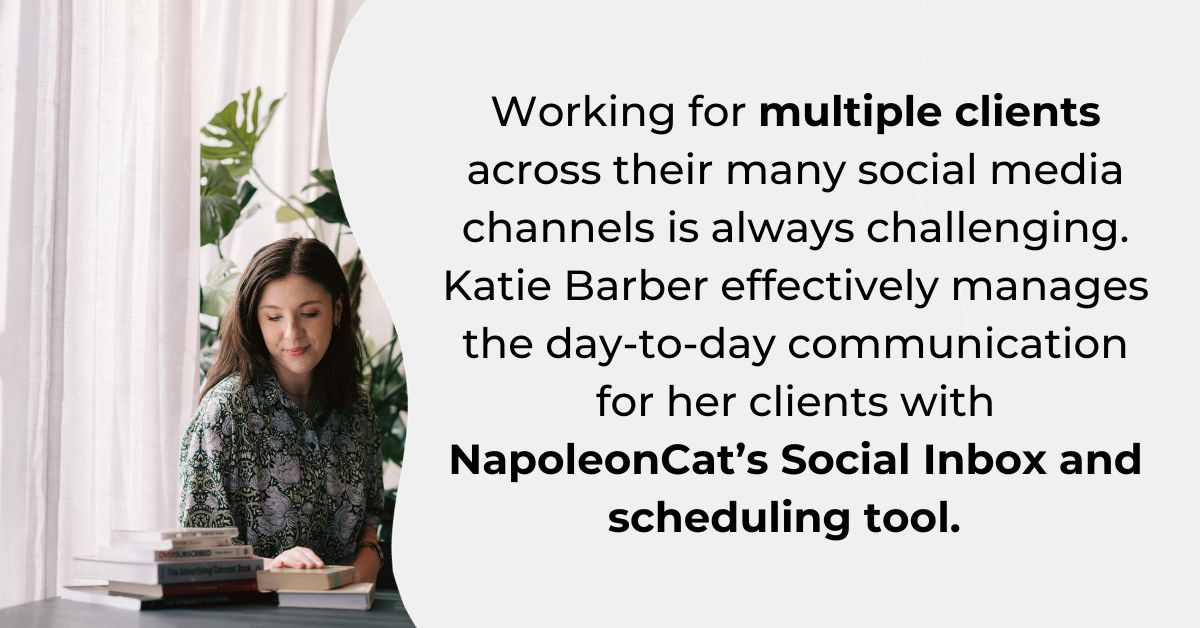 The results: A growing business helping other businesses grow
Katie Barber Marketing is an exciting place of growth for themselves, while also consistently growing their clients' brands. And any tools that can help in that growth are appreciated. That's why they stick with tools like NapoleonCat which help them organize their social media communication for their clients.
"I use a design thinking approach, which means I start with empathy for the customer and work our marketing strategy out from there. Staying organized is key to staying on top of all the work and delivering on our client's expectations – and beyond. Which is what we like to do every day. 🙂" — Katie Barber, Owner at Katie Barber Marketing