Every smart organization tries to find, test and leverage new marketing channels to grow its business, engage current customers and gain new ones. The most successful companies have already noticed that social media is not only for promotional purposes, but it's also a great channel to fuel lead generation, support customers and engage with the potential ones, listen to their target group needs and suggestions for improvements. Still, many companies consider social media as one of the most difficult tactics to execute. A lot of challenges that brands face with social begin and end with how to build and structure their social media team within the entire organization.
No matter if you have internal social media team or cooperate with an external agency or a freelance marketplace, it's important to measure every team member effort and progress, even if your team works together as one unit.
Good social media management tools offer one inbox for social media profiles and platforms. The Inbox in NapoleonCat aggregates different types of social media engagements from various channels into one stream and allow multiple users to moderate the content. Now, within Inbox feature, you to track and report all moderation activities. You can check both moderators activities for any of your social profiles as well as measure individual metrics of the team members who are involved in content moderation – those who answer comments and private messages, respond to customers, interact with your social users. Thanks to that you can see who is doing well and who needs a little more support, what is their response time – how long does it take them to reply to your social users etc. Now you can set KPIs for each moderator and watch their progress on a regular basis. It's not only to control your team members or an agency that supports your brand in social media activities, but it's also to look for ways to improve their efforts and optimize their work. With these helpful reports, you'll see which areas can be improved and with smarter metrics your brand can gain much more impact from social media initiatives.
What data are reported?
There are 2 types of those reports available:
Profiles report, which contains moderation parameters for individual profile (such as Facebook page or Instagram profile).
It includes the following parameters:
the number of all incoming messages that appeared in your Social Inbox, such as comments, mentions, private messages etc., divided by the type: new comments, private messages, visitors posts, darkposts comments,
the number of incoming messages with any moderator's reaction – publicly visible reaction as well as private response, but also adding sentiment, tagging user or any single piece of content,
the number of archived messages,
average and median time of moderator reaction,
shortest and longest reaction time,
average time of public reactions,
the number of specific moderator reactions (reply, like, archive, delete, hide, tag user, tag content, add sentiment, add internal note, send to consult, flag, block and unblock user).
2. Moderators report contains parameters for each individual moderator. You can check the following:average and median time of moderator reactions,
average and median time of moderator reactions,
shortest and longest reaction time for every moderator,
average time of public reactions,
the number of messages / engagements:
– with any reaction,
– that were archived,
– responded privately,
– divided by type: number of replies to posts / comments / private messages
moderator reactions in the different time range: 0-30 mins, 30-60 mins, 1-2h, over 2h
types of moderator reactions (reply, like, archive, delete, hide, tag user, tag message, mark sentiment, add internal note, send to consult, flag, block / unblock user).
How to generate an inbox activity report in NapoleonCat?
To create a report, go to Reports NEW module (available in the left-hand side menu) and choose Create new report from the Inbox activity reports section.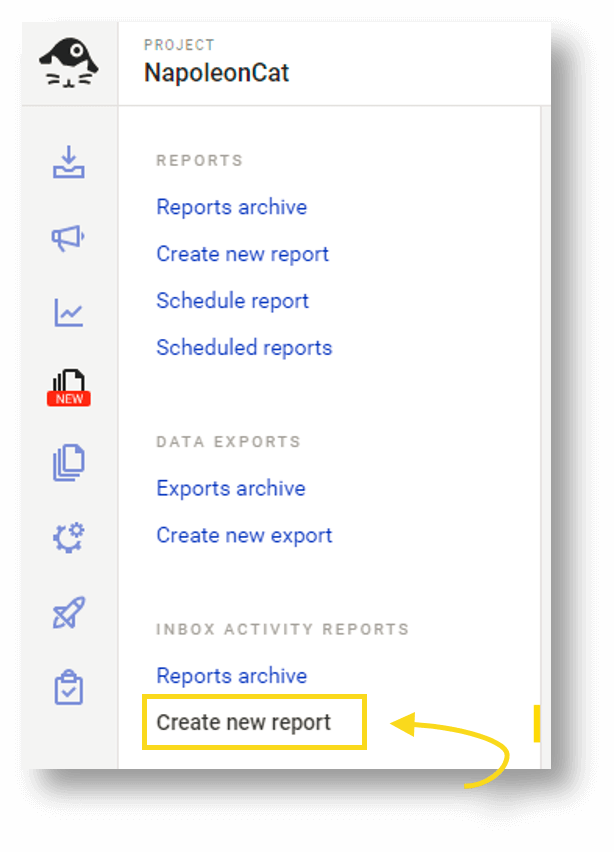 Then choose the time range – you can choose from default options (last 7 days, last month etc.) as well as custom dates in the calendar.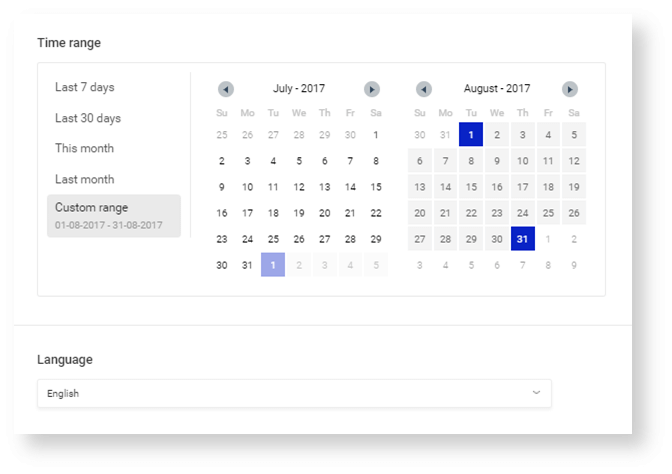 In the next step you will see the list of your managed profiles and you need to choose the ones you want to include in your report. You can select either a single profile or multiple profiles. You can filter them by the social platform or see a list of all your profiles by clicking All. To add a profile to a report you just need to click its' name or the "+" icon on the right.

The last step is to decide what type of report you want to generate – profile report or moderator report. You can choose either one or both. If you decide to create both, you will get one Excel file and each report will be in a separate sheet.

Click here to download an exemplary inbox activity report.
If you really want to improve your social media results and build successful social media strategy as well as the team, you should definitely track your moderators' outcomes. This way not only will you keep your hand on the pulse, but also you will be able to improve their work, increase their motivation and show them that their work is very important for your business growth.
---
Featured image courtesy of Samedaypapers.com