Today, we live in a dynamic world where staying in constant contact with your customers is of paramount importance. The vast majority of companies use social media to share their knowledge and offers with current and potential customers. And since Facebook is the largest social platform ever (+2.9 billion users), we want to show you how to create a Facebook Business Page.
What are the benefits of a Facebook Business Page? And how can NapoleonCat help you manage a Page for your business or brand? Let's get right to it!
If you run a business and you want to grow your sales and attract more customers, you should think about launching a Facebook Business Page. Why? There are quite a few reasons. Let's examine them more closely.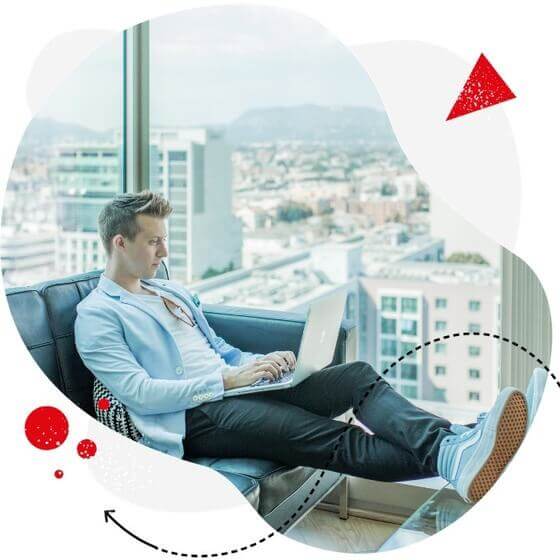 Manage multiple Facebook Pages with one tool
Manage all your comments and messages from one view, schedule posts, analyze your results, track your competitors, and create in-depth Facebook reports in seconds. Try NapoleonCat for free:
Try NapoleonCat free for 14 days. No credit card required.
Facebook Business Page should be an essential part of your marketing strategy.
Why you may ask? For starters, the number of Facebook users is growing exponentially. According to the latest data provided by Statista, as of Q3 2021, there were 2.91 billion MAUs (monthly active users) on Facebook: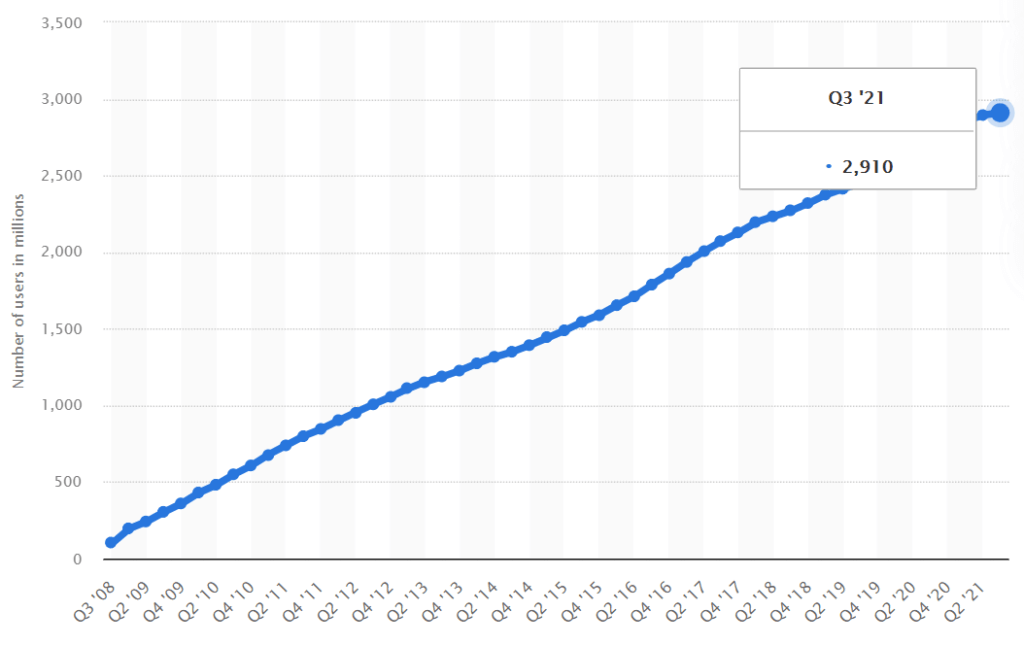 What's especially important, Zuckerberg's platform gives you access to people representing diverse characteristics and "parameters". Here, you will find people of all possible:
Professions
Backgrounds
Interests
Online activities
Education
As a result, there is a very good chance that you will be able to find the right target audience for your brand or company, even if you operate in the B2B environment. However, when it comes to Facebook Business Pages, the main benefit lies in their offer for entrepreneurs – Facebook Ads.
Perhaps you've already heard that Facebook cuts organic (free) reach, and if you really want to go far and wide with your message, you have to opt for the paid traffic. To some extent, that's true, but it's not necessarily a bad thing! You see, Facebook Ads is a powerful tool that will help you reach precisely the right people.
Discover the full potential of Facebook Ads
According to MarketingGuru, when it comes to reaching the target audience, you're spoiled for choice. Facebook offers over:
1,300 targeting options
15 marketing objectives
8 ad formats
All of that is possible thanks to the fact that Facebook gathers a lot of information about its users. And it's your role to make the most of it for the good of your business.
For example, let's say you run an online store with accessories for children. All you have to do is target all parents-to-be in the Facebook database.
Take a look at some examples of Facebook Ads you can use: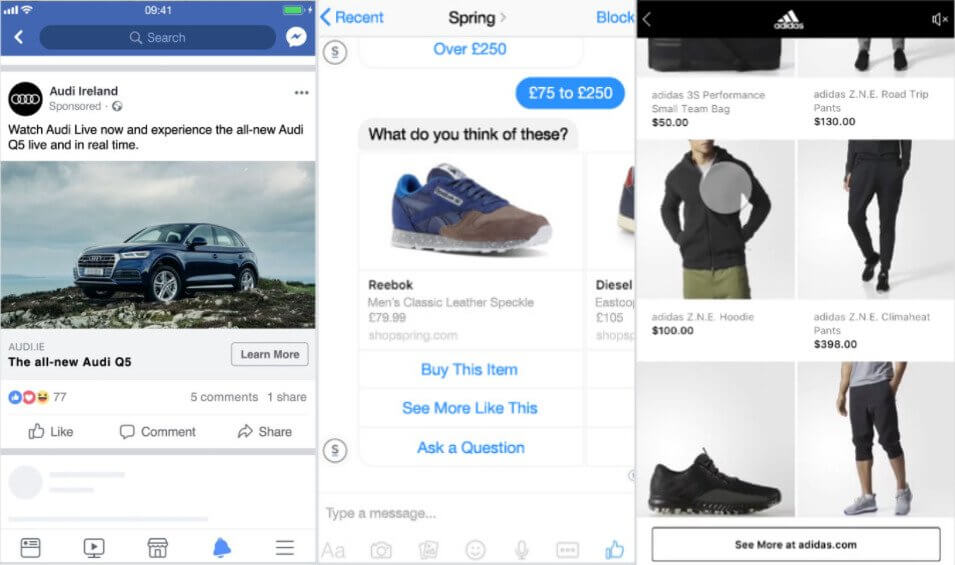 Thanks to Facebook Ads, you can promote your business but also grow your fan base and develop your Facebook Business Page. If you want to know more, go to Facebook's guide on Facebook Ads.
Of course, that's not all. Mark Zuckerberg's platform continually develops its offer for entrepreneurs. For instance, a while ago, they introduced Facebook Shops. A possibility for e-commerce entrepreneurs to exploit a new sales channel entirely for free. With Facebook Shops, you can sell your products directly via Facebook. What's also important, the service itself is not paid for.
As you can see, Facebook today is something far more than just a platform for sharing funny cat videos. It's a fully-fledged sales tool. Did you know that two-thirds of Facebook users report visiting local business pages at least once a week? For many of us, Facebook is a daily news source and a tremendous tool to discover brands, companies, and products.
However, you need a Facebook Business Page to make the most of Facebook's offer and potential. Thankfully, getting one is quite easy and free. Here's how to launch a Facebook Page for Business.
How to create a new Facebook Business Page
In order to create a Facebook Business Page, you need to follow several relatively easy steps. First off, you need a Facebook personal account. Unfortunately, you cannot create pages without such an account.
The good news is, you don't have to use it for personal purposes if you don't want to. The platform won't "punish" you for not using your personal Facebook account. Just make sure it's a real account with your real email address and name.
Now, it's time to set up your brand new Facebook Business Page. In the upper-right corner, you will see an icon with nine dots. It's your main menu. Click it and select "Page" in the "Create" section: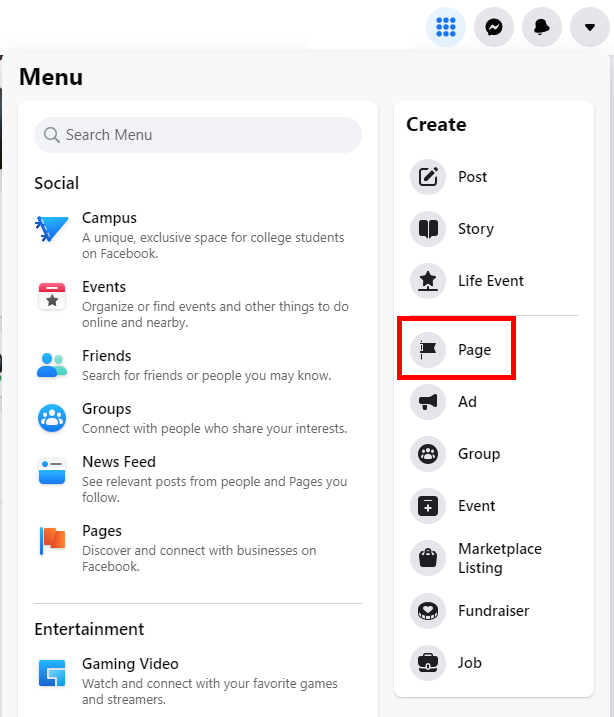 The rest happens almost automatically – Facebook guides you through the next steps to set up a Page. Here's how it looks like: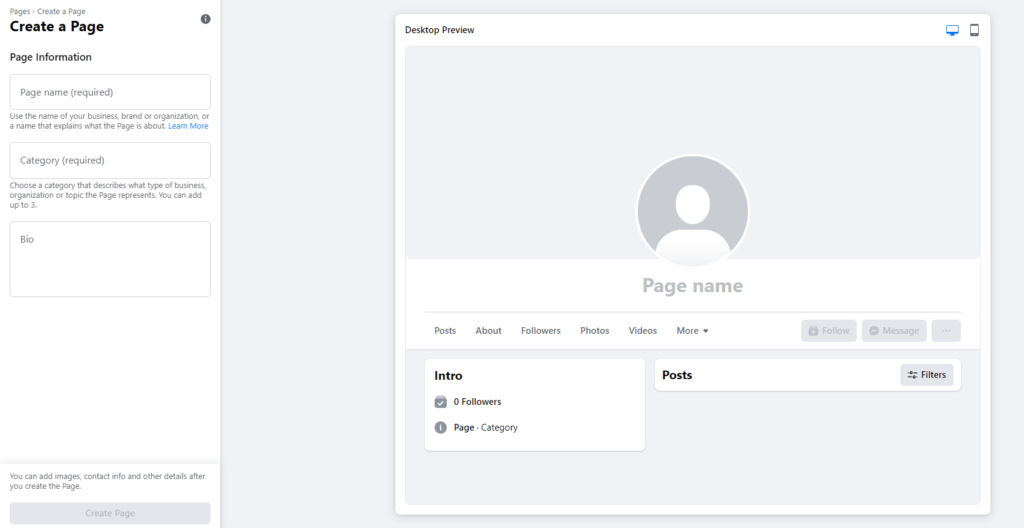 You're now in the "Create a Page" section. Here, you need to name your Page, category and add a short description. Don't worry; you can tweak all those elements later on (only changing the Page's name can be more difficult and take more time, as it requires Facebook's approval).
In the next steps, you enter business information, such as the address and contact details. You can also add a profile picture and a cover photo. If you don't have these materials ready yet, you can always select the "skip" option and go back to it later.
And that's pretty much it.
The rest of the work revolves around optimizing and tweaking every single element so that your Facebook Business Page can fulfill its goals. Once your Facebook Business Page is done, you can go to it, and on the left side of the screen, you will see a large "Manage Page" section, where you'll have access to all the necessary options and features.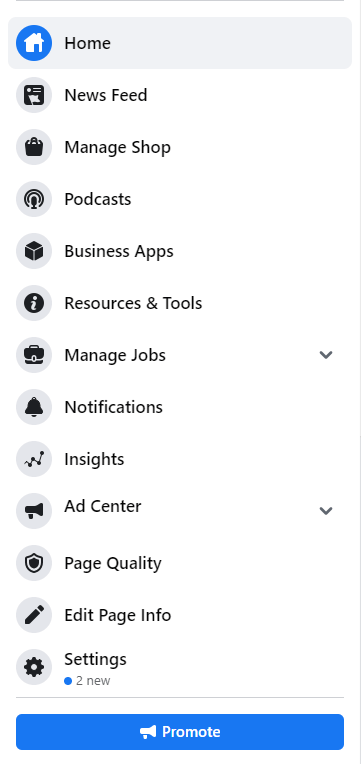 From here, you can freely edit your page information, contact details, and all the visual elements, including a cover photo and a profile picture. You can also manage your ads and other services that you might want to use (e.g., podcasts and FB Shops).
What do you need to create a Facebook Business Page?
Actually, the list of things you have to gather is not that long. In order to get your FB Page up and running, you'll need:
Business category: Facebook will suggest one; you simply have to start typing the name of your industry. If, for example, you sell toys, and you start typing "toy", Facebook will recommend you two categories to choose from: "Toy store" or "Games/toys". It's up to you which one you'll choose. Pick the one that feels more relevant.
Business details: You need all of your company details, starting with your brand's name and ending up with opening hours.
Visuals: First off, you'll need a profile picture and a cover photo. Later on, you can add other images and graphics that you want to show your future followers.
Description and story: It's a great way to show what your company is all about. Try to write a compelling company description that will explain what you do and why. It's a good idea to make the most of storytelling and show that your company has a unique personality and vision.
Roles: If you want to grant Page access to your business partner or a coworker, you can use the Page roles section. There are currently five different Page roles, and you can read more about them here.
Moreover, remember that it's vital to have a clear idea for your Page. Selling more products or attracting more customers is not sufficient. You need a strategy that will help you keep your followers engaged. You have to know what kind of content you want to share, how often, and why.
And yes, we know that it's a lot to think about. But it's vital to devise such a strategy BEFORE you click the "create page" button. The rule of thumb is this: It's better not to have a Facebook Page than to have one and leave it on its own. As the platform itself informs us: "Facebook Pages perform best when you interact with your Page fans, post often, include contact details and other information and use Page Insights."
How can you get first followers? Your first step should be to invite people. Surely you have some friends and coworkers that will constitute your first followers. This way, you might also get first comments and likes.
What will help you manage a Facebook Business Page?
Facebook provides users with two tools that will help you keep everything under control and track the performance of your Page.
First off, we'd like to turn your attention to the "Insights" section. Inside, you will find valuable data that will help you understand your users and see what catches their attention. Insights comprise elements like reach, engagement, followers, likes, etc. All that information is divided into paid and organic traffic.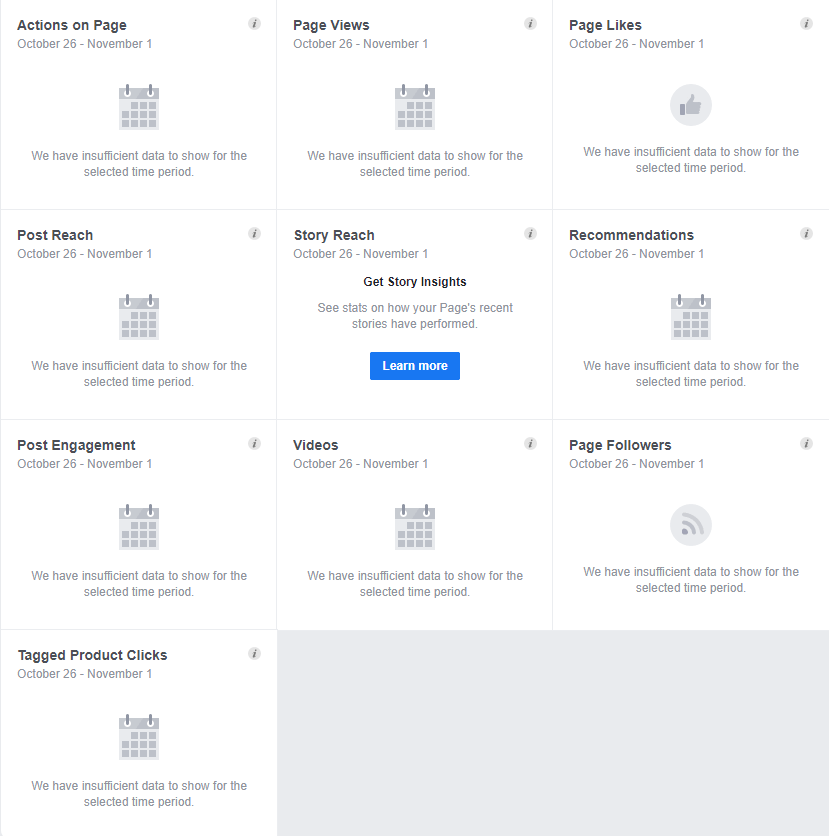 The second tool that you should think about is called Facebook Business Suite. It's an all-in-one tool that helps business users access and manage their Facebook Pages and Instagram accounts in a simplified way.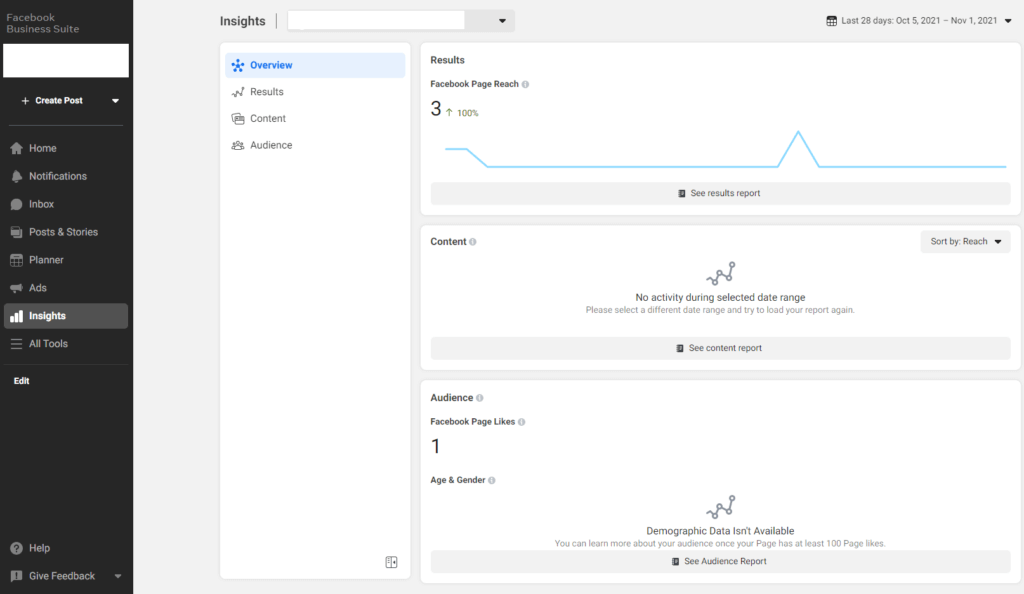 If you want to go beyond the capabilities of Facebook's native tools, or you'd like to manage more social platforms (FB, Instagram, LinkedIn, Twitter, Google My Business), we recommend you try NapoleonCat for free.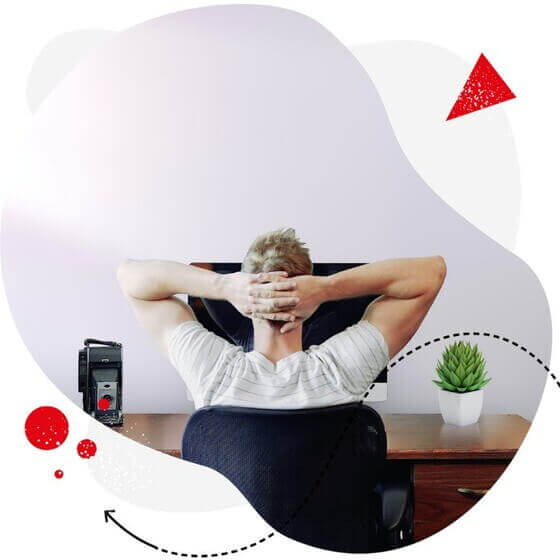 Save time managing your Facebook Page(s)
Automate comment moderation, automatically hide or delete inappropriate comments under your organic posts and ads, schedule your posts for automatic publication, automate analytics reports & more. Try NapoleonCat for free:
Try NapoleonCat free for 14 days. No credit card required.
How to manage your Facebook Business Page(s) using NapoleonCat
Our role is to help you manage your social media channels, including Facebook Business Pages. NapoleonCat is an all-in-one tool to manage multiple social media profiles across different platforms.
Here are some of its features:
Schedule posts across multiple Facebook Pages and other social networks
With the Publisher feature, you can easily schedule your posts for automatic publication. Moreover, you can publish content on other social platforms like:
Instagram
Twitter
LinkedIn
Google My Business
With NapoleonCat, you can plan and execute your content strategy without any hassle. Plus, you can create a shared publication calendar to get a bird's-eye view of your strategy. You can work on your publications in a team, exchange feedback, assign tasks to other team members, and more.
Take a look at how the Publisher works in action:
Analyze your Facebook Pages and track your competitors
As your social media profiles grow, they become a vital source of knowledge about your target audience. But to make the most of that knowledge, you need an advanced analytics feature. And this is exactly what NapoleonCat offers.
With our Analytics Tool, you can measure and analyze your progress on Facebook, Instagram, Twitter, LinkedIn, and YouTube with data-based charts and reports.
You'll find out what to post, what content performs best, when your audience is most engaged, how often you should post, etc.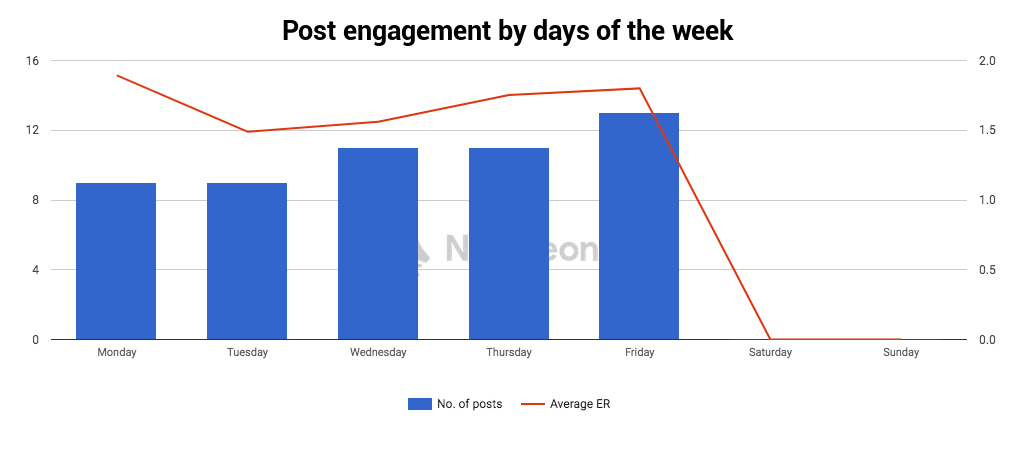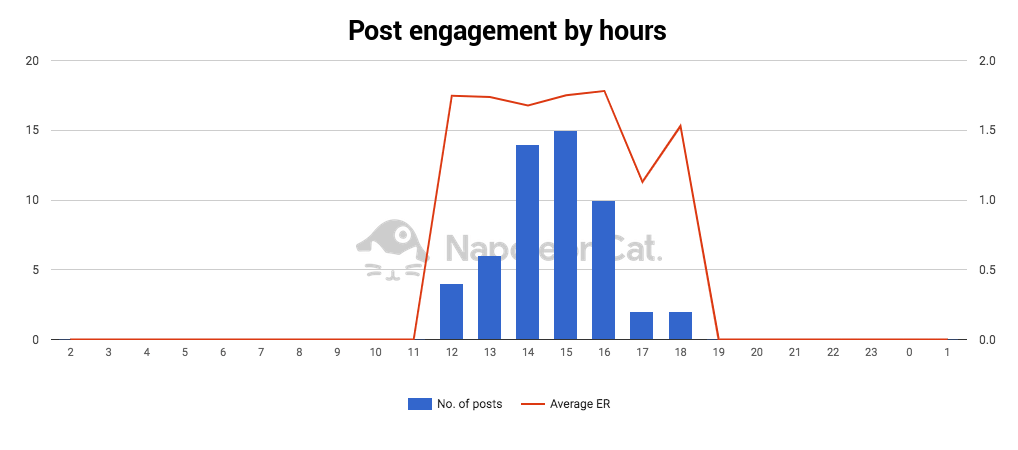 And you have the possibility to schedule automated reports, so you don't have to remember about generating them manually and sending them over to your client or boss.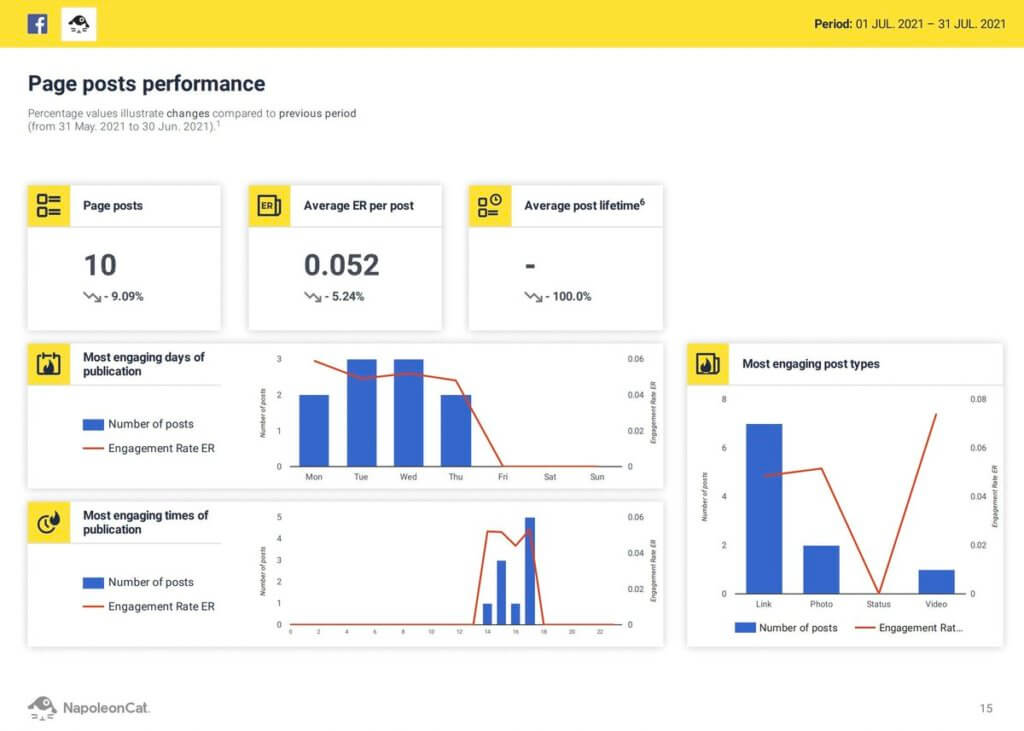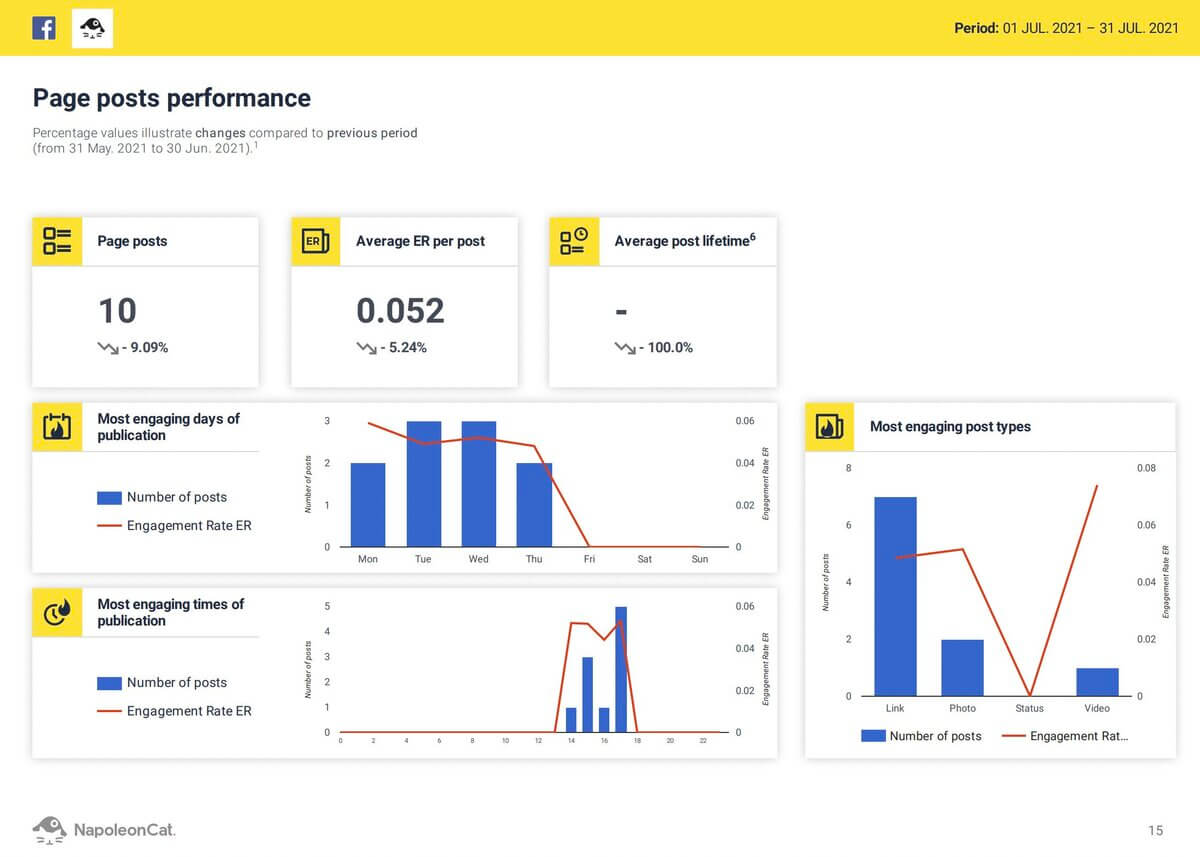 With our analytics feature, you can:
Understand your target audience and their needs
Analyze engagement across various social media channels
Pinpoint the best times to publish your posts
Plan and tweak content strategy for each platform
Manage all Facebook comments and messages from one customizable view
Social media is all about engagement, right? Obviously, you don't want your Facebook Business Page to be deserted. You want traffic and real engagement. With our Social Inbox feature, you can easily manage all your comments, messages, reviews, etc. – all in one simple, customizable dashboard.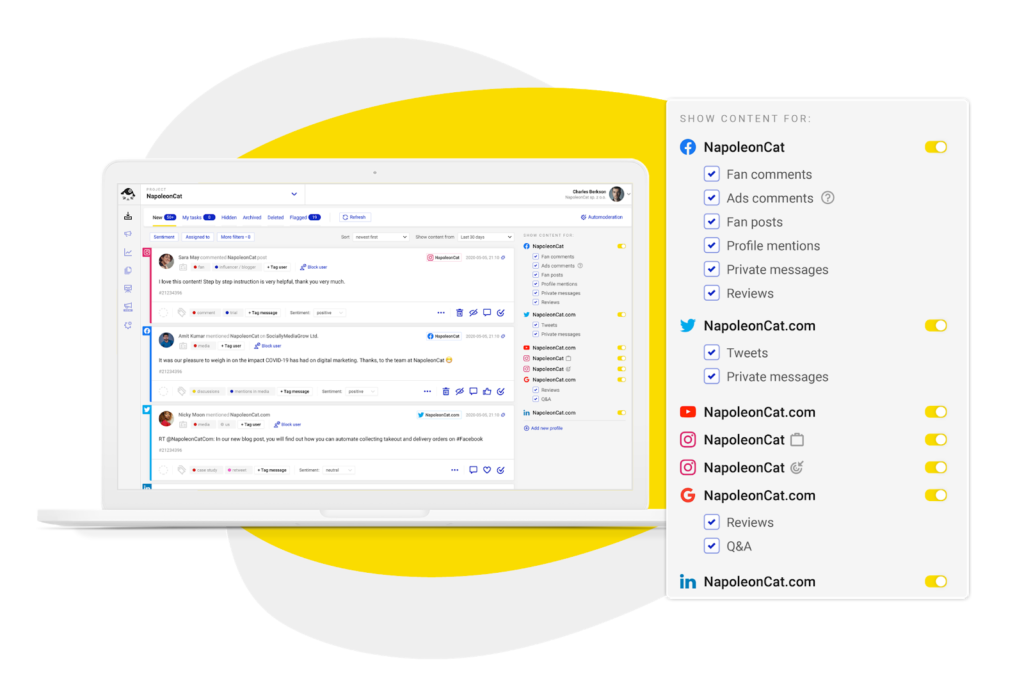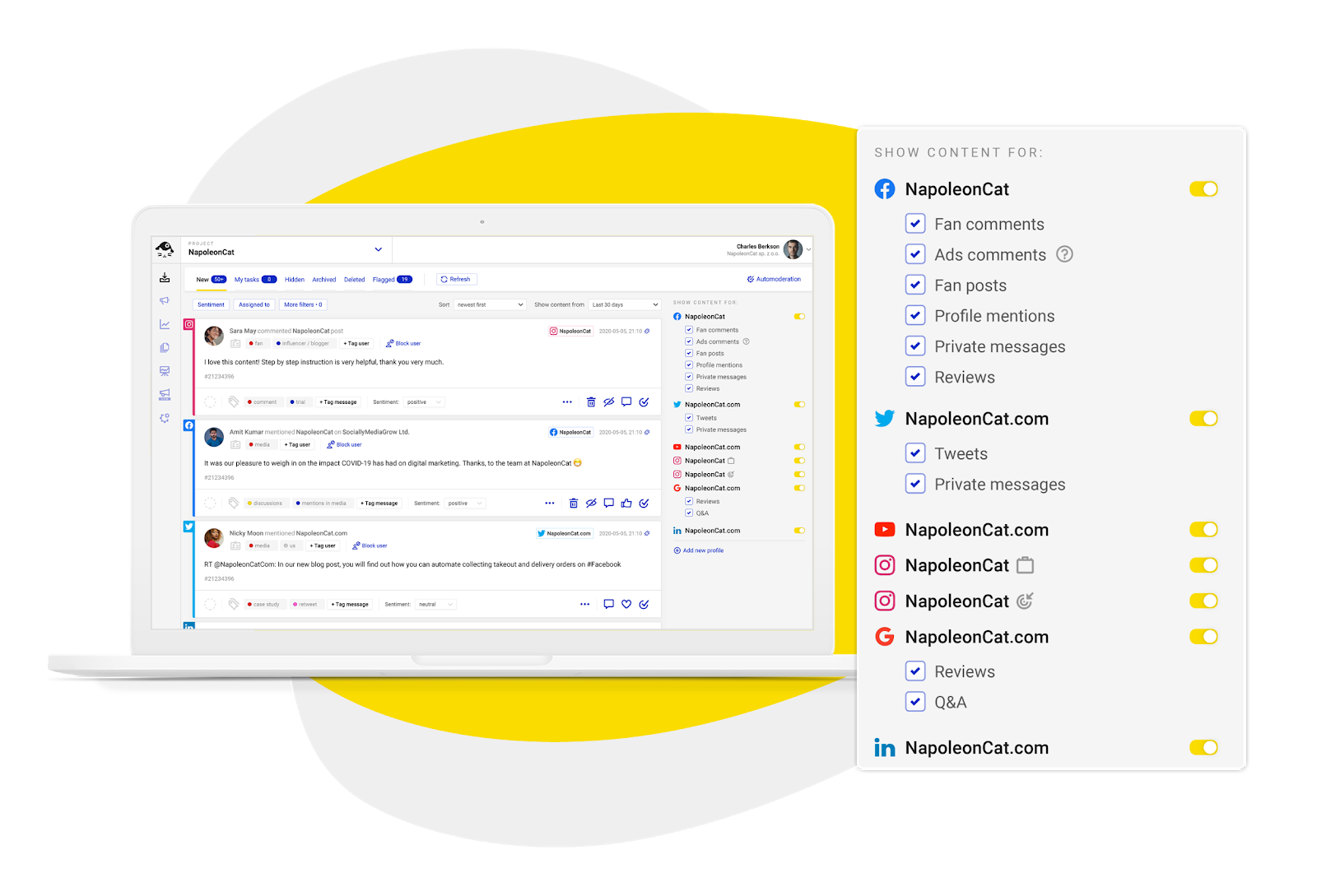 The Inbox also supports multi-language communication, as you have access to a built-in translator. Therefore, you can translate and reply to comments and messages in your customers' languages. It's supported by Google Translate and works in over 100 languages, so you can be quite certain that your translations will be on point.
The Inbox also allows you to set up some automatic reactions for your FB and IG accounts. For example, you can use the social media automation feature to:
Set up smart auto-replies based on keywords and phrases of your choice
Automatically hide or delete inappropriate comments under your organic posts and ads
Automatically hide or delete comments with links (spam)
Here's how our Inbox and Auto-moderation work with Facebook (5:55 and 11:20):
Wrap up
Now you know how to set up a Business Facebook Page. You've also discovered some of the essential tools that will help you run it and grow your target audience. Use your knowledge well and start conquering the social media world!
And if you need help with managing accounts – NapoleonCat is here for you! You can register for free and try our tool for 14 days, no credit card required.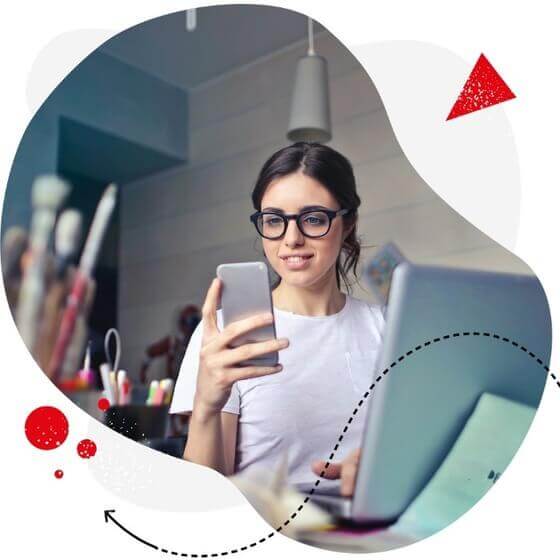 Facebook marketing made easier
Manage all your Facebook Pages with one simple tool. Access in-depth analytics to find out what to post and when. Try NapoleonCat for free:
Try NapoleonCat free for 14 days. No credit card required.