Christmas is fast approaching. And you know what that means? Time to start planning your social media holiday posts and spread the holiday cheer! Want to know how to 'sleigh' your holiday marketing campaigns this year? Here are ready-to-use ideas you can try out.
With our Christmas social media post ideas you can:
promote your brand,
sell more during holidays,
and get more customers.
Here's a heads up—did you know there are now over 3.2 billion social media users worldwide?
We all know it: social media helps you extend your reach, drive engagement, and bring in more sales. If you're not using social media to promote your brand and sell your products and services, you're leaving money on the table.
And social selling works, full stop.
Consider the following statistics:
Of course, we don't need to tell you that social selling is expected to spike over the holidays.
And don't look now, but social selling during the holidays this year will be unprecedented.
In fact, 43% of internet users are expected to shop online more after the outbreak is over, according to a recent COVID-19 study by GWI.
So, yes, the competition will be more challenging this year on the social media selling front. If you want to stand out from the crowd, you need to use every advantage you can get.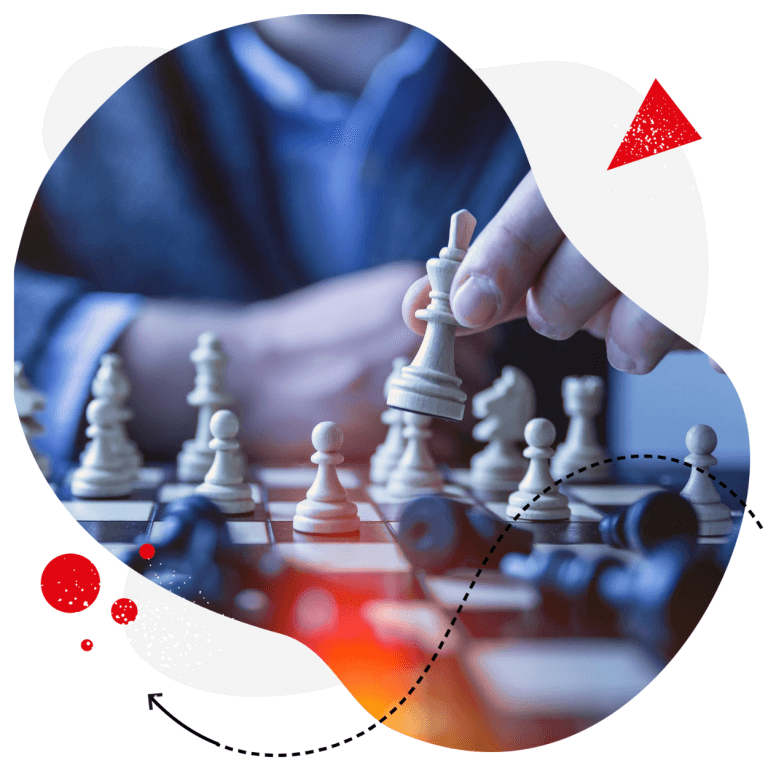 Leading companies automate social media
You need to do that, too. Otherwise, you can't compete with your competitors! Try NapoleonCat's easy-to-use automation tools.
Try NapoleonCat free for 14 days. No credit card required.
Win social media this Christmas with these ideas:
1. Set up shop on Facebook Shops
Here's an idea: What if you can offer consumers a more streamlined way to discover your products on social media?
Enter Facebook Shops.
Facebook Shops (or "Shops" for short) lets you create a dedicated storefront on your Facebook and Instagram page.
You can set up shop in two ways:
either by importing products from your existing online store 
or by creating custom catalogs of your products. 
Once your product catalog is up, your users can navigate, save, share, and yes, buy within the platform. What's more, potential buyers can easily reach you via Messenger should they have any questions about what you're selling.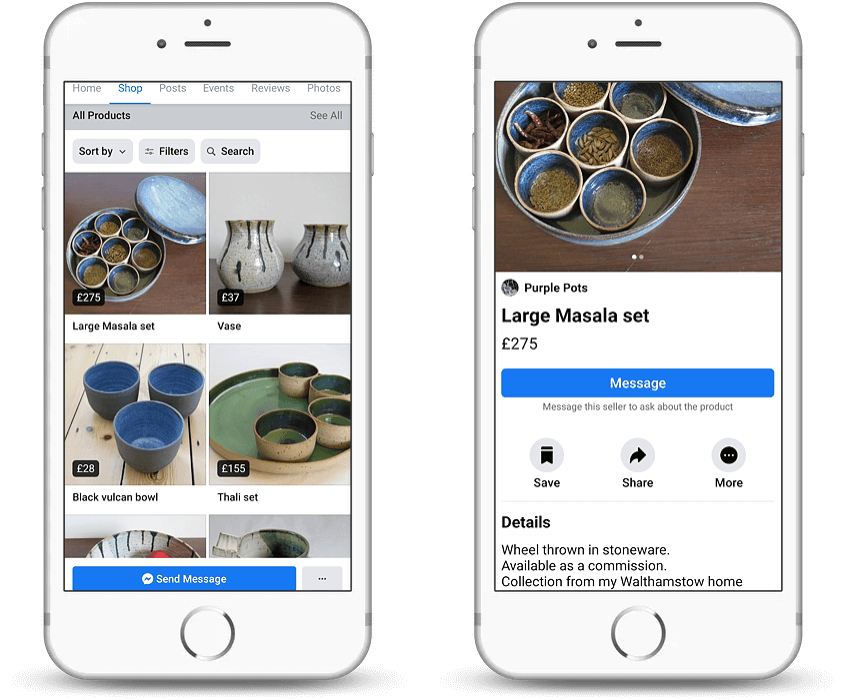 In other words, Shops allow you to provide online buyers with a one-stop-shop experience. This is big because it offers you a frictionless way to sell your products and services online—which can only contribute to more sales.
Once you've set up Facebook Shops, users can easily access it via your Facebook page and Instagram profile (as well as your Stories and ads). 
You can customize your shop's look and feel of by choosing a color theme, layout, a button style, etc. It is essential since appearances matter when you're selling.
Moreover, you can tag up to five products on each of your posts. It allows users to click on a tagged product and make a purchase through your website or the app itself. The second option is available once you've enabled the "Checkout on Instagram" button on your page.
2. Capitalize on the self-gifting trend
The self-gifting phenomenon has been taking off of late. And the trend is expected to grow even further this year.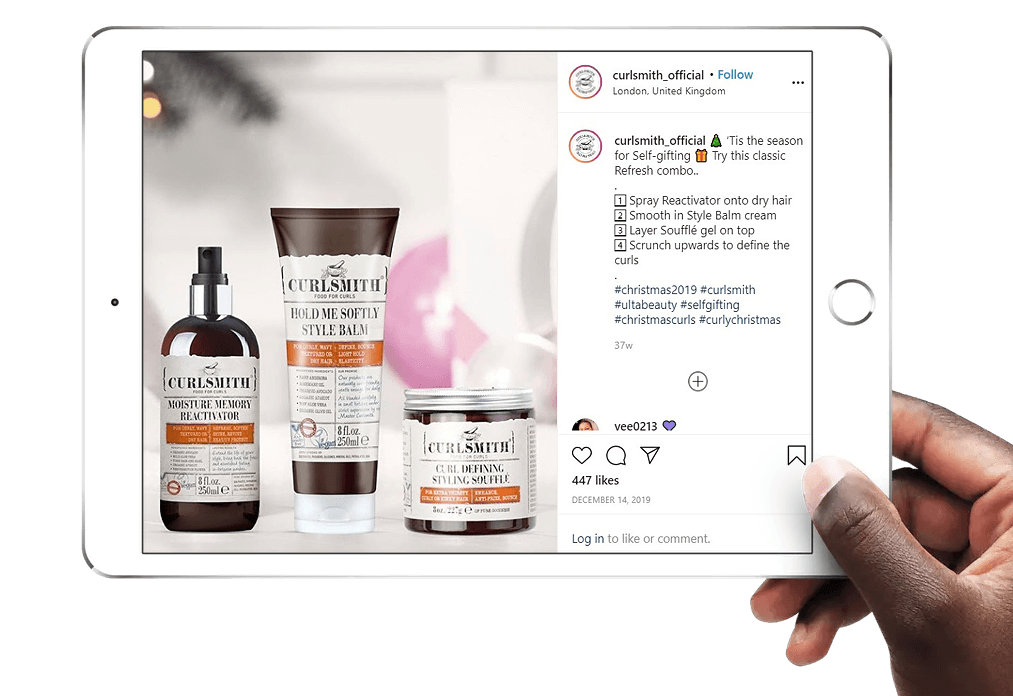 How so? Well, considering how difficult 2020 has been for most of us, consumers around the world are more likely to feel the need to indulge themselves more than ever.
Many studies show that consumers are more likely to treat themselves during and following difficult times. According to Euromonitor research: after the 2008 recession, nail polish sales spiked by 30% in the U.S. and 10% in Western Europe. 
As you can see:
Now's the best time as any to help your customers reward themselves during these trying times.
And you guessed it: social media is the perfect platform to help you pull it off.
You can expect more customers to browse online stores across the web in the months leading up to December. However, most buyers (around 98%) aren't likely to buy on the first visit. Is it any wonder why 67% of online shopping carts are abandoned?
It isn't surprising in the least. After all, most consumers aren't ready to buy the first time they visit an online store or a landing page. Most of the time, people add items to their shopping cart to buy at a later date. 
That's fine. However, in a world where online (and offline) distractions abound, it can be too easy for potential buyers to forget that you exist.
What you can do is send them a reminder via a Christmas social media retargeting campaign.
Kickstart a retargeting campaign
Retargeting, also known as remarketing, is a paid advertising strategy that helps you serve your ads to potential customers who have visited your website or app but have gone somewhere else without buying.
Here's a scenario:
Shana thinks it's time to shop for braces. So she visits this braces website to look for one. 
She gets distracted for a minute, and then decides to browse Facebook and Twitter for two hours before turning off her laptop. 
The thought of shopping for braces has slipped her mind. 
Come morning, Shana logs into her Facebook account and sees this:
Here's what Shana was thinking the moment she saw the ad:
"Oh, right. Braces! Well, my salary just came in today, so I might as well give myself a treat. It's been a tough year, after all."
It is what a retargeting campaign does. 
By serving your ads to people who have already shown interest in your products, you get a higher probability of closing the deal.
Retargeting ads are available on Facebook, Instagram, and Twitter.
Use AR Ads: Help people "try" before they buy
With most physical stores closed up due to social distancing measures during the outbreak, consumers won't have the luxury to try out or interact with the products that interest them, negatively impacting sales.
By leveraging AR technology, you can allow buyers to virtually "try on" and interact with your products, helping you to convince them that your products are right for them.
It worked splendidly for L'Oreal. By teaming up with Modiface, the sizeable cosmetic company served AR adverts to their audience on Facebook, allowing them to try on their makeup selections virtually. This marketing initiative became a massive success as it helped triple the company's conversion rates.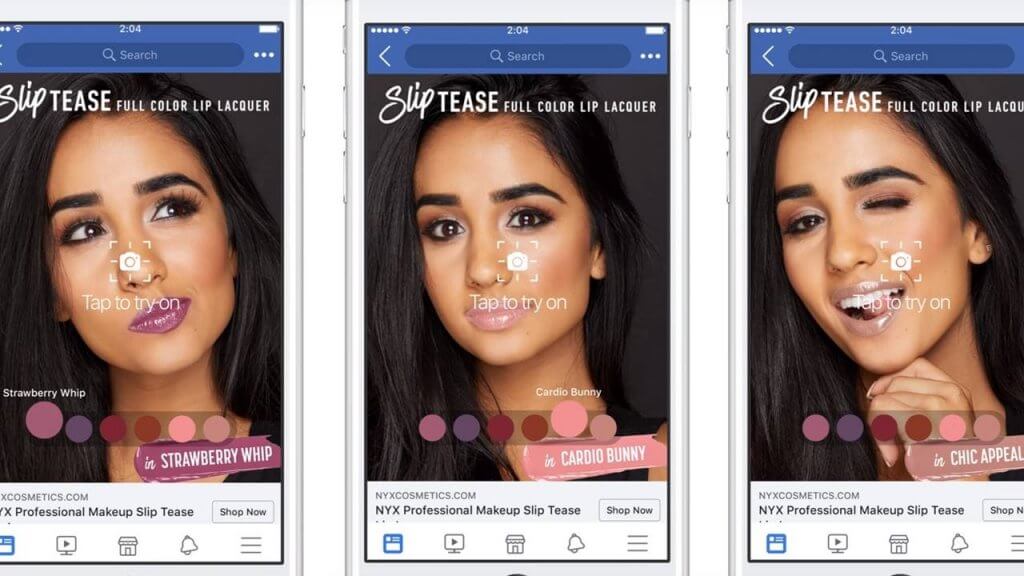 Want to help your audience virtually try on your products via your social channels? Check out the following links:
3. Ramp up your social selling in time for seasonal mega sales
It's that time of the year again, which is always the busiest time for the retail industry, as most consumers are eager to splurge in the months leading up to December.
But it begs the question: Considering the economic downturn in the wake of the coronavirus pandemic, will people be as eager to spend their hard-earned money?
Surprise, surprise: the answer is yes.
Right now, shoppers are more mindful of their budget, and for most of them, seasonal mega sales are just the thing that will help them cut down on their expenses, at least over the long term.
In fact, according to a Coronavirus Research survey by GWI:
1 in 3 respondents claims they'll wait for products to be on discount, promotion, or sale before buying.
But there's a problem. With social distancing precautions being imposed on retailers, in-store purchases are expected to plummet.
However, that doesn't mean you can't launch a mega sale campaign over the holidays. As long as you're able to support contactless transactions (e.g., click-and-collect, curbside pickup, online deliveries, etc.), you can still make a killing in your business.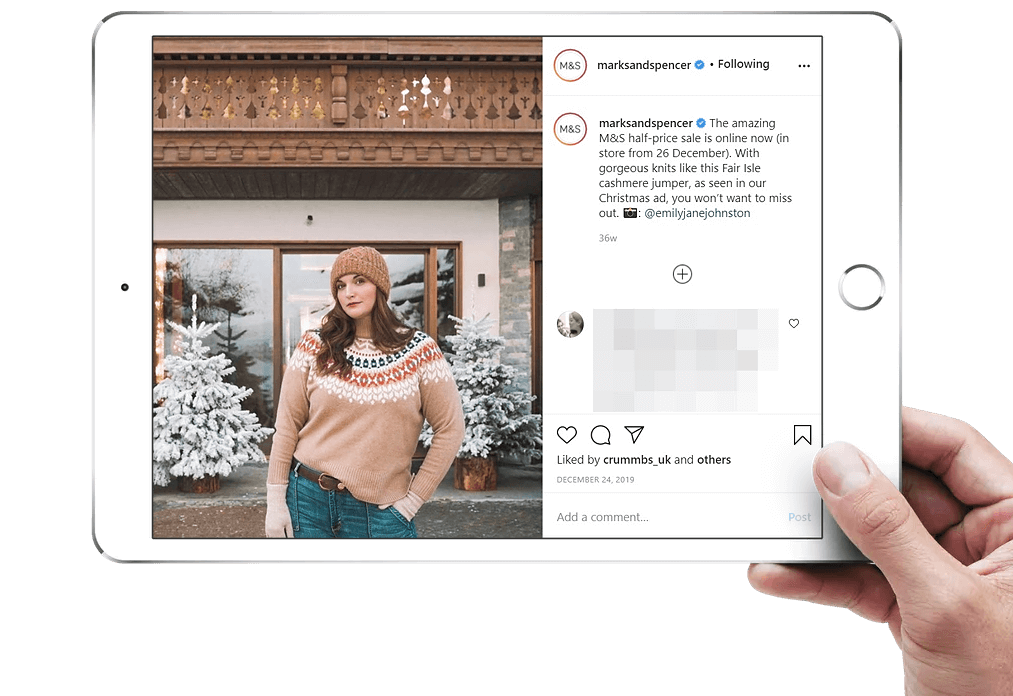 And if you want to drive awareness and spark interest for your seasonal mega sales campaign in front of customers, you need to meet them where they are: social media!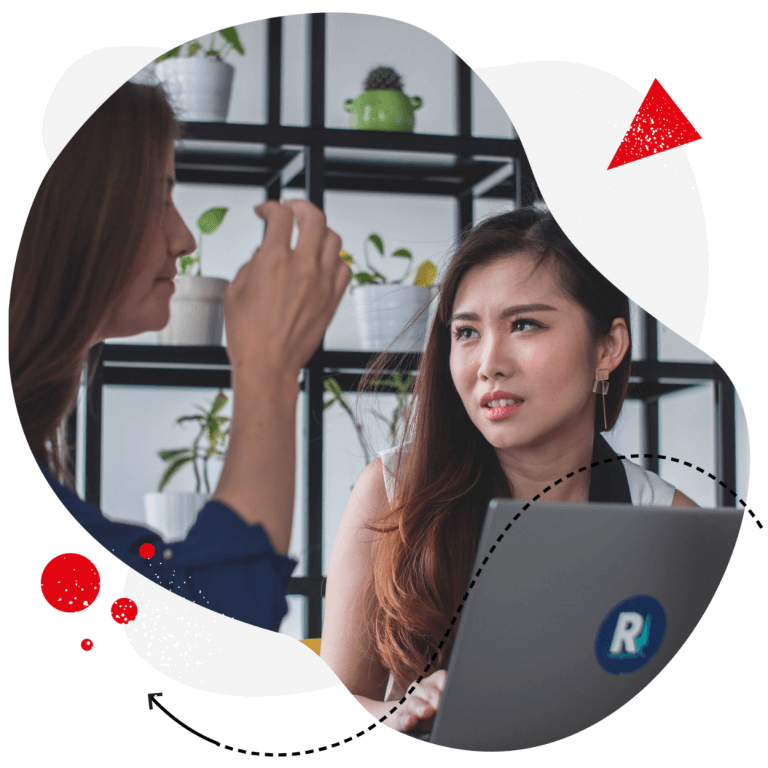 Can you keep up customer service's quality?
It's difficult during holiday peeks. And if you don't maintain it, you'll lose your customers. NapoleonCat's Social Inbox feature can help. Try it out.
Try NapoleonCat free for 14 days. No credit card required.
In the next few months, social media is going to get crowded with ads and promotions. Competition is going to get tight.
If you want to grab your target audience's attention and give them the nudge needed to take action (buying or signing up), you need to get creative and use features and tools that can help you do that.
Here are social media features that can help generate excitement for your holiday mega sales events:
Create Story Ads to bring your brand story to life
If you haven't been running ads on "Stories" on Facebook and Instagram, you better get in on the action. Users these days can't get enough of full-screen, vertical content.
By allowing you to integrate your visual assets in creative ways, Stories offers you creative ways to provide your target audience with an immersive experience. In other words, Stories allow you to showcase your products in ways that are more engaging and enticing than regular posts. They also last only 24 hours, enticing users to check them out.
And with Story ads, you can deliver unique, relevant content to a targeted audience, resulting in higher conversions.
Want to create Instagram/Facebook Stories that will resonate with your target audience during the holidays? Follow these tips:
Use hashtags and locations to increase your reach and views.
Don't create boring stories. Put some music, emojis, and gifs in there!
Make your products shoppable with product stickers.
Boost engagement by creating polls, asking questions, and using an emoji slider scale.
Use Stories to countdown to your mega sales event. Countdowns bring a sense of urgency and will compel your audience to mark the dates on their calendars.
Go 'Live'
Few content formats are as engaging as live videos. Live videos not only create a sense of urgency that inspires FOMO (Fear of Missing OUT) among your audiences, but they also evoke an "in the moment" experience that compels users to engage and interact with your brand.
No wonder 59% of users prefer watching live videos over live TV.
Live videos work great on social media. In fact, Facebook, Twitter, LinkedIn, and Instagram live video platforms built right in.
If you want to give your social media engagement a boost, you need to go live.
Here are ways social live videos can boost awareness of your holiday sales events:
Behind-the-scenes live videos can help spread the word about your holiday sales events and establish a deeper connection with your audience.
Live demos for showcasing your products and for sparking interest.
Create a partnership with influencers and celebrities to showcase your products via live videos to reach new audiences and create buzz around your brand.
4. Get behind a cause
The world is a hot mess right now. As a brand, what are you going to do about it? What do you stand for? How can you make a difference?
Because believe me, if you're not contributing in some way, consumers are not going to care about what you have to say, and by extension, what you have to offer.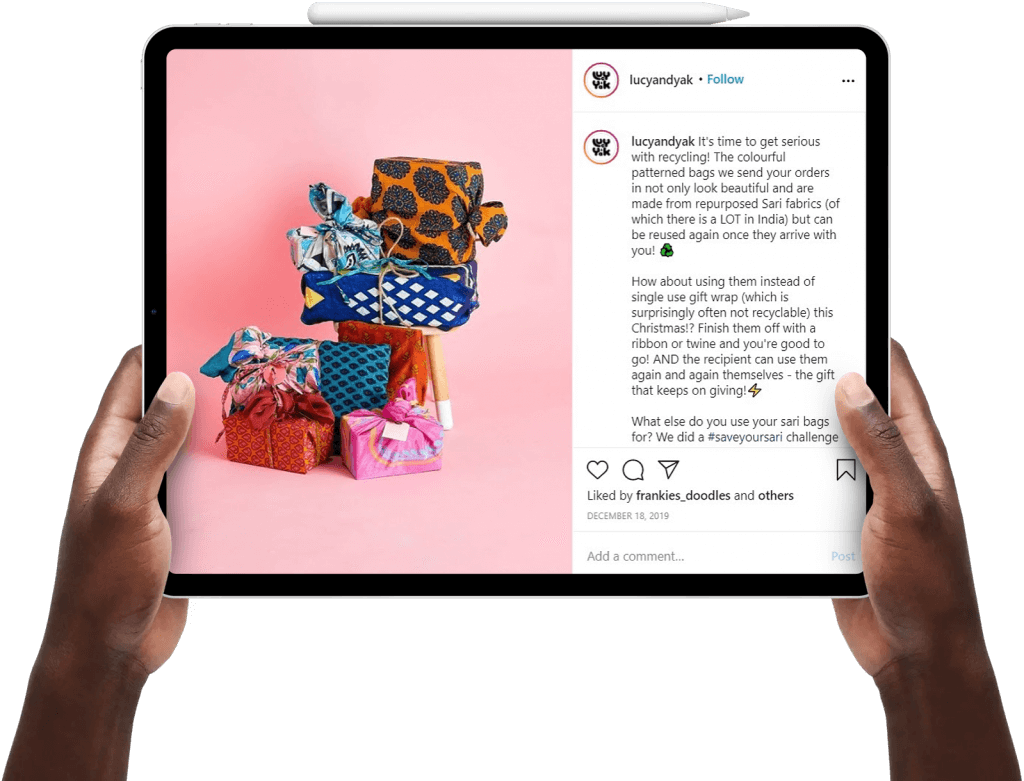 Last year, @lucyandyak was encouraging everyone to replace single-use paper wrap with reusable Sari fabrics
Besides, the Christmas season is a time for giving. And your loyal customers won't expect anything less from you.
According to a recent Accenture study: 
63% of global consumers prefer to purchase products and services from brands that stand for a purpose that aligns with their values and beliefs.
And get this: Around 74% of people surveyed around the world prefer to see brand activity on Facebook, according to a Facebook Seasonal Holidays Study by YouGov.
And don't even think about faking it. In a world beset by pandemic and strife, customers' tolerance for fakery is at an all-time low.
Sure, it may sound not very honest because you're doing it for marketing purposes, but you can still promote your brand and bring in more revenue for your company even while staying authentic in your efforts to help. I mean, why not?
So make a change in the world out of the goodness of your heart. Your audience will love you for it.
With that said, you can brandish your brand purpose and core brand values all you want on social media, but they will all feel hollow if you're not taking action.
Kick-off fundraisers to help out vulnerable communities
You can set up a fundraiser for a nonprofit to support vulnerable communities, especially those who have suffered the pandemic's consequences.
Thankfully, Facebook and Instagram have built-in fundraising and donation features to help you do that. You can also include a fundraiser sticker in your Facebook Stories to rally your customers behind a cause and raise awareness. The Latin Grammys leveraged this feature to gather support for the Latin GRAMMY Cultural Foundation's fundraiser.
If you want to contribute to a cause using Twitter, you can use the #Donate hashtag to rally your audience around a charitable cause.
What's next?
If there's one big piece of advice I can give you, it's this:
Make your customers your no. 1 priority.
Sounds like no-brainer advice? Sure. But you'll be surprised how many businesses lose sight of what's important once they're in the middle of a marketing campaign or a sales push.
Engage and bring customers around to you
Stay in touch with your customers with no effort using world-class NapoleonCat app. Your customers will love you, and they'll buy from you.
Try NapoleonCat free for 14 days. No credit card required.
If you want to engage your customers in ways that truly move the needle for your holiday social media campaign (and your business), create ads and posts that speak to your audience's needs and wants.
After all, aren't the holidays a time to give?