One of the first lessons every marketer learns is that people consume goods with their eyes and that choosing the right visual is crucial for any digital marketing strategy's success. Finding the photos you need to make your content more impactful is not always easy.
No need to worry though – we'll show you where to search and how to use great stock images for your social media!
We know that producing high-quality content for social media marketing purposes comes with a number of challenges. Especially if you manage multiple accounts and need to come up with a bigger number of posts on a regular basis.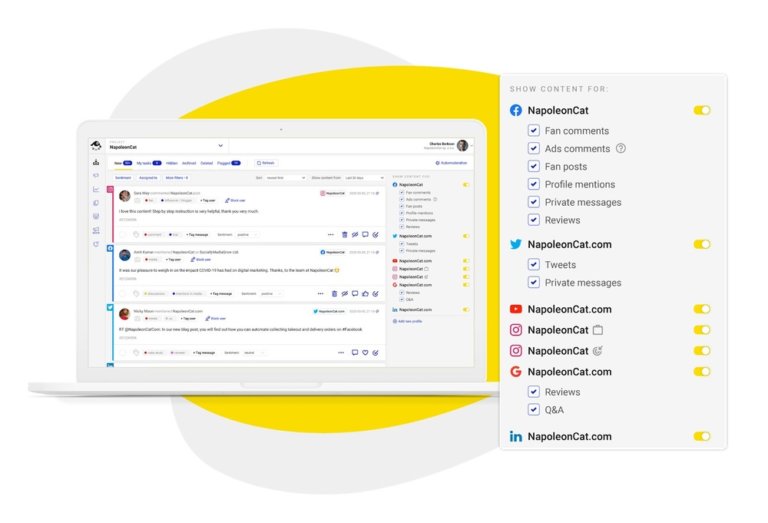 Manage all your social accounts from one place
Manage all your comments, messages, and other social interactions across different accounts and platforms – all in one customizable dashboard. Try NapoleonCat for free:
Try NapoleonCat free for 14 days. No credit card required.
One of those challenges is obviously finding good stock photos to be a part of your communication strategy. That's why we've created this guide – to make the whole process easier for you! 
In this article, you'll learn:
Why images are so important for social media marketing,
What are the different types of photo usage licenses,
Where to find great images for your social media posts (free and paid),
How to use stock images for social media marketing,
How to optimize social media posts publishing process.
Ready? Let's go!
Why images are so important for effective social media marketing
Images communicate thoughts and evoke emotions much more effectively than any other type of content, as the human brain processes them much faster than, for example, text. So saying that "an image is worth more than a thousand words" is not an understatement at all!
As you can see, the right photo can make or break your social media marketing success. Images work on both conscious and subconscious levels. And the first impression of your communication is vastly influential on the client's purchase decision.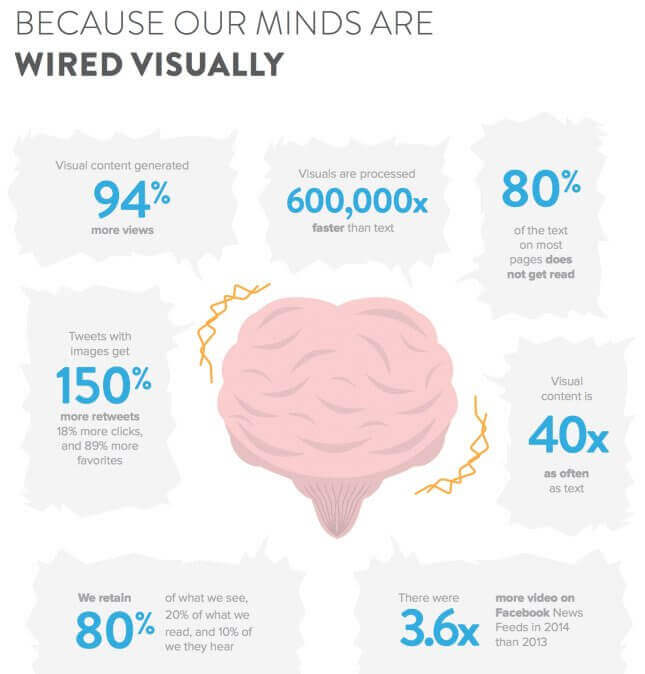 What's more, social media users scroll through their feeds very quickly so it's the impactful image that can make them stop by your profile for a little longer.
The attention-grabbing function of visual content can't be underestimated as it defines whether or not your page will be overlooked by the users.
That's why it is so important to pay great attention to selecting images when creating social media posts. Finding a good one and wrapping it up in a nice-looking design is one thing, but you also need to remember to make sure that it corresponds with your post's copy and that it resonates with your brand's identity!

How to check if you can use a stock photo on your social media profile
Before you start surfing different image stocks, you need to learn about different licenses that define the ways in which the images may be used. Not all stock photos you find on the web can be used and/or modified for free. Let's review the most common license types. 
Rights Managed (RM) License
This is probably the most strict type of license. If you choose an image with this license type you need to not only pay for it but also define exactly where and how the image will be used.
Even though it might be an expensive choice, this license gives you the option to purchase a photo exclusively and prevent your competitors from using it in their materials. 
Editorial Use License
This type of license means that the image cannot be used in any form of marketing, so it really falls out of our scope. These images usually feature logos, brands, recognizable products, celebrities etc.
Royalty Free License (RF)
Royalty-free license is much more flexible and open. In general, you only need to purchase an image once, and then you're free to use it however you like. 
There are some limitations to it, for example, you can't make the image an inherent part of your product (but it can be extended if needed). Still, the majority of images that you'll use for your social media communication will most likely feature this license.
Creative Commons License
Creative Commons licenses are set to protect photographers' work but also keep the images free of charge for the users. The trick here is that wherever you use the image, you need to give credit to its creator.
Be careful though, as not all images under this license can be used for commercial purposes. The broadest version of this license is called CC Zero and is basically equal to the 'Public Domain' license.

Public Domain
This means that there is virtually no license agreement in place. If the photo creator has placed their work into the 'public domain' it means that anyone can use the photo however they see fit. 
We've shown you the most common types of image licenses that connect to image stocks. Please keep in mind that this is just a quick overview to give you a general idea of how it all works.
Before you use any stock photo for your social media marketing, remember to make sure that you read the concrete license rules thoroughly to make sure you don't cause any unintended damage. 
Finding social media stock photos made easy
Now that you've learned about the range of different types of licenses, we can proceed to our recommendations on where to search for images for your social media marketing.
In this chapter, we'll show you some of the best sites on which you can look for free images as well as some of those that require payment.
Free social media image stocks
The websites listed out below are a great source of free photos that you can use for your marketing.
Of course, by 'free' we mean that most photos available on those sites feature the free-of-charge type of license, but let us remind you once again – always check the license type on the particular photo that you'd like to use.

Without further ado, here's the list of best free social media image stocks: 

All those free stock websites feature millions and millions of images. Now all that's left for you is to get familiar with each one and see which suits your needs best!
Paid social media photo stocks worth consideration 
For those of you who need a very particular type of image and/or have some budget to spend, we present a couple of sites that require payment for the images.
Even though they might not be cheap, it's often worth purchasing photos if you need them for a paid social media campaign that aims to boost your business results.
Getty Images
Getty offers both paid and free stock photos that cover a very wide range of industries, angles, and moods. It's definitely worth getting familiar with their resources.
Adobe Stock
Adobe Stock is targeted to professionals and contains an incredible number of unique, professional shots that can improve your posts' ability to have the needed impact on your audience.
Shutterstock
Istock might be the best well-known one, and for a good reason. Countless images and videos available on the platform have been gaining interest of marketing professionals around the globe for many years.
How to use stock images for social media marketing
As mentioned at the beginning of this article, visual content is incredibly important for your social media marketing success.
Although, it's not enough to just choose a photo and post it on your Facebook or Instagram business profile. Here are a couple of rules that you should follow to make the most of stock images.
Choose the right stock photos that suit your business
When you browse one of the stocks described above in search of a photo for your social media channel, always keep your brand's identity in mind. Try to keep your visuals' mood and climate consistent to create a coherent image for your brand.
Make sure that the photos you choose for your posts do not feel random and that they resonate with your brand's character.
Create stories
Another rule to remember when creating your content calendar is that your posts should create stories. What we mean by that is that the visual should match your update's copy.
Always set a main purpose/message of your post and try to find an image that goes well with what you'd like to communicate and, ideally, makes the message even more powerful.
The visual and the text should work together to achieve the desired outcome.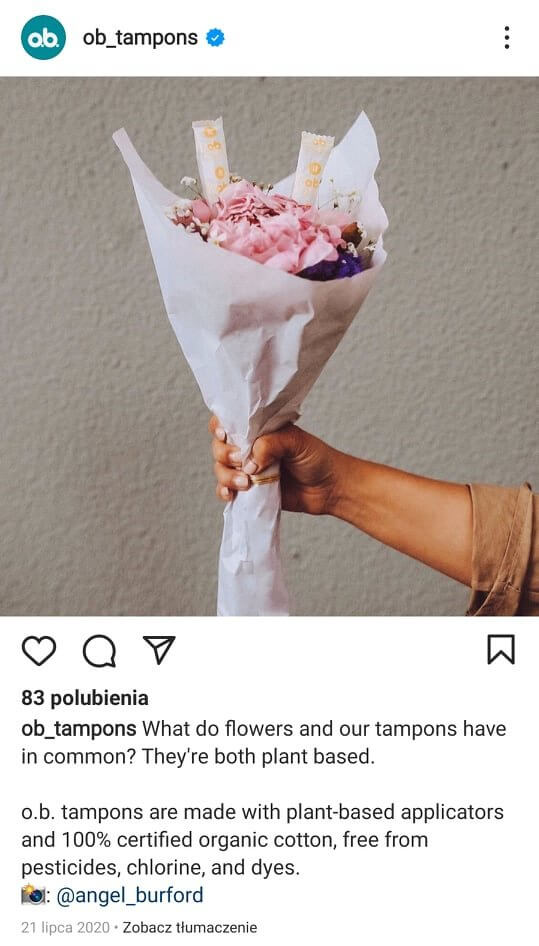 Try different options
If you can afford to spend some additional time on finding the perfect photo for your social media update we say: do it!
Why is it worth it? Because if you search for the images in a hurry, you might miss some real gems that are waiting for you out there.

Try different images for the same post and decide which one suits best. Play with different concepts and use your creativity – you might come up with something really brilliant!
Nevertheless, we understand that in the world of social media marketing time flies particularly fast, especially if you manage multiple social media profiles.
Luckily, there are ways to optimize different parts of the social media marketing processes, such as publishing. Read on to learn how you can save time there!
Social media publishing made smart
Publishing social media posts one by one can be a real pain and drain on your precious time.
Not only do you need to remember when to publish or at least schedule posts but many marketers who manage multiple channels also need to jump back and forth between different platforms and accounts.
NapoleonCat has all the answers. Its publishing feature enables social media teams to create, schedule, and publish content seamlessly.
What's more, it allows users to create clear workflows, easily communicate and work on various related tasks, while keeping the social media channels under control. Not convinced? Let's have a quick look into the tool's main functionalities.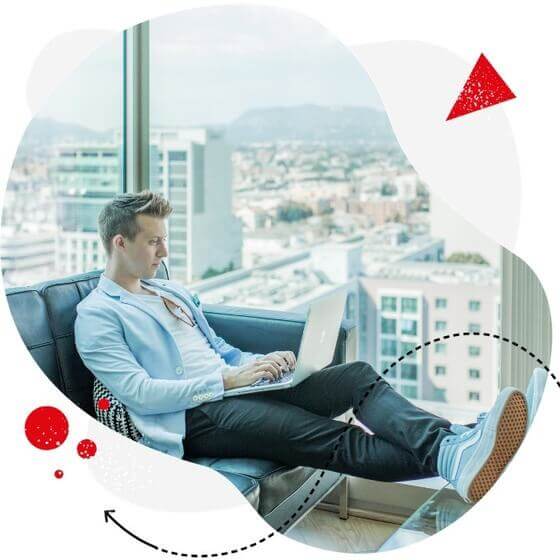 Automatic post scheduling for multiple social networks
Schedule posts for Facebook, Instagram, Twitter, LinkedIn, and even Google My Business – using one simple tool. Try it for free:
Try NapoleonCat free for 14 days. No credit card required.
Create and schedule posts easily
NapoleonCat's Publisher allows you to create and schedule posts for Facebook, Instagram, LinkedIn, and Google My Business. Once you link your accounts to our system, you can manage publishing across all your accounts from a single, user-friendly panel.
Furthermore, if you want to publish the same post on multiple platforms, you can do the necessary adjustments directly in the publishing panel, to make sure that your update is shaped in accordance with every platoform's specifics.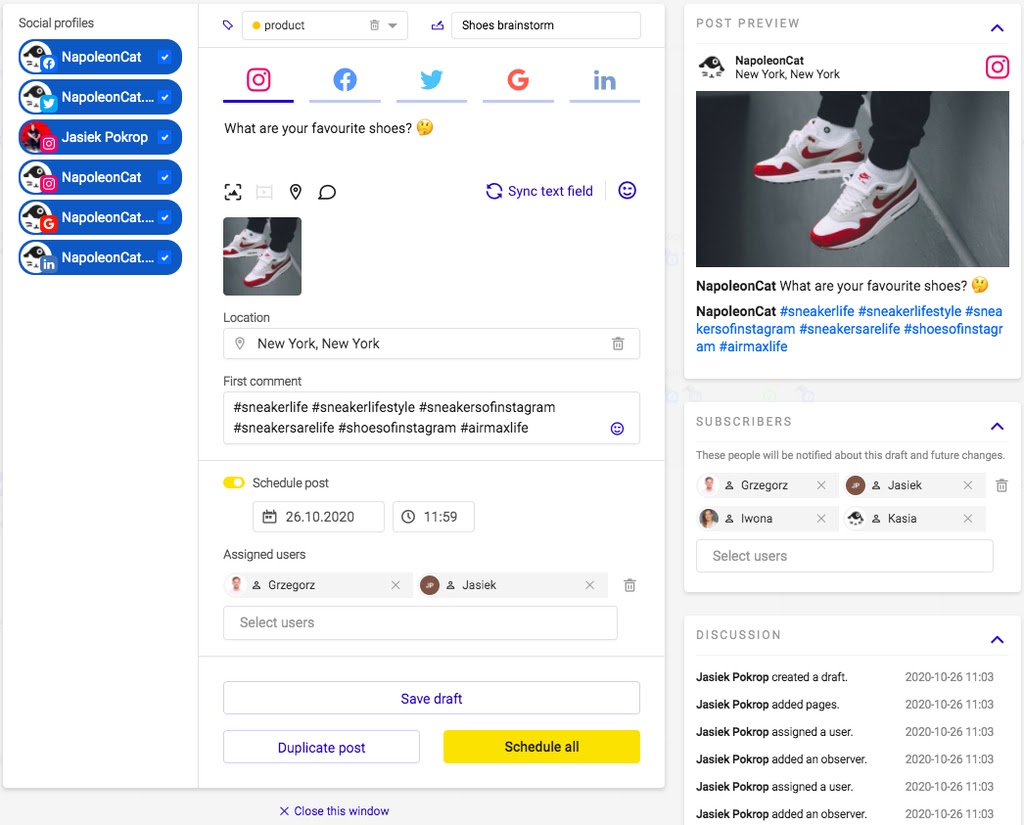 Once you have your post ready, you can either publish it on all platforms at once or choose different timings for each one. Sounds quite convenient, doesn't it? But there's more!
Control your social media marketing
Publisher's calendar feature allows you to have an overview of all your planned content in one place. From there, you can clearly see when and where your posts are scheduled, which allows you to plan and execute your work more effectively.



NapoleonCat's Publisher has a couple more useful features that enable you and your team to work together on your brand's social media marketing effectively like never before. Together with our other tools, NapoleonCat provides a complete solution that can help you bring your marketing to the next level.

Make sure to try them out for yourself with our 14-day free trial!
Wrap up
Images are a crucial component of any social media marketing strategy as they're an inherent part of any brand's communication on social media platforms. Knowing where to look for them and being able to use them the right way can have a significant, positive impact on your business results.

Now that you know some of the best photo stocks that you can use for your social media, you can further work on improving other areas of your social media strategy, such as publishing or analytics. We hope that you were able to learn something new from this article – if you feel like you need more social media marketing knowledge, make sure to check our other blog posts.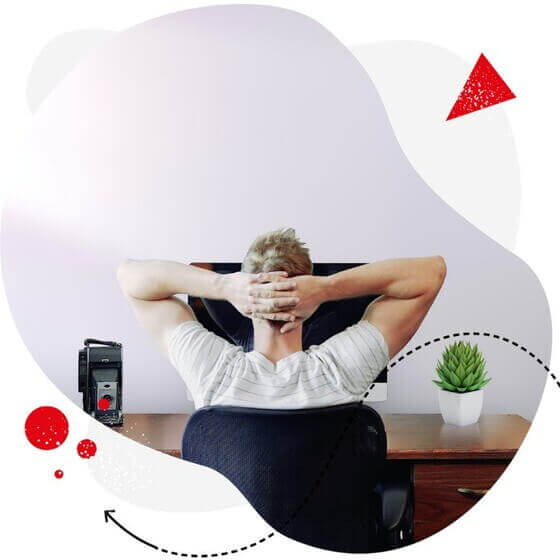 Social Media Management Made Easier
Analytics, reporting, scheduling, and more automated solutions for your socials. Try NapoleonCat and save tons of your time spent on marketing tasks. Try it for free:
Try NapoleonCat free for 14 days. No credit card required.