Moderating user messages on Facebook pages is probably the most time consuming and demanding task for social media marketing teams. More so if you promote your content or use so called "dark posts" as ads and have to deal with spam and other unsolicited messages in comments. To simplify this job NapoleonCat offers automation rules, which can automatically detect keywords or specific type of content, act accordingly and even notify designated people via email. Today we're extending automation rules even further by introducing "hide content" feature and user label triggering.
Hiding user comments or posts to your page is a much better way of handling unwanted content than just deleting it. Hidden content is still available to its author, but other fans can't see it any more. This way you can easily handle complaints, deal with "trolls" or negative reviews. Our recent automatic moderation rules update allow you to automatically hide user comments, posts to your page and comments to your promoted posts aka "dark posts" based on any trigger, such as content type (e.g. comments that include links or videos) or keywords (e.g. competitor brands).
Go to "Project settings" > "Auto moderation" to set up your new or edit existing moderation rules.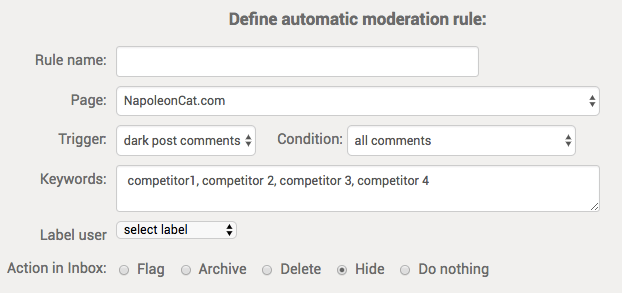 Such messages will be automatically moved to the "Hidden" tab of your NapoleonCat Inbox. You can access it later to review, respond individually to the author or even unhide the message. Of course, as with any other automatic moderation rule, you can choose to be notified via e-mail every time the rule is applied and have the message sent to your or your colleague's e-mail box.

Another addition are moderation rules triggered by user labels assigned by moderators. Imagine you have to deal with trolls frequently bombing your Facebook page with mean comments and visitor posts. If you haven't banned them from accessing your page, you have to delete or hide their messages manually every time. Well, now NapoleonCat can do it for you. Just tag the user once in your Inbox and the next time this same person posts something to your page, it will be automatically handled – deleted, hidden, forwarded to your email or even responded to with your predefined reply.
You can define and edit your user labels in "Project settings" > "Labels".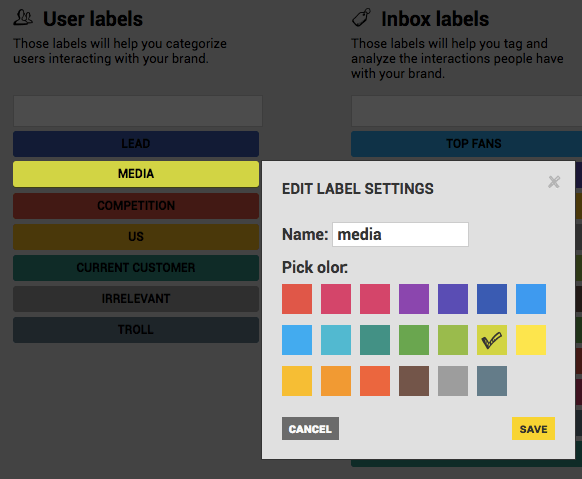 By the same token, you can give extra care to your VIPs, such as top customers, journalists or influencers contacting you via Facebook. Their messages can be automatically forwarded to dedicated team members right after they appear on your page. And remember that automatic rules apply also to private messages sent to your Facebook page via Messenger. Now you can elevate your social CRM to a whole new level without breaking a sweat 😉
If you want to check how this feature works, start your free trial now 🙂