2021 has been an interesting year for social media. As we approach the tail end of the coronavirus pandemic, businesses have become increasingly reliant on social media to connect with their audiences and grow their business.
The pandemic has forced brands to react and adapt to the changes brought about by the pandemic, giving rise to new business models and products and changing drastically how we use social media.
And if the trends, moments, and events that shook social media in 2021 are any indication, we can only expect more changes to come.
If you want to generate a ton of ROI from your social media marketing campaigns in 2022, you better be prepared. So here are the top 5 social media trends and updates to keep tabs on to help you know the lay of the land.
As a bonus, we've included the top 5 social media moments of 2021 to give you an idea of what tickles the fancy of social media-obsessed audiences.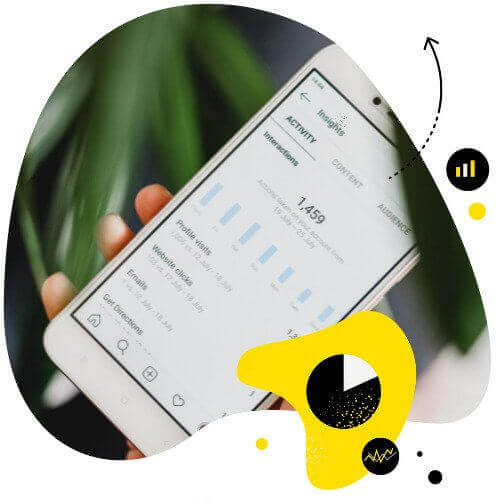 In-depth Social Media Analytics
Find out what to post and when to maximize your organic reach. Analyze your competitors on social media and improve your own strategy. Try NapoleonCat for free:
Try NapoleonCat free for 14 days. No credit card required.
TikTok's domination
TikTok is straight-up dominating right now, proving once again that the short-video format will continue to be a go-to strategy for brands in 2022 and beyond.
The numbers show it. In fact, TikTok recently surpassed one billion monthly active users worldwide. Better yet, a new report predicts the platform will exceed 1.5 billion users in 2022.
TikTok has been a cultural force thanks to a robust and engaged creator community posting video content about almost everything under the sun. Dance, food, politics, sports, comedy – you name it, TikTok's got it.
The platform was such a success it made other social media giants nervous. Instagram introduced Reels to try to knock TikTok off its perch. YouTube has recently joined the fray too with "Shorts."
Moreover, TikTok's massive reach and deep user engagement put the platform in a good position to attract significant advertising dollars in 2022. With TikTok's in-app shopping feature already out, along with their partnership with Shopify, the platform will become a more viable sales channel for brands.
The rise of AI-driven personalization
The pandemic opened new opportunities for personalization, all thanks to AI and machine learning.
Amid lockdown restrictions, coupled with challenges posed by an overcrowded and evolving digital marketplace, businesses are forced to find better ways to "listen" to their customers. Thanks to AI, machine learning, and graph technology, brands can uncover key customer insights that enable them to deliver experiences tailored to their preferences and behaviors, at the right place and at the right time.
And why not, considering that 80% of customers are more likely to buy from brands that deliver tailored experiences.
There's been widespread application of AI-driven personalization across social media over the last several years. Like everybody else, you've been served retargeting ads on Facebook and Instagram offering products and services that are related or similar to a blog post or website you've visited previously.
LinkedIn used AI to navigate the Great Reshuffle caused by the pandemic, helping both hirers and job seekers find the right fit easier when using the professional networking site.
Social listening tools, another AI-driven technology, also saw widespread use in 2021. In an era where changing preferences, expectations, and habits are the norm, social listening tools proved instrumental in gathering key customer insights that brands need to create customer experiences that help position brands as the best solution to their customers' pain points.
Increased adoption of AR/VR
VR and AR have seen a rise in adoption this year. And you can bet your bottom dollar that the growing hype around the metaverse had something to do with it.
Augmented and virtual reality is nothing new. But we've gone a long way from bunny ears and cat whiskers on selfies via IG and Snapchat filters. Thanks to programs like Spark AR studio, content creators are now empowered to create their own AR content. These days, creating your own Instagram filters is not that hard.
There's no question the pandemic contributed to the fast evolution of AR. Forced to close up shop during the height of the pandemic (at least physically), retailers invested in AR/VR to close the gap between traditional stores and online shopping.
Companies like American Apparel and Kohls implemented their own virtual fitting rooms. Even Ikea is using augmented reality to let customers preview the retailer's products in their own homes via their smartphones. On a related note, Samsung's implementation of AR technology in their device has allowed users to have virtual hands-on shopping experiences.
The Rise of Social Media Communities
If there's anything we've learned about social media over the last several years, it's that community building is the most effective and impactful way to turn your prospects from strangers into brand advocates.
After all, nothing makes you love a brand more than to share that love with a group of like-minded people.
Smart brands know this, and as a result, have leveraged social media to spark community-building initiatives.
In fact, the top five online community membership groups in 2021 are customers, developers, influencers, volunteers, and employees. And almost half of all participants of online communities are consumers of brands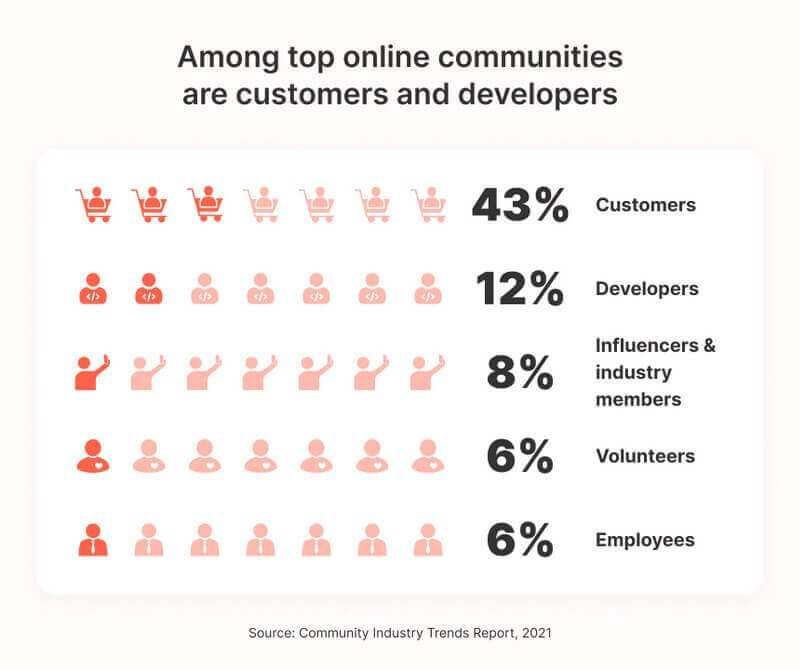 Social media communities are going to get bigger. Facebook, in particular, is looking to add new tools for managing Facebook groups, including new personalization features to help admins better develop the group's culture.
Hashtags also continue to be a great tool for building conversations and communities, at least if Lego's #RebuildtheWorld, Peloton's #TogetherWeGofar, and Uber's #BeyondFiveStars are any indication.
In fact, a recent study shows that using more hashtags gives brands better results in terms of reach.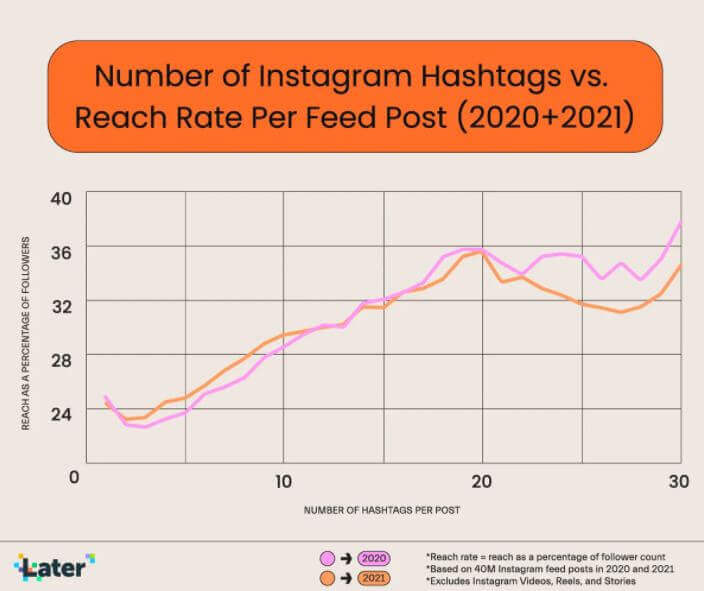 More and more Twitter users are using community hashtags to connect, engage, and have meaningful interactions within and outside their spaces. If you want to stay updated with, say, the #writingcommunity on Twitter, all you have to do is follow the hashtag.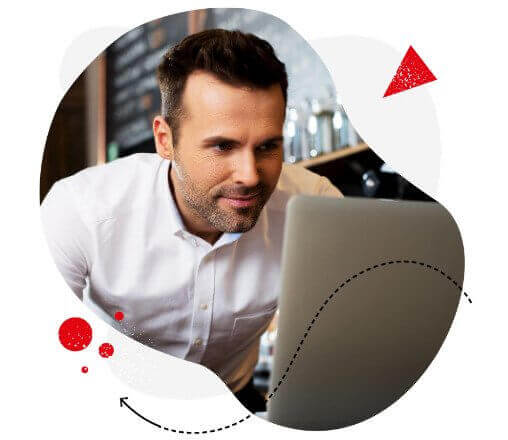 Analyze your competitors' hashtags
Track which hashtags your competitors are using, and which of them perform best. Get inspired and improve your own Instagram marketing strategy. Try NapoleonCat for free:
Try NapoleonCat free for 14 days. No credit card required.
Influencer Marketing bounces back strong
You've probably heard it at least a thousand times: "Influencer marketing is dying."
People who said such gibberish are now eating their words.
Influencer marketing isn't dying. And not anytime soon. In fact, I've never seen so much budget put into the marketing strategy as I'm seeing now. In fact, a recent report predicted influencer marketing will be a $15 billion industry by 2022.
Influencer marketing's growth can be chalked up to generous initiatives by social media platforms to level the playing field for creators. To encourage creators to keep producing content on their respective platforms, Pinterest, Facebook, YouTube, and Snapchat, and many others, established creator funds to get them paid.
On top of paying creators more, social platforms made it easier for creators and brands to collaborate with each other via programs like TikTok's Creator Marketplace, Instagram's Branded Content Partnerships, Facebook's Brand Collabs Manager, YouTube BrandConnect, and Twitter ArtHouse.
2021 also saw the rise of the micro-influencer. These influencers may not have a massive following, but they know their audience more intimately and have higher engagement rates to show for it.
Compared to macro-influencers, micro-influencers have a smaller, yet targeted audience, making them a smart investment for brands who want to tap into a niche community or audience. The best part? Paying a micro-influencer won't cost you a limb (though you have to pay them fairly, of course).
2021 is proof there's nothing "micro" about micro-influencers. By working with the right mix of micro-influencers, your brand can generate big returns on investment.
Social Media Moment #1: Bernie Sanders' Mittens Go Viral
US Senator Bernie Sanders stole the show during President Joe Biden's inauguration ceremony early this year. And he did it by doing nothing but huddling up in a chair with his arms crossed while wearing oversized argyle-patterned mittens.
What's the big deal? You had to see it to understand.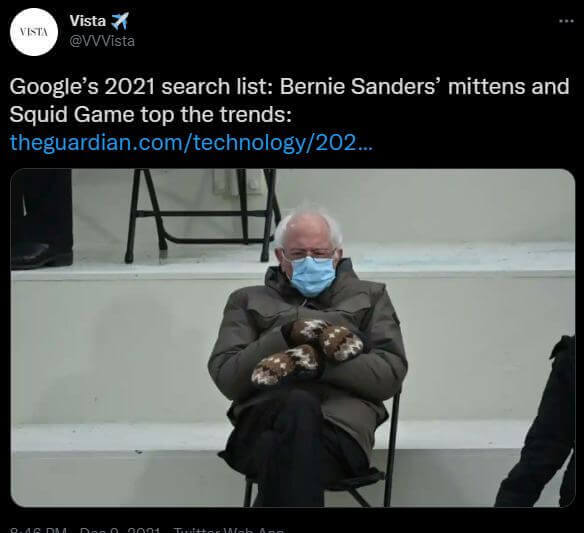 It's Bernie Sanders being Bernie Sanders. And we love him for it.
It's the viral photo that launched a thousand memes. For a few days, it felt like everything you saw on social media was Bernie Sanders memes. Not that I'm complaining. This is why we love social media, right?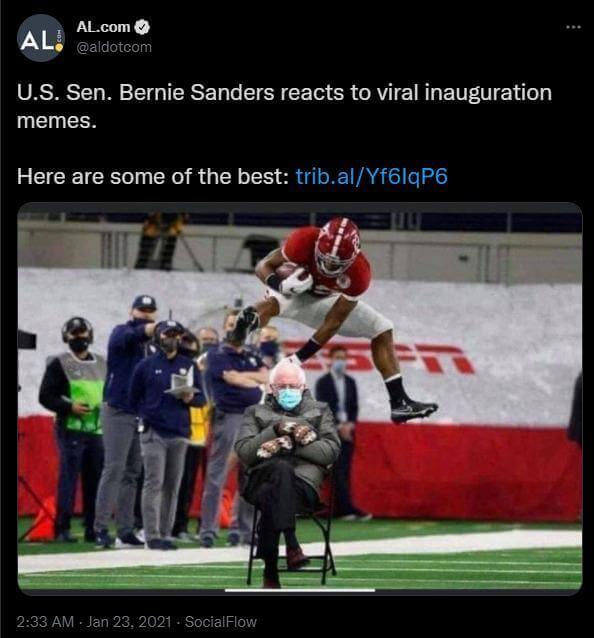 Social Media Moment #2: Drone-filmed video of a man dancing to "Stay" becomes TikTok's top video of the year
According to Tiktok's year-end report, the platform's top video of 2021 is a drone-filmed video of David Allen (whose TikTok handle is @totouchanemu) dancing to "Stay" by Kid Laroi and Justin Bieber.
The viral TikTok video received 43.9 million likes and over 313 million views since Allen uploaded it on July 28. The short-video content came out on top both in the US and globally.
And why not? If a TikTok video had to encapsulate why people love the short-video platform, this has to be it. It grabs your attention quickly and doesn't let go. And it doesn't hurt that the video feeds off trends (Kid Laroi, Justin Bieber, and drones).
Social Media Moment #3: Meghan and Harry's Oprah Interview creates huge social media buzz
The tension between Meghan Markle and the Royal Family has been brewing since she and Prince Harry got married in May 2018. So it's not in the least surprising that Oprah's interview with Harry and Meghan blew up on social media the way it did.
The tell-all interview had the royal (or not?) couple spilling the tea to Oprah about why they left the royal family. It touched on Meghan's struggles living as a royal, concerns about a family member making a fuss over their baby's skin tone, and her struggles with suicidal thoughts. It was also where Harry and Meghan broke the news that their second child will be a girl.
In other words, the explosive interview provided a lot of fuel to generate chatter around social media. And social media peeps didn't disappoint.
Social Media Moment #4: Joe Biden tweets the most liked tweet of 2021
"It's a new day in America."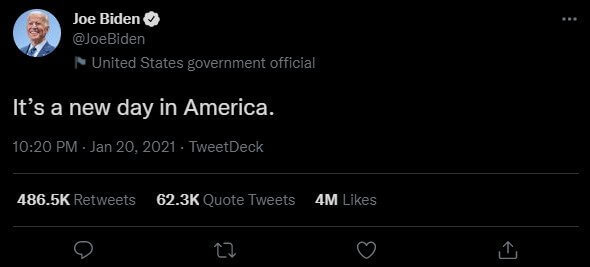 President Joe Biden tweeted those words on the day of his Presidential inauguration. And it became the most-liked tweet of 2021.
Given how those six, simple words represent the hopes of an entire nation, it's easy to see why the tweet resonated so much in the Twittersphere.
As of this writing, the US president's tweet has amassed more than 4 million likes and 486.5 retweets. And in case you're interested, Biden's tweet edged out Jungkook's tweet (which received 3.2 million likes) – much to the dismay of BTS fans.
Leveraging 2021 Social Media Trends to Generate More ROI
If the above social media trends, moments, and events prove anything, it's that brands have much to gain by leveraging social media in their marketing strategy and campaigns.
Social media platforms are where conversations happen, making them a fertile ground for brand building and nurturing meaningful relationships.
But social media is more crowded than ever, and with so many brands competing for people's (and your audience's) attention, you need to communicate your brand message in a way that grabs attention, resonates, and sparks engagement.
Having a sound social media marketing campaign helps tremendously in that regard, but only to a certain point. If you want to take control of your campaign amidst all the chaos that is social media, you need to use the best of what technology has to offer
NapoleonCat, for example, helps you:
Stick to a consistent publishing schedule.
Track the progress of your Facebook marketing campaigns
Easily manage comments and messages from different accounts across different social media platforms.
Scheduling your social media content
If you want to stick to a consistent publishing schedule, having a schedule is a great start. But how do you keep up with your publishing requirements when you have to manage multiple social media accounts across different platforms?
Solution: Schedule social media posts for automatic publication across social platforms from just one place.
NapoleonCat's Publisher tool lets you do this, by the way.
NapoleonCat's Publisher also has a calendar view to give you a bird's eye view of your social media strategy for the entire week or month so that it's easier to plan ahead.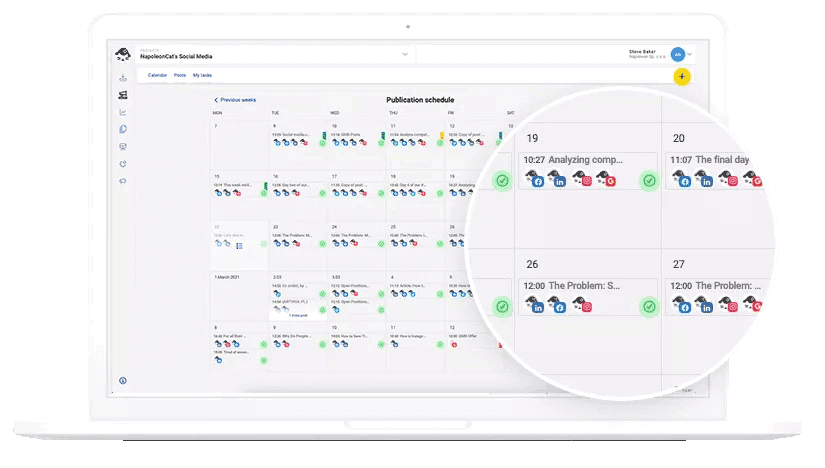 Track and improve your campaign using Analytics
Social media is like a large town hall where everybody gets a chance to speak. How can you tell what's going on, particularly with your campaign?
One word: data.
But to make sense of all those numbers, you need a powerful social media analytics tool to unlock real-time insights from them and reveal whether you're on the right track or not.
Again, this is something NapoleonCat does very well. Using the performance analytics tool, you can measure and analyze the progress of your social media campaigns using simple and intuitive dashboards.
The tool also helps you tell at a glance which posts perform best and what needs to be improved, allowing you to know the best days and times to post, not to mention make it easy to monitor key metrics, and save time by automated reports.
Easier content moderation
If you want to win your prospects or customers over, engage and support them every step of the way. Granted, trying to stay on top of comments and messages can be difficult when they're coming in droves.
Thankfully, NapoleonCat's Social Inbox has a social media automation feature to help you manage the chaos, cutting down response time by 66%.
The tool does this in 3 ways:
Lets you manage all comments and messages from different accounts in one dashboard (no more switching between different social networks and accounts)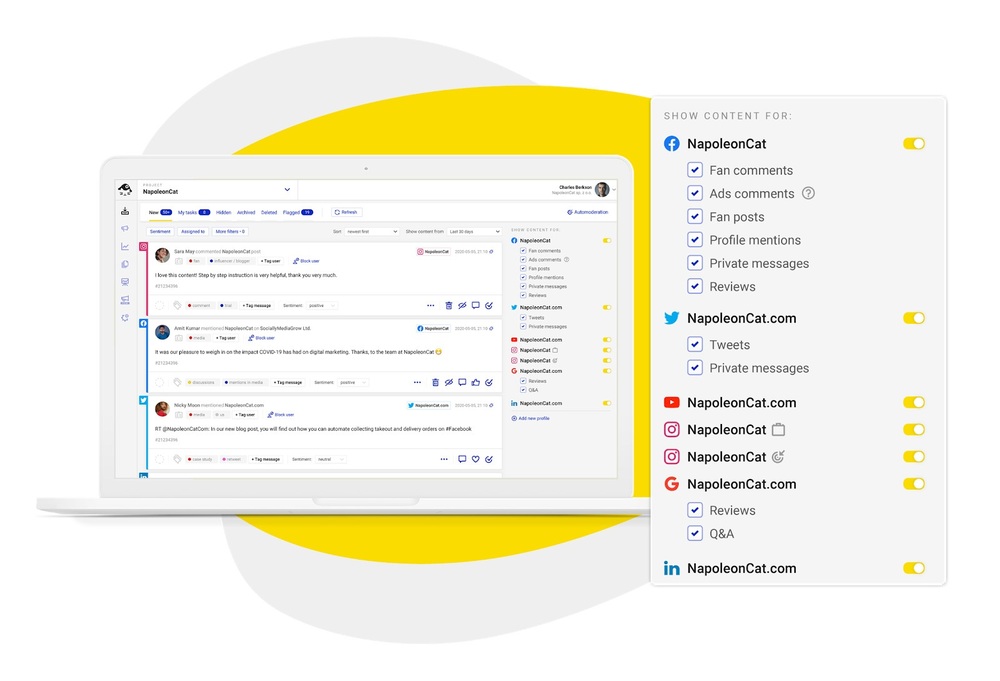 Automatically translate and respond to comments in different languages.
Set up automatic replies to common Facebook, IG, and Messenger comments.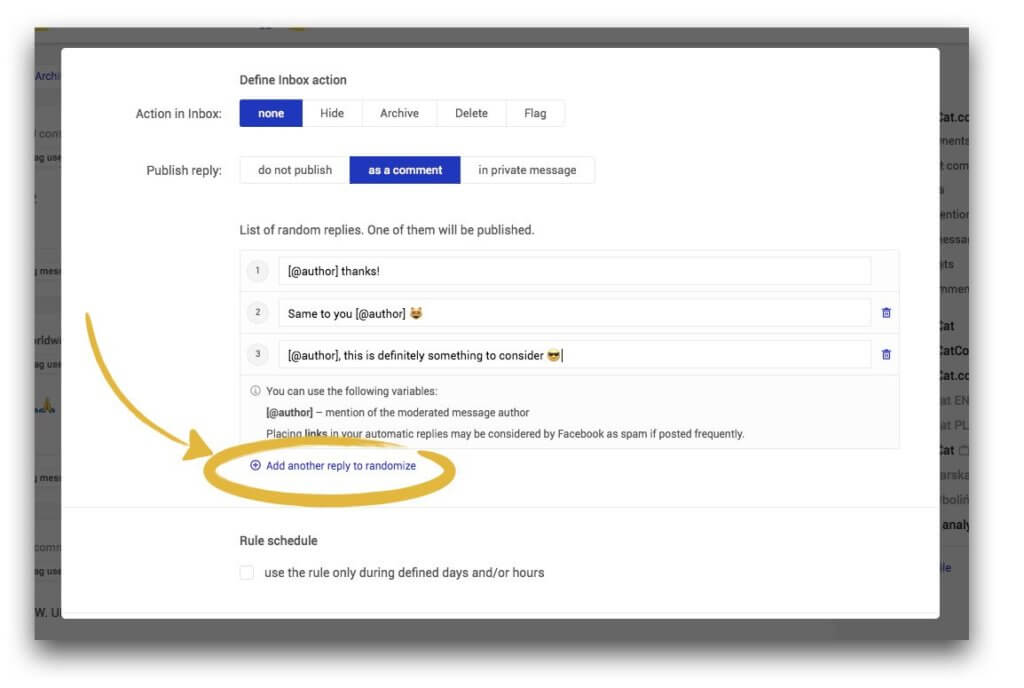 Automatically remove inappropriate comments on Facebook and IG.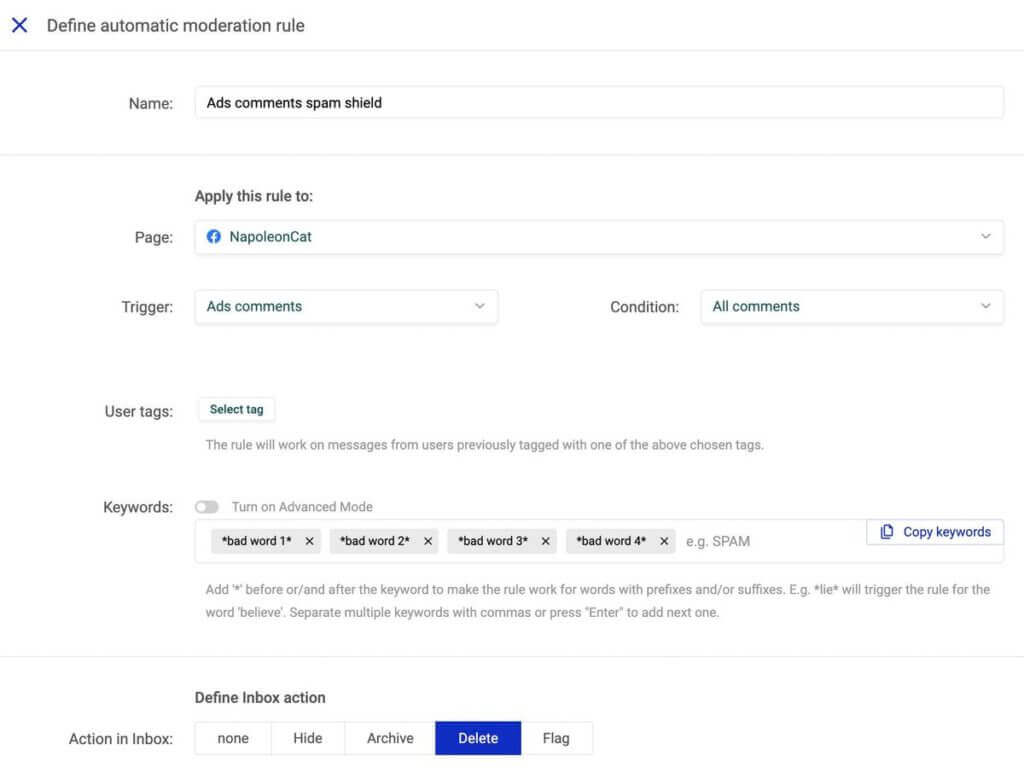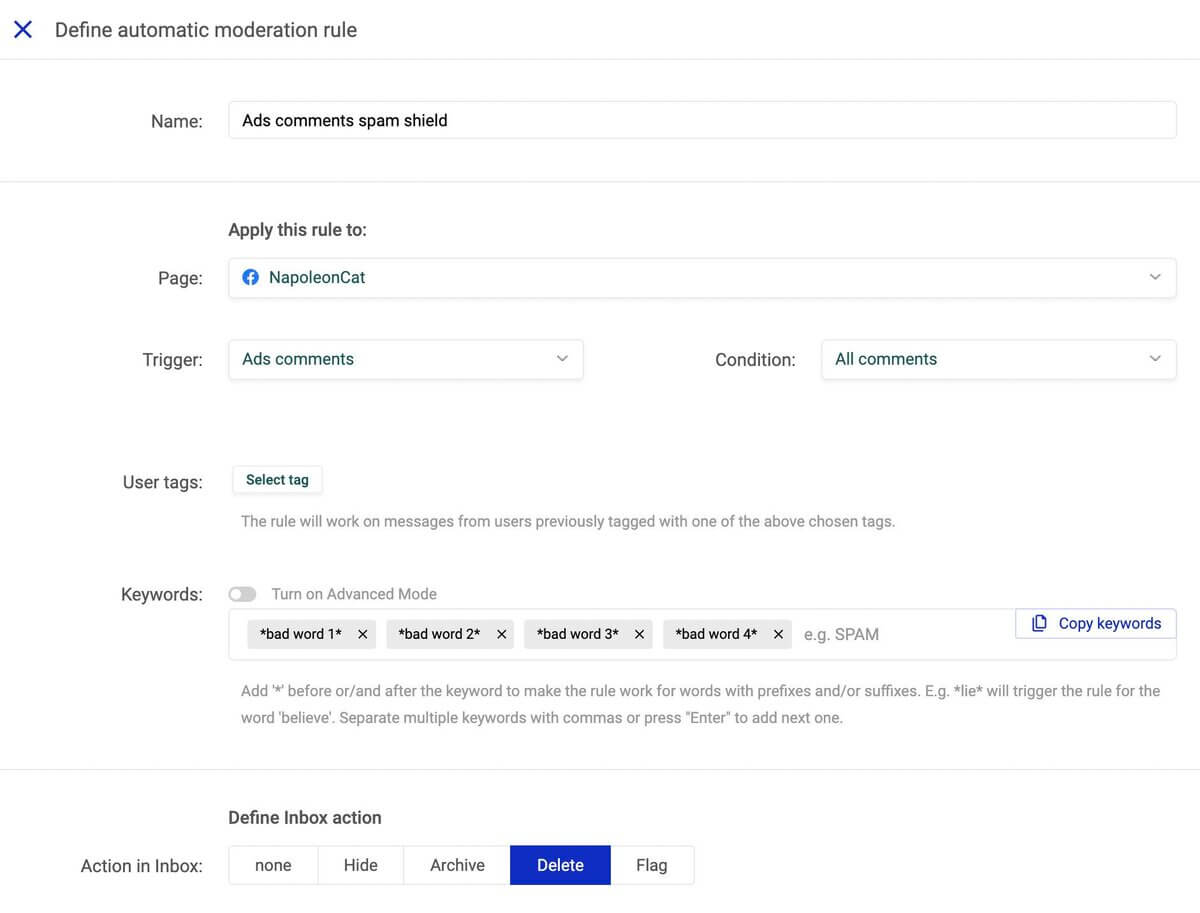 With NapoleonCat's auto-moderation feature, you and your team can sleep better at night knowing your brand is still engaging with your audience in ways that are meaningful and on-brand.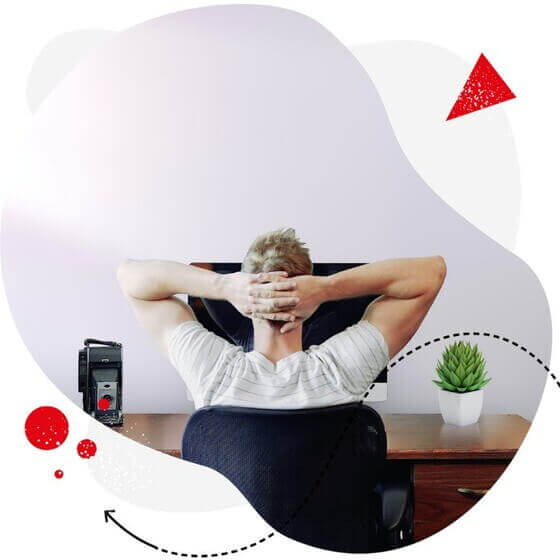 Manage all your social accounts from one place
Manage all your DMs and comments from multiple accounts in one place. Bulk-schedule posts and get detailed analytics and reports. Try it for free:
Try NapoleonCat free for 14 days. No credit card required.
Wrap up
It's been a heck of a year. It's been a challenging year in many respects, but you can't discount the fact that we've seen many good innovations, updates, and changes.
Reading this blog post gives you a nice refresher on what went down around social media in 2021. Armed with that knowledge, you have a great opportunity to create new moments your customers will remember in the next year and beyond.