Social Inbox
Social media are the new call-centers. Your current and potential customers want to talk with you and have their questions asked instantly. Our Social Inbox helps you moderate your Facebook, Instagram and Twitter channels effectively and keep your customers happy. It's like live chat for social media.

Facebook, Instagram & Twitter
You can attach unlimited number of Facebook pages, Instagram and Twitter profiles to a single Social Inbox and moderate all incoming messages in real time. Reply, like, delete or hide and even reply with a private message on Facebook.

Automate
Automatic moderation rules help you deal with incoming messages more effectively. Set NapoleonCat to automatically reply, hide, delete, flag or forward messages based on their type and content. You can even set the schedule for NapoleonCat to cover for you.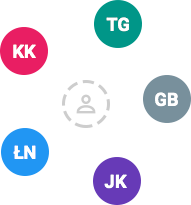 It's built for teams
It's easy for multiple moderators to work on the same pages and profiles. Messages are automatically assigned to those who clicked them first so others know someone else is on it.

Consult your answer
You don't have to know answers to all the questions. It's easy to consult a message with anyone in your team or a client via e-mail. And when they reply, you'll get their answer straight into the inbox so you don't have to switch between apps to make a fan happy.

Make notes
You can leave internal notes to any incoming message for other moderators to see or just for your future reference. Together with flagging, it makes a powerful combo for professional community moderators.

Track activity
With message history you can easily see who tagged it, who replied and even which automatic moderation rule was applied. No more confusion over a loose conversation thread!

Tag users and messages
Each message can be tagged with your predefined labels and sentiment for further analysis. And each person you interact with can be labeled accordingly. Next time they contact you again, you instantly know if it's your current customer or a social media troll.