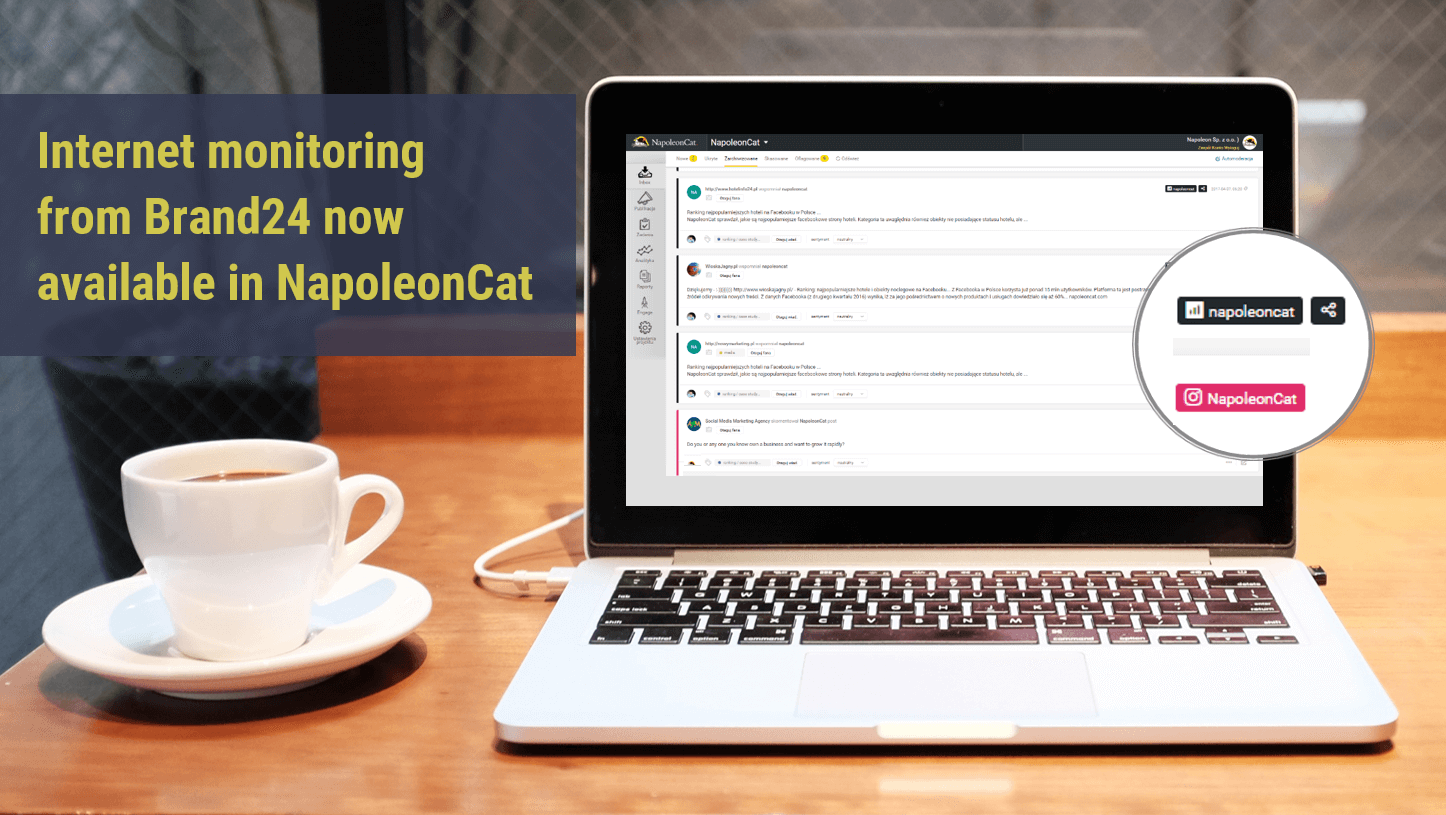 Social listening is an important part of digital marketing efforts for businesses of all sizes. So far NapoleonCat allowed marketers to manage owned social media channels. Today we're happy to announce the introduction of social listening thanks to our integration with Brand24 – one of leading providers of such services. This means that our users gain access to in-depth Internet monitoring and social media management from a single dashboard.

As from now, NapoleonCat users, who also use Brand24, are able to see all mentions about their brand regardless of whether they've appeared on social platforms, forums, blogs or industry web pages. This solution allows for even quicker reactions to any comment on your business. If your brand is discussed on any industry forum, you will be able to react immediately and move the discussion to your social platforms. Detailed Internet monitoring lets you catch the frequently asked questions regarding your business and thanks to the integration you will be able to answer them on Facebook, Twitter or Google+. It helps to strengthen your business image and optimize your social media strategy, as well as prevent any possible crises. This solution improve marketing teams' work by increasing the effectiveness of their online activity.
How to set up integration with Brand24?
1.Log in to your NapoleonCat account (if you don't have it yet, you can start your free trial now)
2.Go to "Project settings" tab and choose "PROFILES" from the top navigation
3.To you managed profiles add Brand24, using ADD PROFILE button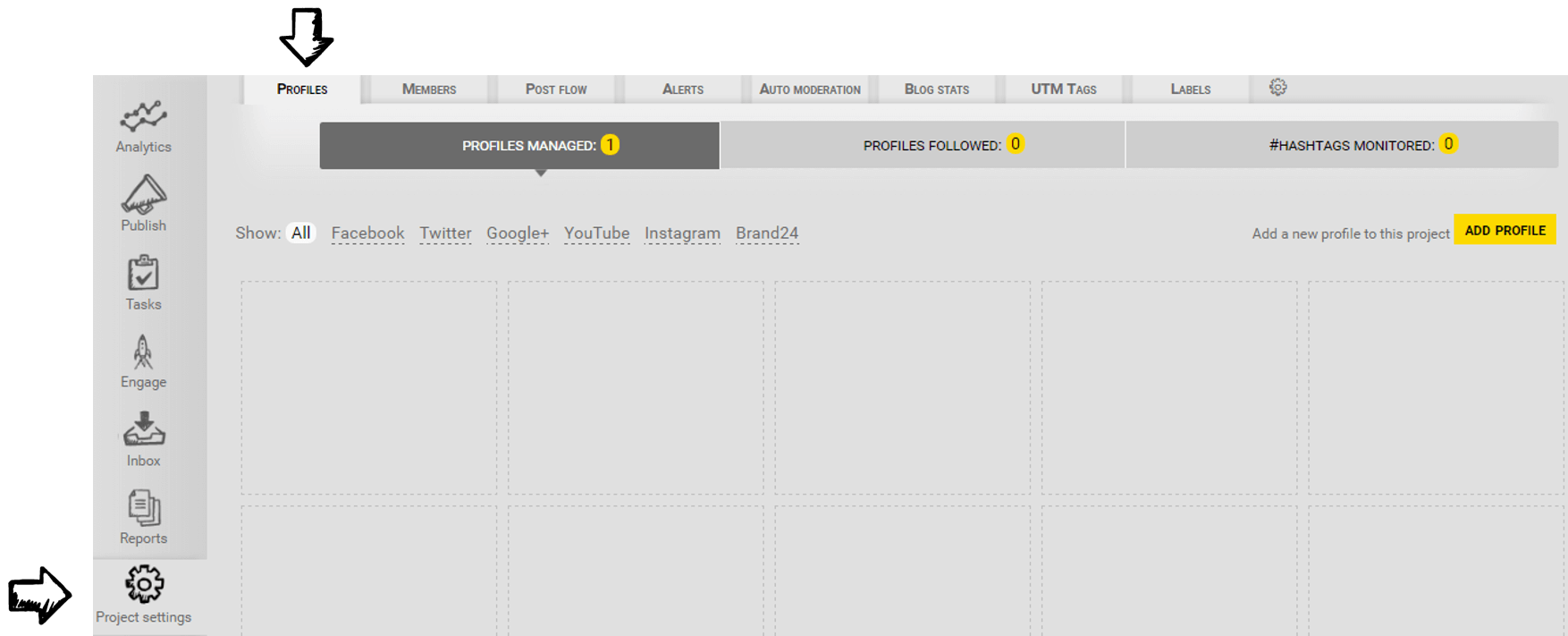 4.In new-opened window, choose Brand24 profile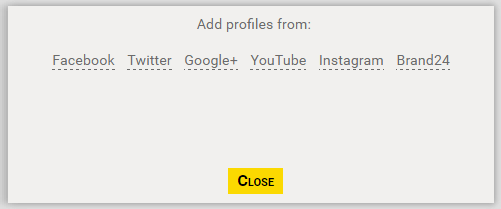 5.Fill you API ID and API KEY and API KEY (if you don't have one, contact your Brand24 consultant)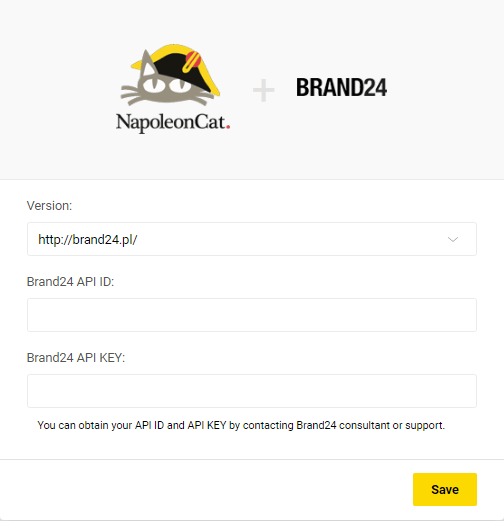 6.You will then see the list of your Brand24 projects. Choose the ones you want to see in NapoleonCat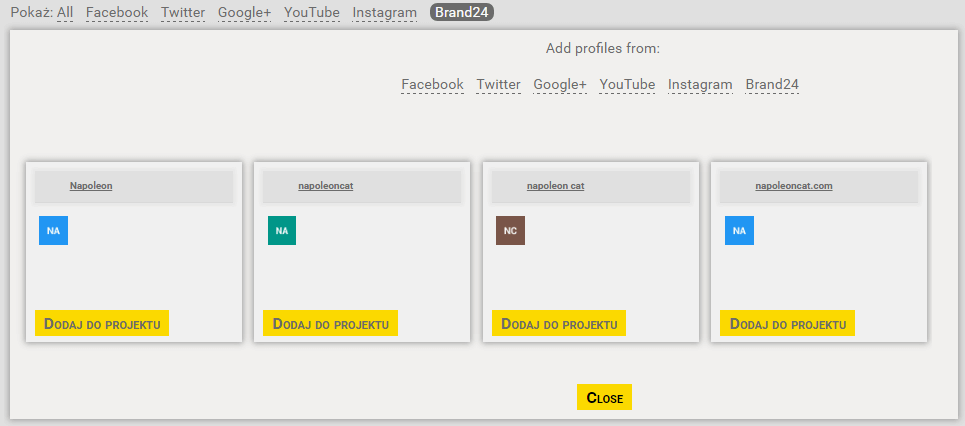 7.Go to NapoleonCat inbox and activate Brand24 mentions, using a slider next to the project name. Click "Apply filters" button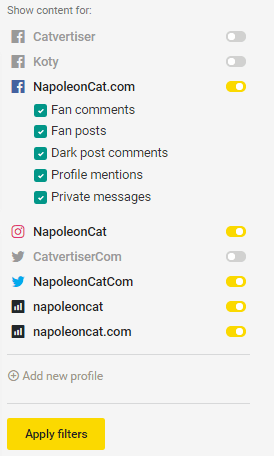 8.From now on you will see all mentions from Brand24 in NapoleonCat inbox. They will be marked with Brand24 icon. If you want to see the original source of this mention you need to click one of the icons pointed at the screen below.

Of course, as with all other Inbox items, you can tag social mentions with content tags and sentiment for further analytics. You can also flag the mentions you want to save for later reference or for your team mates. Internal notes will allow you to discuss important mentions with your team and "Send to consult" feature – ask for help via email anyone in your own or a cooperating organization.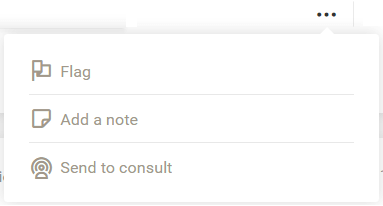 We're also providing topline analytics for your Brand24 projects in "Analytics" module.
You can can check number of mentions daily, number of interactions devided by tags and sentiment predefined by you.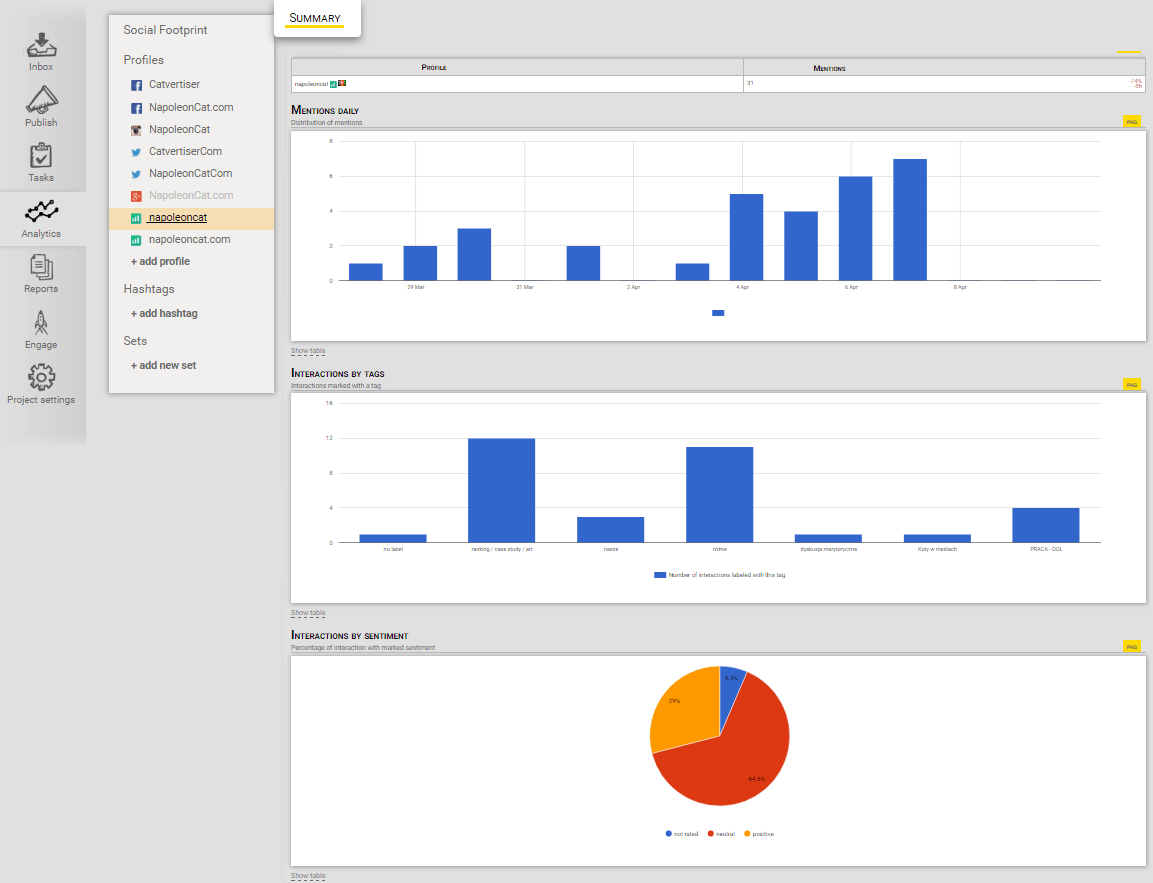 Providing social listening and Internet monitoring in NapoleonCat allows you to manage your own social media channels, but also discussions that take place outside of them. This way, by tracking all mentions about your brand in the Internet, NapoleonCat users are able to manage their brand image across the web and optimize their social media strategy from single dashboard.