A picture's worth a thousand words. You know it, we know it, Facebook knows it too. That's why they've introduced smileys along a host of other graphic icons in posts and comments some time ago. As per popular demand of many Facebook page moderators using NapoleonCat, we decided to make it simpler to put a happy face (or a devilish grim if you like) into the posts and comments published via our app.
As of last week you can find a small smiley icon in the publisher, which pops out into a menu of the most popular icons you can publish on Facebook. Just click the one you prefer and it will be placed in the post you're creating.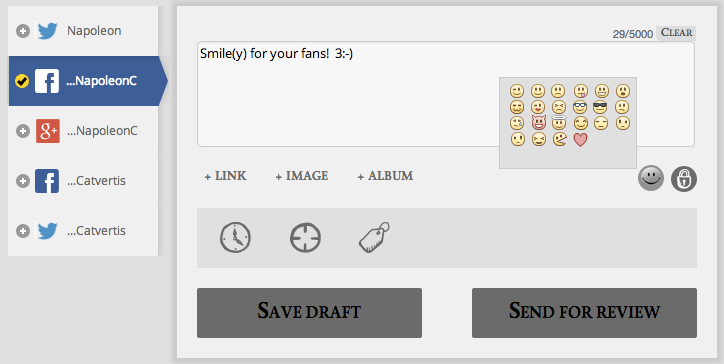 And guess what – you'll see it right away in the preview of the post you're creating. So, you don't have to wonder if it will look good in your fans' news feeds.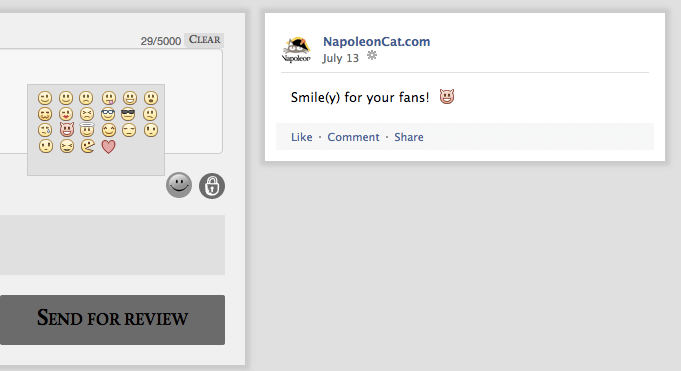 As you know, NapoleonCat allows you to post simultaneously to Facebook, Twitter and Google+. Only Facebook shows graphic interpretations of smileys, though. So, if you publish the post that includes a smiley to Twitter and Google+ as well, you'll notice that your followers will see the « classic » version 🙂 But we'll show it to you in tweet previews so that you can decide if you want to leave it be or modify using our « magic padlock » feature.
Tweet preview

Google+ post preview

You can also put smileys in comments to your and your fans' post, comments to the comments and even in private messages you exchange with your fans!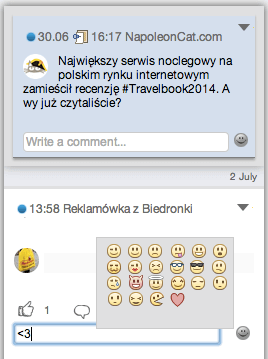 Go ahead and test it with your fans. And if you still haven't got a NapoleonCat account, you can always test it for free. Just choose the plan that best suits your needs and give it a free test drive for 14 days.