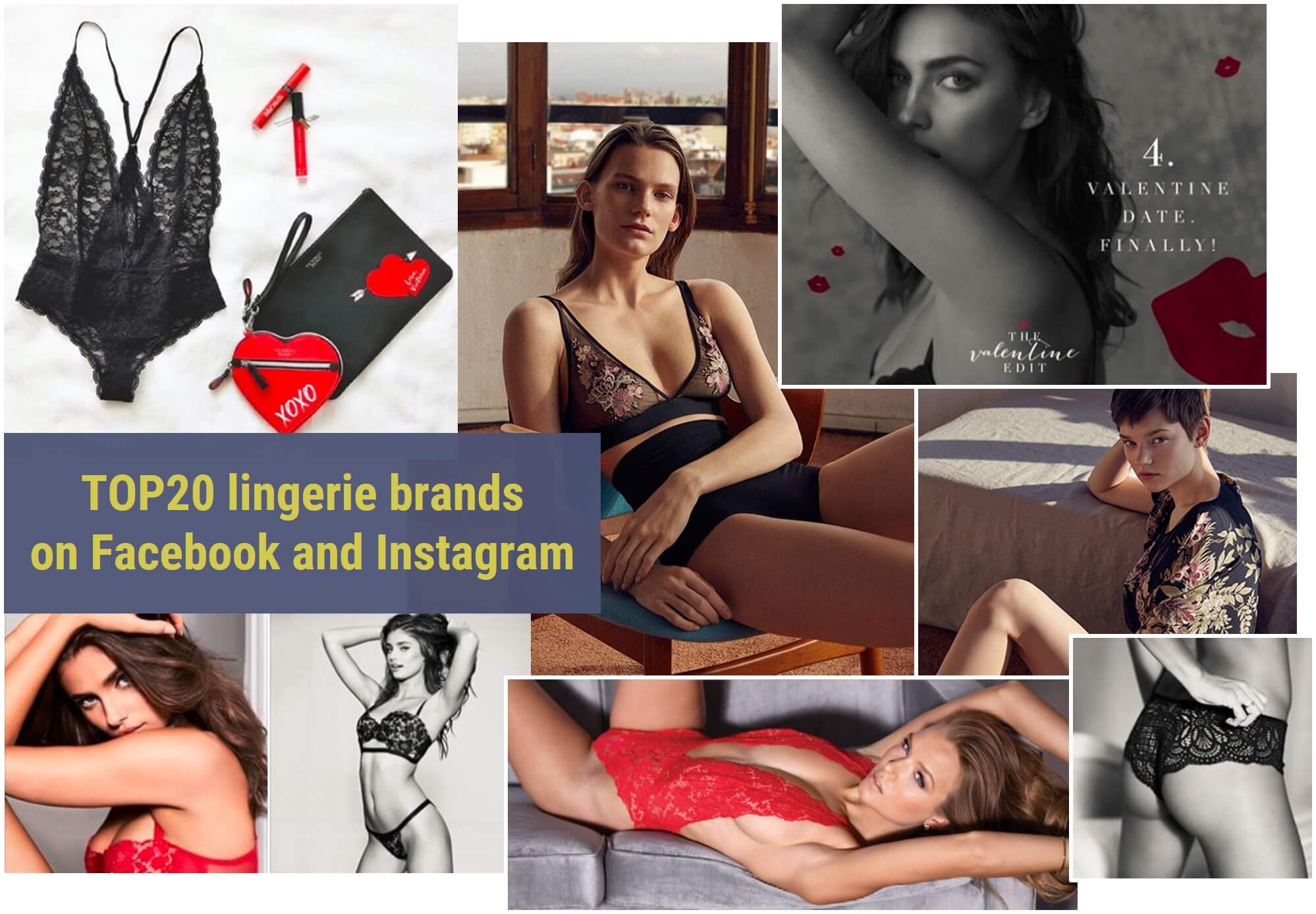 Valentine's Day is a full of love and really special day in the whole year. Regardless of whether we like it or not, this day can't be just ignored or unnoticed. Especially that a lot of brands refer to Valentine's Day in their communication strategies. One of the market sector, that uses this day in their marketing activities is an underwear industry. We decided to find out what are the most followed lingerie brands on Facebook and Instagram. Let's check it!
Lingerie brand on Facebook
#1
Victoria's Secret
The most liked lingerie brand on Facebook is Victoria's Secret, with almost 28M Facebook fans and almost 51M Instagram followers. On Facebook Victoria's Secret refers to Valentine's Day since the second week of January. The brand designed special lingerie valentine's collection and promotes it using photo and video posts, dedicated photo albums etc.
#2
Intimissimi
Intimissimi is on the second place in our ranking, with over 2.5M Facebook fans. There are a lot of marketing activities reffering to Valentine's Day. Intimissimi offers special lingerie collection that is promoted in albums, posts as well as in the advertising campaign. For activities related to Valentine's Day, the brand uses the tag # #kissmevalentine. It's worth mentioning that Intimissimi also promotes male collection.
#3




Oysho
On the third place, there is Oysho brand – liked by over 2.4M Facebook users. Oysho doesn't use any special hashtag on Facebook nor doesn't refer to Valentines Day. The brand promotes more its new collection called LOVE TO WEAR.
Below you will find the TOP20 most liked lingerie brands on Facebook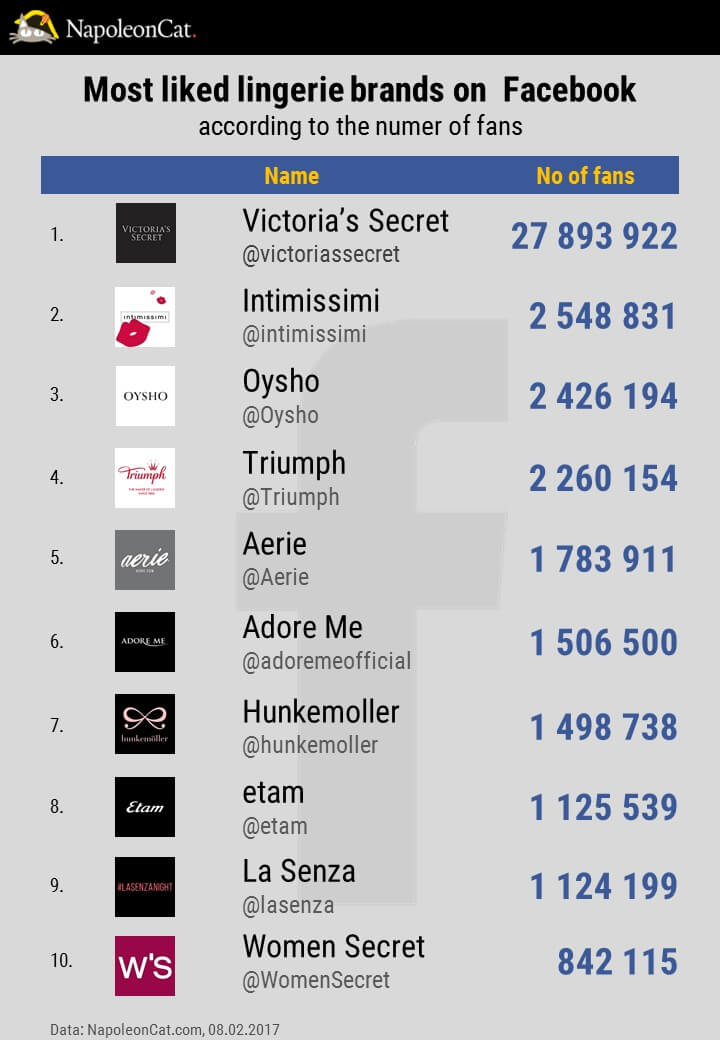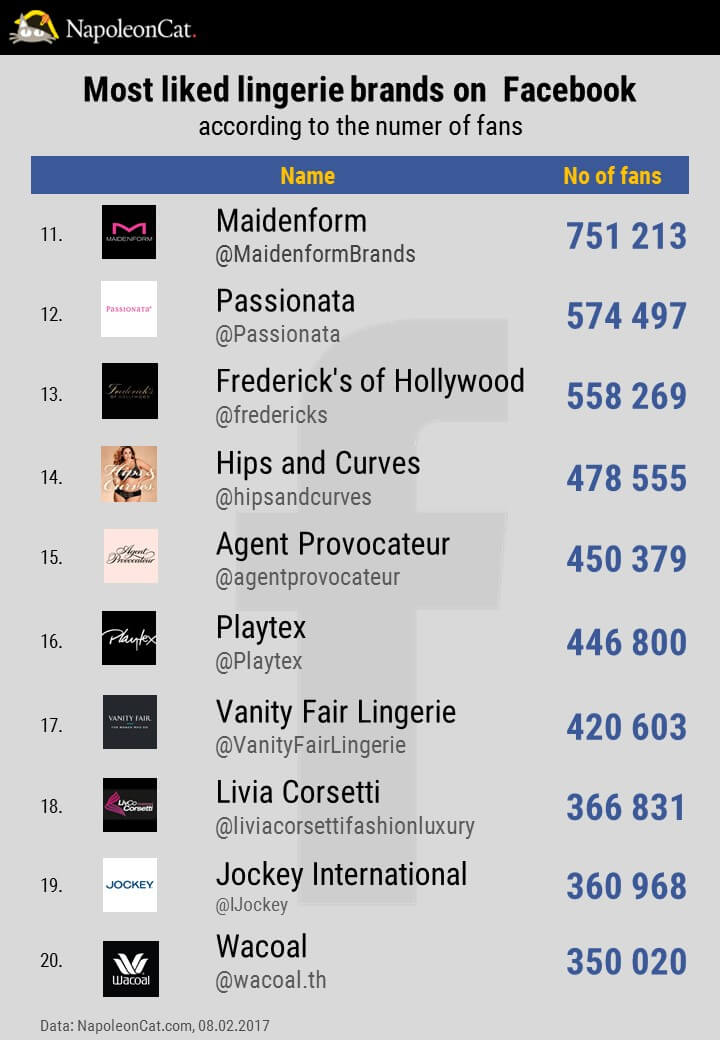 Most followed lingerie brands on Instagram
Victoria's Secret is also the most followed lingerie brand on Instagram. The second most popular brand in For love & lemons, and third – Oysho. In the TOP10 most followed lingerie brands on Instagram are also: Intimissimi, Aerie, Agent Provocateur, etam, La Perla, Women Secret and Hunkemoller.
#1




Victoria's Secret
On Victoria's Secret Instagram profile rule red color, pictures and videos promoting special valentines' collection, perfumes and graphics full of hearts. The brand also provided dedicated app and run many promotional activities offering discounts, extra gifts etc. In posts referring to Valentine's Day hashtag #XOXOVictoria is used.
#2




For love & lemons
On the second place on Instagram, there is For love & lemons brand. Its' Instagram profile looks completely different. There aren't too many pictures with red lingerie, nor symbolic heart shape elements. This kind of content was published rather at the beginning of February and those time For love & lemons' Instagram feed became really red 🙂 The brand uses hashtag #VDAY17, whenever refers to Valentine's Day.
#3
Oysho

Oysho is on the third position on Instagram, with over 970k followers. On its' Instagram profile, similar to the brand's Facebook page, you won't find pictures with red underwear. It looks, at the first glance, that Oysho doesn't refer to Valentine's Day but… in some posts you will find a subtle connection – even the new collection name LOVE TO WEAR is significant as well as posts with phrases like "love inspiration" or "in love with…". But there is much less that kind of activities comparing to other brands we analyzed.
Below you will find TOP20 most followed lingerie brands on Instagram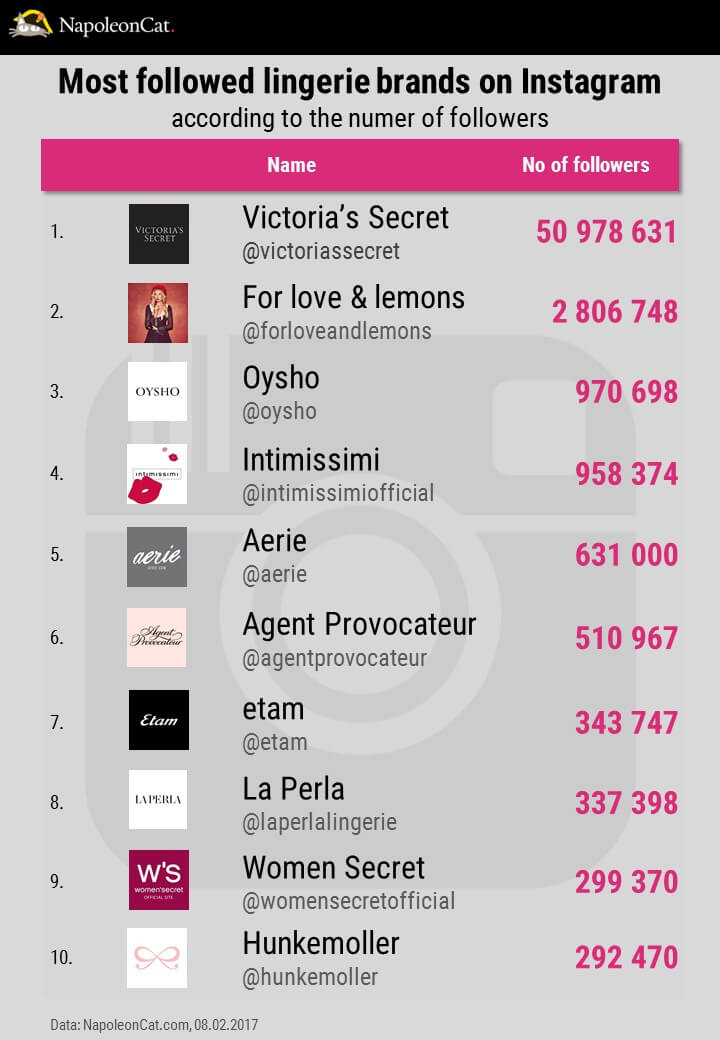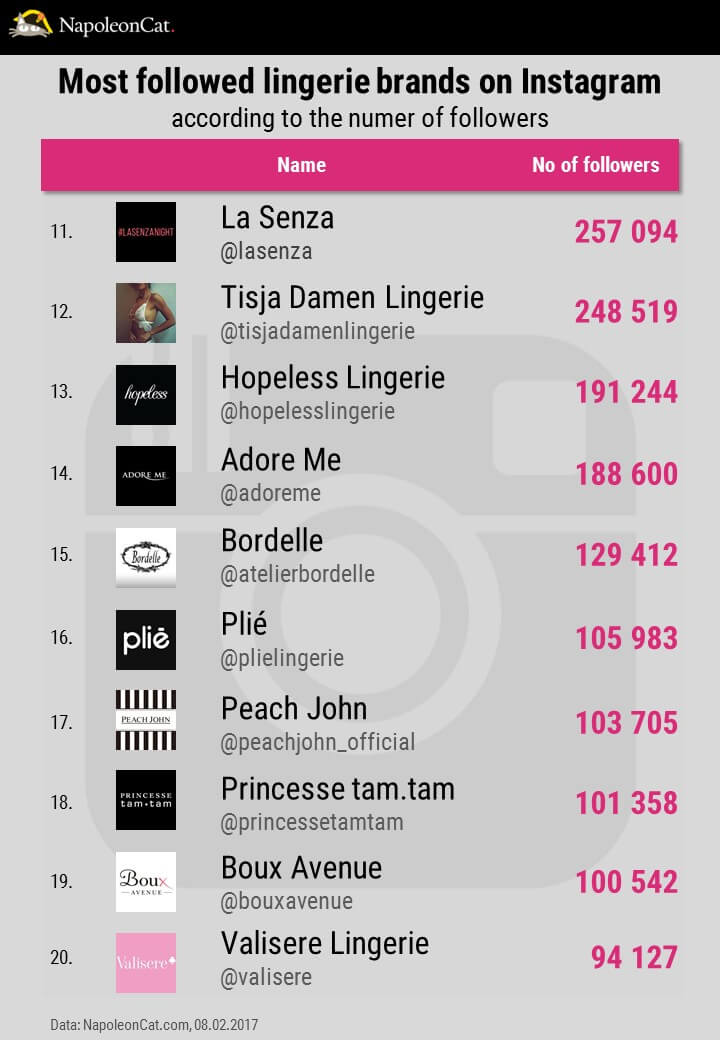 ---
Please visit our website for more stats and rankings for Facebook and Instagram profiles. If you can't find the profile you're interested in, just add it to our database or contact us on hello@napoleoncat.com . And if you want to analyze any public profile on Facebook, Instagram, Twitter, Google+, YouTube or Pinterest, start NapoleonCat free trial now.