One of the biggest challenges in social media communication is to create and publish compelling content that attracts users on a regular basis. Many companies involve in this process teams of over a dozen people or cooperate with external agencies to outsource social media services. This requires permanent and efficient communication between people engaged in the process of content approval. That's why we've introduced a new feature that makes it easier to work in a team and simplify the content design and decision making process between clients and co-workers.
What's changed?
Starting from today all NapoleonCat users will get e-mail notifications whenever the created post gets approved, declined or commented.
How does it work?
Content creator creates a new post in the "Publish" module. Decision-making person writes a comment to the post.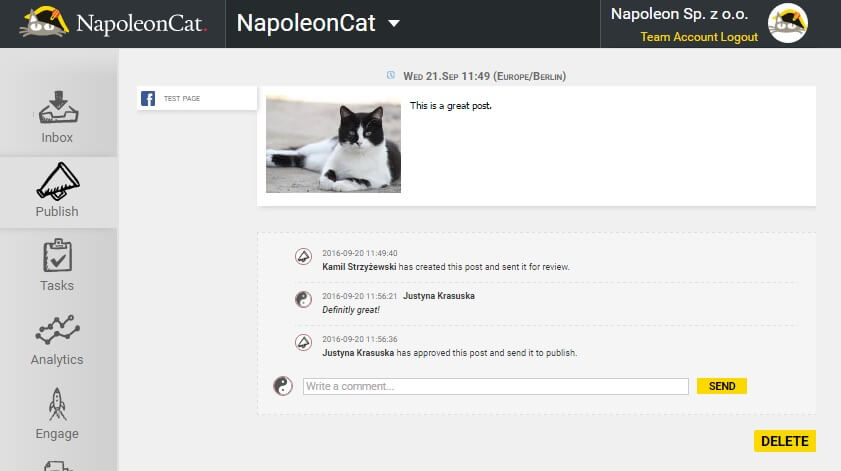 The creator receives an e-mail notification of the new internal comment in NapoleonCat. The e-mail message contains the comment itself as well as the link redirecting to NapoleonCat where he/she can update the post.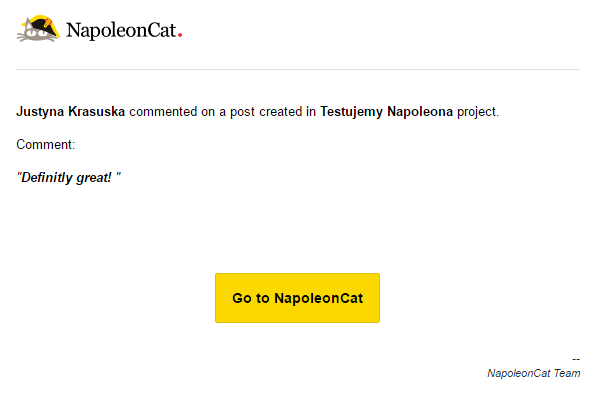 We believe that this new feature will simplify the communication process between the social media pages moderators and co-workers, save tons of time and enable even quicker reactions. The update is available since today to all NapoleonCat users.
If you want to share any feedback with us, just drop us an e-mail at hello@napoleoncat.com. And if you still don't use NapoleonCat, please start your free trial.