Social media reporting just got easier – with NapoleonCat's new interactive social media Dashboards, you can create and share data sets in a matter of minutes.
Reporting is a tricky element of social media management. It comes after all the creative work is done, and it's not exactly exciting. But it's crucial to understanding the performance of the strategies and tactics used and driving insights for future refinements – and as such, it simply has to be done.
Reports can take many forms. Performance data can be conveyed in spreadsheets, presentations, or screenshots from analytics tools. Most of these are not particularly fun or easy to compile – especially if you need to present data specific to a select cross-channel campaign – and can be a struggle to read.
That's why we're happy to introduce Dashboards – an interactive reporting solution for social media agencies and in-house social media teams. Continue reading to find out how it can help you improve your reporting processes.
What are Dashboards?
NapoleonCat's Dashboards are a visual data-set creator for social media teams and agencies. Using the tool, you can compile social media and blog stats into comprehensive, easily sharable reports that update in real time.
Dashboards were designed to help you streamline the process of working with clients and teams. You can use Dashboards as a smart alternative to big spreadsheets and PowerPoint presentations when reporting the results of your social media activities.
Dashboards can be used to report the results of specific campaigns, the progress of ongoing activations, or the success of entire social media channels. You can give clients or stakeholders viewing access to data by simply sharing a link to your Dashboard. Your information will always be safe – password protection can easily be added to every Dashboard you create.
Who can use Dashboards?
Anyone! Well, that's the short answer. And while it's true, there is a couple of settings in which Dashboards are particularly useful:
1. Social media agencies
Reporting to clients is an important element of any social media agency's services. Presenting vital data in the form of comprehensive, color-coded, and always up-to-date dashboards will make it easier for your clients to make sense of the results you're reporting. And the intuitive drag-and-drop Dashboard creator will help you quickly compile the exact sets of data your client needs – be it specific campaign results or the overall performance of entire social channels you manage for them.
2. In-house social media teams
If you're part of an in-house social media team, you most likely report to a Marketing Manager or Director, who then brings your results to the organization's Board. While businesses of different shapes and sizes might have different reporting structures, it's safe to say that the process of showcasing results to supervisors and stakeholders is universal.
Dashboards are a great tool to keep everyone in the loop on up-to-date results. If you create a data set for an open-ended timeframe, the results will automatically refresh every time the Dashboard is viewed. Dashboards present data in the form of easily readable graphs that will make your progress clear to everyone – including stakeholders who do not specialize in social media marketing.
Create and share data sets
Here's how to create your first Dashboard.
1. Add social media and Google Analytics profiles to your project
To add a managed profile, access Project Settings through the bar on the left side of the screen. Click '+Add managed profiles' and select a platform. Following the prompts, allow the necessary permissions. Once a profile you manage shows up on the list, click the '+Add profile to project' button to proceed.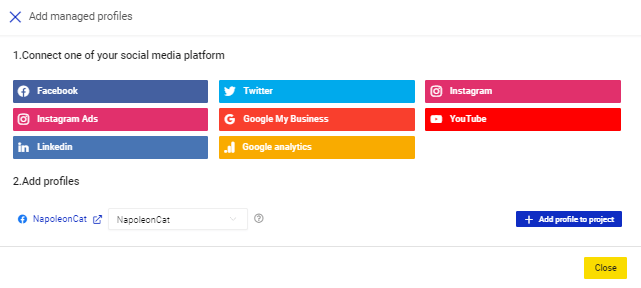 Repeat until all your social profiles are added to NapoleonCat – and that's it!
2. Access Dashboards
Access Dashboards through the menu on the left-hand side. Then, click 'Add new dashboard'.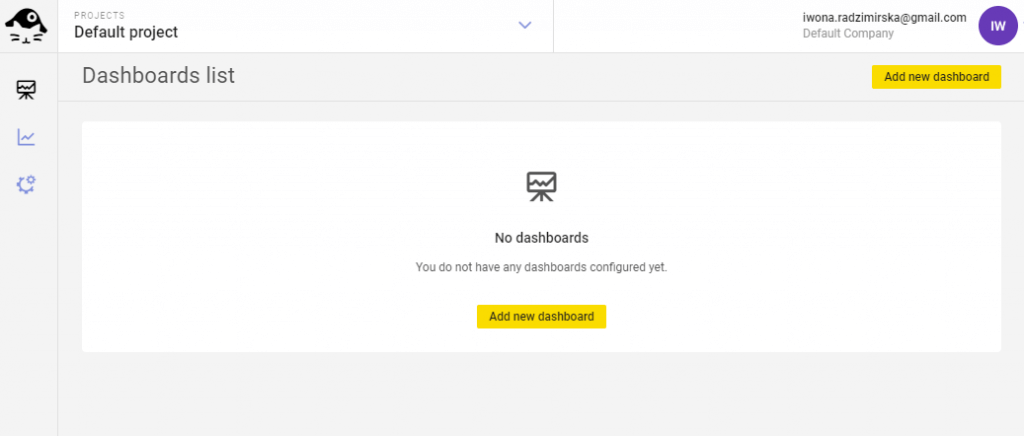 3. Create a Dashboard
You made it to the Dashboard creator! In the first step, name your Dashboard. If you're creating it for a specific client, you can include their brand or campaign details in the Dashboard's name.
Next, select the type of Dashboard you want to set up. There are two options to choose from:
My campaign – allows you to compile individual posts from multiple platforms into one data set (i.e. the performance of select Instagram posts and stories, Tweets, Facebook posts, YouTube videos, and blog posts that were posted as part of one campaign)
My profiles – allows you to present aggregated data from entire accounts (i.e. statistics and/or demographics of Instagram accounts, Facebook Pages, Twitter accounts, YouTube channels, and blogs)
Then, define the timeframe you want to showcase in the Dashboard. Tick the 'Ongoing campaign' box if you would like to keep the timeframe open-ended.
For restricted access, add a password to your Dashboard – otherwise, everyone with the link will be able to view your data.
Finally, add a logo (yours or a client's), and that's it! You have completed the initial setup.
On to the fun part. Once you save your Dashboard, an '+Add widget' button will appear under the setup form.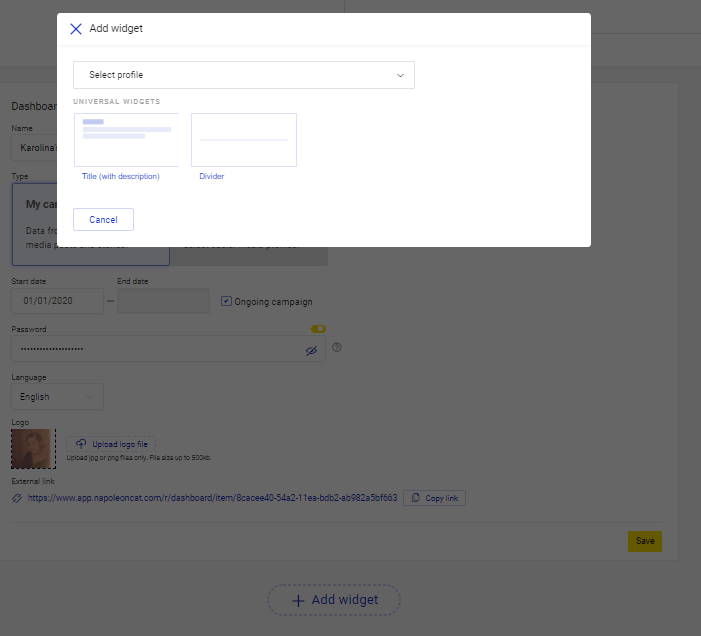 Widgets are the building blocks of your Dashboard. Once you select a profile from the dropdown list, you will be able to choose the type of data you can add.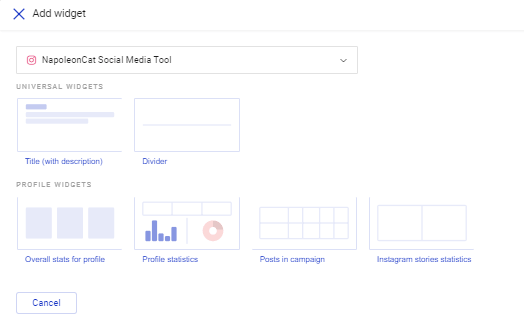 Other than profile or post statistics, you can also add dividers and text to personalize the Dashboard. Once added, widgets can be easily moved around (simply drag and drop) or deleted.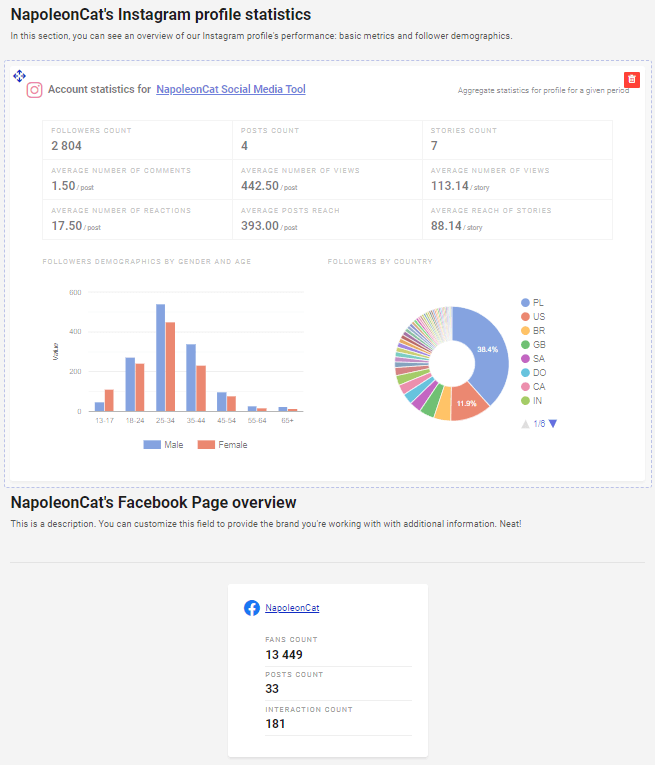 And that's all there is to it. Continue adding blocks and editing descriptions until your Dashboard is ready. Then, click 'Save', and you're done!
4. Share your Dashboards
NapoleonCat's Dashboards are made for sharing. Once you finish working on a dashboard, simply send the external link to your clients, supervisors, or stakeholders to give them viewing access (only you can edit your Dashboard).

If you checked the 'Ongoing campaign' box during setup, the data will automatically refresh every time the Dashboard is accessed.
One flat price, unlimited Dashboards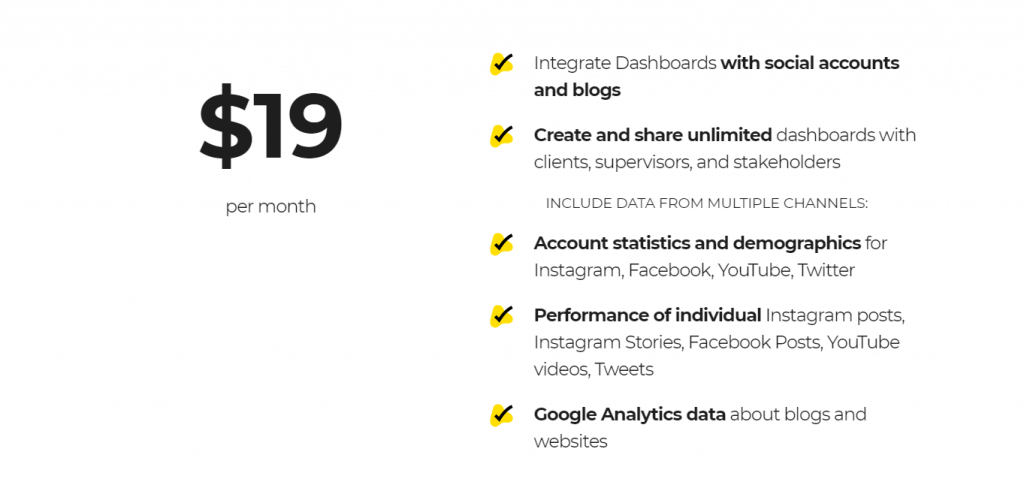 Want to give Dashboards a try?
Contact us at hello@napoleoncat.com!